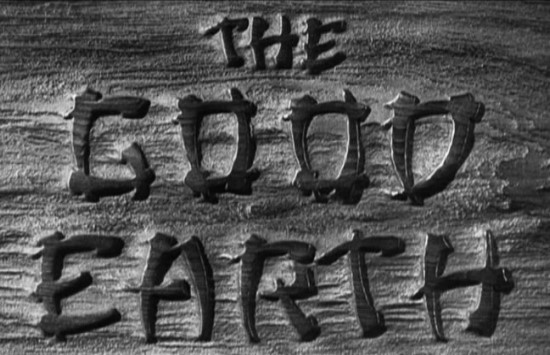 Directed by Sidney Franklin
USA 1937
First came marriage, an arranged union of peasant farmer Wang Lung (Paul Muni) and kitchen slave O-Lan (Luise Rainer). Then, through poverty and wealth, family and betrayal, war and pestilence, came love. From Pearl S. Buck's Pulitzer Prize-winning novel, The Good Earth combines Wang and O-Lan's story with a sweeping saga of China in upheaval. Muni and Rainer had both won 1936 Academy Awards?,* and Rainer repeated here with another Best Actress Oscar.* The film also won for Best Cinematography - with camerawork most powerfully on display in the astonishing locust-plague sequence. Producer Irving Thalberg, known for combining literary prestige with commercial success, died during the production, and the film is dedicated to him.
Poster
Theatrical Release: January 29th, 1937
Reviews More Reviews DVD Reviews
DVD Review: Warner - Region 1,2,3,4 - NTSC
DVD Box Cover

CLICK to order from:

Distribution
Warner Home Video - Region 1,2,3,4 - NTSC
Runtime
2:18:00
Video
1.33:1 Original Aspect Ratio
Average Bitrate: 5.72 mb/s
NTSC 720x480 29.97 f/s

NOTE: The Vertical axis represents the bits transferred per second. The Horizontal is the time in minutes.

Bitrate:

Audio
English (Mono), DUB: French (Mono)
Subtitles
English, French, Spanish, None
Features

Release Information:
Studio: Warner Home Video

Aspect Ratio:
Original aspect Ratio 1.33:1

Edition Details:

• Featurette - Hollywood Party
• Supreme Court of Films Picks Champions
• Theatrical Trailer

DVD Release Date: January 31st, 2006
Keep Case
Chapters: 31
| | |
| --- | --- |
| Comments: | There is a shade more damage (mostly marks and vertical scratches) than you might expect from a Warner release, but this film is close to 70 years old and although in certain spots it is quite evident I am more than willing to accept that this is the best it will look digitally (see the last capture for the most prevalent example I found). For the most part the DVD image is quite strong with minutely fluctuating contrast but it frequently exhibits exceptional, and surprising, detail. The original mono audio similarly expressed some weaknesses, but again I am willing to accept that it came with the territory of this transfer. Extensive restoration of this film would surely not produce a financial balance and I think film fans should really be thankful that Warner has gone to the obvious lengths they have with these older releases that don't sell as well as much of the modern cinema that is coming out. The extras are not particularily relevant to the film and seem to be stuff tucked away in the vault. A commentary would have been appreciated, but I won't look the Warner gift-horse in the mouth and this edition is priced for mandatory purchase. We strongly recommend. |
---



DVD Menus

---
Subtitle Sample
Screen Captures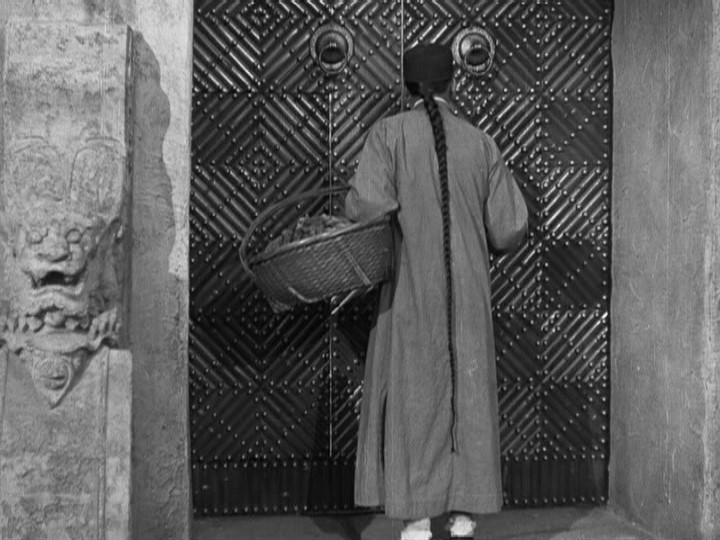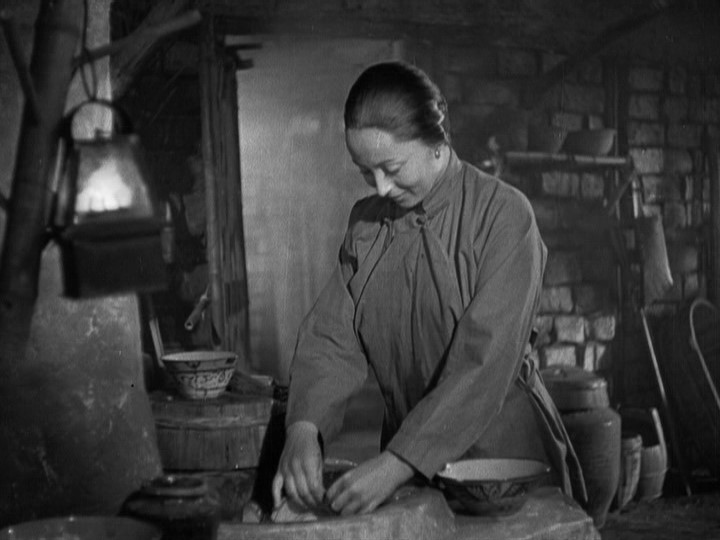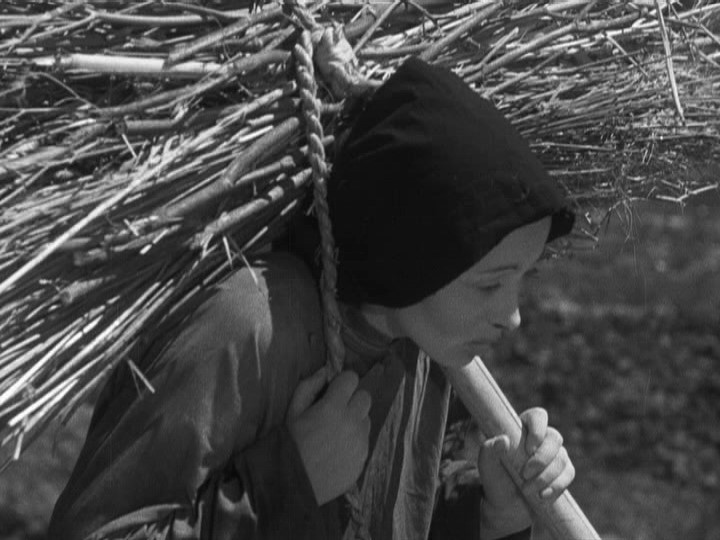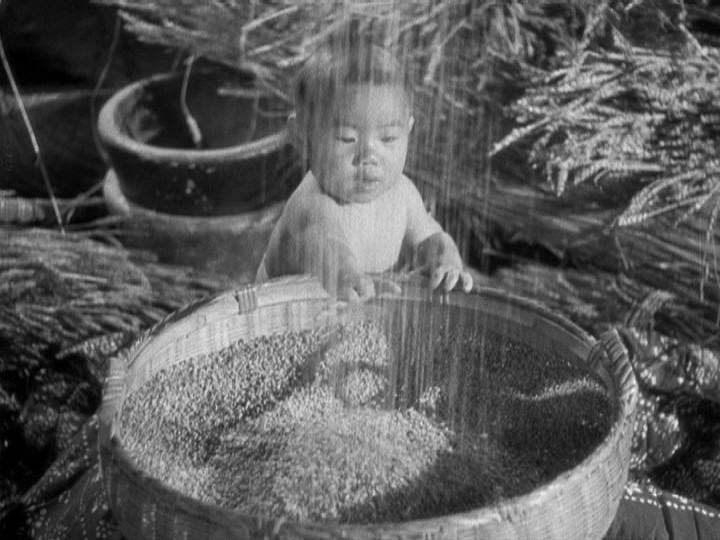 ---
---
NOTE: The hazy effect is intentional as this is a windstorm but there are damage marks/scratches prevalent
DVD Box Cover

CLICK to order from:

Distribution
Warner Home Video - Region 1,2,3,4 - NTSC




















DONATIONS Keep DVDBeaver alive:
Mail cheques, money orders, cash to: or CLICK PayPal logo to donate!
Gary Tooze

Mississauga, Ontario,

CANADA
Thank You!
Sidney Franklin's - The Good Earth - Paul Muni - DVD Review Sidney Franklin The Good Earth Paul Muni DVD Review Sidney Franklin The Good Earth Paul Muni DVD Review Sidney Franklin The Good Earth Paul Muni DVD Review Sidney Franklin The Good Earth Paul Muni DVD Review Sidney Franklin The Good Earth Paul Muni DVD Review Sidney Franklin The Good Earth Paul Muni DVD Review Sidney Franklin The Good Earth Paul Muni DVD Review Sidney Franklin's - The Good Earth - Paul Muni - DVD Review Sidney Franklin The Good Earth Paul Muni DVD Review Sidney Franklin The Good Earth Paul Muni DVD Review Sidney Franklin The Good Earth Paul Muni DVD Review Sidney Franklin The Good Earth Paul Muni DVD Review Sidney Franklin The Good Earth Paul Muni DVD Review Sidney Franklin The Good Earth Paul Muni DVD Review Sidney Franklin The Good Earth Paul Muni DVD Review Sidney Franklin's - The Good Earth - Paul Muni - DVD Review Sidney Franklin The Good Earth Paul Muni DVD Review Sidney Franklin The Good Earth Paul Muni DVD Review Sidney Franklin The Good Earth Paul Muni DVD Review Sidney Franklin The Good Earth Paul Muni DVD Review Sidney Franklin The Good Earth Paul Muni DVD Review Sidney Franklin The Good Earth Paul Muni DVD Review Sidney Franklin The Good Earth Paul Muni DVD Review Sidney Franklin's - The Good Earth - Paul Muni - DVD Review Sidney Franklin The Good Earth Paul Muni DVD Review Sidney Franklin The Good Earth Paul Muni DVD Review Sidney Franklin The Good Earth Paul Muni DVD Review Sidney Franklin The Good Earth Paul Muni DVD Review Sidney Franklin The Good Earth Paul Muni DVD Review Sidney Franklin The Good Earth Paul Muni DVD Review Sidney Franklin The Good Earth Paul Muni DVD Review Sidney Franklin's - The Good Earth - Paul Muni - DVD Review Sidney Franklin The Good Earth Paul Muni DVD Review Sidney Franklin The Good Earth Paul Muni DVD Review Sidney Franklin The Good Earth Paul Muni DVD Review Sidney Franklin The Good Earth Paul Muni DVD Review Sidney Franklin The Good Earth Paul Muni DVD Review Sidney Franklin The Good Earth Paul Muni DVD Review Sidney Franklin The Good Earth Paul Muni DVD Review Sidney Franklin's - The Good Earth - Paul Muni - DVD Review Sidney Franklin The Good Earth Paul Muni DVD Review Sidney Franklin The Good Earth Paul Muni DVD Review Sidney Franklin The Good Earth Paul Muni DVD Review Sidney Franklin The Good Earth Paul Muni DVD Review Sidney Franklin The Good Earth Paul Muni DVD Review Sidney Franklin The Good Earth Paul Muni DVD Review Sidney Franklin The Good Earth Paul Muni DVD Review Sidney Franklin's - The Good Earth - Paul Muni - DVD Review Sidney Franklin The Good Earth Paul Muni DVD Review Sidney Franklin The Good Earth Paul Muni DVD Review Sidney Franklin The Good Earth Paul Muni DVD Review Sidney Franklin The Good Earth Paul Muni DVD Review Sidney Franklin The Good Earth Paul Muni DVD Review Sidney Franklin The Good Earth Paul Muni DVD Review Sidney Franklin The Good Earth Paul Muni DVD Review Sidney Franklin's - The Good Earth - Paul Muni - DVD Review Sidney Franklin The Good Earth Paul Muni DVD Review Sidney Franklin The Good Earth Paul Muni DVD Review Sidney Franklin The Good Earth Paul Muni DVD Review Sidney Franklin The Good Earth Paul Muni DVD Review Sidney Franklin The Good Earth Paul Muni DVD Review Sidney Franklin The Good Earth Paul Muni DVD Review Sidney Franklin The Good Earth Paul Muni DVD Review Sidney Franklin's - The Good Earth - Paul Muni - DVD Review Sidney Franklin The Good Earth Paul Muni DVD Review Sidney Franklin The Good Earth Paul Muni DVD Review Sidney Franklin The Good Earth Paul Muni DVD Review Sidney Franklin The Good Earth Paul Muni DVD Review Sidney Franklin The Good Earth Paul Muni DVD Review Sidney Franklin The Good Earth Paul Muni DVD Review Sidney Franklin The Good Earth Paul Muni DVD Review Sidney Franklin's - The Good Earth - Paul Muni - DVD Review Sidney Franklin The Good Earth Paul Muni DVD Review Sidney Franklin The Good Earth Paul Muni DVD Review Sidney Franklin The Good Earth Paul Muni DVD Review Sidney Franklin The Good Earth Paul Muni DVD Review Sidney Franklin The Good Earth Paul Muni DVD Review Sidney Franklin The Good Earth Paul Muni DVD Review Sidney Franklin The Good Earth Paul Muni DVD Review Sidney Franklin's - The Good Earth - Paul Muni - DVD Review Sidney Franklin The Good Earth Paul Muni DVD Review Sidney Franklin The Good Earth Paul Muni DVD Review Sidney Franklin The Good Earth Paul Muni DVD Review Sidney Franklin The Good Earth Paul Muni DVD Review Sidney Franklin The Good Earth Paul Muni DVD Review Sidney Franklin The Good Earth Paul Muni DVD Review Sidney Franklin The Good Earth Paul Muni DVD Review Sidney Franklin's - The Good Earth - Paul Muni - DVD Review Sidney Franklin The Good Earth Paul Muni DVD Review Sidney Franklin The Good Earth Paul Muni DVD Review Sidney Franklin The Good Earth Paul Muni DVD Review Sidney Franklin The Good Earth Paul Muni DVD Review Sidney Franklin The Good Earth Paul Muni DVD Review Sidney Franklin The Good Earth Paul Muni DVD Review Sidney Franklin The Good Earth Paul Muni DVD Review Sidney Franklin's - The Good Earth - Paul Muni - DVD Review Sidney Franklin The Good Earth Paul Muni DVD Review Sidney Franklin The Good Earth Paul Muni DVD Review Sidney Franklin The Good Earth Paul Muni DVD Review Sidney Franklin The Good Earth Paul Muni DVD Review Sidney Franklin The Good Earth Paul Muni DVD Review Sidney Franklin The Good Earth Paul Muni DVD Review Sidney Franklin The Good Earth Paul Muni DVD Review Sidney Franklin's - The Good Earth - Paul Muni - DVD Review Sidney Franklin The Good Earth Paul Muni DVD Review Sidney Franklin The Good Earth Paul Muni DVD Review Sidney Franklin The Good Earth Paul Muni DVD Review Sidney Franklin The Good Earth Paul Muni DVD Review Sidney Franklin The Good Earth Paul Muni DVD Review Sidney Franklin The Good Earth Paul Muni DVD Review Sidney Franklin The Good Earth Paul Muni DVD Review Sidney Franklin's - The Good Earth - Paul Muni - DVD Review Sidney Franklin The Good Earth Paul Muni DVD Review Sidney Franklin The Good Earth Paul Muni DVD Review Sidney Franklin The Good Earth Paul Muni DVD Review Sidney Franklin The Good Earth Paul Muni DVD Review Sidney Franklin The Good Earth Paul Muni DVD Review Sidney Franklin The Good Earth Paul Muni DVD Review Sidney Franklin The Good Earth Paul Muni DVD Review Sidney Franklin's - The Good Earth - Paul Muni - DVD Review Sidney Franklin The Good Earth Paul Muni DVD Review Sidney Franklin The Good Earth Paul Muni DVD Review Sidney Franklin The Good Earth Paul Muni DVD Review Sidney Franklin The Good Earth Paul Muni DVD Review Sidney Franklin The Good Earth Paul Muni DVD Review Sidney Franklin The Good Earth Paul Muni DVD Review Sidney Franklin The Good Earth Paul Muni DVD Review Sidney Franklin's - The Good Earth - Paul Muni - DVD Review Sidney Franklin The Good Earth Paul Muni DVD Review Sidney Franklin The Good Earth Paul Muni DVD Review Sidney Franklin The Good Earth Paul Muni DVD Review Sidney Franklin The Good Earth Paul Muni DVD Review Sidney Franklin The Good Earth Paul Muni DVD Review Sidney Franklin The Good Earth Paul Muni DVD Review Sidney Franklin The Good Earth Paul Muni DVD Review Sidney Franklin's - The Good Earth - Paul Muni - DVD Review Sidney Franklin The Good Earth Paul Muni DVD Review Sidney Franklin The Good Earth Paul Muni DVD Review Sidney Franklin The Good Earth Paul Muni DVD Review Sidney Franklin The Good Earth Paul Muni DVD Review Sidney Franklin The Good Earth Paul Muni DVD Review Sidney Franklin The Good Earth Paul Muni DVD Review Sidney Franklin The Good Earth Paul Muni DVD Review Sidney Franklin's - The Good Earth - Paul Muni - DVD Review Sidney Franklin The Good Earth Paul Muni DVD Review Sidney Franklin The Good Earth Paul Muni DVD Review Sidney Franklin The Good Earth Paul Muni DVD Review Sidney Franklin The Good Earth Paul Muni DVD Review Sidney Franklin The Good Earth Paul Muni DVD Review Sidney Franklin The Good Earth Paul Muni DVD Review Sidney Franklin The Good Earth Paul Muni DVD Review