| | |
| --- | --- |
| | S E A R C H D V D B e a v e r |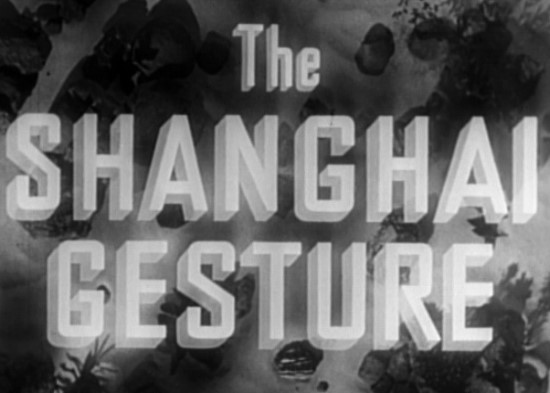 Directed by Josef von Sternberg
USA 1941
A young woman, Poppy (Gene Tierney), out for excitement in Shanghai, enters a gambling house owned by "Mother" Gin Sling (Ona Munson), a dragon-lady who worked herself up from poverty to buy the casino. Sir Guy Charteris (Walter Huston), wealthy entrepreneur, has purchased a large area of Shanghai, forcing Gin Sling to vacate by the coming Chinese New Year. Under orders from Gin Sling, who has found out Poppy is Charteris' daughter, the smarmy Doctor Omar (Victor Mature) leads Poppy deeper and deeper into an addiction to gambling and alcohol. Gin Sling, realizing that Charteris was her long-ago husband who she thinks abandoned her, plans her revenge by inviting Charteris to a Chinese New Year dinner party to expose his past indiscretions. Charteris, however, has a surprise of his own to spring on Gin Sling.
****
An intriguing and at times surprisingly subversive film which stars Huston as the tycoon whose business involvement in buying a property in Shanghai attracts the wrath of Munson, the owner of a casino in the area. When he comes face to face with his daughter (Tierney), who has been manipulated by an Arab (Mature), his world falls apart and he is forced to re-examine his relationship with money as well as with his family. Sublimely conveyed by von Sternberg, The Shanghai Gesture is proof of what Hollywood can do if it allows its talent the room to manoeuvre.
Posters
Theatrical Release: December 25th, 1941
Reviews More Reviews DVD Reviews
DVD Comparison:
Image Entertainment - Region 1 - NTSC vs. Films Sans Frontieres - Region 0 - PAL
Big thanks to Gregory Meshman for the Films Sans Frontieres caps!
Image Entertainment - Region 1 - NTSC LEFT vs. Films Sans Frontieres - Region 0 - PAL RIGHT
DVD Box Cover

Distribution
Image Entertainment - Region 1 - NTSC

Films Sans Frontieres

Region 0 - PAL

Runtime
1:38:42
1:34:06 (4% PAL speedup)
Video
1.33:1 Aspect Ratio
Average Bitrate: 5.65 mb/s
NTSC 720x480 29.97 f/s
1.33:1 Original Aspect Ratio
Average Bitrate: 5.77 mb/s
PAL 720x576 25.00 f/s

NOTE: The Vertical axis represents the bits transferred per second. The Horizontal is the time in minutes.

Bitrate: Image Entertainment

Bitrate: Films Sans Frontieres

Audio
English (Dolby Digital 2.0)
English (Dolby Digital 2.0) , French dub (Dolby Digital 2.0)
Subtitles
English, None
French, None
Features

Release Information:
Studio: Image Entertainment

Aspect Ratio:
Original Aspect Ratio 1.33:1

Edition Details:

• none

DVD Release Date: March 7th, 2006
Keep Case
Chapters: 10

Release Information:
Studio: Films Sans Frontieres

Aspect Ratio:
Fullscreen - 1.33:1

Edition Details:
• None

DVD Release Date: January, 2005
Keep Case

Chapters 6
Comments:

ADDITION: Film Sans Frontieres - February 2010: I had high hopes for this release, but while the print seems cleaner - it also apparently has some contrast boosting. The Image Entertainment editions shows more grain... but also more noise. No supplements on either. I lean towards the French edition - which also shows more information in the frame - but neither are stellar in regards to A/V quality. Let's continue to hope for a restored, dual-layered DVD or even Blu-ray, version.

***

ON THE IMAGE ENTERTAINMENT RELEASE: This would have to be considered a disappointment by Noir fans - the Image Entertainment disc is totally bare-bones (only chapter menus) and the image is extremely dirty and hazy - no improvement over the initial releases. It appears to be directly from analog and is about as filthy and image as I can remember seeing. Plus there are damage marks and speckles. Audio is similarly weak. What a shame that this is the company that bought out Home Vision.

The only real positive to this edition is the price, but the film is so rich in style I would dearly love to see some restoration work by someone - possibly in another region?
---
Image Entertainment - Region 1 - NTSC LEFT vs. Films Sans Frontieres - Region 0 - PAL RIGHT
---

Screen Captures
Image Entertainment - Region 1 - NTSC TOP vs. Films Sans Frontieres - Region 0 - PAL BOTTOM
Image Entertainment - Region 1 - NTSC TOP vs. Films Sans Frontieres - Region 0 - PAL BOTTOM
---
Image Entertainment - Region 1 - NTSC TOP vs. Films Sans Frontieres - Region 0 - PAL BOTTOM
---
Image Entertainment - Region 1 - NTSC TOP vs. Films Sans Frontieres - Region 0 - PAL BOTTOM
---
Image Entertainment - Region 1 - NTSC TOP vs. Films Sans Frontieres - Region 0 - PAL BOTTOM
---
Recommended Reading in Film Noir (CLICK COVERS or TITLES for more information)
The Dark Side of the Screen: Film Noir

by Foster Hirsch

Somewhere in the Night: Film Noir and the American City

by Nicholas Christopher

Shades of Noir: A Reader
by Joan Copjec
The Art of Noir: The Posters and Graphics from the Classic Era of Film Noir
by Eddie Muller
The Little Black and White Book of Film Noir: Quotations from Films of the 40's and 50's
by Peg Thompson, Saeko Usukawa
Film Noir
by Alain Silver
Film Noir Guide: 745 Films of the Classic Era, 1940-1959
by Michael F. Keaney
Detours and Lost Highways: A Map of Neo-Noir
by Foster Hirsch
DVD Box Cover

Distribution
Image Entertainment - Region 1 - NTSC

Films Sans Frontieres

Region 0 - PAL