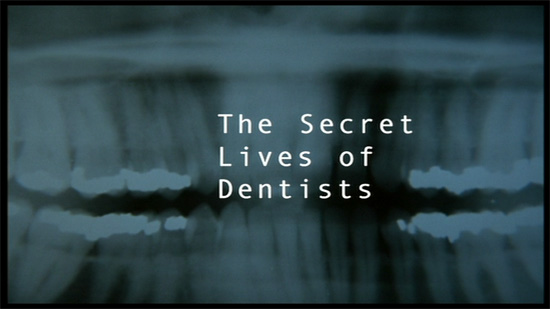 directed by Alan Rudolph
USA 2002
David and Dana Hurst are a married couple, both dentists, who share a clinic. Outside of this, they have two houses, three children and are living a quiet life. That is, until David one day sees his wife in the arms of another man. Rather than confronting her, he lets the vision haunt him.

Rudolph uses this to set up a superb dark comedy about a man, who on one side is profesionally detached and direct in telling his patients whats wrong, but on the other side private is the exact opposite.

His mise-en-scene underlines this by using daytime and nighttime, ordinary family elements (dinnertable, the garden), and frame arrangements, as abstractions of state of mind. There also are clear contrasts in the presentation of the sterile and orderly clinic and the homely home of the Hursts. The camera is ever aware and the use of zooms and movement alludes the work of Altman.

Rudolph very clever doesn't reveal anything. We know the same as David, we can do nothing more than to speculate as he does. Hence, his pain conveys with ease and his actions are understandable.

The acting is dedicated. Campbell Scott underplays to the teeth, Hope Davis is beautifully understated and Denis Leary steals every scenes, being everything David is not and very obnoxious; and having the worst guminfection in the history of dentristry.

A beautifully crafted and acted film, "The Secret Lives of Dentists" is a wonderful dark comedy which examines married life.
Poster
Theatrical Release: September 9th, 2002 (Toronto Film Festival)
Reviews More Reviews DVD Reviews
DVD Review: Tartan - Region 2 - PAL
Big thanks to Henrik Sylow for the Review!
DVD Box Cover

CLICK to order from:

Distribution

Tartan

Region 2 - PAL

Runtime
1:39:50 (4% PAL speedup)
Video

1.85:1 Original Aspect Ratio

16X9 enhanced
Average Bitrate: 8.71 mb/s
PAL 720x576 25.00 f/s

NOTE: The Vertical axis represents the bits transferred per second. The Horizontal is the time in minutes.

Bitrate

Audio
2.0 Dolby Digital English, 5.1 Dolby Digital English, DTS English
Subtitles
English, None
Features
Release Information:
Studio: Tartan

Aspect Ratio:
Widescreen anamorphic - 1.85:1

Edition Details:
• Gag Reel (3:58 / 4:3)
• Deleted Scenes (4:24 / 4:3)
• Trailer (2:17 / 4:3)

DVD Release Date: January 23, 2006
Keep Case

Chapters 16
Comments
Besides minute compression artifacts, this is a superb transfer. Details are sharp, colors are rich and saturated, excellent black.

Sound comes in the usual three formats, but as this is a dialogue film, there isn't that much difference between them.

Additional material is a gag reel and some deleted scenes, neither of any real importance to the film and to be seen as fillers. Sadly missing due to rights issues is the directorial audio commentary and anatomy of a scene from the Region 1 DVD.
---




DVD Menus

---
Screen Captures
Subtitle sample - Capture is resized from 1016px to 800px














DONATIONS Keep DVDBeaver alive:
Mail cheques, money orders, cash to: or CLICK PayPal logo to donate!
Thank You!
Alan Rudolph's - The Secret Lives of Dentists - DVD Review Alan Rudolph The Secret Lives of Dentists DVD Review Alan Rudolph The Secret Lives of Dentists DVD Review Alan Rudolph The Secret Lives of Dentists DVD Review Alan Rudolph The Secret Lives of Dentists DVD Review Alan Rudolph The Secret Lives of Dentists DVD Review Alan Rudolph The Secret Lives of Dentists DVD Review Alan Rudolph The Secret Lives of Dentists DVD Review Alan Rudolph The Secret Lives of Dentists DVD Review Alan Rudolph's - The Secret Lives of Dentists - DVD Review Alan Rudolph The Secret Lives of Dentists DVD Review Alan Rudolph The Secret Lives of Dentists DVD Review Alan Rudolph The Secret Lives of Dentists DVD Review Alan Rudolph The Secret Lives of Dentists DVD Review Alan Rudolph The Secret Lives of Dentists DVD Review Alan Rudolph The Secret Lives of Dentists DVD Review Alan Rudolph The Secret Lives of Dentists DVD Review Alan Rudolph The Secret Lives of Dentists DVD Review Alan Rudolph's - The Secret Lives of Dentists - DVD Review Alan Rudolph The Secret Lives of Dentists DVD Review Alan Rudolph The Secret Lives of Dentists DVD Review Alan Rudolph The Secret Lives of Dentists DVD Review Alan Rudolph The Secret Lives of Dentists DVD Review Alan Rudolph The Secret Lives of Dentists DVD Review Alan Rudolph The Secret Lives of Dentists DVD Review Alan Rudolph The Secret Lives of Dentists DVD Review Alan Rudolph The Secret Lives of Dentists DVD Review Alan Rudolph's - The Secret Lives of Dentists - DVD Review Alan Rudolph The Secret Lives of Dentists DVD Review Alan Rudolph The Secret Lives of Dentists DVD Review Alan Rudolph The Secret Lives of Dentists DVD Review Alan Rudolph The Secret Lives of Dentists DVD Review Alan Rudolph The Secret Lives of Dentists DVD Review Alan Rudolph The Secret Lives of Dentists DVD Review Alan Rudolph The Secret Lives of Dentists DVD Review Alan Rudolph The Secret Lives of Dentists DVD Review Alan Rudolph's - The Secret Lives of Dentists - DVD Review Alan Rudolph The Secret Lives of Dentists DVD Review Alan Rudolph The Secret Lives of Dentists DVD Review Alan Rudolph The Secret Lives of Dentists DVD Review Alan Rudolph The Secret Lives of Dentists DVD Review Alan Rudolph The Secret Lives of Dentists DVD Review Alan Rudolph The Secret Lives of Dentists DVD Review Alan Rudolph The Secret Lives of Dentists DVD Review Alan Rudolph The Secret Lives of Dentists DVD Review Alan Rudolph's - The Secret Lives of Dentists - DVD Review Alan Rudolph The Secret Lives of Dentists DVD Review Alan Rudolph The Secret Lives of Dentists DVD Review Alan Rudolph The Secret Lives of Dentists DVD Review Alan Rudolph The Secret Lives of Dentists DVD Review Alan Rudolph The Secret Lives of Dentists DVD Review Alan Rudolph The Secret Lives of Dentists DVD Review Alan Rudolph The Secret Lives of Dentists DVD Review Alan Rudolph The Secret Lives of Dentists DVD Review Alan Rudolph's - The Secret Lives of Dentists - DVD Review Alan Rudolph The Secret Lives of Dentists DVD Review Alan Rudolph The Secret Lives of Dentists DVD Review Alan Rudolph The Secret Lives of Dentists DVD Review Alan Rudolph The Secret Lives of Dentists DVD Review Alan Rudolph The Secret Lives of Dentists DVD Review Alan Rudolph The Secret Lives of Dentists DVD Review Alan Rudolph The Secret Lives of Dentists DVD Review Alan Rudolph The Secret Lives of Dentists DVD Review Alan Rudolph's - The Secret Lives of Dentists - DVD Review Alan Rudolph The Secret Lives of Dentists DVD Review Alan Rudolph The Secret Lives of Dentists DVD Review Alan Rudolph The Secret Lives of Dentists DVD Review Alan Rudolph The Secret Lives of Dentists DVD Review Alan Rudolph The Secret Lives of Dentists DVD Review Alan Rudolph The Secret Lives of Dentists DVD Review Alan Rudolph The Secret Lives of Dentists DVD Review Alan Rudolph The Secret Lives of Dentists DVD Review Alan Rudolph's - The Secret Lives of Dentists - DVD Review Alan Rudolph The Secret Lives of Dentists DVD Review Alan Rudolph The Secret Lives of Dentists DVD Review Alan Rudolph The Secret Lives of Dentists DVD Review Alan Rudolph The Secret Lives of Dentists DVD Review Alan Rudolph The Secret Lives of Dentists DVD Review Alan Rudolph The Secret Lives of Dentists DVD Review Alan Rudolph The Secret Lives of Dentists DVD Review Alan Rudolph The Secret Lives of Dentists DVD Review Alan Rudolph's - The Secret Lives of Dentists - DVD Review Alan Rudolph The Secret Lives of Dentists DVD Review Alan Rudolph The Secret Lives of Dentists DVD Review Alan Rudolph The Secret Lives of Dentists DVD Review Alan Rudolph The Secret Lives of Dentists DVD Review Alan Rudolph The Secret Lives of Dentists DVD Review Alan Rudolph The Secret Lives of Dentists DVD Review Alan Rudolph The Secret Lives of Dentists DVD Review Alan Rudolph The Secret Lives of Dentists DVD Review Alan Rudolph's - The Secret Lives of Dentists - DVD Review Alan Rudolph The Secret Lives of Dentists DVD Review Alan Rudolph The Secret Lives of Dentists DVD Review Alan Rudolph The Secret Lives of Dentists DVD Review Alan Rudolph The Secret Lives of Dentists DVD Review Alan Rudolph The Secret Lives of Dentists DVD Review Alan Rudolph The Secret Lives of Dentists DVD Review Alan Rudolph The Secret Lives of Dentists DVD Review Alan Rudolph The Secret Lives of Dentists DVD Review Alan Rudolph's - The Secret Lives of Dentists - DVD Review Alan Rudolph The Secret Lives of Dentists DVD Review Alan Rudolph The Secret Lives of Dentists DVD Review Alan Rudolph The Secret Lives of Dentists DVD Review Alan Rudolph The Secret Lives of Dentists DVD Review Alan Rudolph The Secret Lives of Dentists DVD Review Alan Rudolph The Secret Lives of Dentists DVD Review Alan Rudolph The Secret Lives of Dentists DVD Review Alan Rudolph The Secret Lives of Dentists DVD Review Alan Rudolph's - The Secret Lives of Dentists - DVD Review Alan Rudolph The Secret Lives of Dentists DVD Review Alan Rudolph The Secret Lives of Dentists DVD Review Alan Rudolph The Secret Lives of Dentists DVD Review Alan Rudolph The Secret Lives of Dentists DVD Review Alan Rudolph The Secret Lives of Dentists DVD Review Alan Rudolph The Secret Lives of Dentists DVD Review Alan Rudolph The Secret Lives of Dentists DVD Review Alan Rudolph The Secret Lives of Dentists DVD Review Alan Rudolph's - The Secret Lives of Dentists - DVD Review Alan Rudolph The Secret Lives of Dentists DVD Review Alan Rudolph The Secret Lives of Dentists DVD Review Alan Rudolph The Secret Lives of Dentists DVD Review Alan Rudolph The Secret Lives of Dentists DVD Review Alan Rudolph The Secret Lives of Dentists DVD Review Alan Rudolph The Secret Lives of Dentists DVD Review Alan Rudolph The Secret Lives of Dentists DVD Review Alan Rudolph The Secret Lives of Dentists DVD Review