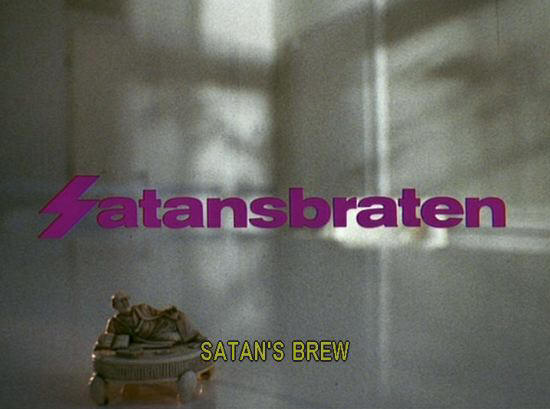 (aka "Satansbraten" )
directed by Rainer Werner Fassbinder
Wast Germany 1976
Fassbinder and Artaud seem like a match made in heaven (or is it hell?), and this absurdist comedy, which has Fassbinder paying homage to Antonin Artaud's Theatre of Cruelty, turns out to be a vital part of the Fassbinder canon. The story goes something like this: A blocked writer (who may or may not be a gay poet as well) lives in an apartment building of misfits, and struggles to make ends meet as he tries to find inspiration. His wife is on his case because he hasn't slept with her in 17 days, his halfwit brother has an obsession with 'fucking flies,' and various prostitutes and masochistic women drift in and out of the story. There is also a murder, a missing gun, and a detective who is searching under every bit of furniture to crack the case. Even if this off the wall story is not your cup of tea, Fassbinder fans will have a hell of a time just seeing his usual cast of players show off their acting chops, as they all appear to be having the time of their life in some of their wildest screen appearances. It's a puzzling work, but one that may have more to say about Fassbinder's warped view of society than initially meets the eye.
Theatrical Release: Mannheim Film Festival, Oct. 7th, 1976
Reviews More Reviews DVD Reviews
DVD Review: Wellspring - Region 1 - NTSC
Big thanks to Adam Lemke for the Review!
DVD Box Cover

CLICK to order from:

Distribution

Wellspring

Region 1 - NTSC

Runtime
1.46.20
Video

1.33:1 Original Aspect Ratio
Average Bitrate: 5.06 mb/s
NTSC 720x480 29.97 f/s

NOTE: The Vertical axis represents the bits transferred per second. The Horizontal is the time in minutes.

Bitrate

Audio
Dolby Digital 2.0
Subtitles
English, None
Features
Release Information:
Studio: Wellspring

Aspect Ratio:
Fullscreen - 1.33:1

Edition Details:
• Filmographies
• Trailer
• Weblink
• Restored transfer supervised by director Wim Wenders

DVD Release Date: 5/13/03
Keep Case

Chapters 24
| | |
| --- | --- |
| Comments | The Wellspring Fassbinder discs are all very similar in quality, and fortunately that quality is quite nice. Although not progressively scanned (resulting in minor combing as seen in the last capture), this is about as good as you can get from a single layer DVD (DVD5). The image is crisp, with an appealing amount of grain, and the colors are spot-on. Wellspring has put tremendous care into the subtitling which is nice as there are a lot of play on words in the dialogue of this film. Another unique feature, which you don't often see, is that the subtitles reposition themselves to the top of the frame during the opening credits so as not to interfere with the credited names. Overall, these Fassbinder discs are an essential and affordable additions to any collection. out of |
---




DVD Menus


---
Screen Captures
Subtitle sample
---

Minor combing evident - see face.














DONATIONS Keep DVDBeaver alive:
Mail cheques, money orders, cash to: or CLICK PayPal logo to donate!
Thank You!
Rainer Werner Fassbinder Satansbraten Satans Brew DVD Review Rainer Werner Fassbinder Satansbraten Satans Brew Rainer Werner Fassbinder Satansbraten Satans Brew Rainer Werner Fassbinder Satansbraten Satans Brew Rainer Werner Fassbinder Satansbraten Satans Brew Rainer Werner Fassbinder Satansbraten Satans Brew Rainer Werner Fassbinder Satansbraten Satans Brew Rainer Werner Fassbinder Satansbraten Satans Brew Rainer Werner Fassbinder Satansbraten Satans Brew DVD Review Rainer Werner Fassbinder Satansbraten Satans Brew Rainer Werner Fassbinder Satansbraten Satans Brew Rainer Werner Fassbinder Satansbraten Satans Brew Rainer Werner Fassbinder Satansbraten Satans Brew Rainer Werner Fassbinder Satansbraten Satans Brew Rainer Werner Fassbinder Satansbraten Satans Brew Rainer Werner Fassbinder Satansbraten Satans Brew Rainer Werner Fassbinder Satansbraten Satans Brew DVD Review Rainer Werner Fassbinder Satansbraten Satans Brew Rainer Werner Fassbinder Satansbraten Satans Brew Rainer Werner Fassbinder Satansbraten Satans Brew Rainer Werner Fassbinder Satansbraten Satans Brew Rainer Werner Fassbinder Satansbraten Satans Brew Rainer Werner Fassbinder Satansbraten Satans Brew Rainer Werner Fassbinder Satansbraten Satans Brew Rainer Werner Fassbinder Satansbraten Satans Brew DVD Review Rainer Werner Fassbinder Satansbraten Satans Brew Rainer Werner Fassbinder Satansbraten Satans Brew Rainer Werner Fassbinder Satansbraten Satans Brew Rainer Werner Fassbinder Satansbraten Satans Brew Rainer Werner Fassbinder Satansbraten Satans Brew Rainer Werner Fassbinder Satansbraten Satans Brew Rainer Werner Fassbinder Satansbraten Satans Brew Rainer Werner Fassbinder Satansbraten Satans Brew DVD Review Rainer Werner Fassbinder Satansbraten Satans Brew Rainer Werner Fassbinder Satansbraten Satans Brew Rainer Werner Fassbinder Satansbraten Satans Brew Rainer Werner Fassbinder Satansbraten Satans Brew Rainer Werner Fassbinder Satansbraten Satans Brew Rainer Werner Fassbinder Satansbraten Satans Brew Rainer Werner Fassbinder Satansbraten Satans Brew Rainer Werner Fassbinder Satansbraten Satans Brew DVD Review Rainer Werner Fassbinder Satansbraten Satans Brew Rainer Werner Fassbinder Satansbraten Satans Brew Rainer Werner Fassbinder Satansbraten Satans Brew Rainer Werner Fassbinder Satansbraten Satans Brew Rainer Werner Fassbinder Satansbraten Satans Brew Rainer Werner Fassbinder Satansbraten Satans Brew Rainer Werner Fassbinder Satansbraten Satans Brew Rainer Werner Fassbinder Satansbraten Satans Brew DVD Review Rainer Werner Fassbinder Satansbraten Satans Brew Rainer Werner Fassbinder Satansbraten Satans Brew Rainer Werner Fassbinder Satansbraten Satans Brew Rainer Werner Fassbinder Satansbraten Satans Brew Rainer Werner Fassbinder Satansbraten Satans Brew Rainer Werner Fassbinder Satansbraten Satans Brew Rainer Werner Fassbinder Satansbraten Satans Brew Rainer Werner Fassbinder Satansbraten Satans Brew DVD Review Rainer Werner Fassbinder Satansbraten Satans Brew Rainer Werner Fassbinder Satansbraten Satans Brew Rainer Werner Fassbinder Satansbraten Satans Brew Rainer Werner Fassbinder Satansbraten Satans Brew Rainer Werner Fassbinder Satansbraten Satans Brew Rainer Werner Fassbinder Satansbraten Satans Brew Rainer Werner Fassbinder Satansbraten Satans Brew Rainer Werner Fassbinder Satansbraten Satans Brew DVD Review Rainer Werner Fassbinder Satansbraten Satans Brew Rainer Werner Fassbinder Satansbraten Satans Brew Rainer Werner Fassbinder Satansbraten Satans Brew Rainer Werner Fassbinder Satansbraten Satans Brew Rainer Werner Fassbinder Satansbraten Satans Brew Rainer Werner Fassbinder Satansbraten Satans Brew Rainer Werner Fassbinder Satansbraten Satans Brew Rainer Werner Fassbinder Satansbraten Satans Brew DVD Review Rainer Werner Fassbinder Satansbraten Satans Brew Rainer Werner Fassbinder Satansbraten Satans Brew Rainer Werner Fassbinder Satansbraten Satans Brew Rainer Werner Fassbinder Satansbraten Satans Brew Rainer Werner Fassbinder Satansbraten Satans Brew Rainer Werner Fassbinder Satansbraten Satans Brew Rainer Werner Fassbinder Satansbraten Satans Brew Rainer Werner Fassbinder Satansbraten Satans Brew DVD Review Rainer Werner Fassbinder Satansbraten Satans Brew Rainer Werner Fassbinder Satansbraten Satans Brew Rainer Werner Fassbinder Satansbraten Satans Brew Rainer Werner Fassbinder Satansbraten Satans Brew Rainer Werner Fassbinder Satansbraten Satans Brew Rainer Werner Fassbinder Satansbraten Satans Brew Rainer Werner Fassbinder Satansbraten Satans Brew Rainer Werner Fassbinder Satansbraten Satans Brew DVD Review Rainer Werner Fassbinder Satansbraten Satans Brew Rainer Werner Fassbinder Satansbraten Satans Brew Rainer Werner Fassbinder Satansbraten Satans Brew Rainer Werner Fassbinder Satansbraten Satans Brew Rainer Werner Fassbinder Satansbraten Satans Brew Rainer Werner Fassbinder Satansbraten Satans Brew Rainer Werner Fassbinder Satansbraten Satans Brew Rainer Werner Fassbinder Satansbraten Satans Brew DVD Review Rainer Werner Fassbinder Satansbraten Satans Brew Rainer Werner Fassbinder Satansbraten Satans Brew Rainer Werner Fassbinder Satansbraten Satans Brew Rainer Werner Fassbinder Satansbraten Satans Brew Rainer Werner Fassbinder Satansbraten Satans Brew Rainer Werner Fassbinder Satansbraten Satans Brew Rainer Werner Fassbinder Satansbraten Satans Brew Rainer Werner Fassbinder Satansbraten Satans Brew DVD Review Rainer Werner Fassbinder Satansbraten Satans Brew Rainer Werner Fassbinder Satansbraten Satans Brew Rainer Werner Fassbinder Satansbraten Satans Brew Rainer Werner Fassbinder Satansbraten Satans Brew Rainer Werner Fassbinder Satansbraten Satans Brew Rainer Werner Fassbinder Satansbraten Satans Brew Rainer Werner Fassbinder Satansbraten Satans Brew