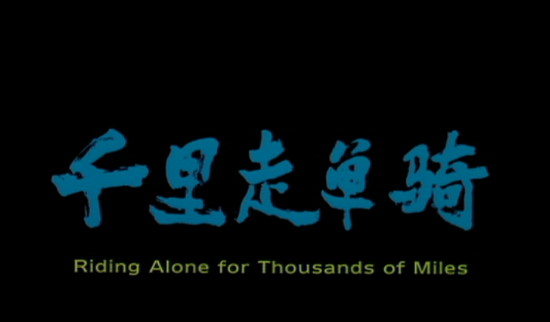 (aka 'Riding Alone For Thousands of Miles' or 'Qian li zou dan qi')
Hong Kong / China / Japan 2005
In Riding Alone for Thousands of Miles Zhang Yimou has gone back to his simplistic realism narratives departing from the fantasy swordplay and martial arts of the popular Hero and House of Flying Daggers films. His bold melodramatic ploys, reminiscent of classic Hollywood's golden age, fearlessly and gratuitously utilize music (in this case - traditional Chinese music) at pivotal moments in the storyline. His cinema layers itself in a kind of subtle sophistication whilst simultaneously bumping head-on into Chinese culture roots. It is these elements that lend his films with such universality and charm. In Riding Alone for Thousands of Miles Zhang Yimou invests a common propaganda technique of repetition - two translator characters duplicate key conversations to further instill a sense of the emotionally gripping narrative. The film stars Japanese veteran Takakura Ken as Takada, a father who has a difficult relationship with his son Kenichi (Kiichi Nakai). Kenichi has been making a movie on Chinese opera before suffering from a terminal illness. Takada, in attempt to reconcile with his son, decides to finish this filming project. Alone he starts his thousand-mile trek within China, and this physical journey masks a psychological one through which he can begin to appreciate and accept the gaps in the father/son bond. Widely know for stories with conflicts containing strong levels of duty and nationalistic responsibility (Raise the Red Lantern, Hero, House of Flying Daggers) Zhang touches quite heavily upon a more commonly used theme - that of communication. What stands as a commonality is his brilliant use of cinematography and humorous vignettes of country bureaucracy and tirelessly achieving desired goals. In Riding Alone for Thousands of Miles he tempers his use of color, juxtaposing instead his characters emotional state with the vast geographic terrain of the mountain region of Lijiang, Yunnan, China. One of my favorite directors again comes through exposing his lack of production limitation and the impossibility of pigeon-holing his cinematic output.
Gary Tooze
Posters
Theatrical Release: October 22nd, 2005 - Tokyo International Film Festival
Reviews More Reviews DVD Reviews
DVD Comparison:
Zoke Culture - Region 0 - NTSC vs. Sony Region 1, 4 - NTSC
(Zoke Culture - Region 0 - NTSC LEFT vs. Sony Region 1, 4 - NTSC RIGHT)
DVD Box Cover

Thinking of buying from YesAsia? CLICK HERE and use THIS UPDATED BEAVER PAGE to source their very best...

Distribution
Zoke Culture - Region 0 - NTSC
Sony Pictures - Region 1,4 - NTSC
Runtime
1:47:32
1:48:20
Video
1.82:1 Aspect Ratio
Average Bitrate: 8.9 mb/s
NTSC 720x480 29.97 f/s
1.85:1 Aspect Ratio
Average Bitrate: 5.15 mb/s
NTSC 720x480 29.97 f/s

NOTE: The Vertical axis represents the bits transferred per second. The Horizontal is the time in minutes.

Bitrate: Zoke

Bitrate: Sony

Audio
Mandarin (Dolby Digital 2.0), Mandarin (DTS), Mandarin (Dolby Digital 5.1)
Mandarin (Dolby Digital 5.1), DUBs: French (Dolby Digital 5.1) , Portuguese (Dolby Digital 5.1)
Subtitles
English, Simplified Chinese, None
English, French, Spanish, Portuguese, None
Features

Release Information:
Studio: Zoke Culture

Aspect Ratio:
Original Aspect Ratio 1.82:1

Edition Details:

• "Making of" featurette (18:28) NO ENGLISH subs!
• Trailer
• Stills gallery
• Posters

DVD Release Date: January 17th, 2006
Keep Case inside cardboard box
Chapters: 9

Release Information:
Studio: Sony Pictures

Aspect Ratio:
Original Aspect Ratio 1.85:1

Edition Details:

• "Making of" featurette (18:28)
• Previews

DVD Release Date: February 6th, 2007
Keep Case
Chapters: 28
Comments:

'When Yimou returns to the little touching emotionalism of his earlier years, he can still make remarkable films. Yimou's masterful direction made sure that this warm hearted story does not become a full blown melodrama at the end. Japanese icon Ken Takakura is actually wonderfully used here . Rarely have I seen him able to use facial expressions and silent body gestures to create a repressed, deeply tortured soul so effectively. The non-professional actors all turn in uniformly good performance. This is the best movie Yimou has made since his last truly remarkable film, "To Live" (1994)'. (Thanks Larry!)

ADDITION - Sony - Region 1,4 - February 07':

It is hard to know positively but the colors in the new Sony appear to be more true, although skin tones occasionally exhibit some redness. The Zoke has a light greenish haze over the image, but frankly it is not that bad. See the problem I have here is price - the Sony is about 3 times the cost of the Zoke (which will play fine on North American DVD players). I wouldn't say the Sony image is 3 times better. Viewing the screen captures will give you the idea and the Sony is superior, marginally sharper, plus the same 18 minute 'Making of..' featurette is included but the Sony has English subtitles. Audio is untested for the Zoke DTS and both editions 5.1's - film viewers won't get much out of the state-of-the-art audio options.

NOTE: the Sony is a shade cropped at the bottom.

This is a good film and I'm glad the Sony is an improvement and they have added a decent supplement (English friendly). I recommend the film whole heartedly.

***

On the Zoke: This DVD has a peculiarity that I have never really encountered. It is weak - meaning the DVD itself seems fragile - it's quite thin compared to an average disc. Now the image played fine on my Malata's with some pauses that looked like layer changes - they appeared infrequently while viewing on my Malata 520 but I saw none at all on my Malata 856. It appears to be progressive and definitely is anamorphic - audio options played well (although DTS and 5.1 are rarely tested).

It's a shame the 'Making of...' featurette did not have English subtitles (or was in English) but as far as price goes with this DVD - you can't really go wrong. It's less than $8 right now and the film is another Zhang masterpiece.
---

DVD Menus
(Zoke Culture - Region 0 - NTSC LEFT vs. Sony Region 1, 4 - NTSC RIGHT)
---
Subtitle Sample
(Zoke Culture - Region 0 - NTSC TOP vs. Sony Region 1, 4 - NTSC BOTTOM)
Screen Captures
(Zoke Culture - Region 0 - NTSC TOP vs. Sony Region 1, 4 - NTSC BOTTOM)
---
(Zoke Culture - Region 0 - NTSC TOP vs. Sony Region 1, 4 - NTSC BOTTOM)
---
(Zoke Culture - Region 0 - NTSC TOP vs. Sony Region 1, 4 - NTSC BOTTOM)
---
(Zoke Culture - Region 0 - NTSC TOP vs. Sony Region 1, 4 - NTSC BOTTOM)
---
(Zoke Culture - Region 0 - NTSC TOP vs. Sony Region 1, 4 - NTSC BOTTOM)
---
(Zoke Culture - Region 0 - NTSC TOP vs. Sony Region 1, 4 - NTSC BOTTOM)
| | | |
| --- | --- | --- |
| DVD Box Cover | Thinking of buying from YesAsia? CLICK HERE and use THIS UPDATED BEAVER PAGE to source their very best... | |
| Distribution | Zoke Culture - Region 0 - NTSC | Sony Pictures - Region 1,4 - NTSC |
---