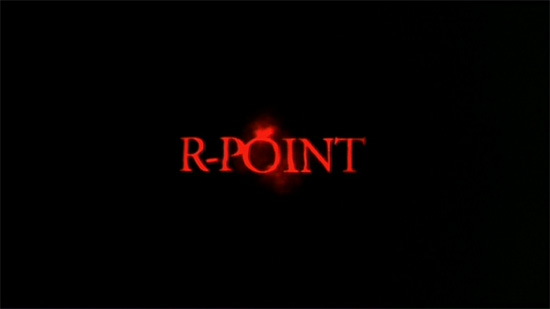 directed by Su-chang Kong
South Korea 2004
The year is 1972. About 100 miles south of Ho Chi Minh City lies R-Point, a strategically island, where a scouting unit of 9 Korean soldiers went missing 6 month earlier. Then one night, a distress call is picked up and a unit of 9 marines are sent on what appears to be a simple search and rescue mission.

Based on actual events and folklore, "R-Point" is a blend of Korean ghost stories, "Blair Witch Project" and "Alien", and is more an exercise in horror, than a horror film.

The main problem is, that the film cannot decide what it want to tell. On one hand, there is the curse of R-Point, that no one with blood on their hands can leave alive, which is supported by the ghost story and horror aspects of the film. On the other hand, it attempts to be a psychological thriller, showing how the curse and deaths of the soldiers causes the rest to break down and behave irrational.

Thus, when telling the ghost story, the pace and timing is perfect and the sensation is extraordinary eerie. Here we get the back-story of the island, of the French hospital and the former events. But when having the characters interact, the pace comes to an almost complete stop, and the film has to pick itself up again. This causes the individual scenes to separate themselves from the internal narrative and each ghost scene now stands sort of isolated as a set-piece versus the acting scenes.

As flawed a film it may be, R-Point is a very chilling horror film.

Posters
Theatrical Release: August 13, 2004
Reviews More Reviews DVD Reviews
DVD Review: Tartan - Region 2 - PAL
Big thanks to Henrik Sylow for the Review!
DVD Box Cover

CLICK to order from:

Distribution

Tartan

Region 2 - PAL

Runtime
1:47:27
Video

1.83:1 Original Aspect Ratio

16X9 enhanced
Average Bitrate: 6.56 mb/s
PAL 720x576 25.00 f/s

NOTE: The Vertical axis represents the bits transferred per second. The Horizontal is the time in minutes.

Bitrate

Audio
2.0 Dolby Digital Korean, 5.1 Dolby Digital Korean, DTS Korean
Subtitles
English, None
Features
Release Information:
Studio: Tartan

Aspect Ratio:
Widescreen anamorphic - 1.83:1

Edition Details:
• Audio Commentary by Su-chang Kong, Kang-Hyuk Choi and Wan-Shik Kim
• Mission R-Point (30:20 / 4:3)
• Broken Radio (13:18 / 4:3)
• 1972 Vietnam (10:00 / 4:3)
• Special Effects (9:59 / 4:3)
• Original Trailer (1:52 / 4:3)

DVD Release Date: January 23, 2005
Keep Case

Chapters 16
Comments
A PAL-ified NTSC transfer, there are issues of ghosting and combing. Besides this and macro blocking, the amount of compression artifacts are very low. In general, quiet a good image.

While there isn't much difference between the 5.1 Dolby Digital and the DTS, both give a superb eerie soundstage. Simply great sound.

The additional material begins with an audio commentary by director Kong, producer Choi and production designer Kim. It is a good commentary, where they discuss differences between script and film, the production and add anecdotes.

Following is a production featurette with interviews, a featurette about sound design, about the production design and about the special effects.
---




DVD Menus

---
Screen Captures
subtitle sample
Captures resized to 800px from 1016px native resolution














DONATIONS Keep DVDBeaver alive:
Mail cheques, money orders, cash to: or CLICK PayPal logo to donate!
Thank You!
Su-chang Kong's - R-Point - DVD Review Su-chang Kong R-Point DVD Review Su-chang Kong R-Point DVD Review Su-chang Kong R-Point DVD Review Su-chang Kong R-Point DVD Review Su-chang Kong R-Point DVD Review Su-chang Kong R-Point DVD Review Su-chang Kong's - R-Point - DVD Review Su-chang Kong R-Point DVD Review Su-chang Kong R-Point DVD Review Su-chang Kong R-Point DVD Review Su-chang Kong R-Point DVD Review Su-chang Kong R-Point DVD Review Su-chang Kong R-Point DVD Review Su-chang Kong's - R-Point - DVD Review Su-chang Kong R-Point DVD Review Su-chang Kong R-Point DVD Review Su-chang Kong R-Point DVD Review Su-chang Kong R-Point DVD Review Su-chang Kong R-Point DVD Review Su-chang Kong R-Point DVD Review Su-chang Kong's - R-Point - DVD Review Su-chang Kong R-Point DVD Review Su-chang Kong R-Point DVD Review Su-chang Kong R-Point DVD Review Su-chang Kong R-Point DVD Review Su-chang Kong R-Point DVD Review Su-chang Kong R-Point DVD Review Su-chang Kong's - R-Point - DVD Review Su-chang Kong R-Point DVD Review Su-chang Kong R-Point DVD Review Su-chang Kong R-Point DVD Review Su-chang Kong R-Point DVD Review Su-chang Kong R-Point DVD Review Su-chang Kong R-Point DVD Review Su-chang Kong's - R-Point - DVD Review Su-chang Kong R-Point DVD Review Su-chang Kong R-Point DVD Review Su-chang Kong R-Point DVD Review Su-chang Kong R-Point DVD Review Su-chang Kong R-Point DVD Review Su-chang Kong R-Point DVD Review Su-chang Kong's - R-Point - DVD Review Su-chang Kong R-Point DVD Review Su-chang Kong R-Point DVD Review Su-chang Kong R-Point DVD Review Su-chang Kong R-Point DVD Review Su-chang Kong R-Point DVD Review Su-chang Kong R-Point DVD Review Su-chang Kong's - R-Point - DVD Review Su-chang Kong R-Point DVD Review Su-chang Kong R-Point DVD Review Su-chang Kong R-Point DVD Review Su-chang Kong R-Point DVD Review Su-chang Kong R-Point DVD Review Su-chang Kong R-Point DVD Review Su-chang Kong's - R-Point - DVD Review Su-chang Kong R-Point DVD Review Su-chang Kong R-Point DVD Review Su-chang Kong R-Point DVD Review Su-chang Kong R-Point DVD Review Su-chang Kong R-Point DVD Review Su-chang Kong R-Point DVD Review Su-chang Kong's - R-Point - DVD Review Su-chang Kong R-Point DVD Review Su-chang Kong R-Point DVD Review Su-chang Kong R-Point DVD Review Su-chang Kong R-Point DVD Review Su-chang Kong R-Point DVD Review Su-chang Kong R-Point DVD Review Su-chang Kong's - R-Point - DVD Review Su-chang Kong R-Point DVD Review Su-chang Kong R-Point DVD Review Su-chang Kong R-Point DVD Review Su-chang Kong R-Point DVD Review Su-chang Kong R-Point DVD Review Su-chang Kong R-Point DVD Review Su-chang Kong's - R-Point - DVD Review Su-chang Kong R-Point DVD Review Su-chang Kong R-Point DVD Review Su-chang Kong R-Point DVD Review Su-chang Kong R-Point DVD Review Su-chang Kong R-Point DVD Review Su-chang Kong R-Point DVD Review Su-chang Kong's - R-Point - DVD Review Su-chang Kong R-Point DVD Review Su-chang Kong R-Point DVD Review Su-chang Kong R-Point DVD Review Su-chang Kong R-Point DVD Review Su-chang Kong R-Point DVD Review Su-chang Kong R-Point DVD Review