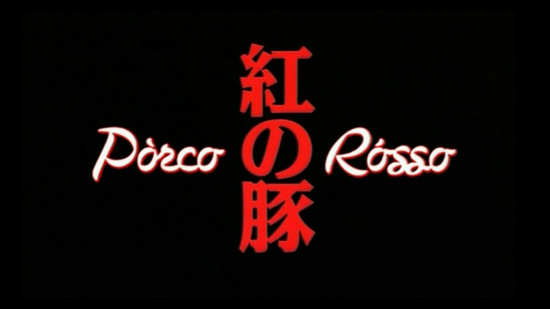 (aka "Kurenai no buta" )
directed by Hayao Miyazaki
Japan 1992
Porco Rosso is the champion of the sky. Set around the Adriatic Sea in the 1920s, Porco Rosso is a pilot, transformed into a pig by a magic spell, now fighting air pirates from his secret private island.

On one side the story of Miyazaki's "Porco Rosso" is traditional fairytale. Rosso is a hero, Manma Aiutto is the bad guy, Porco is shot down by Aiutto, rebuilds his plane and finally is victorious.

On the other side, "Porco Rosso" allows some interesting political readings, especially Rosso, who can be seen as a personification of the pigheadedness to join fascist Italy and its military. Miyazaki also continues his motif of female emancipation, his obsession with planes and his minute detailing of environment.

But in the end, what really matters here is the compelling story only Miyazaki can tell. Naive as it may be, possible political, "Porco Rosso" may be a lesser film by Miyazaki, but even as such, it is a film by Miyazaki and thus a delight to watch.
Theatrical Release: July 18, 1992
Reviews More Reviews DVD Reviews
DVD Review: Optimum (The Studio Ghibli Collection) - Region 2 - PAL
Big thanks to Henrik Sylow for the Review!
DVD Box Cover

CLICK to order from:

Distribution

Optimum

Region 2 - PAL

Runtime
1:33:18 (4% PAL speedup)
Video

1.78:1 Aspect Ratio

16X9 enhanced
Average Bitrate: 10.60 mb/s
PAL 720x576 25.00 f/s

NOTE: The Vertical axis represents the bits transferred per second. The Horizontal is the time in minutes.

Bitrate

Audio
2.0 Dolby Digital Japanese, 2.0 Dolby Digital English (sub)
Subtitles
English, English (translated), None
Features
Release Information:
Studio: Optimum

Aspect Ratio:
Widescreen anamorphic - 1.78:1

Edition Details:
• Alternative Angle Storyboards
• Original Trailers
• Interivew with Toshio Suzuki (3:30 / 4:3)
• Studio Ghibli Trailers

DVD Release Date:
Amaray

Chapters 14
Comments
Suffering from ghosting and combing, the image is apart from this quiet beautiful. Next to none compression artifacts and strong colors.

Sound is the original Japanese 2.0 Dolby Digital and the dubbed American track, supported by two sets of subtitles, one a translated set, the other the dubbed set.

As with all the releases from Optimum, one can view the film either as film, or as storyboard.
---




DVD Menus

---
Screen Captures














DONATIONS Keep DVDBeaver alive:
Mail cheques, money orders, cash to: or CLICK PayPal logo to donate!
Thank You!
Hayao Miyazaki's - Porco rosso - Kurenai no buta DVD Review Hayao Miyazaki Porco rosso Kurenai no buta DVD Review Hayao Miyazaki Porco rosso Kurenai no buta DVD Review Hayao Miyazaki Porco rosso Kurenai no buta DVD Review Hayao Miyazaki Porco rosso Kurenai no buta DVD Review Hayao Miyazaki Porco rosso Kurenai no buta DVD Review Hayao Miyazaki Porco rosso Kurenai no buta DVD Review Hayao Miyazaki's - Porco rosso - Kurenai no buta DVD Review Hayao Miyazaki Porco rosso Kurenai no buta DVD Review Hayao Miyazaki Porco rosso Kurenai no buta DVD Review Hayao Miyazaki Porco rosso Kurenai no buta DVD Review Hayao Miyazaki Porco rosso Kurenai no buta DVD Review Hayao Miyazaki Porco rosso Kurenai no buta DVD Review Hayao Miyazaki Porco rosso Kurenai no buta DVD Review Hayao Miyazaki's - Porco rosso - Kurenai no buta DVD Review Hayao Miyazaki Porco rosso Kurenai no buta DVD Review Hayao Miyazaki Porco rosso Kurenai no buta DVD Review Hayao Miyazaki Porco rosso Kurenai no buta DVD Review Hayao Miyazaki Porco rosso Kurenai no buta DVD Review Hayao Miyazaki Porco rosso Kurenai no buta DVD Review Hayao Miyazaki Porco rosso Kurenai no buta DVD Review Hayao Miyazaki's - Porco rosso - Kurenai no buta DVD Review Hayao Miyazaki Porco rosso Kurenai no buta DVD Review Hayao Miyazaki Porco rosso Kurenai no buta DVD Review Hayao Miyazaki Porco rosso Kurenai no buta DVD Review Hayao Miyazaki Porco rosso Kurenai no buta DVD Review Hayao Miyazaki Porco rosso Kurenai no buta DVD Review Hayao Miyazaki Porco rosso Kurenai no buta DVD Review Hayao Miyazaki's - Porco rosso - Kurenai no buta DVD Review Hayao Miyazaki Porco rosso Kurenai no buta DVD Review Hayao Miyazaki Porco rosso Kurenai no buta DVD Review Hayao Miyazaki Porco rosso Kurenai no buta DVD Review Hayao Miyazaki Porco rosso Kurenai no buta DVD Review Hayao Miyazaki Porco rosso Kurenai no buta DVD Review Hayao Miyazaki Porco rosso Kurenai no buta DVD Review Hayao Miyazaki's - Porco rosso - Kurenai no buta DVD Review Hayao Miyazaki Porco rosso Kurenai no buta DVD Review Hayao Miyazaki Porco rosso Kurenai no buta DVD Review Hayao Miyazaki Porco rosso Kurenai no buta DVD Review Hayao Miyazaki Porco rosso Kurenai no buta DVD Review Hayao Miyazaki Porco rosso Kurenai no buta DVD Review Hayao Miyazaki Porco rosso Kurenai no buta DVD Review Hayao Miyazaki's - Porco rosso - Kurenai no buta DVD Review Hayao Miyazaki Porco rosso Kurenai no buta DVD Review Hayao Miyazaki Porco rosso Kurenai no buta DVD Review Hayao Miyazaki Porco rosso Kurenai no buta DVD Review Hayao Miyazaki Porco rosso Kurenai no buta DVD Review Hayao Miyazaki Porco rosso Kurenai no buta DVD Review Hayao Miyazaki Porco rosso Kurenai no buta DVD Review Hayao Miyazaki's - Porco rosso - Kurenai no buta DVD Review Hayao Miyazaki Porco rosso Kurenai no buta DVD Review Hayao Miyazaki Porco rosso Kurenai no buta DVD Review Hayao Miyazaki Porco rosso Kurenai no buta DVD Review Hayao Miyazaki Porco rosso Kurenai no buta DVD Review Hayao Miyazaki Porco rosso Kurenai no buta DVD Review Hayao Miyazaki Porco rosso Kurenai no buta DVD Review Hayao Miyazaki's - Porco rosso - Kurenai no buta DVD Review Hayao Miyazaki Porco rosso Kurenai no buta DVD Review Hayao Miyazaki Porco rosso Kurenai no buta DVD Review Hayao Miyazaki Porco rosso Kurenai no buta DVD Review Hayao Miyazaki Porco rosso Kurenai no buta DVD Review Hayao Miyazaki Porco rosso Kurenai no buta DVD Review Hayao Miyazaki Porco rosso Kurenai no buta DVD Review Hayao Miyazaki's - Porco rosso - Kurenai no buta DVD Review Hayao Miyazaki Porco rosso Kurenai no buta DVD Review Hayao Miyazaki Porco rosso Kurenai no buta DVD Review Hayao Miyazaki Porco rosso Kurenai no buta DVD Review Hayao Miyazaki Porco rosso Kurenai no buta DVD Review Hayao Miyazaki Porco rosso Kurenai no buta DVD Review Hayao Miyazaki Porco rosso Kurenai no buta DVD Review Hayao Miyazaki's - Porco rosso - Kurenai no buta DVD Review Hayao Miyazaki Porco rosso Kurenai no buta DVD Review Hayao Miyazaki Porco rosso Kurenai no buta DVD Review Hayao Miyazaki Porco rosso Kurenai no buta DVD Review Hayao Miyazaki Porco rosso Kurenai no buta DVD Review Hayao Miyazaki Porco rosso Kurenai no buta DVD Review Hayao Miyazaki Porco rosso Kurenai no buta DVD Review Hayao Miyazaki's - Porco rosso - Kurenai no buta DVD Review Hayao Miyazaki Porco rosso Kurenai no buta DVD Review Hayao Miyazaki Porco rosso Kurenai no buta DVD Review Hayao Miyazaki Porco rosso Kurenai no buta DVD Review Hayao Miyazaki Porco rosso Kurenai no buta DVD Review Hayao Miyazaki Porco rosso Kurenai no buta DVD Review Hayao Miyazaki Porco rosso Kurenai no buta DVD Review Hayao Miyazaki's - Porco rosso - Kurenai no buta DVD Review Hayao Miyazaki Porco rosso Kurenai no buta DVD Review Hayao Miyazaki Porco rosso Kurenai no buta DVD Review Hayao Miyazaki Porco rosso Kurenai no buta DVD Review Hayao Miyazaki Porco rosso Kurenai no buta DVD Review Hayao Miyazaki Porco rosso Kurenai no buta DVD Review Hayao Miyazaki Porco rosso Kurenai no buta DVD Review Hayao Miyazaki's - Porco rosso - Kurenai no buta DVD Review Hayao Miyazaki Porco rosso Kurenai no buta DVD Review Hayao Miyazaki Porco rosso Kurenai no buta DVD Review Hayao Miyazaki Porco rosso Kurenai no buta DVD Review Hayao Miyazaki Porco rosso Kurenai no buta DVD Review Hayao Miyazaki Porco rosso Kurenai no buta DVD Review Hayao Miyazaki Porco rosso Kurenai no buta DVD Review