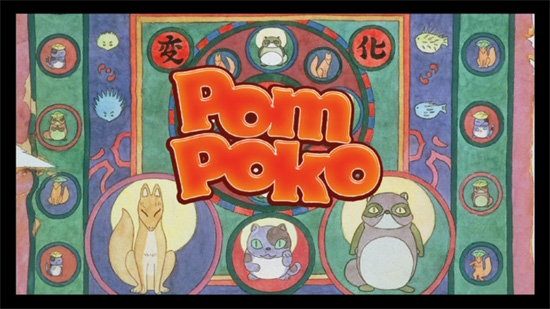 (aka "Heisei tanuki gassen pompoko" )
directed by Isao Takahata
Japan 1994
A very politically and ecologically conscious film, "Pom Poko" tells the story of how a group of rakoons fight against humans expansion and destruction of their enviroment, and is in a sense to be seen as a continuum of the motifs of "Princess Mononoke".

The fight is symbolized thru two fractions of the Tanuki. One side, the Shoukichi, seeks to understand humans, while the other, the Gonta, is a militant side, seeking destruction thru direct action.

While being rather heavy in its politically readings, "Pom Poko" is surprisingly entertaining, in the typical Ghibli naive manner. It is full of beautiful moments, where one can dwell upon the beauty of the design and the humour of the characters.
Theatrical Release: July 16, 1994
Reviews More Reviews DVD Reviews
DVD Review: Optimum (The Studio Ghibli Collection) - Region 2 - PAL
Big thanks to Henrik Sylow for the Review!
DVD Box Cover

CLICK to order from:

Distribution

Optimum

Region 2 - PAL

Runtime
1:54:35 (4% PAL speedup)
Video

1.85:1 Original Aspect Ratio

16X9 enhanced
Average Bitrate: 8.28 mb/s
PAL 720x576 25.00 f/s

NOTE: The Vertical axis represents the bits transferred per second. The Horizontal is the time in minutes.

Bitrate

Audio
2.0 Dolby Digital Japanese, 2.0 Dolby Digital English (sub)
Subtitles
English, English (translated), None
Features
Release Information:
Studio: Optimum

Aspect Ratio:
Widescreen anamorphic - 1.85:1

Edition Details:
• Alternative Angle Stroyboards
• Original Trailers
• Howl's Moving Castle Trailer
• The Studio Ghibli Collection

DVD Release Date: January 30, 2006
Amaray

Chapters 21
Comments
There are minute mosquito noise around objects, and colors tend to blend a little, but aside from this, the transfer is very good. There are no ghosting nor combing issues.

Sound is the original Japanese 2.0 Dolby Digital and the dubbed American track, supported by two sets of subtitles, one a translated set, the other the dubbed set.

As with all the releases from Optimum, one can view the film either as film, or as storyboard.
---
DVD Menus
---
Screen Captures














DONATIONS Keep DVDBeaver alive:
Mail cheques, money orders, cash to: or CLICK PayPal logo to donate!
Thank You!
Isao Takahata's - Pom Poko - DVD Heisei tanuki gassen pompoko Isao Takahata Pom Poko DVD Heisei tanuki gassen pompoko Isao Takahata Pom Poko DVD Heisei tanuki gassen pompoko Isao Takahata Pom Poko DVD Heisei tanuki gassen pompoko Isao Takahata Pom Poko DVD Heisei tanuki gassen pompoko Isao Takahata Pom Poko DVD Heisei tanuki gassen pompoko Isao Takahata Pom Poko DVD Heisei tanuki gassen pompoko Isao Takahata's - Pom Poko - DVD Heisei tanuki gassen pompoko Isao Takahata Pom Poko DVD Heisei tanuki gassen pompoko Isao Takahata Pom Poko DVD Heisei tanuki gassen pompoko Isao Takahata Pom Poko DVD Heisei tanuki gassen pompoko Isao Takahata Pom Poko DVD Heisei tanuki gassen pompoko Isao Takahata Pom Poko DVD Heisei tanuki gassen pompoko Isao Takahata Pom Poko DVD Heisei tanuki gassen pompoko Isao Takahata's - Pom Poko - DVD Heisei tanuki gassen pompoko Isao Takahata Pom Poko DVD Heisei tanuki gassen pompoko Isao Takahata Pom Poko DVD Heisei tanuki gassen pompoko Isao Takahata Pom Poko DVD Heisei tanuki gassen pompoko Isao Takahata Pom Poko DVD Heisei tanuki gassen pompoko Isao Takahata Pom Poko DVD Heisei tanuki gassen pompoko Isao Takahata Pom Poko DVD Heisei tanuki gassen pompoko Isao Takahata's - Pom Poko - DVD Heisei tanuki gassen pompoko Isao Takahata Pom Poko DVD Heisei tanuki gassen pompoko Isao Takahata Pom Poko DVD Heisei tanuki gassen pompoko Isao Takahata Pom Poko DVD Heisei tanuki gassen pompoko Isao Takahata Pom Poko DVD Heisei tanuki gassen pompoko Isao Takahata Pom Poko DVD Heisei tanuki gassen pompoko Isao Takahata Pom Poko DVD Heisei tanuki gassen pompoko Isao Takahata's - Pom Poko - DVD Heisei tanuki gassen pompoko Isao Takahata Pom Poko DVD Heisei tanuki gassen pompoko Isao Takahata Pom Poko DVD Heisei tanuki gassen pompoko Isao Takahata Pom Poko DVD Heisei tanuki gassen pompoko Isao Takahata Pom Poko DVD Heisei tanuki gassen pompoko Isao Takahata Pom Poko DVD Heisei tanuki gassen pompoko Isao Takahata Pom Poko DVD Heisei tanuki gassen pompoko Isao Takahata's - Pom Poko - DVD Heisei tanuki gassen pompoko Isao Takahata Pom Poko DVD Heisei tanuki gassen pompoko Isao Takahata Pom Poko DVD Heisei tanuki gassen pompoko Isao Takahata Pom Poko DVD Heisei tanuki gassen pompoko Isao Takahata Pom Poko DVD Heisei tanuki gassen pompoko Isao Takahata Pom Poko DVD Heisei tanuki gassen pompoko Isao Takahata Pom Poko DVD Heisei tanuki gassen pompoko Isao Takahata's - Pom Poko - DVD Heisei tanuki gassen pompoko Isao Takahata Pom Poko DVD Heisei tanuki gassen pompoko Isao Takahata Pom Poko DVD Heisei tanuki gassen pompoko Isao Takahata Pom Poko DVD Heisei tanuki gassen pompoko Isao Takahata Pom Poko DVD Heisei tanuki gassen pompoko Isao Takahata Pom Poko DVD Heisei tanuki gassen pompoko Isao Takahata Pom Poko DVD Heisei tanuki gassen pompoko Isao Takahata's - Pom Poko - DVD Heisei tanuki gassen pompoko Isao Takahata Pom Poko DVD Heisei tanuki gassen pompoko Isao Takahata Pom Poko DVD Heisei tanuki gassen pompoko Isao Takahata Pom Poko DVD Heisei tanuki gassen pompoko Isao Takahata Pom Poko DVD Heisei tanuki gassen pompoko Isao Takahata Pom Poko DVD Heisei tanuki gassen pompoko Isao Takahata Pom Poko DVD Heisei tanuki gassen pompoko Isao Takahata's - Pom Poko - DVD Heisei tanuki gassen pompoko Isao Takahata Pom Poko DVD Heisei tanuki gassen pompoko Isao Takahata Pom Poko DVD Heisei tanuki gassen pompoko Isao Takahata Pom Poko DVD Heisei tanuki gassen pompoko Isao Takahata Pom Poko DVD Heisei tanuki gassen pompoko Isao Takahata Pom Poko DVD Heisei tanuki gassen pompoko Isao Takahata Pom Poko DVD Heisei tanuki gassen pompoko Isao Takahata's - Pom Poko - DVD Heisei tanuki gassen pompoko Isao Takahata Pom Poko DVD Heisei tanuki gassen pompoko Isao Takahata Pom Poko DVD Heisei tanuki gassen pompoko Isao Takahata Pom Poko DVD Heisei tanuki gassen pompoko Isao Takahata Pom Poko DVD Heisei tanuki gassen pompoko Isao Takahata Pom Poko DVD Heisei tanuki gassen pompoko Isao Takahata Pom Poko DVD Heisei tanuki gassen pompoko Isao Takahata's - Pom Poko - DVD Heisei tanuki gassen pompoko Isao Takahata Pom Poko DVD Heisei tanuki gassen pompoko Isao Takahata Pom Poko DVD Heisei tanuki gassen pompoko Isao Takahata Pom Poko DVD Heisei tanuki gassen pompoko Isao Takahata Pom Poko DVD Heisei tanuki gassen pompoko Isao Takahata Pom Poko DVD Heisei tanuki gassen pompoko Isao Takahata Pom Poko DVD Heisei tanuki gassen pompoko Isao Takahata's - Pom Poko - DVD Heisei tanuki gassen pompoko Isao Takahata Pom Poko DVD Heisei tanuki gassen pompoko Isao Takahata Pom Poko DVD Heisei tanuki gassen pompoko Isao Takahata Pom Poko DVD Heisei tanuki gassen pompoko Isao Takahata Pom Poko DVD Heisei tanuki gassen pompoko Isao Takahata Pom Poko DVD Heisei tanuki gassen pompoko Isao Takahata Pom Poko DVD Heisei tanuki gassen pompoko Isao Takahata's - Pom Poko - DVD Heisei tanuki gassen pompoko Isao Takahata Pom Poko DVD Heisei tanuki gassen pompoko Isao Takahata Pom Poko DVD Heisei tanuki gassen pompoko Isao Takahata Pom Poko DVD Heisei tanuki gassen pompoko Isao Takahata Pom Poko DVD Heisei tanuki gassen pompoko Isao Takahata Pom Poko DVD Heisei tanuki gassen pompoko Isao Takahata Pom Poko DVD Heisei tanuki gassen pompoko Isao Takahata's - Pom Poko - DVD Heisei tanuki gassen pompoko Isao Takahata Pom Poko DVD Heisei tanuki gassen pompoko Isao Takahata Pom Poko DVD Heisei tanuki gassen pompoko Isao Takahata Pom Poko DVD Heisei tanuki gassen pompoko Isao Takahata Pom Poko DVD Heisei tanuki gassen pompoko Isao Takahata Pom Poko DVD Heisei tanuki gassen pompoko Isao Takahata Pom Poko DVD Heisei tanuki gassen pompoko Isao Takahata's - Pom Poko - DVD Heisei tanuki gassen pompoko Isao Takahata Pom Poko DVD Heisei tanuki gassen pompoko Isao Takahata Pom Poko DVD Heisei tanuki gassen pompoko Isao Takahata Pom Poko DVD Heisei tanuki gassen pompoko Isao Takahata Pom Poko DVD Heisei tanuki gassen pompoko Isao Takahata Pom Poko DVD Heisei tanuki gassen pompoko Isao Takahata Pom Poko DVD Heisei tanuki gassen pompoko