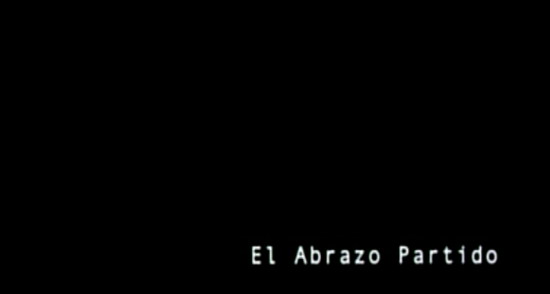 (aka 'Lost Embrace')
Directed by Daniel Burman
Argentina / France / Italy / Spain
2004
Set in Buenos Aires' vibrant Jewish community, Lost Embrace conjures up an irresistible ensemble of engaging and quirky characters that pursue their dreams with humor, passion and an infectious generosity of spirit. Ariel is a recent college dropout with hopes of escaping a career at his mother's lingerie store in a multi-cultural shopping mall. The job comes with its perks, but as tantalizing as helping beautiful women slip in and out of lingerie can be, Ariel seeks a more fulfilling life. Dressing-room trysts with sexy vixen Rita can't go on forever; and Estela, his now pregnant ex-girlfriend, no longer needs him. While hoping to secure a European passport, which will allow him to travel the world, Ariel first has to shake a head-spinning dose of reality: his long-lost father is about to return, forcing Ariel to accept a long-overdue reunion with the father he has been running away from all his life.
*****
This is Ariel's world: the small, slightly seedy shopping center in downtown Buenos Aires, where the Italian shopkeepers scream all day, the Koreans sell feng-shui and old Osvaldo sells nothing. Where Ariel's mother runs a lingerie shop and his brother deals in import-export. It's a comfortable little world, in spite of an undercurrent of malaise and uncertainty. Many young people are searching for their immigrant roots to obtain a coveted foreign passport, the key to a world full of promise. Ariel, however, wants more than a passport from Poland, where his grandparents fled to escape the Holocaust. He wants to understand. Why his father left his family shortly after his birth to fight a war in Israel. Why he never returned. And why this seems to leave his mother and brother indifferent...But the truth changes. And when Ariel's father returns, he brings with him new truths, a new story and, ultimately, a long-overdue embrace--one that had been lost for so long.
Posters
Theatrical Release: February 9th, 2004 - Berlin International Film Festival
Reviews More Reviews DVD Reviews
DVD Review: New Yorker - Region 1 - NTSC
DVD Box Cover

CLICK to order from:

Distribution
New Yorker Video - Region 1 - NTSC
Runtime
1:35:57
Video
1.82:1 Aspect Ratio
Average Bitrate: 7.94 mb/s
NTSC 720x480 29.97 f/s

NOTE: The Vertical axis represents the bits transferred per second. The Horizontal is the time in minutes.

Bitrate:

Audio
Spanish / Korean / Lithuanian / Yiddish (Dolby Digital 2.0)
Subtitles
English, None
Features

Release Information:
Studio: New Yorker Video

Aspect Ratio:
Original Aspect Ratio 1.82:1

Edition Details:

• 'The Making of..." (14:07)
• Theatrical Trailer

DVD Release Date: February 14th, 2006
Keep Case
Chapters: 32
| | |
| --- | --- |
| Comments: | A typical bottom tier New Yorker DVD with a non-progressive (see combing example last capture) anamorphic transfer with a slight greenish haze. It is moderately sharp with clear audio and excellent subtitles. The 'Making of...' featurette is well worth the watch and the film itself is rather cute - I did like it. Overall this is a standard New Yorker DVD of a good world cinema film that you probably won't ever see anywhere else. |
---



DVD Menus

---
Subtitle Sample
Screen Captures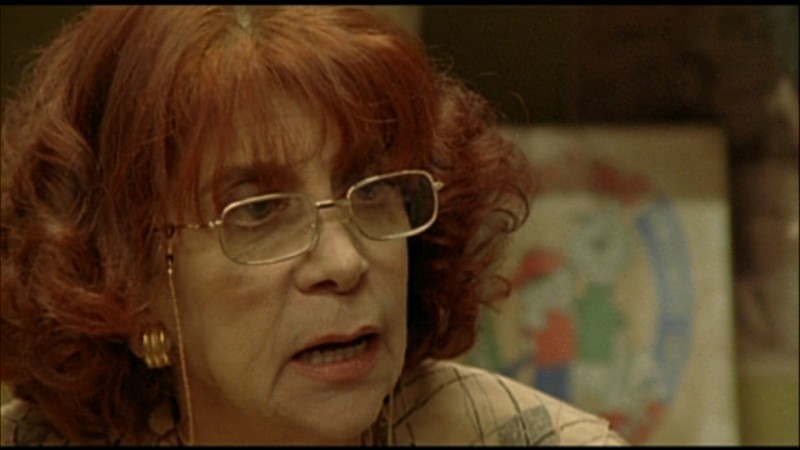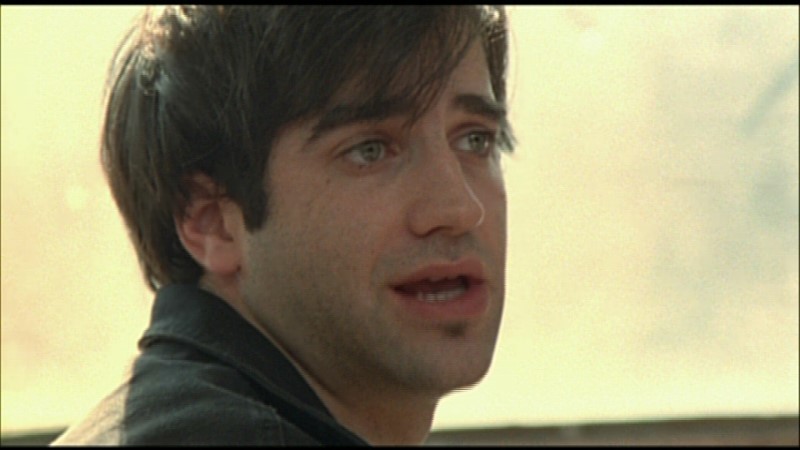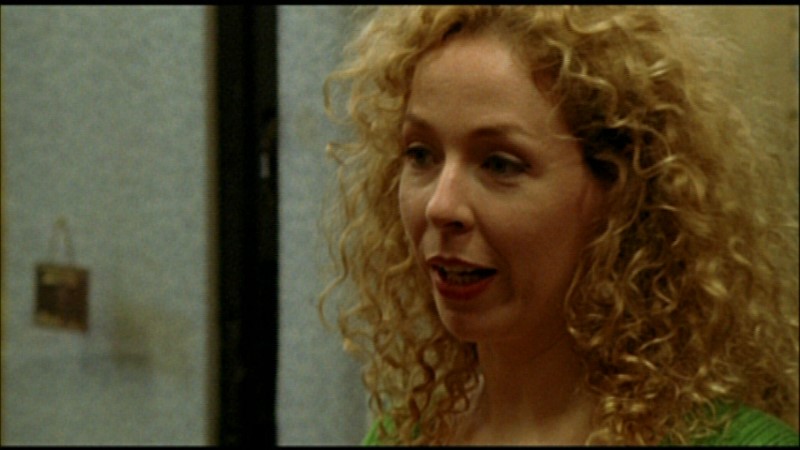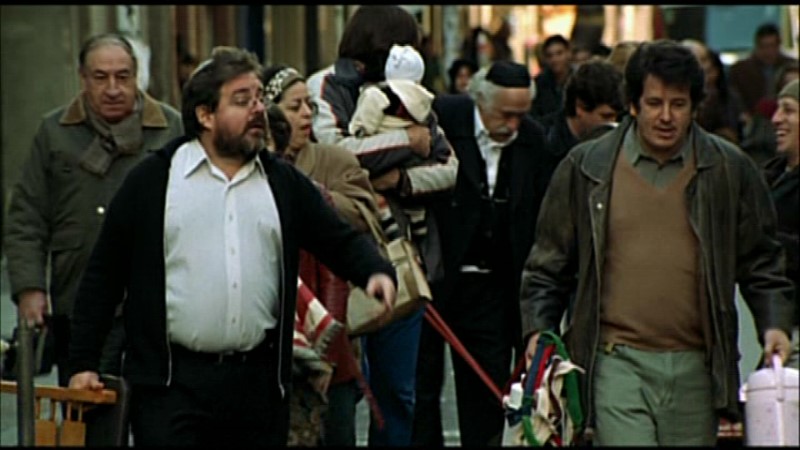 ---














DONATIONS Keep DVDBeaver alive:
Mail cheques, money orders, cash to: or CLICK PayPal logo to donate!
Gary Tooze

Mississauga, Ontario,

CANADA
Thank You!
Daniel Burman's - Lost Embrace - El Abrazo partido DVD Daniel Burman Lost Embrace El Abrazo partido DVD Daniel Burman Lost Embrace El Abrazo partido DVD Daniel Burman Lost Embrace El Abrazo partido DVD Daniel Burman Lost Embrace El Abrazo partido DVD Daniel Burman Lost Embrace El Abrazo partido DVD Daniel Burman Lost Embrace El Abrazo partido DVD Daniel Burman's - Lost Embrace - El Abrazo partido DVD Daniel Burman Lost Embrace El Abrazo partido DVD Daniel Burman Lost Embrace El Abrazo partido DVD Daniel Burman Lost Embrace El Abrazo partido DVD Daniel Burman Lost Embrace El Abrazo partido DVD Daniel Burman Lost Embrace El Abrazo partido DVD Daniel Burman Lost Embrace El Abrazo partido DVD Daniel Burman's - Lost Embrace - El Abrazo partido DVD Daniel Burman Lost Embrace El Abrazo partido DVD Daniel Burman Lost Embrace El Abrazo partido DVD Daniel Burman Lost Embrace El Abrazo partido DVD Daniel Burman Lost Embrace El Abrazo partido DVD Daniel Burman Lost Embrace El Abrazo partido DVD Daniel Burman Lost Embrace El Abrazo partido DVD Daniel Burman's - Lost Embrace - El Abrazo partido DVD Daniel Burman Lost Embrace El Abrazo partido DVD Daniel Burman Lost Embrace El Abrazo partido DVD Daniel Burman Lost Embrace El Abrazo partido DVD Daniel Burman Lost Embrace El Abrazo partido DVD Daniel Burman Lost Embrace El Abrazo partido DVD Daniel Burman Lost Embrace El Abrazo partido DVD Daniel Burman's - Lost Embrace - El Abrazo partido DVD Daniel Burman Lost Embrace El Abrazo partido DVD Daniel Burman Lost Embrace El Abrazo partido DVD Daniel Burman Lost Embrace El Abrazo partido DVD Daniel Burman Lost Embrace El Abrazo partido DVD Daniel Burman Lost Embrace El Abrazo partido DVD Daniel Burman Lost Embrace El Abrazo partido DVD Daniel Burman's - Lost Embrace - El Abrazo partido DVD Daniel Burman Lost Embrace El Abrazo partido DVD Daniel Burman Lost Embrace El Abrazo partido DVD Daniel Burman Lost Embrace El Abrazo partido DVD Daniel Burman Lost Embrace El Abrazo partido DVD Daniel Burman Lost Embrace El Abrazo partido DVD Daniel Burman Lost Embrace El Abrazo partido DVD Daniel Burman's - Lost Embrace - El Abrazo partido DVD Daniel Burman Lost Embrace El Abrazo partido DVD Daniel Burman Lost Embrace El Abrazo partido DVD Daniel Burman Lost Embrace El Abrazo partido DVD Daniel Burman Lost Embrace El Abrazo partido DVD Daniel Burman Lost Embrace El Abrazo partido DVD Daniel Burman Lost Embrace El Abrazo partido DVD Daniel Burman's - Lost Embrace - El Abrazo partido DVD Daniel Burman Lost Embrace El Abrazo partido DVD Daniel Burman Lost Embrace El Abrazo partido DVD Daniel Burman Lost Embrace El Abrazo partido DVD Daniel Burman Lost Embrace El Abrazo partido DVD Daniel Burman Lost Embrace El Abrazo partido DVD Daniel Burman Lost Embrace El Abrazo partido DVD Daniel Burman's - Lost Embrace - El Abrazo partido DVD Daniel Burman Lost Embrace El Abrazo partido DVD Daniel Burman Lost Embrace El Abrazo partido DVD Daniel Burman Lost Embrace El Abrazo partido DVD Daniel Burman Lost Embrace El Abrazo partido DVD Daniel Burman Lost Embrace El Abrazo partido DVD Daniel Burman Lost Embrace El Abrazo partido DVD Daniel Burman's - Lost Embrace - El Abrazo partido DVD Daniel Burman Lost Embrace El Abrazo partido DVD Daniel Burman Lost Embrace El Abrazo partido DVD Daniel Burman Lost Embrace El Abrazo partido DVD Daniel Burman Lost Embrace El Abrazo partido DVD Daniel Burman Lost Embrace El Abrazo partido DVD Daniel Burman Lost Embrace El Abrazo partido DVD Daniel Burman's - Lost Embrace - El Abrazo partido DVD Daniel Burman Lost Embrace El Abrazo partido DVD Daniel Burman Lost Embrace El Abrazo partido DVD Daniel Burman Lost Embrace El Abrazo partido DVD Daniel Burman Lost Embrace El Abrazo partido DVD Daniel Burman Lost Embrace El Abrazo partido DVD Daniel Burman Lost Embrace El Abrazo partido DVD Daniel Burman's - Lost Embrace - El Abrazo partido DVD Daniel Burman Lost Embrace El Abrazo partido DVD Daniel Burman Lost Embrace El Abrazo partido DVD Daniel Burman Lost Embrace El Abrazo partido DVD Daniel Burman Lost Embrace El Abrazo partido DVD Daniel Burman Lost Embrace El Abrazo partido DVD Daniel Burman Lost Embrace El Abrazo partido DVD Daniel Burman's - Lost Embrace - El Abrazo partido DVD Daniel Burman Lost Embrace El Abrazo partido DVD Daniel Burman Lost Embrace El Abrazo partido DVD Daniel Burman Lost Embrace El Abrazo partido DVD Daniel Burman Lost Embrace El Abrazo partido DVD Daniel Burman Lost Embrace El Abrazo partido DVD Daniel Burman Lost Embrace El Abrazo partido DVD Daniel Burman's - Lost Embrace - El Abrazo partido DVD Daniel Burman Lost Embrace El Abrazo partido DVD Daniel Burman Lost Embrace El Abrazo partido DVD Daniel Burman Lost Embrace El Abrazo partido DVD Daniel Burman Lost Embrace El Abrazo partido DVD Daniel Burman Lost Embrace El Abrazo partido DVD Daniel Burman Lost Embrace El Abrazo partido DVD Daniel Burman's - Lost Embrace - El Abrazo partido DVD Daniel Burman Lost Embrace El Abrazo partido DVD Daniel Burman Lost Embrace El Abrazo partido DVD Daniel Burman Lost Embrace El Abrazo partido DVD Daniel Burman Lost Embrace El Abrazo partido DVD Daniel Burman Lost Embrace El Abrazo partido DVD Daniel Burman Lost Embrace El Abrazo partido DVD Daniel Burman's - Lost Embrace - El Abrazo partido DVD Daniel Burman Lost Embrace El Abrazo partido DVD Daniel Burman Lost Embrace El Abrazo partido DVD Daniel Burman Lost Embrace El Abrazo partido DVD Daniel Burman Lost Embrace El Abrazo partido DVD Daniel Burman Lost Embrace El Abrazo partido DVD Daniel Burman Lost Embrace El Abrazo partido DVD Daniel Burman's - Lost Embrace - El Abrazo partido DVD Daniel Burman Lost Embrace El Abrazo partido DVD Daniel Burman Lost Embrace El Abrazo partido DVD Daniel Burman Lost Embrace El Abrazo partido DVD Daniel Burman Lost Embrace El Abrazo partido DVD Daniel Burman Lost Embrace El Abrazo partido DVD Daniel Burman Lost Embrace El Abrazo partido DVD Daniel Burman's - Lost Embrace - El Abrazo partido DVD Daniel Burman Lost Embrace El Abrazo partido DVD Daniel Burman Lost Embrace El Abrazo partido DVD Daniel Burman Lost Embrace El Abrazo partido DVD Daniel Burman Lost Embrace El Abrazo partido DVD Daniel Burman Lost Embrace El Abrazo partido DVD Daniel Burman Lost Embrace El Abrazo partido DVD