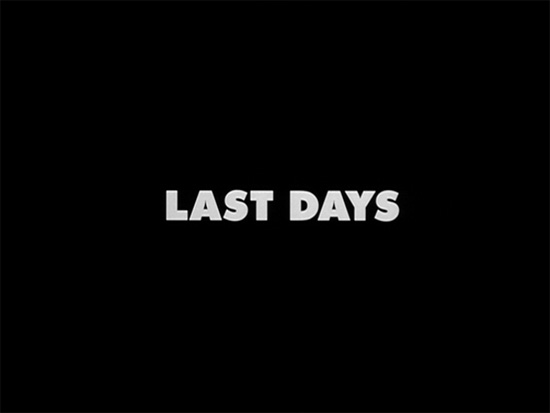 directed by Gus Van Sant
USA 2005
An fictional account of the last days of Kurt Cobain, "Last Days" continues van Sant's experiment in the use of space and time, influenced by Béla Tarr, creating an aimless and desolated mise-en-scene, slowly illustrating the state of mind, which lead to the suicide of, here fictional Kurt Cobain, Blake.

Rather than going into a play by play scene description, as each single scene in "Last Days" is of significant, I will describe, for me, three key scenes.

The first is where recruiters from the Mormon Church are visiting. They are offered a glass of wine by Scott, but politely decline. When asked, if they don't drink the blood of Christ, they answer, that they use water instead, as wine is unhealthy. Here van Sant inserts Blake turning on the television, playing Boyz II Men singing On bended knees. They then explain, that in old days, the only by killing something innocent, one could become innocent themselves, in reference to how one talks to God, and van Sant cuts to Blake, standing in military boots and a female negligé, slowly getting down on all fours, then crawling to the wall, where he faints, having Asia come in a finding him, leaving, then cutting to a medium shot lasting 2 minutes of the television playing the end of the song.

The second is where Blake's boss, a record executive played by Kim Gordon of Sonic Youth, is visiting. She asks him, if he is clean enough to play the guitar, to which he mumbles. She asks him, if he has seen his daughter, to which he says, that he talks with her on the phone and that he misses her. She asks him, if he tells her, that he is a Rock'n'Roll cliché, to which he mumbles no. At the end, she reaches out to him, telling him, that she has a car waiting and that he can come with her right now, stressing that no one is here besides him, and that if he stays here, he just will end up… and here van Sant cuts her leaving, never allowing her to finish the sentence, as it is at hand.

The third is where Luke asks Blake to help him writing a song about him not returning the calls of the most beautiful women he ever slept with, and with whom he had the best sex ever, which is interrupted by Scott, telling him leave Blake alone. Once alone, Blake takes his guitar and plays a song straight from the heart.

Constantly, van Sant sets up his mise-en-scene with desolation, with alienation, with despair of a world not understanding. Just as significant, as Christians not drinking wine, but water, as the blood of Christ, is television playing Boyz II Men. The value of things are lost.

William Blake wrote "The road of excess leads to the palace of wisdom.", and Blake has lead a life of excess, but has not yet gotten to any palace of wisdom. Instead he is alienated of the world around him; in so many words, he is lost. As Blake himself says, "I lost something on my way to wherever I am today."

As a contrast, parallelism if you like, to this estrangement, Blake wanders off, into the nature surrounding the house, spending time alone, in search of something to allow the world to make sense to him. Not to suck the marrow out of life, but in search of something of value. Here van Sant suggests religious motives, like being baptised at a waterfall, but perverts them, by later having Blake urinating in the same water that moments ago baptised him. In "Last Days", faith doesn't exist. Not only have the Mormon's replaced wine with water as the blood of Christ, but their proclamation of faith is memorized. Rather than absolution, Blake experiences Weltschmertz, ending in Solipsism ultimately suicide. The mise-en-scene is here especially interesting in context to the possible religious motiv, as the framing of the door suggests a cross, from which Blake has fallen.

A definitive masterpiece of cinema, "Last Days" is a film that demands attention and further study, not only its mise-en-scene, to the possible significance of van Sant's calling his protagonist Blake (as in William Blake?), but also to it being the last of van Sant's Death-Trilogy, especially its religions allusions (wandering of into the desert in "Gerry", the slaughter of the innocents in "Elephant", and self sacrifice in "Last Days"), and its existential context and relations to Camus, who said, "Our life must have meaning for us to value it. If we accept that life has no meaning and therefore no value, should we kill ourselves?"

Posters
Theatrical Release: May 13, 2005 (Cannes Film Festival)
Reviews More Reviews DVD Reviews
DVD Review: Optimum - Region 2 - PAL
Big thanks to Henrik Sylow for the Review!
DVD Box Cover

CLICK to order from:

Distribution

Optimum

Region 2 - PAL

Runtime
1:32:47 (4% PAL speedup)
Video

1.33:1 Original Aspect Ratio
Average Bitrate: 5.33 mb/s
PAL 720x576 25.00 f/s

NOTE: The Vertical axis represents the bits transferred per second. The Horizontal is the time in minutes.

Bitrate

Audio
2.0 Dolby Digital Stereo, 3.1 Dolby Digital Stereo
Subtitles
No subtitles
Features
Release Information:
Studio: Optimum

Aspect Ratio:
Fullscreen - 1.33:1

Edition Details:
• Michael Pitt interview (26:18 / 16x9)
• Making of (20:12 / 4x3)
• Deleted scenes (7:47 / 4x3)
• On the set: The Long Dollyshot (8:42 / 4x3)
• Music video (4:26 / 4x3)
• Trailer (1:44 / 16x9)

DVD Release Date: January 9, 2006
Keep Case

Chapters 16
Comments
NOTE: Just a quick correction to Henrik's text in his piece on 'Last Days' at Beaver -- the R1 edition of the film (HERE) does *not* present the film only in 1.78. The Region 1 release from HBO Films is in fact a flipper disc, with Side A presenting the film in Van Sant's preferred ratio of 1.33 (Thanks Craig!)

*****

A flawless transfer. No visible compression artifacts, except very slight halos in scenes where a darkened figure stands versus a white background.

Notable here is, that Optimum is presenting the film in its Original Aspect Ration of 1.33:1, opposite to the R1 edition, which is 1.78:1 (16x9).

Sound comes as 2.0 Dolby Digital and the optional 3.1 Dolby Digital. Both are excellent sound mixes, but the 3.1 Dolby Digital is more dynamic and richer.

The additional material has a superb Making of featurette, an in-depth study of a key sequence, some deleted scenes, a music video and a 26 minute interview with leading actor Michael Pitt, who talks about van Sant and the film.
---




DVD Menus

---
Screen Captures