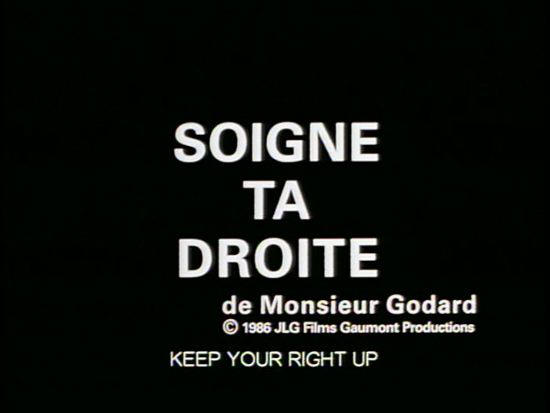 (aka "Une place sur la terre au ciel")
"Basically an episodic comedy, Jean-Luc Godard's Soigne ta droite a French-Swiss coproduction, features Godard himself as the comic lead, rehearsals of the rock group Rita Mitsouko, a good many gags (some involving golf and travel), and a lot of cameos from well-known French actors, including Jane Birkin, Bernadette Lafont, and Jacques Villeret. The biggest surprise here though is Godard's modification of his own persona: in contrast to the grumpy, would-be sages of First Name: Carmen and King Lear, his benign and ethereal character is positively Keatonian, with echoes of Tati's Monsieur Hulot as well. (Early in the film, he executes a surprisingly deft Keaton-like gag of diving through a car window.) The main comic inspiration, by Godard's own admission, is Jerry Lewis--specifically the airplane sequence in Cracking Up, though what Godard does with it seems even more quizzically eccentric than the model. Godard is also seen grasping a copy of Dostoyevsky's The Idiot, which may provide some clues about what he's up to. This isn't one of Godard's best features, though it certainly has its moments, and I much prefer it to his more recent For Ever Mozart."
excerpt from Jonathan Rosenbaum's review at the Chicago Reader found HERE
Theatrical Release: Sept. 19, 1987 - Toronto Film Festival
Reviews More Reviews DVD Reviews
DVD Review: Facets - Region 1 - NTSC
Big thanks to Adam Lemke for the Review!
DVD Box Cover

CLICK to order from:

Distribution

Facets

Region 1 - NTSC

Runtime
1.21.24
Video

1.33:1 Original Aspect Ratio
Average Bitrate: mb/s
NTSC 720x480 29.97 f/s

NOTE: The Vertical axis represents the bits transferred per second. The Horizontal is the time in minutes.

Bitrate

Audio
mono
Subtitles
english forced
Features
Release Information:
Studio: Facets

Aspect Ratio:
Fullscreen - 1.33:1

Edition Details:
• director filmography

DVD Release Date: May 14th, 2002
Keep Case

Chapters 16
| | |
| --- | --- |
| Comments | This is a very early DVD release from Facets, a company that certainly has a penchant for disappointing those with a discerning eye for image quality. It actually turns out to be one of the better discs that I've come across from them. Sure there are burned-in subtitles that are hard to read at times, and the single-layer disc is ripe with combing, but for once they have put out a disc that seems superior to a VHS tape. The colors are bright, and the image is far from hazy. It's nice to see this film, which is minor but enjoyable Godard, get a release, even if it's not in the finest of editions. out of |
---
---
Screen Captures
subtitle sample
---
DONATIONS Keep DVDBeaver alive and advertisement free:
Mail cheques, money orders, cash to: or CLICK PayPal logo to donate!
Thank You!
Jean-Luc Godard's - Keep Up Your Right - Soigne ta droite DVD Jean-Luc Godard Keep Up Your Right Soigne ta droite DVD Jean-Luc Godard Keep Up Your Right Soigne ta droite DVD Jean-Luc Godard Keep Up Your Right Soigne ta droite DVD Jean-Luc Godard Keep Up Your Right Soigne ta droite DVD Jean-Luc Godard's - Keep Up Your Right - Soigne ta droite DVD Jean-Luc Godard Keep Up Your Right Soigne ta droite DVD Jean-Luc Godard Keep Up Your Right Soigne ta droite DVD Jean-Luc Godard Keep Up Your Right Soigne ta droite DVD Jean-Luc Godard Keep Up Your Right Soigne ta droite DVD Jean-Luc Godard's - Keep Up Your Right - Soigne ta droite DVD Jean-Luc Godard Keep Up Your Right Soigne ta droite DVD Jean-Luc Godard Keep Up Your Right Soigne ta droite DVD Jean-Luc Godard Keep Up Your Right Soigne ta droite DVD Jean-Luc Godard Keep Up Your Right Soigne ta droite DVD Jean-Luc Godard's - Keep Up Your Right - Soigne ta droite DVD Jean-Luc Godard Keep Up Your Right Soigne ta droite DVD Jean-Luc Godard Keep Up Your Right Soigne ta droite DVD Jean-Luc Godard Keep Up Your Right Soigne ta droite DVD Jean-Luc Godard Keep Up Your Right Soigne ta droite DVD Jean-Luc Godard's - Keep Up Your Right - Soigne ta droite DVD Jean-Luc Godard Keep Up Your Right Soigne ta droite DVD Jean-Luc Godard Keep Up Your Right Soigne ta droite DVD Jean-Luc Godard Keep Up Your Right Soigne ta droite DVD Jean-Luc Godard Keep Up Your Right Soigne ta droite DVD Jean-Luc Godard's - Keep Up Your Right - Soigne ta droite DVD Jean-Luc Godard Keep Up Your Right Soigne ta droite DVD Jean-Luc Godard Keep Up Your Right Soigne ta droite DVD Jean-Luc Godard Keep Up Your Right Soigne ta droite DVD Jean-Luc Godard Keep Up Your Right Soigne ta droite DVD Jean-Luc Godard's - Keep Up Your Right - Soigne ta droite DVD Jean-Luc Godard Keep Up Your Right Soigne ta droite DVD Jean-Luc Godard Keep Up Your Right Soigne ta droite DVD Jean-Luc Godard Keep Up Your Right Soigne ta droite DVD Jean-Luc Godard Keep Up Your Right Soigne ta droite DVD Jean-Luc Godard's - Keep Up Your Right - Soigne ta droite DVD Jean-Luc Godard Keep Up Your Right Soigne ta droite DVD Jean-Luc Godard Keep Up Your Right Soigne ta droite DVD Jean-Luc Godard Keep Up Your Right Soigne ta droite DVD Jean-Luc Godard Keep Up Your Right Soigne ta droite DVD Jean-Luc Godard's - Keep Up Your Right - Soigne ta droite DVD Jean-Luc Godard Keep Up Your Right Soigne ta droite DVD Jean-Luc Godard Keep Up Your Right Soigne ta droite DVD Jean-Luc Godard Keep Up Your Right Soigne ta droite DVD Jean-Luc Godard Keep Up Your Right Soigne ta droite DVD Jean-Luc Godard's - Keep Up Your Right - Soigne ta droite DVD Jean-Luc Godard Keep Up Your Right Soigne ta droite DVD Jean-Luc Godard Keep Up Your Right Soigne ta droite DVD Jean-Luc Godard Keep Up Your Right Soigne ta droite DVD Jean-Luc Godard Keep Up Your Right Soigne ta droite DVD Jean-Luc Godard's - Keep Up Your Right - Soigne ta droite DVD Jean-Luc Godard Keep Up Your Right Soigne ta droite DVD Jean-Luc Godard Keep Up Your Right Soigne ta droite DVD Jean-Luc Godard Keep Up Your Right Soigne ta droite DVD Jean-Luc Godard Keep Up Your Right Soigne ta droite DVD Jean-Luc Godard's - Keep Up Your Right - Soigne ta droite DVD Jean-Luc Godard Keep Up Your Right Soigne ta droite DVD Jean-Luc Godard Keep Up Your Right Soigne ta droite DVD Jean-Luc Godard Keep Up Your Right Soigne ta droite DVD Jean-Luc Godard Keep Up Your Right Soigne ta droite DVD Jean-Luc Godard's - Keep Up Your Right - Soigne ta droite DVD Jean-Luc Godard Keep Up Your Right Soigne ta droite DVD Jean-Luc Godard Keep Up Your Right Soigne ta droite DVD Jean-Luc Godard Keep Up Your Right Soigne ta droite DVD Jean-Luc Godard Keep Up Your Right Soigne ta droite DVD Jean-Luc Godard's - Keep Up Your Right - Soigne ta droite DVD Jean-Luc Godard Keep Up Your Right Soigne ta droite DVD Jean-Luc Godard Keep Up Your Right Soigne ta droite DVD Jean-Luc Godard Keep Up Your Right Soigne ta droite DVD Jean-Luc Godard Keep Up Your Right Soigne ta droite DVD