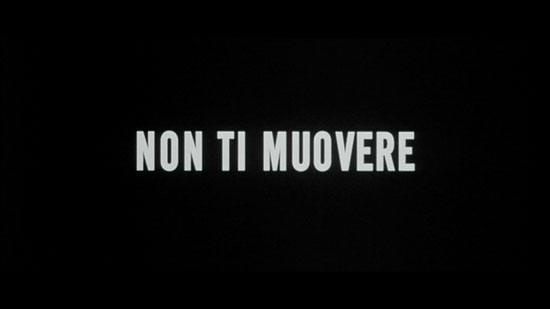 (aka "No te muevas" or "Don't Move")
directed by Sergio Castellitto
Italy / Spain / UK 2004
Say what you will about Penelope Cruz's less challenging roles in American films, but her work in foreign cinema has rarely failed to impress me. If there's a single person to thank, the talented actress is obviously indebted to writer/director Pedro Almodovar for providing her with colorful and spirited characters since her brief role in "Live Flesh" (1997). Although Cruz chose to work in the more profitable Hollywood system after the international success of "All About My Mother" (1999), she recently collaborated with Almodovar again in the Cannes' favorite "Volver" (2006). Critics universally lauded her performance, and she was awarded the female acting prize jointly with a cast of Almodovar regulars. Though Cruz is frequently noted for her collaborations with Almodovar, she conveyed a noteworthy performance in 2004's "Don't Move" that received praise from the international press. However, due to the film's unpleasant subject matter, it failed to find an audience in North America.

"Don't Move," at its core, is a soap opera with plenty of sex and nudity. Dr Timoteo Rossi (Sergio Castellitto) is haunted by a tragic car accident involving his daughter, Angela (Elena Perino). Left comatose by a near-fatal head injury, Angela lies lifeless and bed-ridden. Her poor condition encourages Timoteo to reconsider his own life and a past affair. Before his daughter was born, Timoteo was lost in his marriage and found solace in an affair with a hotel maid, Italia (Penelope Cruz). Timoteo considered leaving his wife, Elsa (Claudia Gerini), for Italia, but Elsa became pregnant with Angela. A bitter end to his relationship with Italia ensued, and Timoteo returned to his family. In light of the recent tragedy, Timoteo desperately recalls memories of his true love for comfort and inspiration.

If you've seen "Monster" (2003), I'm sure you're aware that it's quite a difficult task to forget the images of Charlize Theron's grizzly transformation into a murderous prostitute. In "Don't Move," Penelope Cruz proceeds through a vaguely similar transformation as a poverty-stricken woman haunted by experiences of rape and an abusive childhood. Where Theron's performance is overstated and perhaps too exaggerated for the film's good, Cruz is alternately detached and occasionally intense at opportune moments. Her approach to her character's sexuality clearly signals an unpleasant past, and it's particularly in the small moments, with a patient and heartfelt disposition, that Cruz offers a profoundly layered characterization. It's remarkable that Cruz can convey so much history in a character without saying a single word.

Keep in mind that I am in no way demeaning Theron's performance; rather, I'm suggesting another example of a vastly different approach to method acting--one that, in my opinion, is superior. In these two films, each forcefully driven by female lead performances, it was Theron's performance that was universally acknowledged while Cruz's remains an afterthought.

"Don't Move" is adapted from a novel written by Margaret Mazzantini. The novel has been a substantial commercial success and is an international bestseller. However, the novel was also known for its melodramatic subject matter--a problem that developed into the film's major flaw. Mazzantini's prose flows brilliantly, and her lush descriptions enrapture and connect the reader with her characters. The film is forced to compromise certain aspects of the novel. Star, writer, and director Sergio Castellitto attempts to compensate for the film's plot with a sumptuous visual style, which is well complimented by Cruz's pitch-perfect performance and his own demanding take on a character with severe emotional instability. Nonetheless, amidst all the emotional intensity is a story that is underdeveloped and plagued by awkward staging (re: the use of music and in particular Europe's "The Final Countdown"). It's almost immediately obvious that the film is weakened by a lack of logical character motivations--particularly when Timoteo (Castellitto) relates his inconsistent life philosophies. Unfortunately, Castellitto has misplaced his attempts to invoke a need for empathy and understanding for his characters, and consequently, "Don't Move" is a relatively hollow experience.

Apparently, there was a big fuss from the producers of "Don't Move" when Penelope Cruz failed to be nominated for Best Actress at the Academy Awards. Their cause may be justified given the gravity of Cruz's performance, but realistically, the Academy rarely acknowledges actresses in foreign films. Taking into consideration all the talent involved (especially Cruz), it's really a shame that the film doesn't become what everyone involved would have hoped, especially when nothing substantial has materialized for Castellitto since this film's release.
Posters
Theatrical Release: March 12, 2004 (Italy), December 17, 2004 (USA)
Reviews More Reviews DVD Reviews
DVD Comparison:
Medusa (2-Disc Special Edition) - Region 2 - PAL vs. Wellspring - Region 1 - NTSC
Big thanks to Per-Olof Strandberg and Kurtis Beard for the Screen Caps!
(Medusa (2-Disc Special Edition) - Region 2 - PAL - LEFT vs. Wellspring - Region 1 - NTSC - RIGHT)
DVD Box Covers

Distribution

Medusa

Region 2 - PAL

Wellspring
Region 1 - NTSC
Runtime
1:57:48 (4% PAL Speedup)
2:01:50
Video

2.35:1 Original Aspect Ratio

16X9 enhanced
Average Bitrate: 6.07 mb/s
PAL 720x576 25.00 f/s

2.35:1 Original Aspect Ratio

16X9 enhanced
Average Bitrate: 6.20 mb/s
NTSC 720x480 29.97 f/s

NOTE: The Vertical axis represents the bits transferred per second. The Horizontal is the time in minutes.

Bitrate:

Medusa (2-Disc Special Edition)

Bitrate:

Wellspring

Audio
Italian (Dolby Digital 5.1, Dolby Digital 2.0)

Italian (Dolby Digital 2.0)

Subtitles
English, French, Italian HoH, None
English, none
Features
Release Information:
Studio: Medusa

Aspect Ratio:
Widescreen anamorphic - 2.35:1

Edition Details:
• Disc 1:
• Commentary track by Sergio Castellitto
• Cast & Crew
• Disc 2:
• Scene tagliate
• Due ore di occhi (19:31)
• PenÚlope Cruz e Italia
• Making of di Gianfilippo Corticelli (17:59)
• Dietro le quinte (7:20)
• Trailer
• Galleria fotografica

DVD Release Date:
Keep Case

Chapters 36

Release Information:
Studio: Wellspring

Aspect Ratio:
Widescreen anamorphic - 2.35:1

Edition Details:
• Margaret Mazzantini: A Writer's Reflection
• Backstage: Behind-the-Scenes
• Unrated Deleted Scenes
• Penelope Cruz Screen Tests
• Internation Theatrical Trailer


DVD Release Date: July 18, 2006
Keep Case

Chapters 12
Comments
RE: Medusa (2-Disc Special Edition) - I can't image that this film can look any better on DVD than this R2 disc from Medusa. It's stunning! The only second, that the picture didn't look like a cinema print, was a short image of a front of a car. It had a brief Moire effect. And that's a very little fault in a two hours film!

It's a pity that the extra material is not subtitled in English.



ADDITION: Wellspring - Region 1- NTSC (August 06'):

Video:

Wellspring presents the film in its original aspect ratio of 2.35:1 (anamorphic). Both the Medusa and the Wellspring transfer are quite pleasing to the eye and offer a very crisp image and appropriate contrast levels. The lush color palette is well-expressed particularly with reds and blues. The Wellspring transfer is slightly better than the Medusa with more accurate and natural colors.

Audio:

Wellspring's audio is presented in a Dolby Digital 2.0 Italian track. There is no distortion and the track offers decent range. Perhaps the finest scene to showcase the audio is the opening overhead shot with falling rain, which is a sublime experience. However, Medusa's R2 has the advantage with a Dolby Digital 5.0 track.

Wellspring Extras:

The main extra with the Wellspring DVD is a montage of production clips and photos accompanied by commentary from novelist and co-writer Margaret Mazzantini. She offers a wealth of information about her experience with the film and speaks very highly of her husband/star/writer/director Castellitto. Mazzantini explains her influences and outlines her life experiences over the course of writing her book. She speaks fluidly and eloquently. Regrettably, there is clear evidence of interlaced scanning in the image quality.

Also included on the DVD is a backstage behind-the-scenes look at the film's production with insights from Penelope Cruz. Cruz offers a brief summary of her method to approaching the character of Italia, and as I suspected, she relied heavily on the book to supplement her performance. For the most part, the piece offers shots of what goes on between takes and interaction between the actors and the director. It concludes with shots of the actors finishing their last scenes. Unfortunately, it's very brief and more in the vein of EPK material. Again, the image quality of this extra is relatively poor.

Penelope Cruz's screen tests are shown and are of minimal interest. A deleted scene is also included and was clearly omitted for its graphic sexual content. The scene would have added very little to the story, although it is extremely well lit with a pleasant bluish palette and very effective use of shadows.

In terms of extras and menu design, Wellspring's R1 release pales in comparison to Medusa's R2. Medusa also offers significant more chapter stops. However, the Wellspring R1 release does offer English subtitles with the extras unlike Medusa's R2.
---




DVD Menus
(Medusa (2-Disc Special Edition) - Region 2 - PAL -
LEFT
vs. Wellspring - Region 1 - NTSC -
RIGHT
)
---
Screen Captures
(Medusa (2-Disc Special Edition) - Region 2 - PAL - TOP vs. Wellspring - Region 1 - NTSC - BOTTOM)
---
(Medusa (2-Disc Special Edition) - Region 2 - PAL - TOP vs. Wellspring - Region 1 - NTSC - BOTTOM)
---
(Medusa (2-Disc Special Edition) - Region 2 - PAL - TOP vs. Wellspring - Region 1 - NTSC - BOTTOM)
---
(Medusa (2-Disc Special Edition) - Region 2 - PAL - TOP vs. Wellspring - Region 1 - NTSC - BOTTOM)
---
(Medusa (2-Disc Special Edition) - Region 2 - PAL - TOP vs. Wellspring - Region 1 - NTSC - BOTTOM)
---
(Medusa (2-Disc Special Edition) - Region 2 - PAL - TOP vs. Wellspring - Region 1 - NTSC - BOTTOM)
---
(Medusa (2-Disc Special Edition) - Region 2 - PAL - TOP vs. Wellspring - Region 1 - NTSC - BOTTOM)

---
Report Card:
| | |
| --- | --- |
| Image: | Wellspring |
| Sound: | Medusa |
| Extras: | Medusa |
| Menu: | Medusa |