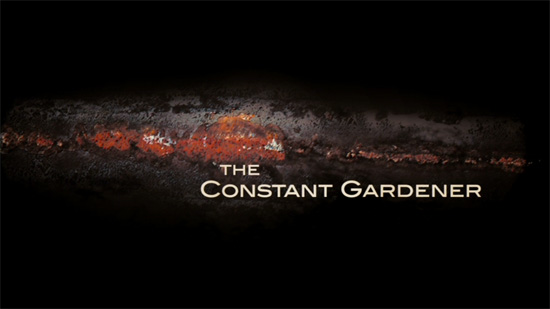 directed by Fernando Meirelles
Germany / UK / Kenya 2005
When diplomat wife Tessa Quale (Rachel Weisz) is found murdered along with her African driver, her husband Justin Quale (Ralph Finnes) is devastated. More so when he discovers, that she lived a double life and that she was him unfaithful. But something isn't right about her death, and when his friends suddenly begin to close their doors on him, he begins to asks questions, which eventually uncovers a truth everyone wants to hide.

Based upon the book by spymaster John Le Carré, "The Constant Gardener", is not so much a spy story as a love story, where Carré plays with motifs of the genre and attacks the international medical industry, based partially on what happened to one of his friends, French sans frontier worker Yvette Pierpaoli, who along with two colleagues and their driver was murdered in Albania.

Central in "The Constant Gardener" is the diplomatic virtue, which we would call passivity; to stand and watch people suffer and die without interfering, while with stiff upper lip pointing out, that it isn't part of her majesties interest. Also central is the calculating greed, based on arrogance, indifference and cynicism. Just like Harry Lime in "The Third Man" offered Holly £20,000 for each dot that stopped moving, so does the medical industry use people from the slums as guinea pigs.

Carré is angry and portraits the diplomatic world as a failure. Justin is portrayed as a lapdog, who without questions does what his country asks him to, who looks the other way when people die, as everything has a reason, and one only interferes when this reason is of interest to ones country. Opposite to him stands Tessa, a rebel, socialist, who is willing to risk her own life to help a stranger, and who attacks the diplomatic world Justin clings to by stating, that is has failed, when the UK and US can put UN resolutions aside and declare war on a sovereign country because they want to control oil.

With the death of Tessa, Justin's world collapses. Not only because she was the only person who ever really loved him, but because she is said to be unfaithful and worse. But little by little he discovers, that what people say of her, and what she really was, are two very different things, and thus he begins a journey to find out what and who killed her.

Fernando Meirelles directs "The Constant Gardener" to perfection, and along with DoP Cesar Charlone creates a stunning mise-en-scene of contrasts. While the west is shot in grey and blue, always raining, completely sterile and clean in its steel and concrete, he composes his African locations full of colours, full of decay, full of disease... full of life and joy.

Also notable is the use of static compositions versus handheld, as state of mind is depicted thru the kinetic camera. As Justin and Tessa first meet, Justin is static and slightly out of focus, while Tessa is shown by handheld never steady framing. Charlone will also use extreme close-ups, arranging people to be almost out of the frame, to stress state of mind. In terms of cinematography, this is in my opinion the best composed and most beautifully shot film of 2005.

But not just the direction of Meirelles or the cinematography of Charlone marks personal best. Ralph Finnes gives his best performance since "Quiz Show" and Rachel Weisz, who one wouldn't think much of after seeing her in "The Mummy", emerges as one of this years best actresses, making Tessa completely woman, giving Tessa a soul.

One of the best films of 2005, "The Constant Gardener" is a film not to be missed.

Poster
Theatrical Release: August 31, 2005
Reviews More Reviews DVD Reviews
DVD Review: Sandrew Metronome - Region 2 - PAL
Big thanks to Henrik Sylow for the Review!
DVD Box Cover

CLICK to order from:

Also available at:

Distribution

Sandrew Metronome

Region 2 - PAL

Runtime
2:03:17 (4% PAL speedup)
Video

1.85:1 Original Aspect Ratio

16X9 enhanced
Average Bitrate: 5.52 mb/s
PAL 720x576 25.00 f/s

NOTE: The Vertical axis represents the bits transferred per second. The Horizontal is the time in minutes.

Bitrate

Audio
2.0 Dolby Digital English, 5.1 Dolby Digital English
Subtitles
Danish, Swedish, Norwegian, Finnish, None
Features
Release Information:
Studio: Sandrew Metronome

Aspect Ratio:
Widescreen anamorphic - 1.85:1

Edition Details:
• Anatomy of a Global Thriller (11:33 / 16x9)
• John Le Carré: From page to the screen (8:07 / 16x9)
• Embracing Africa: Filming in Kenya (9:22 / 16x9)
• Extended Scene (9:40 / 16x9)
• Deleted Scenes (10:32 / 16x9)
• Trailer (0:50 / 16x9)

DVD Release Date: February 22, 2006
Keep Case

Chapters 20
Comments
It is not a perfect transfer. I had expected the colors to explode, but they are not as heavy saturated as in the theatre. Also there is minute dithering issues. But aside from this, I have not been able to find anything worthwhile to point out. It is a near perfect transfer and it does look sensational.

The additional material is your basics, but two are rather good. The first is "Embracing Africa: Filming in Kenya", the second "John Le Caree: From Page to the Screen". But for a film of this quality, I would have expected an audio commentary by at least Meirelles, and then from Finnes and Weisz. So while they two mentioned programs are good, the additional material here is by the book and little more.
---




DVD Menus

---
Screen Captures
Capture is resized from 1016px to 800px














DONATIONS Keep DVDBeaver alive:
Mail cheques, money orders, cash to: or CLICK PayPal logo to donate!
Thank You!
Fernando Meirelles The Constant Gardener DVD Review Fernando Meirelles The Constant Gardener DVD Review Fernando Meirelles The Constant Gardener DVD Review Fernando Meirelles The Constant Gardener DVD Review Fernando Meirelles The Constant Gardener DVD Review Fernando Meirelles The Constant Gardener DVD Review Fernando Meirelles The Constant Gardener DVD Review Fernando Meirelles The Constant Gardener DVD Review Fernando Meirelles The Constant Gardener DVD Review Fernando Meirelles The Constant Gardener DVD Review Fernando Meirelles The Constant Gardener DVD Review Fernando Meirelles The Constant Gardener DVD Review Fernando Meirelles The Constant Gardener DVD Review Fernando Meirelles The Constant Gardener DVD Review Fernando Meirelles The Constant Gardener DVD Review Fernando Meirelles The Constant Gardener DVD Review Fernando Meirelles The Constant Gardener DVD Review Fernando Meirelles The Constant Gardener DVD Review Fernando Meirelles The Constant Gardener DVD Review Fernando Meirelles The Constant Gardener DVD Review Fernando Meirelles The Constant Gardener DVD Review Fernando Meirelles The Constant Gardener DVD Review Fernando Meirelles The Constant Gardener DVD Review Fernando Meirelles The Constant Gardener DVD Review Fernando Meirelles The Constant Gardener DVD Review Fernando Meirelles The Constant Gardener DVD Review Fernando Meirelles The Constant Gardener DVD Review Fernando Meirelles The Constant Gardener DVD Review Fernando Meirelles The Constant Gardener DVD Review Fernando Meirelles The Constant Gardener DVD Review Fernando Meirelles The Constant Gardener DVD Review Fernando Meirelles The Constant Gardener DVD Review Fernando Meirelles The Constant Gardener DVD Review Fernando Meirelles The Constant Gardener DVD Review Fernando Meirelles The Constant Gardener DVD Review Fernando Meirelles The Constant Gardener DVD Review Fernando Meirelles The Constant Gardener DVD Review Fernando Meirelles The Constant Gardener DVD Review Fernando Meirelles The Constant Gardener DVD Review Fernando Meirelles The Constant Gardener DVD Review Fernando Meirelles The Constant Gardener DVD Review Fernando Meirelles The Constant Gardener DVD Review Fernando Meirelles The Constant Gardener DVD Review Fernando Meirelles The Constant Gardener DVD Review Fernando Meirelles The Constant Gardener DVD Review Fernando Meirelles The Constant Gardener DVD Review Fernando Meirelles The Constant Gardener DVD Review Fernando Meirelles The Constant Gardener DVD Review Fernando Meirelles The Constant Gardener DVD Review Fernando Meirelles The Constant Gardener DVD Review Fernando Meirelles The Constant Gardener DVD Review Fernando Meirelles The Constant Gardener DVD Review Fernando Meirelles The Constant Gardener DVD Review Fernando Meirelles The Constant Gardener DVD Review Fernando Meirelles The Constant Gardener DVD Review Fernando Meirelles The Constant Gardener DVD Review Fernando Meirelles The Constant Gardener DVD Review Fernando Meirelles The Constant Gardener DVD Review Fernando Meirelles The Constant Gardener DVD Review Fernando Meirelles The Constant Gardener DVD Review Fernando Meirelles The Constant Gardener DVD Review Fernando Meirelles The Constant Gardener DVD Review Fernando Meirelles The Constant Gardener DVD Review Fernando Meirelles The Constant Gardener DVD Review Fernando Meirelles The Constant Gardener DVD Review Fernando Meirelles The Constant Gardener DVD Review Fernando Meirelles The Constant Gardener DVD Review Fernando Meirelles The Constant Gardener DVD Review Fernando Meirelles The Constant Gardener DVD Review Fernando Meirelles The Constant Gardener DVD Review Fernando Meirelles The Constant Gardener DVD Review Fernando Meirelles The Constant Gardener DVD Review Fernando Meirelles The Constant Gardener DVD Review Fernando Meirelles The Constant Gardener DVD Review Fernando Meirelles The Constant Gardener DVD Review Fernando Meirelles The Constant Gardener DVD Review Fernando Meirelles The Constant Gardener DVD Review Fernando Meirelles The Constant Gardener DVD Review Fernando Meirelles The Constant Gardener DVD Review Fernando Meirelles The Constant Gardener DVD Review Fernando Meirelles The Constant Gardener DVD Review Fernando Meirelles The Constant Gardener DVD Review Fernando Meirelles The Constant Gardener DVD Review Fernando Meirelles The Constant Gardener DVD Review Fernando Meirelles The Constant Gardener DVD Review Fernando Meirelles The Constant Gardener DVD Review Fernando Meirelles The Constant Gardener DVD Review Fernando Meirelles The Constant Gardener DVD Review Fernando Meirelles The Constant Gardener DVD Review Fernando Meirelles The Constant Gardener DVD Review Fernando Meirelles The Constant Gardener DVD Review Fernando Meirelles The Constant Gardener DVD Review Fernando Meirelles The Constant Gardener DVD Review Fernando Meirelles The Constant Gardener DVD Review Fernando Meirelles The Constant Gardener DVD Review Fernando Meirelles The Constant Gardener DVD Review Fernando Meirelles The Constant Gardener DVD Review Fernando Meirelles The Constant Gardener DVD Review Fernando Meirelles The Constant Gardener DVD Review