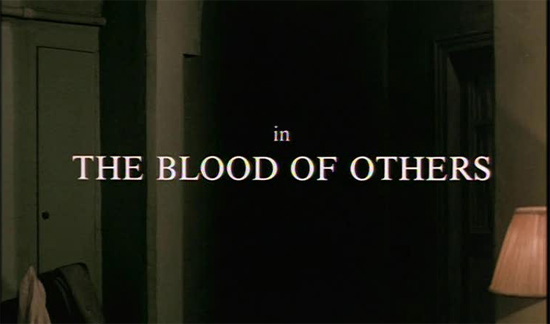 (aka "The Blood of Others" or "Sang des autres, Les")
Production Notes:
"The Blood of Others," based on the novel by Simone de Beauvoir, will be brought to the screen with an international cast headed by Jodie Foster, Michael Ontkean, Michael York, Lambert Wilson, and Stephane Audran. The film will be directed by Claude Chabrol from a screenplay by Brian Moore.The international co-production is the story of two young people in love in war-torn France, facing the ultimate sacrifice. It is a consuming love affair and a dramatic suspense story. Moment by moment, twist by twist, the suspense and tension build to heights of courage and heroism, reflecting everyone's responsibility for their own lives and other's deaths.
------

It seems that this film was originally made as a three-hour TV mini-series. This cinema version is approx. 40 minutes shorter. The production design for this film is unclear to me. In what stage was the feature film planned? The history is full of these kind of productions, where the dramaturgical structure is made so that you can edit both a TV series and a feature film from the material. The best known is DAS BOOT, FANNY & ALEXANDER, CHRIST STOPPED AT EBOLI and WHEN FATHER WAS AWAY ON BUSINESS. Usually the dramaturgical structure doesn't function in the best possible way on the feature film. Instead of having a culmination in the end of the film, we get one, every-time one TV part is ended, and often these films have a three - four part structure!
Poster
Theatrical Release: France 2 May 1984
Reviews More Reviews DVD Reviews
DVD Review: Atlantic Film - Region 2 - PAL
Big thanks to Per-Olof Strandberg for the Review!
DVD Box Cover

CLICK to order from:

Distribution

Atlantic Film

Region 2 - PAL

Runtime
2:05:16 (4% PAL speedup)
Video

1:1.33 Open Matte format
Average Bitrate: 4.48 mb/s
PAL 720x576 25.00 f/s

NOTE: The Vertical axis represents the bits transferred per second. The Horizontal is the time in minutes.

Bitrate

Audio
English (Dolby Digital 2.0)
Subtitles
Finnish, Swedish, None
Features
Release Information:
Studio: Atlantic Film

Aspect Ratio:
Fullscreen - 1:1.33

Edition Details:
• Biographies

DVD Release Date: 2003-11-19
Keep Case

Chapters 16
Comments
It seems like this film is framed as 'open matte', to fit the TV and and cinema screen. I saw it in 1:1.78, and nothing from the information was dropped out. The master tape is in a good shape, although the image seems a little bit soft, and the detail isn't the best.

The film is in English with removable subs!

NOTE!
The Finnish and Swedish editions are identical. The Swedish distributor is Atlantic Film, and the Finnish Future Film (the Finnish name for the film is PETTURIN SUUDELMA). In Denmark you find an identical version, but with optional Danish and Norwegian subtitles.
---



DVD Menus
---
Screen Captures
---
Recommended Reading in French Cinema (CLICK COVERS or TITLES for more information)
The Films in My Life
by Francois Truffaut, Leonard Mayhew

French Cinema: A Student's Guide
by Philip Powrie, Keith Reader
Agnes Varda by Alison Smith
Godard on Godard : Critical Writings by Jean-Luc Godard
Claude Chabrol (French Film Directors)
by Guy Austin
Robert Bresson (Cinematheque Ontario Monographs, No. 2)
by James Quandt
The Art of Cinema by Jean Cocteau
French New Wave
by Jean Douchet, Robert Bonnono, Cedric Anger, Robert Bononno
French Cinema: From Its Beginnings to the Present
by Remi Fournier Lanzoni
Check out more in "The Library"
---
Mail cheques, money orders, cash to: or CLICK PayPal logo to donate!
Thank You!
Claude Chabrol's - The Blood of Others - Le Sang des autres - DVD Review Claude Chabrol The Blood of Others Le Sang des autres DVD Review Claude Chabrol The Blood of Others Le Sang des autres DVD Review Claude Chabrol The Blood of Others Le Sang des autres DVD Review Claude Chabrol The Blood of Others Le Sang des autres DVD Review Claude Chabrol The Blood of Others Le Sang des autres DVD Review Claude Chabrol The Blood of Others Le Sang des autres DVD Review Claude Chabrol's - The Blood of Others - Le Sang des autres - DVD Review Claude Chabrol The Blood of Others Le Sang des autres DVD Review Claude Chabrol The Blood of Others Le Sang des autres DVD Review Claude Chabrol The Blood of Others Le Sang des autres DVD Review Claude Chabrol The Blood of Others Le Sang des autres DVD Review Claude Chabrol The Blood of Others Le Sang des autres DVD Review Claude Chabrol The Blood of Others Le Sang des autres DVD Review Claude Chabrol's - The Blood of Others - Le Sang des autres - DVD Review Claude Chabrol The Blood of Others Le Sang des autres DVD Review Claude Chabrol The Blood of Others Le Sang des autres DVD Review Claude Chabrol The Blood of Others Le Sang des autres DVD Review Claude Chabrol The Blood of Others Le Sang des autres DVD Review Claude Chabrol The Blood of Others Le Sang des autres DVD Review Claude Chabrol The Blood of Others Le Sang des autres DVD Review Claude Chabrol's - The Blood of Others - Le Sang des autres - DVD Review Claude Chabrol The Blood of Others Le Sang des autres DVD Review Claude Chabrol The Blood of Others Le Sang des autres DVD Review Claude Chabrol The Blood of Others Le Sang des autres DVD Review Claude Chabrol The Blood of Others Le Sang des autres DVD Review Claude Chabrol The Blood of Others Le Sang des autres DVD Review Claude Chabrol The Blood of Others Le Sang des autres DVD Review Claude Chabrol's - The Blood of Others - Le Sang des autres - DVD Review Claude Chabrol The Blood of Others Le Sang des autres DVD Review Claude Chabrol The Blood of Others Le Sang des autres DVD Review Claude Chabrol The Blood of Others Le Sang des autres DVD Review Claude Chabrol The Blood of Others Le Sang des autres DVD Review Claude Chabrol The Blood of Others Le Sang des autres DVD Review Claude Chabrol The Blood of Others Le Sang des autres DVD Review Claude Chabrol's - The Blood of Others - Le Sang des autres - DVD Review Claude Chabrol The Blood of Others Le Sang des autres DVD Review Claude Chabrol The Blood of Others Le Sang des autres DVD Review Claude Chabrol The Blood of Others Le Sang des autres DVD Review Claude Chabrol The Blood of Others Le Sang des autres DVD Review Claude Chabrol The Blood of Others Le Sang des autres DVD Review Claude Chabrol The Blood of Others Le Sang des autres DVD Review Claude Chabrol's - The Blood of Others - Le Sang des autres - DVD Review Claude Chabrol The Blood of Others Le Sang des autres DVD Review Claude Chabrol The Blood of Others Le Sang des autres DVD Review Claude Chabrol The Blood of Others Le Sang des autres DVD Review Claude Chabrol The Blood of Others Le Sang des autres DVD Review Claude Chabrol The Blood of Others Le Sang des autres DVD Review Claude Chabrol The Blood of Others Le Sang des autres DVD Review Claude Chabrol's - The Blood of Others - Le Sang des autres - DVD Review Claude Chabrol The Blood of Others Le Sang des autres DVD Review Claude Chabrol The Blood of Others Le Sang des autres DVD Review Claude Chabrol The Blood of Others Le Sang des autres DVD Review Claude Chabrol The Blood of Others Le Sang des autres DVD Review Claude Chabrol The Blood of Others Le Sang des autres DVD Review Claude Chabrol The Blood of Others Le Sang des autres DVD Review Claude Chabrol's - The Blood of Others - Le Sang des autres - DVD Review Claude Chabrol The Blood of Others Le Sang des autres DVD Review Claude Chabrol The Blood of Others Le Sang des autres DVD Review Claude Chabrol The Blood of Others Le Sang des autres DVD Review Claude Chabrol The Blood of Others Le Sang des autres DVD Review Claude Chabrol The Blood of Others Le Sang des autres DVD Review Claude Chabrol The Blood of Others Le Sang des autres DVD Review Claude Chabrol's - The Blood of Others - Le Sang des autres - DVD Review Claude Chabrol The Blood of Others Le Sang des autres DVD Review Claude Chabrol The Blood of Others Le Sang des autres DVD Review Claude Chabrol The Blood of Others Le Sang des autres DVD Review Claude Chabrol The Blood of Others Le Sang des autres DVD Review Claude Chabrol The Blood of Others Le Sang des autres DVD Review Claude Chabrol The Blood of Others Le Sang des autres DVD Review Claude Chabrol's - The Blood of Others - Le Sang des autres - DVD Review Claude Chabrol The Blood of Others Le Sang des autres DVD Review Claude Chabrol The Blood of Others Le Sang des autres DVD Review Claude Chabrol The Blood of Others Le Sang des autres DVD Review Claude Chabrol The Blood of Others Le Sang des autres DVD Review Claude Chabrol The Blood of Others Le Sang des autres DVD Review Claude Chabrol The Blood of Others Le Sang des autres DVD Review Claude Chabrol's - The Blood of Others - Le Sang des autres - DVD Review Claude Chabrol The Blood of Others Le Sang des autres DVD Review Claude Chabrol The Blood of Others Le Sang des autres DVD Review Claude Chabrol The Blood of Others Le Sang des autres DVD Review Claude Chabrol The Blood of Others Le Sang des autres DVD Review Claude Chabrol The Blood of Others Le Sang des autres DVD Review Claude Chabrol The Blood of Others Le Sang des autres DVD Review Claude Chabrol's - The Blood of Others - Le Sang des autres - DVD Review Claude Chabrol The Blood of Others Le Sang des autres DVD Review Claude Chabrol The Blood of Others Le Sang des autres DVD Review Claude Chabrol The Blood of Others Le Sang des autres DVD Review Claude Chabrol The Blood of Others Le Sang des autres DVD Review Claude Chabrol The Blood of Others Le Sang des autres DVD Review Claude Chabrol The Blood of Others Le Sang des autres DVD Review