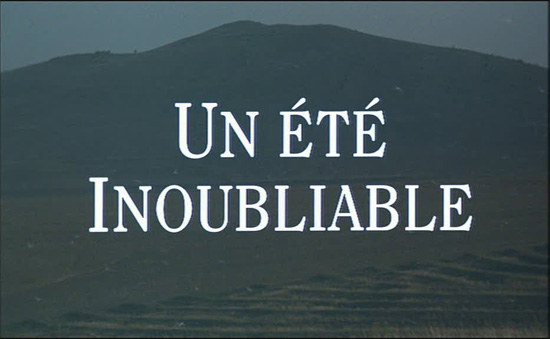 (aka "An Unforgettable Summer" )
directed by Lucian Pintilie
France / Romania 1994
We chose the film AN UNFORGETTABLE SUMMER, which was described by one of the festival staff as "one of the jewels of the festival." AN UNFORGETTABLE SUMMER is an historical piece about a Romanian army captain and his wife in the 1920s. In order to protect his wife from the advances of his commanding officer, the captain, a staff officer at the time, requests a transfer, and is transferred to a bleak border post in the Romanian east. He and his wife adapt, but they eventually find themselves in a situation where the moral solution is the onethat will destroy them. The film shows how two decent, honest people can find themselves in a no-win situation. The film is presented on a small scale and, ironically, is told through the eyes of the young son, who simply remembers this as "an unforgettable summer," possibly the best summer he ever had. I'd say that this is one of the four best things we saw.
Poster
Theatrical Release: France 15 June 1994
Reviews More Reviews DVD Reviews
DVD Review: MK2 - Region 2 - PAL
Big thanks to Per-Olof Strandberg for the Review!
DVD Box Cover

CLICK to order from:

Distribution

MK2

Region 2 - PAL

Runtime
1:19:21 (4% PAL speedup)
Video

1:1.66 Original Aspect Ratio

16X9 enhanced
Average Bitrate: 7.18 mb/s
PAL 720x576 25.00 f/s

NOTE: The Vertical axis represents the bits transferred per second. The Horizontal is the time in minutes.

Bitrate

Audio
Romanian (Dolby Digital 2.0), French (Dolby Digital 2.0)
Subtitles
English, French, None
Features
Release Information:
Studio: MK2

Aspect Ratio:
Widescreen anamorphic - 1:1.66

Edition Details:
• Préface de Michel Ciment
• La Lecon de cinema de Lucian Pintilie
• Entrietien avec Martin Karmitz
• La collection Pintilie
• NOTE! The extras DON*T HAVE ENGLISH SUBS

DVD Release Date: 24/03 2004
Slim Digi Pack

Chapters 13
Comments
A solid DVD form MK2. Sharp image and the colors seems mostly accurate, even though I wonder if the greenish look is intended, and whether it is from the original color timing. Some brief aliasing can also be found, but overall this is a very good looking DVD. The both soundtrack's have some lines in English, when the character played by Kristin Scott Thomas speaks with her children. The extra material is not subtitled in English.

NOTE!
I can't find one single web site that confirms, that the DVD they sell has English subtitles, not even MK2's Home page! It feels odd that so many French DVD vendors has so little information of the disc options. I don't think there can be two versions of these DVD, when the English subs are stated on the Menu page!
---




DVD Menus
---
Screen Captures














DONATIONS Keep DVDBeaver alive:
Mail cheques, money orders, cash to: or CLICK PayPal logo to donate!
Thank You!
Lucian Pintilie's - Un été inoubliable - An Unforgettable Summer - Kristin Scott Thomas Lucian Pintilie Un été inoubliable An Unforgettable Summer Kristin Scott Thomas Lucian Pintilie Un été inoubliable An Unforgettable Summer Kristin Scott Thomas Lucian Pintilie Un été inoubliable An Unforgettable Summer Kristin Scott Thomas Lucian Pintilie Un été inoubliable An Unforgettable Summer Kristin Scott Thomas Lucian Pintilie Un été inoubliable An Unforgettable Summer Kristin Scott Thomas Lucian Pintilie Un été inoubliable An Unforgettable Summer Kristin Scott Thomas Lucian Pintilie's - Un été inoubliable - An Unforgettable Summer - Kristin Scott Thomas Lucian Pintilie Un été inoubliable An Unforgettable Summer Kristin Scott Thomas Lucian Pintilie Un été inoubliable An Unforgettable Summer Kristin Scott Thomas Lucian Pintilie Un été inoubliable An Unforgettable Summer Kristin Scott Thomas Lucian Pintilie Un été inoubliable An Unforgettable Summer Kristin Scott Thomas Lucian Pintilie Un été inoubliable An Unforgettable Summer Kristin Scott Thomas Lucian Pintilie Un été inoubliable An Unforgettable Summer Kristin Scott Thomas Lucian Pintilie's - Un été inoubliable - An Unforgettable Summer - Kristin Scott Thomas Lucian Pintilie Un été inoubliable An Unforgettable Summer Kristin Scott Thomas Lucian Pintilie Un été inoubliable An Unforgettable Summer Kristin Scott Thomas Lucian Pintilie Un été inoubliable An Unforgettable Summer Kristin Scott Thomas Lucian Pintilie Un été inoubliable An Unforgettable Summer Kristin Scott Thomas Lucian Pintilie Un été inoubliable An Unforgettable Summer Kristin Scott Thomas Lucian Pintilie Un été inoubliable An Unforgettable Summer Kristin Scott Thomas Lucian Pintilie's - Un été inoubliable - An Unforgettable Summer - Kristin Scott Thomas Lucian Pintilie Un été inoubliable An Unforgettable Summer Kristin Scott Thomas Lucian Pintilie Un été inoubliable An Unforgettable Summer Kristin Scott Thomas Lucian Pintilie Un été inoubliable An Unforgettable Summer Kristin Scott Thomas Lucian Pintilie Un été inoubliable An Unforgettable Summer Kristin Scott Thomas Lucian Pintilie Un été inoubliable An Unforgettable Summer Kristin Scott Thomas Lucian Pintilie Un été inoubliable An Unforgettable Summer Kristin Scott Thomas Lucian Pintilie's - Un été inoubliable - An Unforgettable Summer - Kristin Scott Thomas Lucian Pintilie Un été inoubliable An Unforgettable Summer Kristin Scott Thomas Lucian Pintilie Un été inoubliable An Unforgettable Summer Kristin Scott Thomas Lucian Pintilie Un été inoubliable An Unforgettable Summer Kristin Scott Thomas Lucian Pintilie Un été inoubliable An Unforgettable Summer Kristin Scott Thomas Lucian Pintilie Un été inoubliable An Unforgettable Summer Kristin Scott Thomas Lucian Pintilie Un été inoubliable An Unforgettable Summer Kristin Scott Thomas Lucian Pintilie's - Un été inoubliable - An Unforgettable Summer - Kristin Scott Thomas Lucian Pintilie Un été inoubliable An Unforgettable Summer Kristin Scott Thomas Lucian Pintilie Un été inoubliable An Unforgettable Summer Kristin Scott Thomas Lucian Pintilie Un été inoubliable An Unforgettable Summer Kristin Scott Thomas Lucian Pintilie Un été inoubliable An Unforgettable Summer Kristin Scott Thomas Lucian Pintilie Un été inoubliable An Unforgettable Summer Kristin Scott Thomas Lucian Pintilie Un été inoubliable An Unforgettable Summer Kristin Scott Thomas Lucian Pintilie's - Un été inoubliable - An Unforgettable Summer - Kristin Scott Thomas Lucian Pintilie Un été inoubliable An Unforgettable Summer Kristin Scott Thomas Lucian Pintilie Un été inoubliable An Unforgettable Summer Kristin Scott Thomas Lucian Pintilie Un été inoubliable An Unforgettable Summer Kristin Scott Thomas Lucian Pintilie Un été inoubliable An Unforgettable Summer Kristin Scott Thomas Lucian Pintilie Un été inoubliable An Unforgettable Summer Kristin Scott Thomas Lucian Pintilie Un été inoubliable An Unforgettable Summer Kristin Scott Thomas Lucian Pintilie's - Un été inoubliable - An Unforgettable Summer - Kristin Scott Thomas Lucian Pintilie Un été inoubliable An Unforgettable Summer Kristin Scott Thomas Lucian Pintilie Un été inoubliable An Unforgettable Summer Kristin Scott Thomas Lucian Pintilie Un été inoubliable An Unforgettable Summer Kristin Scott Thomas Lucian Pintilie Un été inoubliable An Unforgettable Summer Kristin Scott Thomas Lucian Pintilie Un été inoubliable An Unforgettable Summer Kristin Scott Thomas Lucian Pintilie Un été inoubliable An Unforgettable Summer Kristin Scott Thomas Lucian Pintilie's - Un été inoubliable - An Unforgettable Summer - Kristin Scott Thomas Lucian Pintilie Un été inoubliable An Unforgettable Summer Kristin Scott Thomas Lucian Pintilie Un été inoubliable An Unforgettable Summer Kristin Scott Thomas Lucian Pintilie Un été inoubliable An Unforgettable Summer Kristin Scott Thomas Lucian Pintilie Un été inoubliable An Unforgettable Summer Kristin Scott Thomas Lucian Pintilie Un été inoubliable An Unforgettable Summer Kristin Scott Thomas Lucian Pintilie Un été inoubliable An Unforgettable Summer Kristin Scott Thomas Lucian Pintilie's - Un été inoubliable - An Unforgettable Summer - Kristin Scott Thomas Lucian Pintilie Un été inoubliable An Unforgettable Summer Kristin Scott Thomas Lucian Pintilie Un été inoubliable An Unforgettable Summer Kristin Scott Thomas Lucian Pintilie Un été inoubliable An Unforgettable Summer Kristin Scott Thomas Lucian Pintilie Un été inoubliable An Unforgettable Summer Kristin Scott Thomas Lucian Pintilie Un été inoubliable An Unforgettable Summer Kristin Scott Thomas Lucian Pintilie Un été inoubliable An Unforgettable Summer Kristin Scott Thomas Lucian Pintilie's - Un été inoubliable - An Unforgettable Summer - Kristin Scott Thomas Lucian Pintilie Un été inoubliable An Unforgettable Summer Kristin Scott Thomas Lucian Pintilie Un été inoubliable An Unforgettable Summer Kristin Scott Thomas Lucian Pintilie Un été inoubliable An Unforgettable Summer Kristin Scott Thomas Lucian Pintilie Un été inoubliable An Unforgettable Summer Kristin Scott Thomas Lucian Pintilie Un été inoubliable An Unforgettable Summer Kristin Scott Thomas Lucian Pintilie Un été inoubliable An Unforgettable Summer Kristin Scott Thomas Lucian Pintilie's - Un été inoubliable - An Unforgettable Summer - Kristin Scott Thomas Lucian Pintilie Un été inoubliable An Unforgettable Summer Kristin Scott Thomas Lucian Pintilie Un été inoubliable An Unforgettable Summer Kristin Scott Thomas Lucian Pintilie Un été inoubliable An Unforgettable Summer Kristin Scott Thomas Lucian Pintilie Un été inoubliable An Unforgettable Summer Kristin Scott Thomas Lucian Pintilie Un été inoubliable An Unforgettable Summer Kristin Scott Thomas Lucian Pintilie Un été inoubliable An Unforgettable Summer Kristin Scott Thomas