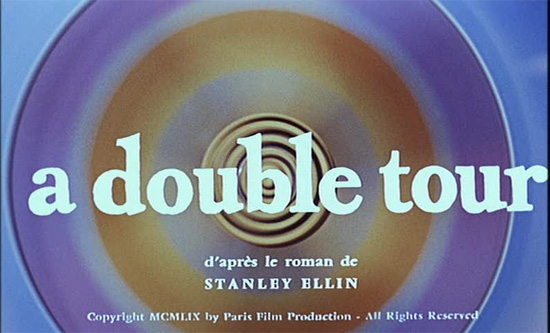 (aka "A doppia mandata" or "Leda" or "Web of Passion")
À double tour, Claude Chabrol's third film, is his debut psychological thriller, a genre he subsequently transformed in films like Les Bonnes Femmes and L'Enfer. Through "expert use of flashbacks and vignettes," (NY Times) Chabrol creates a lurid and disturbing melodrama of infidelity, obsession and murder at a vineyard in rural Provence.

Vintner Henri Marcoux (Jacques Dacqmine) brazenly carries on an affair with a beautiful young neighbor (Antonella Lualdi) right under the nose of his bitter wife Thérèse (Madeleine Robinson). Henri's gorgeous daughter has herself caught the eye of a Hungarian ne'er do well (Jean-Paul Belmondo), while Henri's voyeur son begins to take liberties with his father's mistress. As the family's passions ripen, the stage is set for tragedy.

Demonstrating "a flair for the camera and characterization," Chabrol leads his gifted cast through "fine performances" (NY Times). Italo-Greek ingénue Antonella Lualdi is a "dark, striking beauty who could easily turn a man's head," (NY Times), and storied French stage actress Madeleine Robinson (Orson Welles' The Trial) received the Best Actress prize at the 1959 Venice Film Festival for her role. Belmondo is magnetic in his final part before Breathless (in which he used his character's name from À double tour as an alias) catapulted him to international stardom.

Released in the US as Leda in 1961, Variety called À double tour a "sleek whodunit," with "good camera work and tricky direction." Viewed today, À double tour's swooping camera and character eccentricity echo both Alfred Hitchcock's most personal and obsessive films and Douglas Sirk's colorful '50s melodramas.
Posters
Theatrical Release: France 4 December 1959
Reviews More Reviews DVD Reviews
DVD Review: Kino Video - Region 1 - NTSC
Big thanks to Per-Olof Strandberg for the Review!
DVD Box Cover

CLICK to order from:

Distribution

Kino Video

Region 1 - NTSC

Runtime
1:33:48
Video

1:1.66 Original Aspect Ratio

16X9 enhanced
Average Bitrate: 5.45 mb/s
NTSC 720x480 29.97 f/s

NOTE: The Vertical axis represents the bits transferred per second. The Horizontal is the time in minutes.

Bitrate

Audio
French (Dolby Digital 2.0)
Subtitles
English, None
Features
Release Information:
Studio: Kino Video

Aspect Ratio:
Widescreen anamorphic - 1:1.66

Edition Details:
• Trailer
• Filmography
• Stills Gallery
• DVD-5 (SS-SL)

DVD Release Date: November 22, 2005
Keep Case

Chapters 13
Comments
The transfer in Á Double Tour is on the better side of Claude Chabrol's film released on DVD, so we should be very grateful for this one!

In motion this film looks fine, with sharp image and a beautiful depth. The strong colors seem accurate, and the black levels are good. The anamorphic transfer is provided from Studio Canal, and it looks like the original master-tape was PAL sourced. When we stop the picture, we unfortunately get combing and ghosting. Even though it's not visible in motion, it makes the larger outdoor picture's very impure, especially if the camera or picture have some larger movement. The image seems also manipulated in some way (contrast boosted), but it can be that the combing makes the effect. Overall I'm very happy with this DVD and the film is a genuine Chabrol masterpiece. The mono sound is very strong. out of
---



DVD Menus
---
Screen Captures
---
Recommended Reading in French Cinema (CLICK COVERS or TITLES for more information)
The Films in My Life
by Francois Truffaut, Leonard Mayhew

French Cinema: A Student's Guide
by Philip Powrie, Keith Reader
Agnes Varda by Alison Smith
Godard on Godard : Critical Writings by Jean-Luc Godard
Claude Chabrol (French Film Directors)
by Guy Austin
Robert Bresson (Cinematheque Ontario Monographs, No. 2)
by James Quandt
The Art of Cinema by Jean Cocteau
French New Wave
by Jean Douchet, Robert Bonnono, Cedric Anger, Robert Bononno
French Cinema: From Its Beginnings to the Present
by Remi Fournier Lanzoni
Check out more in "The Library"
---
Mail cheques, money orders, cash to: or CLICK PayPal logo to donate!
Thank You!
Claude Chabrol's - À double tour - DVD Review Claude Chabrol À double tour DVD Review Claude Chabrol À double tour DVD Review Claude Chabrol À double tour DVD Review Claude Chabrol À double tour DVD Review Claude Chabrol À double tour DVD Review Claude Chabrol À double tour DVD Review Claude Chabrol À double tour DVD Review Claude Chabrol À double tour DVD Review Claude Chabrol's - À double tour - DVD Review Claude Chabrol À double tour DVD Review Claude Chabrol À double tour DVD Review Claude Chabrol À double tour DVD Review Claude Chabrol À double tour DVD Review Claude Chabrol À double tour DVD Review Claude Chabrol À double tour DVD Review Claude Chabrol À double tour DVD Review Claude Chabrol À double tour DVD Review Claude Chabrol's - À double tour - DVD Review Claude Chabrol À double tour DVD Review Claude Chabrol À double tour DVD Review Claude Chabrol À double tour DVD Review Claude Chabrol À double tour DVD Review Claude Chabrol À double tour DVD Review Claude Chabrol À double tour DVD Review Claude Chabrol À double tour DVD Review Claude Chabrol À double tour DVD Review Claude Chabrol's - À double tour - DVD Review Claude Chabrol À double tour DVD Review Claude Chabrol À double tour DVD Review Claude Chabrol À double tour DVD Review Claude Chabrol À double tour DVD Review Claude Chabrol À double tour DVD Review Claude Chabrol À double tour DVD Review Claude Chabrol À double tour DVD Review Claude Chabrol À double tour DVD Review Claude Chabrol's - À double tour - DVD Review Claude Chabrol À double tour DVD Review Claude Chabrol À double tour DVD Review Claude Chabrol À double tour DVD Review Claude Chabrol À double tour DVD Review Claude Chabrol À double tour DVD Review Claude Chabrol À double tour DVD Review Claude Chabrol À double tour DVD Review Claude Chabrol À double tour DVD Review Claude Chabrol's - À double tour - DVD Review Claude Chabrol À double tour DVD Review Claude Chabrol À double tour DVD Review Claude Chabrol À double tour DVD Review Claude Chabrol À double tour DVD Review Claude Chabrol À double tour DVD Review Claude Chabrol À double tour DVD Review Claude Chabrol À double tour DVD Review Claude Chabrol À double tour DVD Review Claude Chabrol's - À double tour - DVD Review Claude Chabrol À double tour DVD Review Claude Chabrol À double tour DVD Review Claude Chabrol À double tour DVD Review Claude Chabrol À double tour DVD Review Claude Chabrol À double tour DVD Review Claude Chabrol À double tour DVD Review Claude Chabrol À double tour DVD Review Claude Chabrol À double tour DVD Review Claude Chabrol's - À double tour - DVD Review Claude Chabrol À double tour DVD Review Claude Chabrol À double tour DVD Review Claude Chabrol À double tour DVD Review Claude Chabrol À double tour DVD Review Claude Chabrol À double tour DVD Review Claude Chabrol À double tour DVD Review Claude Chabrol À double tour DVD Review Claude Chabrol À double tour DVD Review Claude Chabrol's - À double tour - DVD Review Claude Chabrol À double tour DVD Review Claude Chabrol À double tour DVD Review Claude Chabrol À double tour DVD Review Claude Chabrol À double tour DVD Review Claude Chabrol À double tour DVD Review Claude Chabrol À double tour DVD Review Claude Chabrol À double tour DVD Review Claude Chabrol À double tour DVD Review Claude Chabrol's - À double tour - DVD Review Claude Chabrol À double tour DVD Review Claude Chabrol À double tour DVD Review Claude Chabrol À double tour DVD Review Claude Chabrol À double tour DVD Review Claude Chabrol À double tour DVD Review Claude Chabrol À double tour DVD Review Claude Chabrol À double tour DVD Review Claude Chabrol À double tour DVD Review Claude Chabrol's - À double tour - DVD Review Claude Chabrol À double tour DVD Review Claude Chabrol À double tour DVD Review Claude Chabrol À double tour DVD Review Claude Chabrol À double tour DVD Review Claude Chabrol À double tour DVD Review Claude Chabrol À double tour DVD Review Claude Chabrol À double tour DVD Review Claude Chabrol À double tour DVD Review Claude Chabrol's - À double tour - DVD Review Claude Chabrol À double tour DVD Review Claude Chabrol À double tour DVD Review Claude Chabrol À double tour DVD Review Claude Chabrol À double tour DVD Review Claude Chabrol À double tour DVD Review Claude Chabrol À double tour DVD Review Claude Chabrol À double tour DVD Review Claude Chabrol À double tour DVD Review Claude Chabrol's - À double tour - DVD Review Claude Chabrol À double tour DVD Review Claude Chabrol À double tour DVD Review Claude Chabrol À double tour DVD Review Claude Chabrol À double tour DVD Review Claude Chabrol À double tour DVD Review Claude Chabrol À double tour DVD Review Claude Chabrol À double tour DVD Review Claude Chabrol À double tour DVD Review Claude Chabrol's - À double tour - DVD Review Claude Chabrol À double tour DVD Review Claude Chabrol À double tour DVD Review Claude Chabrol À double tour DVD Review Claude Chabrol À double tour DVD Review Claude Chabrol À double tour DVD Review Claude Chabrol À double tour DVD Review Claude Chabrol À double tour DVD Review Claude Chabrol À double tour DVD Review