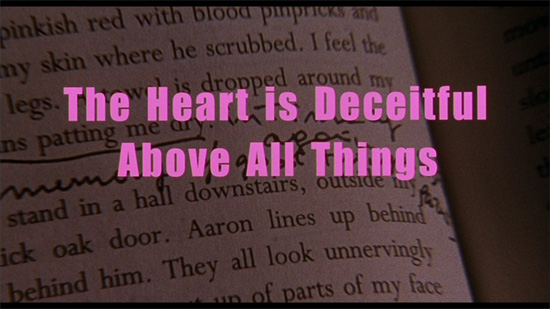 directed by Asia Argento
USA 2004
Based on the semiautobiographical short stories by J.T. Leroy, "The Heart is Deceitful Above All Things" is a grotesque southern gothic tale about the relationship between Jeremiah (played by the twins Cole and Dylan Sprouse) and his drug addicted abusive prostitute mother Sarah (played by Asia Argento).

Daughter of Italian horror maestro Dario Argento, Asia Argento displays a flair for inner narrative compositions. While the outer narrative is flawed, one may argue neglected, she underlines characters with dialogue and action.

Told from the viewpoint of Jeremy, events and characters stand for themselves, their actions likewise, as we are taken thru an environment of alcohol, drugs, old testament religion and abuse. He does not understand what he encounters, thus neither are we allowed to have them explained. His traumatic experiences are for us to witness only.

It is interesting to watch "The Heart is Deceitful Above All Things" as a study of how environment affects the psyche of a person. Towards the end, Sarah dresses up Jeremy as a girl, having always wanted a daughter. Later, Jeremy seduces Sarah's boyfriend. Not a sexual thing, Jeremy does so because he mirrors the actions of Sarah. Unable to comprehend the world around him, he imitates it, believing his actions to be the correct according to how he sees the adult world.

Argento emerges as an intelligent and mature director/actress. Her portrait as Sarah is almost brutal realistic, as if she is that person and pays not attention to her own direction. Likewise the acting of both Cole and Dylan Sprouse, which gives the character a strong voice. This is a character study and the characters are very real.

A deeply disturbing film, "The Heart is Deceitful Above All Things" is not to be missed.
Posters
Theatrical Release: May 15th, 2004 (Cannes Film Festival)
Reviews More Reviews DVD Reviews
DVD Review: Tartan - Region 2 - PAL
Big thanks to Henrik Sylow for the Review!
DVD Box Cover

CLICK to order from:

Distribution

Tartan

Region 2 - PAL

Runtime
1:33:41 (4% PAL speedup)
Video

1.85:1 Original Aspect Ratio

16X9 enhanced
Average Bitrate: 7.65 mb/s
PAL 720x576 25.00 f/s

NOTE: The Vertical axis represents the bits transferred per second. The Horizontal is the time in minutes.

Bitrate

Audio
2.0 Dolby Digital English, 5.1 Dolby Digital English, DTS English
Subtitles
English, None
Features
Release Information:
Studio: Tartan

Aspect Ratio:
Widescreen anamorphic - 1.85:1

Edition Details:
• Asia Argento interview (13:09 / 16x9)
• JT Leroy interview (8:04 / 16x9)
• Original trailer (2:12 / 16x9)

DVD Release Date: January 23, 2006
Keep Case

Chapters 16
Comments
Without any visible artifacts, there is nothing much to be said about the transfer, except that it is great.

Sound is as usual for Tartan stereo, surround and DTS. All tracks are good, but I would still go for the DTS, as it adds more to the soundstage.

Additional material is an interview with Asia Argento, where she talks about how she came in contact with the book, her meeting with JT Leroy, how she approached directing and acting, and an interview with JT Leroy, where he talks about the book and film.
---




DVD Menus

---
Screen Captures
Subtitle sample - Capture is resized from 1016px to 800px














DONATIONS Keep DVDBeaver alive:
Mail cheques, money orders, cash to: or CLICK PayPal logo to donate!
Thank You!
Asia Argento's - The Heart Is Deceitful Above All Things - DVD Review Asia Argento The Heart Is Deceitful Above All Things DVD Review Asia Argento The Heart Is Deceitful Above All Things DVD Review Asia Argento The Heart Is Deceitful Above All Things DVD Review Asia Argento The Heart Is Deceitful Above All Things DVD Review Asia Argento The Heart Is Deceitful Above All Things DVD Review Asia Argento The Heart Is Deceitful Above All Things DVD Review Asia Argento The Heart Is Deceitful Above All Things DVD Review Asia Argento's - The Heart Is Deceitful Above All Things - DVD Review Asia Argento The Heart Is Deceitful Above All Things DVD Review Asia Argento The Heart Is Deceitful Above All Things DVD Review Asia Argento The Heart Is Deceitful Above All Things DVD Review Asia Argento The Heart Is Deceitful Above All Things DVD Review Asia Argento The Heart Is Deceitful Above All Things DVD Review Asia Argento The Heart Is Deceitful Above All Things DVD Review Asia Argento The Heart Is Deceitful Above All Things DVD Review Asia Argento's - The Heart Is Deceitful Above All Things - DVD Review Asia Argento The Heart Is Deceitful Above All Things DVD Review Asia Argento The Heart Is Deceitful Above All Things DVD Review Asia Argento The Heart Is Deceitful Above All Things DVD Review Asia Argento The Heart Is Deceitful Above All Things DVD Review Asia Argento The Heart Is Deceitful Above All Things DVD Review Asia Argento The Heart Is Deceitful Above All Things DVD Review Asia Argento The Heart Is Deceitful Above All Things DVD Review Asia Argento's - The Heart Is Deceitful Above All Things - DVD Review Asia Argento The Heart Is Deceitful Above All Things DVD Review Asia Argento The Heart Is Deceitful Above All Things DVD Review Asia Argento The Heart Is Deceitful Above All Things DVD Review Asia Argento The Heart Is Deceitful Above All Things DVD Review Asia Argento The Heart Is Deceitful Above All Things DVD Review Asia Argento The Heart Is Deceitful Above All Things DVD Review Asia Argento The Heart Is Deceitful Above All Things DVD Review Asia Argento's - The Heart Is Deceitful Above All Things - DVD Review Asia Argento The Heart Is Deceitful Above All Things DVD Review Asia Argento The Heart Is Deceitful Above All Things DVD Review Asia Argento The Heart Is Deceitful Above All Things DVD Review Asia Argento The Heart Is Deceitful Above All Things DVD Review Asia Argento The Heart Is Deceitful Above All Things DVD Review Asia Argento The Heart Is Deceitful Above All Things DVD Review Asia Argento The Heart Is Deceitful Above All Things DVD Review Asia Argento's - The Heart Is Deceitful Above All Things - DVD Review Asia Argento The Heart Is Deceitful Above All Things DVD Review Asia Argento The Heart Is Deceitful Above All Things DVD Review Asia Argento The Heart Is Deceitful Above All Things DVD Review Asia Argento The Heart Is Deceitful Above All Things DVD Review Asia Argento The Heart Is Deceitful Above All Things DVD Review Asia Argento The Heart Is Deceitful Above All Things DVD Review Asia Argento The Heart Is Deceitful Above All Things DVD Review Asia Argento's - The Heart Is Deceitful Above All Things - DVD Review Asia Argento The Heart Is Deceitful Above All Things DVD Review Asia Argento The Heart Is Deceitful Above All Things DVD Review Asia Argento The Heart Is Deceitful Above All Things DVD Review Asia Argento The Heart Is Deceitful Above All Things DVD Review Asia Argento The Heart Is Deceitful Above All Things DVD Review Asia Argento The Heart Is Deceitful Above All Things DVD Review Asia Argento The Heart Is Deceitful Above All Things DVD Review Asia Argento's - The Heart Is Deceitful Above All Things - DVD Review Asia Argento The Heart Is Deceitful Above All Things DVD Review Asia Argento The Heart Is Deceitful Above All Things DVD Review Asia Argento The Heart Is Deceitful Above All Things DVD Review Asia Argento The Heart Is Deceitful Above All Things DVD Review Asia Argento The Heart Is Deceitful Above All Things DVD Review Asia Argento The Heart Is Deceitful Above All Things DVD Review Asia Argento The Heart Is Deceitful Above All Things DVD Review Asia Argento's - The Heart Is Deceitful Above All Things - DVD Review Asia Argento The Heart Is Deceitful Above All Things DVD Review Asia Argento The Heart Is Deceitful Above All Things DVD Review Asia Argento The Heart Is Deceitful Above All Things DVD Review Asia Argento The Heart Is Deceitful Above All Things DVD Review Asia Argento The Heart Is Deceitful Above All Things DVD Review Asia Argento The Heart Is Deceitful Above All Things DVD Review Asia Argento The Heart Is Deceitful Above All Things DVD Review Asia Argento's - The Heart Is Deceitful Above All Things - DVD Review Asia Argento The Heart Is Deceitful Above All Things DVD Review Asia Argento The Heart Is Deceitful Above All Things DVD Review Asia Argento The Heart Is Deceitful Above All Things DVD Review Asia Argento The Heart Is Deceitful Above All Things DVD Review Asia Argento The Heart Is Deceitful Above All Things DVD Review Asia Argento The Heart Is Deceitful Above All Things DVD Review Asia Argento The Heart Is Deceitful Above All Things DVD Review Asia Argento's - The Heart Is Deceitful Above All Things - DVD Review Asia Argento The Heart Is Deceitful Above All Things DVD Review Asia Argento The Heart Is Deceitful Above All Things DVD Review Asia Argento The Heart Is Deceitful Above All Things DVD Review Asia Argento The Heart Is Deceitful Above All Things DVD Review Asia Argento The Heart Is Deceitful Above All Things DVD Review Asia Argento The Heart Is Deceitful Above All Things DVD Review Asia Argento The Heart Is Deceitful Above All Things DVD Review