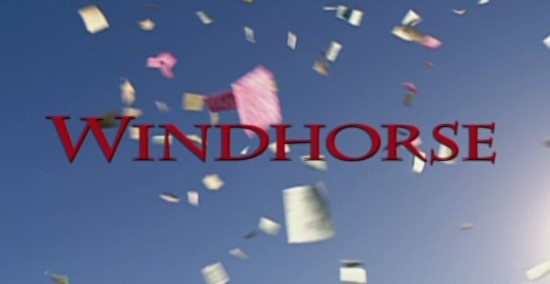 Directed by Paul Wagner
USA 1998
Paul Wagner's Windhorse explores the violent abuse of Tibetan human rights at the hands of the colonial communist government. The script is based on actual events and circumstances in contemporary Tibet. The film expresses an accurate portrayal of life in occupied Tibet. The story, seen through the eyes of a young western backpacker, ends in the death of a Tibetan nun who has been released from the Chinese prison so that she will not die in prison from the torture. Shot illegally in Tibet, the names of much of the cast and crew is not revealed to protect the people and their families.
Posters
Theatrical Release: September 16th, 1998 - Toronto Film Festival
Reviews More Reviews DVD Reviews
DVD Review: New Yorker - Region 1 - NTSC
DVD Box Cover

CLICK to order from:

Distribution
New Yorker Video - Region 1 - NTSC
Runtime
1:37:24
Video
1.78:1 Original Aspect Ratio
Average Bitrate: 8.13 mb/s
NTSC 720x480 29.97 f/s

NOTE: The Vertical axis represents the bits transferred per second. The Horizontal is the time in minutes.

Bitrate:

Audio
English (Dolby Digital 2.0)
Subtitles
English, Japanese, None
Features

Release Information:
Studio: New Yorker Video

Aspect Ratio:
Original aspect Ratio 1.78:1

Edition Details:

• Director Commentary (with Paul Wagner, co-director Thupten Tsering and co-producer Julia Elliott)
• Featurette "Behind the Scenes of Windhorse" (17:58)
• Photo Gallery

DVD Release Date: November 29th, 2005
Keep Case
Chapters: 28
| | |
| --- | --- |
| Comments: | It looks to have been taken from analog source but is still 16X9 enhanced. The colors are a bit faded, nothing fatal and the image exhibits some moderate sharpness throughout most of the viewing. It is not a perfect transfer but the subtitles are clear and removable - I saw some instances of 'combing' (see last capture) so it doesn't appear to progressively transferred. I know there is a French DVD edition available but I don't know the quality (or if it has English subtitles). Great to have the Director commentary and the featurette. All-in-all a typical transfer from NY'er with some great extra features. This is an important political film that deserves an audience. |
---



DVD Menus

| | |
| --- | --- |
| | |
| | |
| | |
---
Subtitle Sample
Screen Captures














DONATIONS Keep DVDBeaver alive:
Mail cheques, money orders, cash to: or CLICK PayPal logo to donate!
Gary Tooze

Mississauga, Ontario,

CANADA
Thank You!
Paul Wagner's - Windhorse - DVD Review Paul Wagner Windhorse DVD Review Paul Wagner Windhorse DVD Review Paul Wagner Windhorse DVD Review Paul Wagner Windhorse DVD Review Paul Wagner Windhorse DVD Review Paul Wagner Windhorse DVD Review Paul Wagner Windhorse DVD Review Paul Wagner Windhorse DVD Review Paul Wagner Windhorse DVD Review Paul Wagner's - Windhorse - DVD Review Paul Wagner Windhorse DVD Review Paul Wagner Windhorse DVD Review Paul Wagner Windhorse DVD Review Paul Wagner Windhorse DVD Review Paul Wagner Windhorse DVD Review Paul Wagner Windhorse DVD Review Paul Wagner Windhorse DVD Review Paul Wagner Windhorse DVD Review Paul Wagner Windhorse DVD Review Paul Wagner's - Windhorse - DVD Review Paul Wagner Windhorse DVD Review Paul Wagner Windhorse DVD Review Paul Wagner Windhorse DVD Review Paul Wagner Windhorse DVD Review Paul Wagner Windhorse DVD Review Paul Wagner Windhorse DVD Review Paul Wagner Windhorse DVD Review Paul Wagner Windhorse DVD Review Paul Wagner Windhorse DVD Review Paul Wagner's - Windhorse - DVD Review Paul Wagner Windhorse DVD Review Paul Wagner Windhorse DVD Review Paul Wagner Windhorse DVD Review Paul Wagner Windhorse DVD Review Paul Wagner Windhorse DVD Review Paul Wagner Windhorse DVD Review Paul Wagner Windhorse DVD Review Paul Wagner Windhorse DVD Review Paul Wagner Windhorse DVD Review Paul Wagner's - Windhorse - DVD Review Paul Wagner Windhorse DVD Review Paul Wagner Windhorse DVD Review Paul Wagner Windhorse DVD Review Paul Wagner Windhorse DVD Review Paul Wagner Windhorse DVD Review Paul Wagner Windhorse DVD Review Paul Wagner Windhorse DVD Review Paul Wagner Windhorse DVD Review Paul Wagner Windhorse DVD Review Paul Wagner's - Windhorse - DVD Review Paul Wagner Windhorse DVD Review Paul Wagner Windhorse DVD Review Paul Wagner Windhorse DVD Review Paul Wagner Windhorse DVD Review Paul Wagner Windhorse DVD Review Paul Wagner Windhorse DVD Review Paul Wagner Windhorse DVD Review Paul Wagner Windhorse DVD Review Paul Wagner Windhorse DVD Review Paul Wagner's - Windhorse - DVD Review Paul Wagner Windhorse DVD Review Paul Wagner Windhorse DVD Review Paul Wagner Windhorse DVD Review Paul Wagner Windhorse DVD Review Paul Wagner Windhorse DVD Review Paul Wagner Windhorse DVD Review Paul Wagner Windhorse DVD Review Paul Wagner Windhorse DVD Review Paul Wagner Windhorse DVD Review Paul Wagner's - Windhorse - DVD Review Paul Wagner Windhorse DVD Review Paul Wagner Windhorse DVD Review Paul Wagner Windhorse DVD Review Paul Wagner Windhorse DVD Review Paul Wagner Windhorse DVD Review Paul Wagner Windhorse DVD Review Paul Wagner Windhorse DVD Review Paul Wagner Windhorse DVD Review Paul Wagner Windhorse DVD Review Paul Wagner's - Windhorse - DVD Review Paul Wagner Windhorse DVD Review Paul Wagner Windhorse DVD Review Paul Wagner Windhorse DVD Review Paul Wagner Windhorse DVD Review Paul Wagner Windhorse DVD Review Paul Wagner Windhorse DVD Review Paul Wagner Windhorse DVD Review Paul Wagner Windhorse DVD Review Paul Wagner Windhorse DVD Review Paul Wagner's - Windhorse - DVD Review Paul Wagner Windhorse DVD Review Paul Wagner Windhorse DVD Review Paul Wagner Windhorse DVD Review Paul Wagner Windhorse DVD Review Paul Wagner Windhorse DVD Review Paul Wagner Windhorse DVD Review Paul Wagner Windhorse DVD Review Paul Wagner Windhorse DVD Review Paul Wagner Windhorse DVD Review Paul Wagner's - Windhorse - DVD Review Paul Wagner Windhorse DVD Review Paul Wagner Windhorse DVD Review Paul Wagner Windhorse DVD Review Paul Wagner Windhorse DVD Review Paul Wagner Windhorse DVD Review Paul Wagner Windhorse DVD Review Paul Wagner Windhorse DVD Review Paul Wagner Windhorse DVD Review Paul Wagner Windhorse DVD Review Paul Wagner's - Windhorse - DVD Review Paul Wagner Windhorse DVD Review Paul Wagner Windhorse DVD Review Paul Wagner Windhorse DVD Review Paul Wagner Windhorse DVD Review Paul Wagner Windhorse DVD Review Paul Wagner Windhorse DVD Review Paul Wagner Windhorse DVD Review Paul Wagner Windhorse DVD Review Paul Wagner Windhorse DVD Review Paul Wagner's - Windhorse - DVD Review Paul Wagner Windhorse DVD Review Paul Wagner Windhorse DVD Review Paul Wagner Windhorse DVD Review Paul Wagner Windhorse DVD Review Paul Wagner Windhorse DVD Review Paul Wagner Windhorse DVD Review Paul Wagner Windhorse DVD Review Paul Wagner Windhorse DVD Review Paul Wagner Windhorse DVD Review Paul Wagner's - Windhorse - DVD Review Paul Wagner Windhorse DVD Review Paul Wagner Windhorse DVD Review Paul Wagner Windhorse DVD Review Paul Wagner Windhorse DVD Review Paul Wagner Windhorse DVD Review Paul Wagner Windhorse DVD Review Paul Wagner Windhorse DVD Review Paul Wagner Windhorse DVD Review Paul Wagner Windhorse DVD Review Paul Wagner's - Windhorse - DVD Review Paul Wagner Windhorse DVD Review Paul Wagner Windhorse DVD Review Paul Wagner Windhorse DVD Review Paul Wagner Windhorse DVD Review Paul Wagner Windhorse DVD Review Paul Wagner Windhorse DVD Review Paul Wagner Windhorse DVD Review Paul Wagner Windhorse DVD Review Paul Wagner Windhorse DVD Review Paul Wagner's - Windhorse - DVD Review Paul Wagner Windhorse DVD Review Paul Wagner Windhorse DVD Review Paul Wagner Windhorse DVD Review Paul Wagner Windhorse DVD Review Paul Wagner Windhorse DVD Review Paul Wagner Windhorse DVD Review Paul Wagner Windhorse DVD Review Paul Wagner Windhorse DVD Review Paul Wagner Windhorse DVD Review Paul Wagner's - Windhorse - DVD Review Paul Wagner Windhorse DVD Review Paul Wagner Windhorse DVD Review Paul Wagner Windhorse DVD Review Paul Wagner Windhorse DVD Review Paul Wagner Windhorse DVD Review Paul Wagner Windhorse DVD Review Paul Wagner Windhorse DVD Review Paul Wagner Windhorse DVD Review Paul Wagner Windhorse DVD Review Paul Wagner's - Windhorse - DVD Review Paul Wagner Windhorse DVD Review Paul Wagner Windhorse DVD Review Paul Wagner Windhorse DVD Review Paul Wagner Windhorse DVD Review Paul Wagner Windhorse DVD Review Paul Wagner Windhorse DVD Review Paul Wagner Windhorse DVD Review Paul Wagner Windhorse DVD Review Paul Wagner Windhorse DVD Review Paul Wagner's - Windhorse - DVD Review Paul Wagner Windhorse DVD Review Paul Wagner Windhorse DVD Review Paul Wagner Windhorse DVD Review Paul Wagner Windhorse DVD Review Paul Wagner Windhorse DVD Review Paul Wagner Windhorse DVD Review Paul Wagner Windhorse DVD Review Paul Wagner Windhorse DVD Review Paul Wagner Windhorse DVD Review Paul Wagner's - Windhorse - DVD Review Paul Wagner Windhorse DVD Review Paul Wagner Windhorse DVD Review Paul Wagner Windhorse DVD Review Paul Wagner Windhorse DVD Review Paul Wagner Windhorse DVD Review Paul Wagner Windhorse DVD Review Paul Wagner Windhorse DVD Review Paul Wagner Windhorse DVD Review Paul Wagner Windhorse DVD Review Paul Wagner's - Windhorse - DVD Review Paul Wagner Windhorse DVD Review Paul Wagner Windhorse DVD Review Paul Wagner Windhorse DVD Review Paul Wagner Windhorse DVD Review Paul Wagner Windhorse DVD Review Paul Wagner Windhorse DVD Review Paul Wagner Windhorse DVD Review Paul Wagner Windhorse DVD Review Paul Wagner Windhorse DVD Review Paul Wagner's - Windhorse - DVD Review Paul Wagner Windhorse DVD Review Paul Wagner Windhorse DVD Review Paul Wagner Windhorse DVD Review Paul Wagner Windhorse DVD Review Paul Wagner Windhorse DVD Review Paul Wagner Windhorse DVD Review Paul Wagner Windhorse DVD Review Paul Wagner Windhorse DVD Review Paul Wagner Windhorse DVD Review Paul Wagner's - Windhorse - DVD Review Paul Wagner Windhorse DVD Review Paul Wagner Windhorse DVD Review Paul Wagner Windhorse DVD Review Paul Wagner Windhorse DVD Review Paul Wagner Windhorse DVD Review Paul Wagner Windhorse DVD Review Paul Wagner Windhorse DVD Review Paul Wagner Windhorse DVD Review Paul Wagner Windhorse DVD Review Paul Wagner's - Windhorse - DVD Review Paul Wagner Windhorse DVD Review Paul Wagner Windhorse DVD Review Paul Wagner Windhorse DVD Review Paul Wagner Windhorse DVD Review Paul Wagner Windhorse DVD Review Paul Wagner Windhorse DVD Review Paul Wagner Windhorse DVD Review Paul Wagner Windhorse DVD Review Paul Wagner Windhorse DVD Review