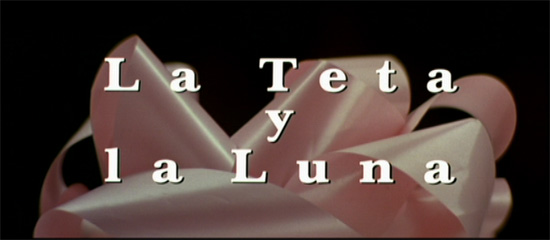 (aka "The Tit and the Moon" )
directed by Bigas Luna
Spain 1994
Bigas Luna is obsessed with sex; at least so it seems when one looks at his body of work, most famous "Jamón, jamón" from 1992. I've only seen some of his films, and I must admit, I have never had any thoughts about them. Many Spanish films screened at our cinemas in the early nineties was obsessed with sex, not in an Almodovar kind of sense, but more in a Russ Meyerish it-is-naughty-thus-its-fun kind of sense, and even the most ordinary problems in life were rooted in sex.

But I have to admit, I enjoyed "La Teta y la luna". A lot. It is so unadulterated and surreal, so upfront in its declaration of love to the tit, the female breast and to the milk of life. Completely perverted, totally surreal, but irresistible charming.

Tete is a nine-year old boy, who when his mother gives birth to his little brother and subsequently breastfeeds him, develops an obsession for breasts and breast milk, begging the moon to give him a breast of his own to feed upon.

The story never really turns solid, or for that matter into anything with an idea. It acts like a coming-of-age comedy, with added love triangle romantic comedy , but in the end, it really is a rather pointless and silly excuse for showing a lot of naked breasts. But even so, it is done with so much love and attitude, that I had to give in and enjoy this surreal fantasy.

Poster
Theatrical Release: September 1994 (Venice Film Festival)
Reviews More Reviews DVD Reviews
DVD Review: Tartan - Region 0 - PAL
Big thanks to Henrik Sylow for the Review!
DVD Box Cover

CLICK to order from:

Distribution

Tartan

Region 0 - PAL

Runtime
1:26:57 (4% PAL speedup)
Video

2.33:1 Original Aspect Ratio

16X9 enhanced
Average Bitrate: 6.65 mb/s
PAL 720x576 25.00 f/s

NOTE: The Vertical axis represents the bits transferred per second. The Horizontal is the time in minutes.

Bitrate

Audio
2.0 Dolby Digital Spanish
Subtitles
English, None
Features
Release Information:
Studio: Tartan

Aspect Ratio:
Widescreen anamorphic - 2.33:1

Edition Details:
• Director Interview (4:38 / 4:3)
• Trailer (2:50 / 4:3)
• Tartan Trailer Reel

DVD Release Date: December 5, 2005

Chapters 16
Comments
Additional to very visible compression artifacts, especially edge enhancement and macro blocking, the details are weak, almost as if focus isn't sharp enough, and both combing and ghosting is present. A decent, but not really good transfer.

Sound is only 2.0 Dolby Digital, which makes me wonder, if this is a true Tartan or a port of another DVD.

A brief interview, even though 4 minutes hardly can be called an interview, and the trailer and that's it.
---




DVD Menus


---
Screen Captures
subtitle sample
Captures resized to 800px from 1016px














DONATIONS Keep DVDBeaver alive:
Mail cheques, money orders, cash to: or CLICK PayPal logo to donate!
Thank You!
Bigas Luna's - The Tit and the Moon - Teta y la luna DVD Review Bigas Luna The Tit and the Moon Teta y la luna DVD Review Bigas Luna The Tit and the Moon Teta y la luna DVD Review Bigas Luna The Tit and the Moon Teta y la luna DVD Review Bigas Luna The Tit and the Moon Teta y la luna DVD Review Bigas Luna The Tit and the Moon Teta y la luna DVD Review Bigas Luna The Tit and the Moon Teta y la luna DVD Review Bigas Luna The Tit and the Moon Teta y la luna DVD Review Bigas Luna's - The Tit and the Moon - Teta y la luna DVD Review Bigas Luna The Tit and the Moon Teta y la luna DVD Review Bigas Luna The Tit and the Moon Teta y la luna DVD Review Bigas Luna The Tit and the Moon Teta y la luna DVD Review Bigas Luna The Tit and the Moon Teta y la luna DVD Review Bigas Luna The Tit and the Moon Teta y la luna DVD Review Bigas Luna The Tit and the Moon Teta y la luna DVD Review Bigas Luna The Tit and the Moon Teta y la luna DVD Review Bigas Luna's - The Tit and the Moon - Teta y la luna DVD Review Bigas Luna The Tit and the Moon Teta y la luna DVD Review Bigas Luna The Tit and the Moon Teta y la luna DVD Review Bigas Luna The Tit and the Moon Teta y la luna DVD Review Bigas Luna The Tit and the Moon Teta y la luna DVD Review Bigas Luna The Tit and the Moon Teta y la luna DVD Review Bigas Luna The Tit and the Moon Teta y la luna DVD Review Bigas Luna The Tit and the Moon Teta y la luna DVD Review Bigas Luna's - The Tit and the Moon - Teta y la luna DVD Review Bigas Luna The Tit and the Moon Teta y la luna DVD Review Bigas Luna The Tit and the Moon Teta y la luna DVD Review Bigas Luna The Tit and the Moon Teta y la luna DVD Review Bigas Luna The Tit and the Moon Teta y la luna DVD Review Bigas Luna The Tit and the Moon Teta y la luna DVD Review Bigas Luna The Tit and the Moon Teta y la luna DVD Review Bigas Luna The Tit and the Moon Teta y la luna DVD Review Bigas Luna's - The Tit and the Moon - Teta y la luna DVD Review Bigas Luna The Tit and the Moon Teta y la luna DVD Review Bigas Luna The Tit and the Moon Teta y la luna DVD Review Bigas Luna The Tit and the Moon Teta y la luna DVD Review Bigas Luna The Tit and the Moon Teta y la luna DVD Review Bigas Luna The Tit and the Moon Teta y la luna DVD Review Bigas Luna The Tit and the Moon Teta y la luna DVD Review Bigas Luna The Tit and the Moon Teta y la luna DVD Review Bigas Luna's - The Tit and the Moon - Teta y la luna DVD Review Bigas Luna The Tit and the Moon Teta y la luna DVD Review Bigas Luna The Tit and the Moon Teta y la luna DVD Review Bigas Luna The Tit and the Moon Teta y la luna DVD Review Bigas Luna The Tit and the Moon Teta y la luna DVD Review Bigas Luna The Tit and the Moon Teta y la luna DVD Review Bigas Luna The Tit and the Moon Teta y la luna DVD Review Bigas Luna The Tit and the Moon Teta y la luna DVD Review Bigas Luna's - The Tit and the Moon - Teta y la luna DVD Review Bigas Luna The Tit and the Moon Teta y la luna DVD Review Bigas Luna The Tit and the Moon Teta y la luna DVD Review Bigas Luna The Tit and the Moon Teta y la luna DVD Review Bigas Luna The Tit and the Moon Teta y la luna DVD Review Bigas Luna The Tit and the Moon Teta y la luna DVD Review Bigas Luna The Tit and the Moon Teta y la luna DVD Review Bigas Luna The Tit and the Moon Teta y la luna DVD Review Bigas Luna's - The Tit and the Moon - Teta y la luna DVD Review Bigas Luna The Tit and the Moon Teta y la luna DVD Review Bigas Luna The Tit and the Moon Teta y la luna DVD Review Bigas Luna The Tit and the Moon Teta y la luna DVD Review Bigas Luna The Tit and the Moon Teta y la luna DVD Review Bigas Luna The Tit and the Moon Teta y la luna DVD Review Bigas Luna The Tit and the Moon Teta y la luna DVD Review Bigas Luna The Tit and the Moon Teta y la luna DVD Review Bigas Luna's - The Tit and the Moon - Teta y la luna DVD Review Bigas Luna The Tit and the Moon Teta y la luna DVD Review Bigas Luna The Tit and the Moon Teta y la luna DVD Review Bigas Luna The Tit and the Moon Teta y la luna DVD Review Bigas Luna The Tit and the Moon Teta y la luna DVD Review Bigas Luna The Tit and the Moon Teta y la luna DVD Review Bigas Luna The Tit and the Moon Teta y la luna DVD Review Bigas Luna The Tit and the Moon Teta y la luna DVD Review Bigas Luna's - The Tit and the Moon - Teta y la luna DVD Review Bigas Luna The Tit and the Moon Teta y la luna DVD Review Bigas Luna The Tit and the Moon Teta y la luna DVD Review Bigas Luna The Tit and the Moon Teta y la luna DVD Review Bigas Luna The Tit and the Moon Teta y la luna DVD Review Bigas Luna The Tit and the Moon Teta y la luna DVD Review Bigas Luna The Tit and the Moon Teta y la luna DVD Review Bigas Luna The Tit and the Moon Teta y la luna DVD Review Bigas Luna's - The Tit and the Moon - Teta y la luna DVD Review Bigas Luna The Tit and the Moon Teta y la luna DVD Review Bigas Luna The Tit and the Moon Teta y la luna DVD Review Bigas Luna The Tit and the Moon Teta y la luna DVD Review Bigas Luna The Tit and the Moon Teta y la luna DVD Review Bigas Luna The Tit and the Moon Teta y la luna DVD Review Bigas Luna The Tit and the Moon Teta y la luna DVD Review Bigas Luna The Tit and the Moon Teta y la luna DVD Review Bigas Luna's - The Tit and the Moon - Teta y la luna DVD Review Bigas Luna The Tit and the Moon Teta y la luna DVD Review Bigas Luna The Tit and the Moon Teta y la luna DVD Review Bigas Luna The Tit and the Moon Teta y la luna DVD Review Bigas Luna The Tit and the Moon Teta y la luna DVD Review Bigas Luna The Tit and the Moon Teta y la luna DVD Review Bigas Luna The Tit and the Moon Teta y la luna DVD Review Bigas Luna The Tit and the Moon Teta y la luna DVD Review Bigas Luna's - The Tit and the Moon - Teta y la luna DVD Review Bigas Luna The Tit and the Moon Teta y la luna DVD Review Bigas Luna The Tit and the Moon Teta y la luna DVD Review Bigas Luna The Tit and the Moon Teta y la luna DVD Review Bigas Luna The Tit and the Moon Teta y la luna DVD Review Bigas Luna The Tit and the Moon Teta y la luna DVD Review Bigas Luna The Tit and the Moon Teta y la luna DVD Review Bigas Luna The Tit and the Moon Teta y la luna DVD Review