Directed by Alex Cox
USA 1998
Alex Cox directed this comedy-fantasy screenplay by Tod Davies in a variety of locations (American Southwest, Hong Kong, Rotterdam). With a plot premise reminiscent of Martin Scorsese's After Hours, American art dealer Bennie (Miguel Sandoval) arrives in Liverpool and gets to his hotel with great difficulty, while British art dealer Frank King (Cox) has no such problem. Abandoned by the waiter in the hotel's restaurant, the two head out into the rainy Liverpool night but find mostly closed restaurants, eventually choosing a Greek restaurant where Bennie has an anxiety attack. They move on but find no satisfaction at a Chinese restaurant or a Japanese restaurant. Hunger pangs surface as they travel about via subway, bus, ferry and taxi. Eventually, they arrive in the middle of a desert where they meet another lost and hungry businessman, Leroy Jasper (Robert Wisdom).
Excerpt from Bhob Stewart plot description at the All Movie Guide located HERE
Poster
Theatrical Release: October 1998 (Hamptons International Film Festival)
Reviews More Reviews DVD Reviews
DVD Review: BFI (2-disc) - Region 2 - PAL
DVD Box Cover

CLICK to order from:

Distribution
BFI Video - Region 2 - PAL
Runtime
1:17:15
Video
1.77:1 Original Aspect Ratio
Average Bitrate: 6.1 mb/s
PAL 720x576 25.00 f/s

NOTE: The Vertical axis represents the bits transferred per second. The Horizontal is the time in minutes.

Bitrate:

Audio
English (Dolby Digital 2.0)
Subtitles
English, None (NOTE: optional English subtitles for commentary as well)
Features

Release Information:
Studio: BFI Home Video

Aspect Ratio:
Original aspect Ratio 1.77:1

Edition Details:

• Audio Commentary by director Alex Cox and writer/producer Tod Davies
• Packaged with "Highway Patrolman"

• How to watch this film featurette (9:35)
• 2-page liner notes with essay on both films

DVD Release Date: October 31st, 2005
Transparent Keep Case
Chapters: 10
| | |
| --- | --- |
| Comments: | Very much like the Straight to Hell / Death and the Compass BFI DVD package (reviewed HERE) we have one well transferred film (in this case "Highway Patrolman" - see captures at the end of this review) and one where the film elements don't appear to be in pristine condition. Good news is that like Straight to Hell / Death and the Compass these also each have a Cox commentary. 'Three Businessmen' is an intriguing, highly watchable film, but the transfer is quite poor. It is very hazy with the appearance of bleeding colors and I would only recommend for tune viewing. The director commentary is again very good as I am always keen to listen to Cox. There is a 10 minute featurette - 'How To Watch This Film' with excerpts from cast and crew members - and it is quite fun and relevant. As well there are conveniently positioned optional subtitles on the main feature audio or you can alternately choose the subtitle option on the commentary dialogue (I love that feature and wish more DVD production companies would do it). Highway Patrolman looks fabulous - tight, anamorphic, progressive with beautiful colors - a wonderful transfer - the best of the four films in the two boxsets. |
---



DVD Menus

---
Subtitle Sample
Screen Captures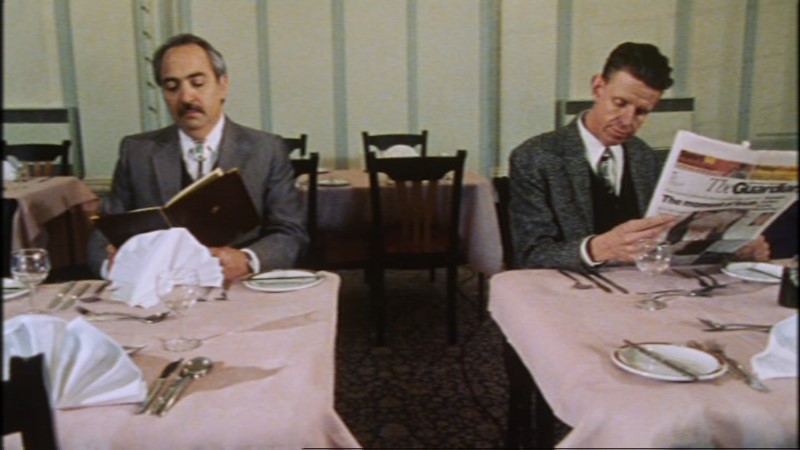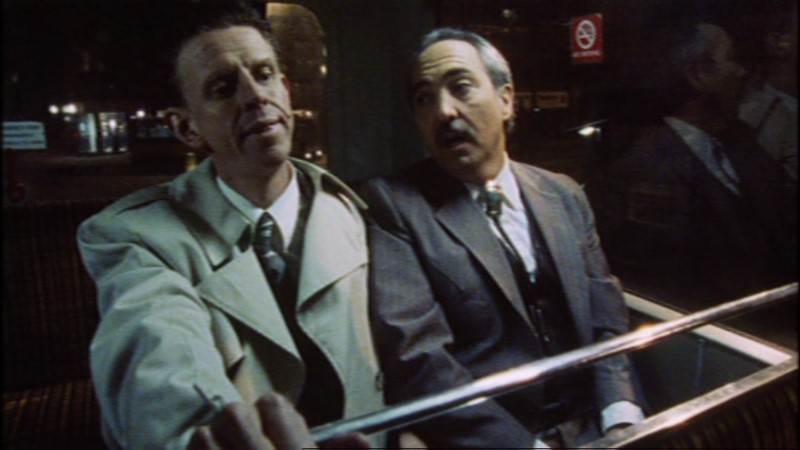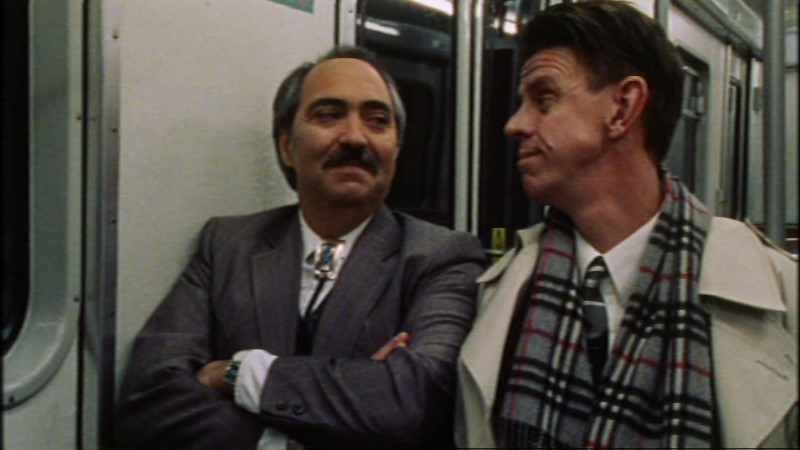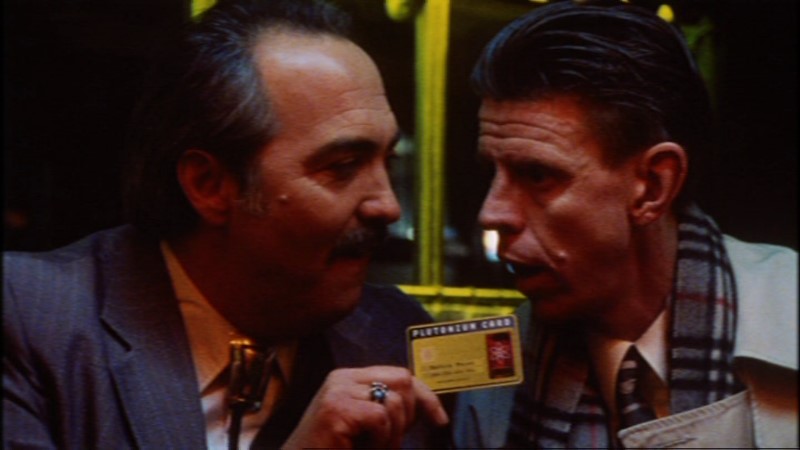 ---
Highway Patrolman captures...
---
---
---
---
---
DVD Box Cover

CLICK to order from:

Distribution
BFI Video - Region 2 - PAL
---



















DONATIONS Keep DVDBeaver alive:
Mail cheques, money orders, cash to: or CLICK PayPal logo to donate!
Gary Tooze

Mississauga, Ontario,

CANADA
Thank You
Alex Cox's - Three Businessmen - DVD Review Alex Cox Three Businessmen DVD Review Alex Cox Three Businessmen DVD Review Alex Cox Three Businessmen DVD Review Alex Cox Three Businessmen DVD Review Alex Cox Three Businessmen DVD Review Alex Cox Three Businessmen DVD Review Alex Cox Three Businessmen DVD Review Alex Cox Three Businessmen DVD Review Alex Cox Three Businessmen DVD Review Alex Cox Three Businessmen DVD Review Alex Cox's - Three Businessmen - DVD Review Alex Cox Three Businessmen DVD Review Alex Cox Three Businessmen DVD Review Alex Cox Three Businessmen DVD Review Alex Cox Three Businessmen DVD Review Alex Cox Three Businessmen DVD Review Alex Cox Three Businessmen DVD Review Alex Cox Three Businessmen DVD Review Alex Cox Three Businessmen DVD Review Alex Cox Three Businessmen DVD Review Alex Cox Three Businessmen DVD Review Alex Cox's - Three Businessmen - DVD Review Alex Cox Three Businessmen DVD Review Alex Cox Three Businessmen DVD Review Alex Cox Three Businessmen DVD Review Alex Cox Three Businessmen DVD Review Alex Cox Three Businessmen DVD Review Alex Cox Three Businessmen DVD Review Alex Cox Three Businessmen DVD Review Alex Cox Three Businessmen DVD Review Alex Cox Three Businessmen DVD Review Alex Cox Three Businessmen DVD Review Alex Cox's - Three Businessmen - DVD Review Alex Cox Three Businessmen DVD Review Alex Cox Three Businessmen DVD Review Alex Cox Three Businessmen DVD Review Alex Cox Three Businessmen DVD Review Alex Cox Three Businessmen DVD Review Alex Cox Three Businessmen DVD Review Alex Cox Three Businessmen DVD Review Alex Cox Three Businessmen DVD Review Alex Cox Three Businessmen DVD Review Alex Cox Three Businessmen DVD Review Alex Cox's - Three Businessmen - DVD Review Alex Cox Three Businessmen DVD Review Alex Cox Three Businessmen DVD Review Alex Cox Three Businessmen DVD Review Alex Cox Three Businessmen DVD Review Alex Cox Three Businessmen DVD Review Alex Cox Three Businessmen DVD Review Alex Cox Three Businessmen DVD Review Alex Cox Three Businessmen DVD Review Alex Cox Three Businessmen DVD Review Alex Cox Three Businessmen DVD Review Alex Cox's - Three Businessmen - DVD Review Alex Cox Three Businessmen DVD Review Alex Cox Three Businessmen DVD Review Alex Cox Three Businessmen DVD Review Alex Cox Three Businessmen DVD Review Alex Cox Three Businessmen DVD Review Alex Cox Three Businessmen DVD Review Alex Cox Three Businessmen DVD Review Alex Cox Three Businessmen DVD Review Alex Cox Three Businessmen DVD Review Alex Cox Three Businessmen DVD Review Alex Cox's - Three Businessmen - DVD Review Alex Cox Three Businessmen DVD Review Alex Cox Three Businessmen DVD Review Alex Cox Three Businessmen DVD Review Alex Cox Three Businessmen DVD Review Alex Cox Three Businessmen DVD Review Alex Cox Three Businessmen DVD Review Alex Cox Three Businessmen DVD Review Alex Cox Three Businessmen DVD Review Alex Cox Three Businessmen DVD Review Alex Cox Three Businessmen DVD Review Alex Cox's - Three Businessmen - DVD Review Alex Cox Three Businessmen DVD Review Alex Cox Three Businessmen DVD Review Alex Cox Three Businessmen DVD Review Alex Cox Three Businessmen DVD Review Alex Cox Three Businessmen DVD Review Alex Cox Three Businessmen DVD Review Alex Cox Three Businessmen DVD Review Alex Cox Three Businessmen DVD Review Alex Cox Three Businessmen DVD Review Alex Cox Three Businessmen DVD Review Alex Cox's - Three Businessmen - DVD Review Alex Cox Three Businessmen DVD Review Alex Cox Three Businessmen DVD Review Alex Cox Three Businessmen DVD Review Alex Cox Three Businessmen DVD Review Alex Cox Three Businessmen DVD Review Alex Cox Three Businessmen DVD Review Alex Cox Three Businessmen DVD Review Alex Cox Three Businessmen DVD Review Alex Cox Three Businessmen DVD Review Alex Cox Three Businessmen DVD Review Alex Cox's - Three Businessmen - DVD Review Alex Cox Three Businessmen DVD Review Alex Cox Three Businessmen DVD Review Alex Cox Three Businessmen DVD Review Alex Cox Three Businessmen DVD Review Alex Cox Three Businessmen DVD Review Alex Cox Three Businessmen DVD Review Alex Cox Three Businessmen DVD Review Alex Cox Three Businessmen DVD Review Alex Cox Three Businessmen DVD Review Alex Cox Three Businessmen DVD Review Alex Cox's - Three Businessmen - DVD Review Alex Cox Three Businessmen DVD Review Alex Cox Three Businessmen DVD Review Alex Cox Three Businessmen DVD Review Alex Cox Three Businessmen DVD Review Alex Cox Three Businessmen DVD Review Alex Cox Three Businessmen DVD Review Alex Cox Three Businessmen DVD Review Alex Cox Three Businessmen DVD Review Alex Cox Three Businessmen DVD Review Alex Cox Three Businessmen DVD Review Alex Cox's - Three Businessmen - DVD Review Alex Cox Three Businessmen DVD Review Alex Cox Three Businessmen DVD Review Alex Cox Three Businessmen DVD Review Alex Cox Three Businessmen DVD Review Alex Cox Three Businessmen DVD Review Alex Cox Three Businessmen DVD Review Alex Cox Three Businessmen DVD Review Alex Cox Three Businessmen DVD Review Alex Cox Three Businessmen DVD Review Alex Cox Three Businessmen DVD Review Alex Cox's - Three Businessmen - DVD Review Alex Cox Three Businessmen DVD Review Alex Cox Three Businessmen DVD Review Alex Cox Three Businessmen DVD Review Alex Cox Three Businessmen DVD Review Alex Cox Three Businessmen DVD Review Alex Cox Three Businessmen DVD Review Alex Cox Three Businessmen DVD Review Alex Cox Three Businessmen DVD Review Alex Cox Three Businessmen DVD Review Alex Cox Three Businessmen DVD Review Alex Cox's - Three Businessmen - DVD Review Alex Cox Three Businessmen DVD Review Alex Cox Three Businessmen DVD Review Alex Cox Three Businessmen DVD Review Alex Cox Three Businessmen DVD Review Alex Cox Three Businessmen DVD Review Alex Cox Three Businessmen DVD Review Alex Cox Three Businessmen DVD Review Alex Cox Three Businessmen DVD Review Alex Cox Three Businessmen DVD Review Alex Cox Three Businessmen DVD Review Alex Cox's - Three Businessmen - DVD Review Alex Cox Three Businessmen DVD Review Alex Cox Three Businessmen DVD Review Alex Cox Three Businessmen DVD Review Alex Cox Three Businessmen DVD Review Alex Cox Three Businessmen DVD Review Alex Cox Three Businessmen DVD Review Alex Cox Three Businessmen DVD Review Alex Cox Three Businessmen DVD Review Alex Cox Three Businessmen DVD Review Alex Cox Three Businessmen DVD Review Alex Cox's - Three Businessmen - DVD Review Alex Cox Three Businessmen DVD Review Alex Cox Three Businessmen DVD Review Alex Cox Three Businessmen DVD Review Alex Cox Three Businessmen DVD Review Alex Cox Three Businessmen DVD Review Alex Cox Three Businessmen DVD Review Alex Cox Three Businessmen DVD Review Alex Cox Three Businessmen DVD Review Alex Cox Three Businessmen DVD Review Alex Cox Three Businessmen DVD Review Alex Cox's - Three Businessmen - DVD Review Alex Cox Three Businessmen DVD Review Alex Cox Three Businessmen DVD Review Alex Cox Three Businessmen DVD Review Alex Cox Three Businessmen DVD Review Alex Cox Three Businessmen DVD Review Alex Cox Three Businessmen DVD Review Alex Cox Three Businessmen DVD Review Alex Cox Three Businessmen DVD Review Alex Cox Three Businessmen DVD Review Alex Cox Three Businessmen DVD Review Alex Cox's - Three Businessmen - DVD Review Alex Cox Three Businessmen DVD Review Alex Cox Three Businessmen DVD Review Alex Cox Three Businessmen DVD Review Alex Cox Three Businessmen DVD Review Alex Cox Three Businessmen DVD Review Alex Cox Three Businessmen DVD Review Alex Cox Three Businessmen DVD Review Alex Cox Three Businessmen DVD Review Alex Cox Three Businessmen DVD Review Alex Cox Three Businessmen DVD Review Alex Cox's - Three Businessmen - DVD Review Alex Cox Three Businessmen DVD Review Alex Cox Three Businessmen DVD Review Alex Cox Three Businessmen DVD Review Alex Cox Three Businessmen DVD Review Alex Cox Three Businessmen DVD Review Alex Cox Three Businessmen DVD Review Alex Cox Three Businessmen DVD Review Alex Cox Three Businessmen DVD Review Alex Cox Three Businessmen DVD Review Alex Cox Three Businessmen DVD Review Alex Cox's - Three Businessmen - DVD Review Alex Cox Three Businessmen DVD Review Alex Cox Three Businessmen DVD Review Alex Cox Three Businessmen DVD Review Alex Cox Three Businessmen DVD Review Alex Cox Three Businessmen DVD Review Alex Cox Three Businessmen DVD Review Alex Cox Three Businessmen DVD Review Alex Cox Three Businessmen DVD Review Alex Cox Three Businessmen DVD Review Alex Cox Three Businessmen DVD Review