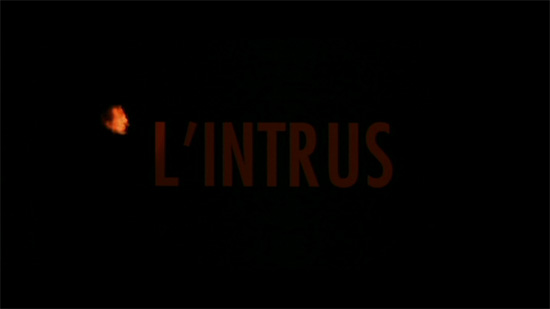 (aka "L'Intrus" )
directed by Claire Denis
France 2004
Denis uses the word adoptation, rather than adaptation, when describing the relationship between the book by Jean-Luc Nancy and her film "L'Intrus". A very maternal word, suggesting care and love, but also full of conflicts in the way Denis takes the thoughts of Nancy and reshapes them into her own, into a continuum of her study of alienation and estrangement, versus the idea of the work itself, the intrusion of something external into an internal context, be it heart surgery, immigration or the transsexual process of an adaptation.

Simplified, the story deals with the loner Sidney who because of heart problems, gets a black market transplant, then goes to Tahiti, in search of his lost son.

Far more interesting than the story itself, is the way Denis tells it, how she sets up the northern hemisphere versus the southern, and how everything, mise-en-scene, characters, dialogue, notes upon intrusion, and ultimately rejection.

This is indeed an adoptation. "L'Intrus" is such a personal film, such an auteurist creation, captured by Agnés Godard. A blur between reality and dream, an enigmatic meditation, an elegy, "L'Intrus" is cinema extraordinaire. It is cinema most alive. It is a triumph of filmmaking; fearless and honest.

Poster
Theatrical Release: September 9, 2004 (Venice Film Festival)
Reviews More Reviews DVD Reviews
DVD Review: Tartan - Region 2 - PAL
Big thanks to Henrik Sylow for the Review!
DVD Box Cover

CLICK to order from:

Distribution

Tartan

Region 2 - PAL

Runtime
2:00:48 (4% PAL speedup)
Video

2.35:1 Original Aspect Ratio

16X9 enhanced
Average Bitrate: 6.17 mb/s
PAL 720x576 25.00 f/s

NOTE: The Vertical axis represents the bits transferred per second. The Horizontal is the time in minutes.

Bitrate

Audio
2.0 Dolby Digital French, 5.1 Dolby Digital French, DTS French
Subtitles
English, None
Features
Release Information:
Studio: Tartan

Aspect Ratio:
Widescreen anamorphic - 2.35:1

Edition Details:
• Claire Denis Interview (36:01 / 16x9)
• Trailer (1:31 / 16x9)
• Tartan Trailer Reel

DVD Release Date: December 5, 2005
Keep Case

Chapters 16
Comments
There is some very visible edge enhancements, all objects are lined up, perhaps due to contrast boosting; also minor macro and minute usual suspects in regards to compression. But details are quiet good, the colors are very strong and saturated, and blacks / shadows are superb. A mixed blessing, it is a good transfer.

Sound comes as usual in 2.0 Dolby Digital, 5.1 Dolby Digital and DTS, and as usual the sound is almost dialogue only center based. Still superb sound, just no need for DTS.

Additional material is an interview with Denis, where she talks about the film and its source, the book by Jean-Luc Nancy, the choice of actors and how she shaped the film. Simply great.
---




DVD Menus
---
Screen Captures
subtitle sample
Captures resized to 800px from 1016px native resolution














DONATIONS Keep DVDBeaver alive:
Mail cheques, money orders, cash to: or CLICK PayPal logo to donate!
Thank You!
Claire Denis' - LIntrus - The Intruder - DVD Review Claire Denis LIntrus The Intruder DVD Review Claire Denis LIntrus The Intruder DVD Review Claire Denis LIntrus The Intruder DVD Review Claire Denis LIntrus The Intruder DVD Review Claire Denis LIntrus The Intruder DVD Review Claire Denis' - LIntrus - The Intruder - DVD Review Claire Denis LIntrus The Intruder DVD Review Claire Denis LIntrus The Intruder DVD Review Claire Denis LIntrus The Intruder DVD Review Claire Denis LIntrus The Intruder DVD Review Claire Denis LIntrus The Intruder DVD Review Claire Denis' - LIntrus - The Intruder - DVD Review Claire Denis LIntrus The Intruder DVD Review Claire Denis LIntrus The Intruder DVD Review Claire Denis LIntrus The Intruder DVD Review Claire Denis LIntrus The Intruder DVD Review Claire Denis LIntrus The Intruder DVD Review Claire Denis' - LIntrus - The Intruder - DVD Review Claire Denis LIntrus The Intruder DVD Review Claire Denis LIntrus The Intruder DVD Review Claire Denis LIntrus The Intruder DVD Review Claire Denis LIntrus The Intruder DVD Review Claire Denis LIntrus The Intruder DVD Review Claire Denis' - LIntrus - The Intruder - DVD Review Claire Denis LIntrus The Intruder DVD Review Claire Denis LIntrus The Intruder DVD Review Claire Denis LIntrus The Intruder DVD Review Claire Denis LIntrus The Intruder DVD Review Claire Denis LIntrus The Intruder DVD Review Claire Denis' - LIntrus - The Intruder - DVD Review Claire Denis LIntrus The Intruder DVD Review Claire Denis LIntrus The Intruder DVD Review Claire Denis LIntrus The Intruder DVD Review Claire Denis LIntrus The Intruder DVD Review Claire Denis LIntrus The Intruder DVD Review Claire Denis' - LIntrus - The Intruder - DVD Review Claire Denis LIntrus The Intruder DVD Review Claire Denis LIntrus The Intruder DVD Review Claire Denis LIntrus The Intruder DVD Review Claire Denis LIntrus The Intruder DVD Review Claire Denis LIntrus The Intruder DVD Review Claire Denis' - LIntrus - The Intruder - DVD Review Claire Denis LIntrus The Intruder DVD Review Claire Denis LIntrus The Intruder DVD Review Claire Denis LIntrus The Intruder DVD Review Claire Denis LIntrus The Intruder DVD Review Claire Denis LIntrus The Intruder DVD Review Claire Denis' - LIntrus - The Intruder - DVD Review Claire Denis LIntrus The Intruder DVD Review Claire Denis LIntrus The Intruder DVD Review Claire Denis LIntrus The Intruder DVD Review Claire Denis LIntrus The Intruder DVD Review Claire Denis LIntrus The Intruder DVD Review Claire Denis' - LIntrus - The Intruder - DVD Review Claire Denis LIntrus The Intruder DVD Review Claire Denis LIntrus The Intruder DVD Review Claire Denis LIntrus The Intruder DVD Review Claire Denis LIntrus The Intruder DVD Review Claire Denis LIntrus The Intruder DVD Review Claire Denis' - LIntrus - The Intruder - DVD Review Claire Denis LIntrus The Intruder DVD Review Claire Denis LIntrus The Intruder DVD Review Claire Denis LIntrus The Intruder DVD Review Claire Denis LIntrus The Intruder DVD Review Claire Denis LIntrus The Intruder DVD Review Claire Denis' - LIntrus - The Intruder - DVD Review Claire Denis LIntrus The Intruder DVD Review Claire Denis LIntrus The Intruder DVD Review Claire Denis LIntrus The Intruder DVD Review Claire Denis LIntrus The Intruder DVD Review Claire Denis LIntrus The Intruder DVD Review Claire Denis' - LIntrus - The Intruder - DVD Review Claire Denis LIntrus The Intruder DVD Review Claire Denis LIntrus The Intruder DVD Review Claire Denis LIntrus The Intruder DVD Review Claire Denis LIntrus The Intruder DVD Review Claire Denis LIntrus The Intruder DVD Review Claire Denis' - LIntrus - The Intruder - DVD Review Claire Denis LIntrus The Intruder DVD Review Claire Denis LIntrus The Intruder DVD Review Claire Denis LIntrus The Intruder DVD Review Claire Denis LIntrus The Intruder DVD Review Claire Denis LIntrus The Intruder DVD Review Claire Denis' - LIntrus - The Intruder - DVD Review Claire Denis LIntrus The Intruder DVD Review Claire Denis LIntrus The Intruder DVD Review Claire Denis LIntrus The Intruder DVD Review Claire Denis LIntrus The Intruder DVD Review Claire Denis LIntrus The Intruder DVD Review Claire Denis' - LIntrus - The Intruder - DVD Review Claire Denis LIntrus The Intruder DVD Review Claire Denis LIntrus The Intruder DVD Review Claire Denis LIntrus The Intruder DVD Review Claire Denis LIntrus The Intruder DVD Review Claire Denis LIntrus The Intruder DVD Review Claire Denis' - LIntrus - The Intruder - DVD Review Claire Denis LIntrus The Intruder DVD Review Claire Denis LIntrus The Intruder DVD Review Claire Denis LIntrus The Intruder DVD Review Claire Denis LIntrus The Intruder DVD Review Claire Denis LIntrus The Intruder DVD Review Claire Denis' - LIntrus - The Intruder - DVD Review Claire Denis LIntrus The Intruder DVD Review Claire Denis LIntrus The Intruder DVD Review Claire Denis LIntrus The Intruder DVD Review Claire Denis LIntrus The Intruder DVD Review Claire Denis LIntrus The Intruder DVD Review