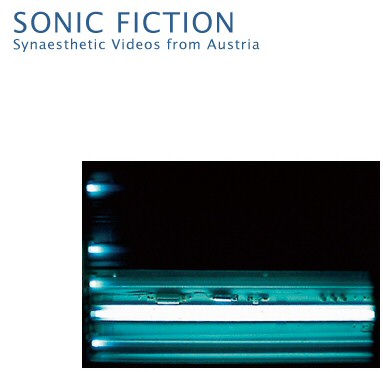 directed by various artists
Austria 2002
Ever since the beginning of film there has been an interest in abstract filmmaking, some sort of search for an abstract film language that discards our traditional icon-based images. From the Dada movement of the '20s via the sound-visual experiments of someone like Mary Ellen Bute in the '40s, up to our current age: there has always been an interest from avant-garde filmmakers in the close relation between sound and (abstract) images. This search has most recently taken the form of the short video films (made by artists from all over the world), in which the artists (often) combine modern electronic music with abstract images which bear no direct connection with a naturalistic world, but instead revel in modern technology.

The selection of videos on this DVD is a selection of work from several of Austria's most promising young video artists. All these works have a electronic soundtrack working in close collaboration with the images. While there are some obvious influences of earlier abstract filmmaking, these works clearly stem from our digital age with its ever evolving technology. These are the kind of works you normally only see at film festivals, without a chance of revisiting the films. But here lies your chance to watch these kind of films over and over again.
DVD Review: Index DVD - Region 0 - PAL
DVD Box Cover

CLICK to order from:

Distribution

Index DVD

Region 0 - PAL

Runtime
1:05:18
Video

4:3 Original Aspect Ratio
Average Bitrate: 3.71 mb/s
PAL 720x576 25.00 f/s

NOTE: The Vertical axis represents the bits transferred per second. The Horizontal is the time in minutes.

Bitrate

Audio
Dolby Digital 2.0
Subtitles
None
Features
Release Information:
Studio: Index DVD

Aspect Ratio:
Fullscreen - 4:3

Edition Details:
• Reprinted liner notes on the various films

DVD Release Date: 2004
Transparent single keep case
| | |
| --- | --- |
| Comments | This is yet another winner from Austrian-based Index DVD, an indispensable source for cutting-edge, European avant-garde. The films included on this release offer a great selection of the latest developments in modern video art. The appeal of these very abstract works obviously depends completely on one's interest in this kind of filmmaking, but for those interested this is one hell of a ride. There are liner notes included, but these aren't really necessary, because either you love these films or you don't, but on the other hand, the liner notes cannot hurt either. You have to look deep inside your wallet for this DVD, but we highly recommend this release! |
---




DVD Menus

---
Screen Captures














DONATIONS Keep DVDBeaver alive:
Mail cheques, money orders, cash to: or CLICK PayPal logo to donate!
Thank You!
Sonic Fiction - Synaesthetic Videos from Austria Sonic Fiction - Synaesthetic Videos from Austria Sonic Fiction - Synaesthetic Videos from Austria Sonic Fiction - Synaesthetic Videos from Austria Sonic Fiction - Synaesthetic Videos from Austria Sonic Fiction - Synaesthetic Videos from Austria Sonic Fiction - Synaesthetic Videos from Austria Sonic Fiction - Synaesthetic Videos from Austria Sonic Fiction - Synaesthetic Videos from Austria Sonic Fiction - Synaesthetic Videos from Austria Sonic Fiction - Synaesthetic Videos from Austria Sonic Fiction - Synaesthetic Videos from Austria Sonic Fiction - Synaesthetic Videos from Austria Sonic Fiction - Synaesthetic Videos from Austria Sonic Fiction - Synaesthetic Videos from Austria Sonic Fiction - Synaesthetic Videos from Austria Sonic Fiction - Synaesthetic Videos from Austria Sonic Fiction - Synaesthetic Videos from Austria Sonic Fiction - Synaesthetic Videos from Austria Sonic Fiction - Synaesthetic Videos from Austria Sonic Fiction - Synaesthetic Videos from Austria Sonic Fiction - Synaesthetic Videos from Austria Sonic Fiction - Synaesthetic Videos from Austria Sonic Fiction - Synaesthetic Videos from Austria Sonic Fiction - Synaesthetic Videos from Austria Sonic Fiction - Synaesthetic Videos from Austria Sonic Fiction - Synaesthetic Videos from Austria Sonic Fiction - Synaesthetic Videos from Austria Sonic Fiction - Synaesthetic Videos from Austria Sonic Fiction - Synaesthetic Videos from Austria Sonic Fiction - Synaesthetic Videos from Austria Sonic Fiction - Synaesthetic Videos from Austria Sonic Fiction - Synaesthetic Videos from Austria Sonic Fiction - Synaesthetic Videos from Austria Sonic Fiction - Synaesthetic Videos from Austria Sonic Fiction - Synaesthetic Videos from Austria Sonic Fiction - Synaesthetic Videos from Austria Sonic Fiction - Synaesthetic Videos from Austria Sonic Fiction - Synaesthetic Videos from Austria Sonic Fiction - Synaesthetic Videos from Austria Sonic Fiction - Synaesthetic Videos from Austria Sonic Fiction - Synaesthetic Videos from Austria Sonic Fiction - Synaesthetic Videos from Austria Sonic Fiction - Synaesthetic Videos from Austria Sonic Fiction - Synaesthetic Videos from Austria Sonic Fiction - Synaesthetic Videos from Austria Sonic Fiction - Synaesthetic Videos from Austria Sonic Fiction - Synaesthetic Videos from Austria Sonic Fiction - Synaesthetic Videos from Austria Sonic Fiction - Synaesthetic Videos from Austria Sonic Fiction - Synaesthetic Videos from Austria Sonic Fiction - Synaesthetic Videos from Austria Sonic Fiction - Synaesthetic Videos from Austria Sonic Fiction - Synaesthetic Videos from Austria Sonic Fiction - Synaesthetic Videos from Austria Sonic Fiction - Synaesthetic Videos from Austria Sonic Fiction - Synaesthetic Videos from Austria Sonic Fiction - Synaesthetic Videos from Austria Sonic Fiction - Synaesthetic Videos from Austria Sonic Fiction - Synaesthetic Videos from Austria Sonic Fiction - Synaesthetic Videos from Austria Sonic Fiction - Synaesthetic Videos from Austria Sonic Fiction - Synaesthetic Videos from Austria Sonic Fiction - Synaesthetic Videos from Austria Sonic Fiction - Synaesthetic Videos from Austria Sonic Fiction - Synaesthetic Videos from Austria Sonic Fiction - Synaesthetic Videos from Austria Sonic Fiction - Synaesthetic Videos from Austria Sonic Fiction - Synaesthetic Videos from Austria Sonic Fiction - Synaesthetic Videos from Austria Sonic Fiction - Synaesthetic Videos from Austria Sonic Fiction - Synaesthetic Videos from Austria Sonic Fiction - Synaesthetic Videos from Austria Sonic Fiction - Synaesthetic Videos from Austria Sonic Fiction - Synaesthetic Videos from Austria Sonic Fiction - Synaesthetic Videos from Austria Sonic Fiction - Synaesthetic Videos from Austria Sonic Fiction - Synaesthetic Videos from Austria Sonic Fiction - Synaesthetic Videos from Austria Sonic Fiction - Synaesthetic Videos from Austria Sonic Fiction - Synaesthetic Videos from Austria Sonic Fiction - Synaesthetic Videos from Austria Sonic Fiction - Synaesthetic Videos from Austria Sonic Fiction - Synaesthetic Videos from Austria Sonic Fiction - Synaesthetic Videos from Austria Sonic Fiction - Synaesthetic Videos from Austria Sonic Fiction - Synaesthetic Videos from Austria Sonic Fiction - Synaesthetic Videos from Austria Sonic Fiction - Synaesthetic Videos from Austria Sonic Fiction - Synaesthetic Videos from Austria Sonic Fiction - Synaesthetic Videos from Austria Sonic Fiction - Synaesthetic Videos from Austria Sonic Fiction - Synaesthetic Videos from Austria Sonic Fiction - Synaesthetic Videos from Austria Sonic Fiction - Synaesthetic Videos from Austria Sonic Fiction - Synaesthetic Videos from Austria