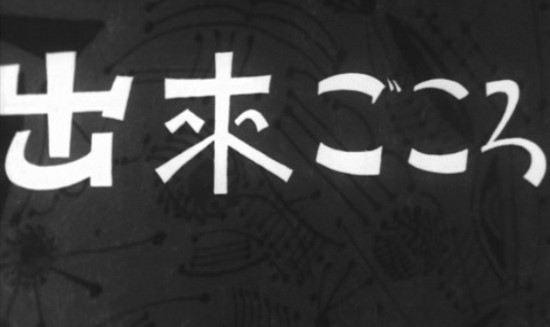 (aka 'Dekigokoro' or 'Passing Fancy')
As Yasujiro Ozu's 35-year long career as a director stretched from 1927 through 1962, it might not seem unreasonable to look upon his 1933 silent film Passing Fancy (Dekigokoro) as an "early" work. Yet by the time Ozu made Passing Fancy, he had already passed the mid-point of his lifetime output – this film was his 29th out of a total of 54 (1). By 1933, Ozu was already a well-seasoned professional, and Passing Fancy was just one of three masterpieces he filmed during that year (Woman of Tokyo and Dragnet Girl being the other two). Of the three, it was Passing Fancy which garnered the most contemporaneous acclaim, winning the prestigious first prize from Kinema Jumpo.

Passing Fancy marked a new phase in Ozu's career. His earlier films had dealt primarily with college students (and recent graduates), young married couples, young "salary men" and their families, and good-hearted young gangsters. With this film, Ozu initiated a series of works that focused on the lives of the working poor. In Passing Fancy, as in most of the other films of this series, the focus is on a character named Kihachi, played by Takeshi Sakamoto (an actor who had appeared regularly in supporting roles in Ozu's films since 1928).

In Passing Fancy, Kihachi is the middle-aged single parent of a spirited young son, Tomio. He works at a brewery with his friend and neighbor, Jiro. After Kihachi befriends an unemployed, homeless young woman named Harue (under the rather disapproving eye of Jiro), he convinces another friend, Otome, to give Harue a job at her restaurant. Kihachi has romantic designs on Harue, but she has lost her heart to the younger and better-looking Jiro, despite his patent distrust of her. When Otome beseeches Kihachi to convince Jiro to propose to Harue, Kihachi agrees – but afterwards he becomes morose and even more irresponsible than usual, skipping work and drinking too much.
Excerpt from Michael Kerpan review located HERE
Theatrical Release: September 7th, 1933 - Tokyo
Reviews More Reviews DVD Reviews
DVD Review: Panorama - Region 0 - NTSC
DVD Box Cover

CLICK to order from:

Thinking of buying from YesAsia? CLICK HERE and use THIS UPDATED BEAVER PAGE to source their very best...

Distribution
Panorama Entertainment - Region 0 - NTSC
Runtime
1:39:54
Video
1.27:1 Original Aspect Ratio
Average Bitrate: 5.76 mb/s
NTSC 720x480 29.97 f/s

NOTE: The Vertical axis represents the bits transferred per second. The Horizontal is the time in minutes.

Bitrate:

Audio
Japanese (Dolby Digital 2.0)
Subtitles
English, Chinese, None
Features

Release Information:
Studio: Panorama Entertainment

Aspect Ratio:
Original aspect Ratio 1.27:1

Edition Details:

• Directors Biography (text screens)
• Director's filmography (text screens)

• Collectable handbill with production notes (in English and Chinese)



DVD Release Date: August 11th, 2005
Keep Case
Chapters: 12
| | |
| --- | --- |
| Comments: | Typical of the other Panorama Ozu's DVDs - it shares the same weaknesses (damage marks, précised subtitle translations etc.), but the big bonus, again, is at least being able to see the film at all. Most unusually a large percentage of the left side of the image is filled with a black bar - making the visible ratio around 1.27. It doesn't seem to have hindered Ozu's meticulous composition but in the transfer process they could have centered this image to the middle of the frame. There are some bad damage marks, but none that dramatically effect the presentation in my mind - perhaps I am used to them by now. NOTE: I cannot recall instances of hearing any music but I will report back when I watch it again. |
---



DVD Menus

---
Subtitle on Intertitle Sample
Screen Captures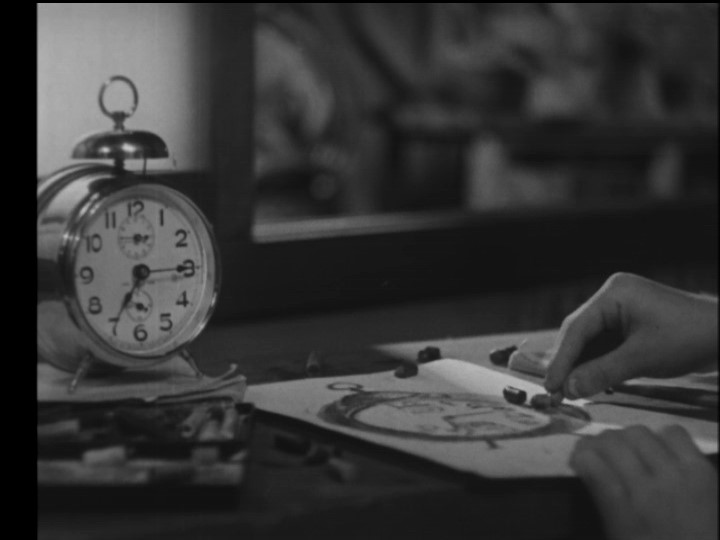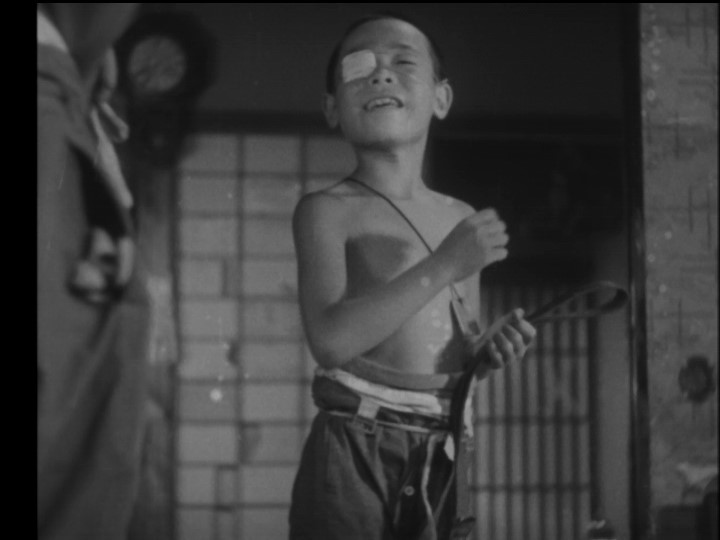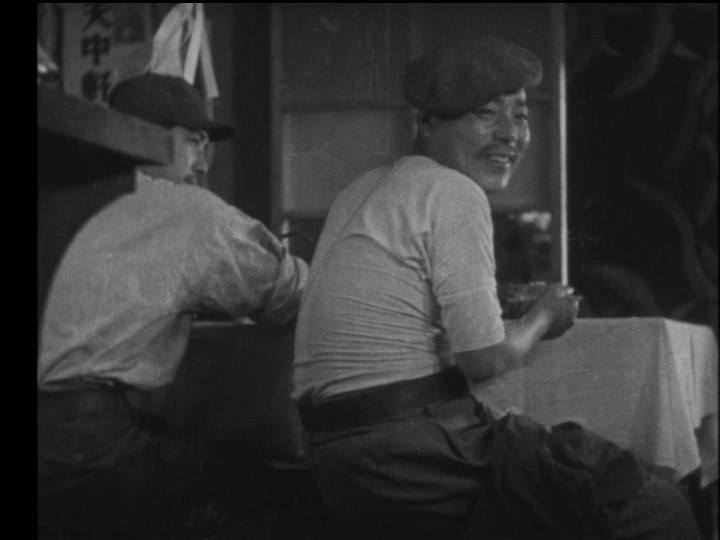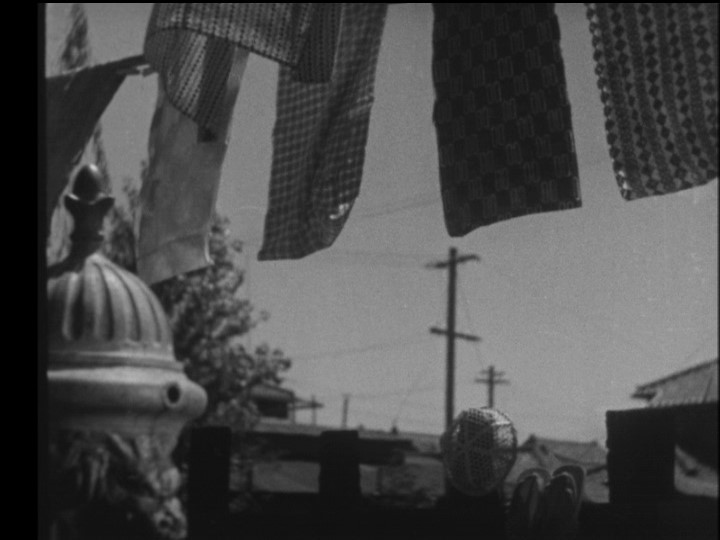 ---
---
DVD Box Cover

CLICK to order from:

Thinking of buying from YesAsia? CLICK HERE and use THIS UPDATED BEAVER PAGE to source their very best...

Distribution
Panorama Entertainment - Region 0 - NTSC




















DONATIONS Keep DVDBeaver alive:
Mail cheques, money orders, cash to: or CLICK PayPal logo to donate!
Gary Tooze

Mississauga, Ontario,

CANADA
Thank You!
Yasujiro Ozu's - Dekigokoro - Passing Fancy - DVD Review Yasujiro Ozu Dekigokoro Passing Fancy DVD Review Yasujiro Ozu Dekigokoro Passing Fancy DVD Review Yasujiro Ozu Dekigokoro Passing Fancy DVD Review Yasujiro Ozu Dekigokoro Passing Fancy DVD Review Yasujiro Ozu Dekigokoro Passing Fancy DVD Review Yasujiro Ozu Dekigokoro Passing Fancy DVD Review Yasujiro Ozu Dekigokoro Passing Fancy DVD Review Yasujiro Ozu Dekigokoro Passing Fancy DVD Review Yasujiro Ozu Dekigokoro Passing Fancy DVD Review Yasujiro Ozu Dekigokoro Passing Fancy DVD Review Yasujiro Ozu's - Dekigokoro - Passing Fancy - DVD Review Yasujiro Ozu Dekigokoro Passing Fancy DVD Review Yasujiro Ozu Dekigokoro Passing Fancy DVD Review Yasujiro Ozu Dekigokoro Passing Fancy DVD Review Yasujiro Ozu Dekigokoro Passing Fancy DVD Review Yasujiro Ozu Dekigokoro Passing Fancy DVD Review Yasujiro Ozu Dekigokoro Passing Fancy DVD Review Yasujiro Ozu Dekigokoro Passing Fancy DVD Review Yasujiro Ozu Dekigokoro Passing Fancy DVD Review Yasujiro Ozu Dekigokoro Passing Fancy DVD Review Yasujiro Ozu Dekigokoro Passing Fancy DVD Review Yasujiro Ozu's - Dekigokoro - Passing Fancy - DVD Review Yasujiro Ozu Dekigokoro Passing Fancy DVD Review Yasujiro Ozu Dekigokoro Passing Fancy DVD Review Yasujiro Ozu Dekigokoro Passing Fancy DVD Review Yasujiro Ozu Dekigokoro Passing Fancy DVD Review Yasujiro Ozu Dekigokoro Passing Fancy DVD Review Yasujiro Ozu Dekigokoro Passing Fancy DVD Review Yasujiro Ozu Dekigokoro Passing Fancy DVD Review Yasujiro Ozu Dekigokoro Passing Fancy DVD Review Yasujiro Ozu Dekigokoro Passing Fancy DVD Review Yasujiro Ozu Dekigokoro Passing Fancy DVD Review Yasujiro Ozu's - Dekigokoro - Passing Fancy - DVD Review Yasujiro Ozu Dekigokoro Passing Fancy DVD Review Yasujiro Ozu Dekigokoro Passing Fancy DVD Review Yasujiro Ozu Dekigokoro Passing Fancy DVD Review Yasujiro Ozu Dekigokoro Passing Fancy DVD Review Yasujiro Ozu Dekigokoro Passing Fancy DVD Review Yasujiro Ozu Dekigokoro Passing Fancy DVD Review Yasujiro Ozu Dekigokoro Passing Fancy DVD Review Yasujiro Ozu Dekigokoro Passing Fancy DVD Review Yasujiro Ozu Dekigokoro Passing Fancy DVD Review Yasujiro Ozu Dekigokoro Passing Fancy DVD Review Yasujiro Ozu's - Dekigokoro - Passing Fancy - DVD Review Yasujiro Ozu Dekigokoro Passing Fancy DVD Review Yasujiro Ozu Dekigokoro Passing Fancy DVD Review Yasujiro Ozu Dekigokoro Passing Fancy DVD Review Yasujiro Ozu Dekigokoro Passing Fancy DVD Review Yasujiro Ozu Dekigokoro Passing Fancy DVD Review Yasujiro Ozu Dekigokoro Passing Fancy DVD Review Yasujiro Ozu Dekigokoro Passing Fancy DVD Review Yasujiro Ozu Dekigokoro Passing Fancy DVD Review Yasujiro Ozu Dekigokoro Passing Fancy DVD Review Yasujiro Ozu Dekigokoro Passing Fancy DVD Review Yasujiro Ozu's - Dekigokoro - Passing Fancy - DVD Review Yasujiro Ozu Dekigokoro Passing Fancy DVD Review Yasujiro Ozu Dekigokoro Passing Fancy DVD Review Yasujiro Ozu Dekigokoro Passing Fancy DVD Review Yasujiro Ozu Dekigokoro Passing Fancy DVD Review Yasujiro Ozu Dekigokoro Passing Fancy DVD Review Yasujiro Ozu Dekigokoro Passing Fancy DVD Review Yasujiro Ozu Dekigokoro Passing Fancy DVD Review Yasujiro Ozu Dekigokoro Passing Fancy DVD Review Yasujiro Ozu Dekigokoro Passing Fancy DVD Review Yasujiro Ozu Dekigokoro Passing Fancy DVD Review Yasujiro Ozu's - Dekigokoro - Passing Fancy - DVD Review Yasujiro Ozu Dekigokoro Passing Fancy DVD Review Yasujiro Ozu Dekigokoro Passing Fancy DVD Review Yasujiro Ozu Dekigokoro Passing Fancy DVD Review Yasujiro Ozu Dekigokoro Passing Fancy DVD Review Yasujiro Ozu Dekigokoro Passing Fancy DVD Review Yasujiro Ozu Dekigokoro Passing Fancy DVD Review Yasujiro Ozu Dekigokoro Passing Fancy DVD Review Yasujiro Ozu Dekigokoro Passing Fancy DVD Review Yasujiro Ozu Dekigokoro Passing Fancy DVD Review Yasujiro Ozu Dekigokoro Passing Fancy DVD Review Yasujiro Ozu's - Dekigokoro - Passing Fancy - DVD Review Yasujiro Ozu Dekigokoro Passing Fancy DVD Review Yasujiro Ozu Dekigokoro Passing Fancy DVD Review Yasujiro Ozu Dekigokoro Passing Fancy DVD Review Yasujiro Ozu Dekigokoro Passing Fancy DVD Review Yasujiro Ozu Dekigokoro Passing Fancy DVD Review Yasujiro Ozu Dekigokoro Passing Fancy DVD Review Yasujiro Ozu Dekigokoro Passing Fancy DVD Review Yasujiro Ozu Dekigokoro Passing Fancy DVD Review Yasujiro Ozu Dekigokoro Passing Fancy DVD Review Yasujiro Ozu Dekigokoro Passing Fancy DVD Review Yasujiro Ozu's - Dekigokoro - Passing Fancy - DVD Review Yasujiro Ozu Dekigokoro Passing Fancy DVD Review Yasujiro Ozu Dekigokoro Passing Fancy DVD Review Yasujiro Ozu Dekigokoro Passing Fancy DVD Review Yasujiro Ozu Dekigokoro Passing Fancy DVD Review Yasujiro Ozu Dekigokoro Passing Fancy DVD Review Yasujiro Ozu Dekigokoro Passing Fancy DVD Review Yasujiro Ozu Dekigokoro Passing Fancy DVD Review Yasujiro Ozu Dekigokoro Passing Fancy DVD Review Yasujiro Ozu Dekigokoro Passing Fancy DVD Review Yasujiro Ozu Dekigokoro Passing Fancy DVD Review Yasujiro Ozu's - Dekigokoro - Passing Fancy - DVD Review Yasujiro Ozu Dekigokoro Passing Fancy DVD Review Yasujiro Ozu Dekigokoro Passing Fancy DVD Review Yasujiro Ozu Dekigokoro Passing Fancy DVD Review Yasujiro Ozu Dekigokoro Passing Fancy DVD Review Yasujiro Ozu Dekigokoro Passing Fancy DVD Review Yasujiro Ozu Dekigokoro Passing Fancy DVD Review Yasujiro Ozu Dekigokoro Passing Fancy DVD Review Yasujiro Ozu Dekigokoro Passing Fancy DVD Review Yasujiro Ozu Dekigokoro Passing Fancy DVD Review Yasujiro Ozu Dekigokoro Passing Fancy DVD Review Yasujiro Ozu's - Dekigokoro - Passing Fancy - DVD Review Yasujiro Ozu Dekigokoro Passing Fancy DVD Review Yasujiro Ozu Dekigokoro Passing Fancy DVD Review Yasujiro Ozu Dekigokoro Passing Fancy DVD Review Yasujiro Ozu Dekigokoro Passing Fancy DVD Review Yasujiro Ozu Dekigokoro Passing Fancy DVD Review Yasujiro Ozu Dekigokoro Passing Fancy DVD Review Yasujiro Ozu Dekigokoro Passing Fancy DVD Review Yasujiro Ozu Dekigokoro Passing Fancy DVD Review Yasujiro Ozu Dekigokoro Passing Fancy DVD Review Yasujiro Ozu Dekigokoro Passing Fancy DVD Review Yasujiro Ozu's - Dekigokoro - Passing Fancy - DVD Review Yasujiro Ozu Dekigokoro Passing Fancy DVD Review Yasujiro Ozu Dekigokoro Passing Fancy DVD Review Yasujiro Ozu Dekigokoro Passing Fancy DVD Review Yasujiro Ozu Dekigokoro Passing Fancy DVD Review Yasujiro Ozu Dekigokoro Passing Fancy DVD Review Yasujiro Ozu Dekigokoro Passing Fancy DVD Review Yasujiro Ozu Dekigokoro Passing Fancy DVD Review Yasujiro Ozu Dekigokoro Passing Fancy DVD Review Yasujiro Ozu Dekigokoro Passing Fancy DVD Review Yasujiro Ozu Dekigokoro Passing Fancy DVD Review Yasujiro Ozu's - Dekigokoro - Passing Fancy - DVD Review Yasujiro Ozu Dekigokoro Passing Fancy DVD Review Yasujiro Ozu Dekigokoro Passing Fancy DVD Review Yasujiro Ozu Dekigokoro Passing Fancy DVD Review Yasujiro Ozu Dekigokoro Passing Fancy DVD Review Yasujiro Ozu Dekigokoro Passing Fancy DVD Review Yasujiro Ozu Dekigokoro Passing Fancy DVD Review Yasujiro Ozu Dekigokoro Passing Fancy DVD Review Yasujiro Ozu Dekigokoro Passing Fancy DVD Review Yasujiro Ozu Dekigokoro Passing Fancy DVD Review Yasujiro Ozu Dekigokoro Passing Fancy DVD Review Yasujiro Ozu's - Dekigokoro - Passing Fancy - DVD Review Yasujiro Ozu Dekigokoro Passing Fancy DVD Review Yasujiro Ozu Dekigokoro Passing Fancy DVD Review Yasujiro Ozu Dekigokoro Passing Fancy DVD Review Yasujiro Ozu Dekigokoro Passing Fancy DVD Review Yasujiro Ozu Dekigokoro Passing Fancy DVD Review Yasujiro Ozu Dekigokoro Passing Fancy DVD Review Yasujiro Ozu Dekigokoro Passing Fancy DVD Review Yasujiro Ozu Dekigokoro Passing Fancy DVD Review Yasujiro Ozu Dekigokoro Passing Fancy DVD Review Yasujiro Ozu Dekigokoro Passing Fancy DVD Review Yasujiro Ozu's - Dekigokoro - Passing Fancy - DVD Review Yasujiro Ozu Dekigokoro Passing Fancy DVD Review Yasujiro Ozu Dekigokoro Passing Fancy DVD Review Yasujiro Ozu Dekigokoro Passing Fancy DVD Review Yasujiro Ozu Dekigokoro Passing Fancy DVD Review Yasujiro Ozu Dekigokoro Passing Fancy DVD Review Yasujiro Ozu Dekigokoro Passing Fancy DVD Review Yasujiro Ozu Dekigokoro Passing Fancy DVD Review Yasujiro Ozu Dekigokoro Passing Fancy DVD Review Yasujiro Ozu Dekigokoro Passing Fancy DVD Review Yasujiro Ozu Dekigokoro Passing Fancy DVD Review Yasujiro Ozu's - Dekigokoro - Passing Fancy - DVD Review Yasujiro Ozu Dekigokoro Passing Fancy DVD Review Yasujiro Ozu Dekigokoro Passing Fancy DVD Review Yasujiro Ozu Dekigokoro Passing Fancy DVD Review Yasujiro Ozu Dekigokoro Passing Fancy DVD Review Yasujiro Ozu Dekigokoro Passing Fancy DVD Review Yasujiro Ozu Dekigokoro Passing Fancy DVD Review Yasujiro Ozu Dekigokoro Passing Fancy DVD Review Yasujiro Ozu Dekigokoro Passing Fancy DVD Review Yasujiro Ozu Dekigokoro Passing Fancy DVD Review Yasujiro Ozu Dekigokoro Passing Fancy DVD Review Yasujiro Ozu's - Dekigokoro - Passing Fancy - DVD Review Yasujiro Ozu Dekigokoro Passing Fancy DVD Review Yasujiro Ozu Dekigokoro Passing Fancy DVD Review Yasujiro Ozu Dekigokoro Passing Fancy DVD Review Yasujiro Ozu Dekigokoro Passing Fancy DVD Review Yasujiro Ozu Dekigokoro Passing Fancy DVD Review Yasujiro Ozu Dekigokoro Passing Fancy DVD Review Yasujiro Ozu Dekigokoro Passing Fancy DVD Review Yasujiro Ozu Dekigokoro Passing Fancy DVD Review Yasujiro Ozu Dekigokoro Passing Fancy DVD Review Yasujiro Ozu Dekigokoro Passing Fancy DVD Review Yasujiro Ozu's - Dekigokoro - Passing Fancy - DVD Review Yasujiro Ozu Dekigokoro Passing Fancy DVD Review Yasujiro Ozu Dekigokoro Passing Fancy DVD Review Yasujiro Ozu Dekigokoro Passing Fancy DVD Review Yasujiro Ozu Dekigokoro Passing Fancy DVD Review Yasujiro Ozu Dekigokoro Passing Fancy DVD Review Yasujiro Ozu Dekigokoro Passing Fancy DVD Review Yasujiro Ozu Dekigokoro Passing Fancy DVD Review Yasujiro Ozu Dekigokoro Passing Fancy DVD Review Yasujiro Ozu Dekigokoro Passing Fancy DVD Review Yasujiro Ozu Dekigokoro Passing Fancy DVD Review