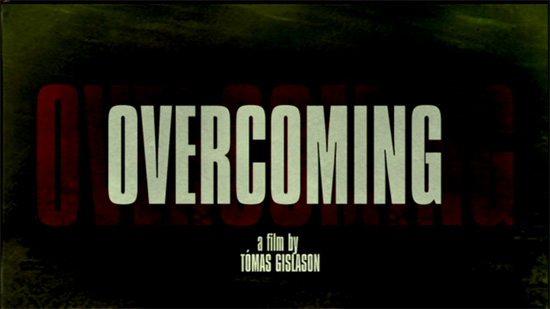 directed by Tómas Gislason
Denmark 2005
In 2001 did Bjarne Riis, former Tour de France winner, become leader of the Danish Team CSC, and from the very first day, his intentions was to create the best cycle team in the world; and do so with non traditional means.

Central to Riis was, and still is, that a team is a team. No rider is more important than the next. There are no stars, no water bearers. Every rider is as important for the team as the next. Building Team CSC he introduced teambuilding, coaching and communication; strange new things in the world of professional cycle sport.

With "Overcoming", Danish director Tómas Gislason portraits Team CSC, their preparations, their training, the ups and downs before and during the Tour de France 2004. Over a period of 8 months, using up to 32 cameras, Gislason covered everything and ended up with more than 1000 hours of footage, which had to be cut down to a mere 90 minutes.

The result is spectacular. "Overcoming" is not only the best film about cycle sport since Jřrgen Leth's portrait of Paris-Roubaix, "A Sunday Day in Hell" (1976), but also one of the best and most innovative documentary films in years.

Trained as an editor, Gislason became known as a writer, by writing Lars von Trier's "Elements of Crime", as well as "The Kingdom", and worked as a consultant on "Zentropa" and "Breaking the Waves". But his heart has always been beating for the art of editing; that and for documentary film.

Nothing about "Overcoming" looks like anything one has ever seen before. Gislason employs text to make statements: buzzwords, power words, quotes. We see a rider in pain up a mountain; Gislason zooms in, slows the motion down to next to a still and fades in the word – commitment, then to speed up again and let the silence of his heartbeat be replaces the the roars of the audience. It is not in order to manipulate the viewer. Gislason uses images and situations to emphasize the philosophy of Riis about teambuilding and coaching. This is a textbook, but instead of words, we get live footage.

Another addition to the form is Gislason editing the Tour de France like an action film, using every trick in the book: parallel montages, pacing, inserts. We see Ivan Basso and Lance Armstrong up the mountain during the 13. stage, pacing of frames are stretched, we feel their exhaustion, their pain, as they have been riding uphill for 192.5 kilometers, then we see a zoom of Armstrong, split screen to Riis in the car, voice over of commentator announcing that Armstrong and Basso are making a go for it, full screen Riis saying, "This is going to be a good day!" In less than 8 minutes both have taken the last 5 kilometers and are fighting neck by neck. Basso wins the stage. It became a good day.

But "Overcoming" is more. It is an intimate portrait of Riis and the riders, where nothing to sacred. These gods of cycle sport are being demystified into normal human beings, with doubts, frustrations and fears, with blood, sweat and tears.

Both as film and as documentary film, "Overcoming" deserves to be called a masterpiece. Form and presentation takes full advantage of everything film has to offer, telling an emotional gripping story about overcoming obstacles, what ever they may be. Inspiring in every possible way.

Poster
Theatrical Release: June 10, 2005
Reviews More Reviews DVD Reviews
DVD Review: Nordisk Film - Region 2 - PAL
Big thanks to Henrik Sylow for the Review!
DVD Box Cover

CLICK to order from:

Distribution

Nordisk Film

Region 2 - PAL

Runtime
1:47:52
Video

1.78:1 Aspect Ratio

16X9 enhanced
Average Bitrate: 5.79 mb/s
PAL 720x576 25.00 f/s

NOTE: The Vertical axis represents the bits transferred per second. The Horizontal is the time in minutes.

Bitrate

Audio
2.0 Dolby Digital (384 Kbps), 5.1 Dolby Digital English / French / Italian / German / Danish
Subtitles
English, Danish, Swedish, Norwegian, Finnish, None
Features
Release Information:
Studio: Nordisk Film

Aspect Ratio:
Widescreen anamorphic - 1.78:1

Edition Details:
• The Mechanics (11:30 / 4:3)
• Stage 13 (28:38 / 4:3)
• The Audience (1:55 / 4:3)
• Alpe D'Huez Timetrial (13:32 / 4:3)
• No Help for Claus (5:03 / 4:3)
• Carlife (11:06 / 4:3)
• Jens Voigt (26:10 / 4:3)
• Trailer (1:59 / 16x9)

DVD Release Date: November 30, 2005
Transparent Amarey Case

Chapters 13
Comments
As mentioned in the review, the footage was shot using up to 36 cameras. The quality depends on which camera was used, location, light, and so forth. While many scenes are grainy, shaky, overzoomed with pixels big enough to feel, the controlled shots are beautiful. There are minor artefacts, but all things aside, this is a great looking transfer.

The sound is multi language - Danish, English, French, Italian, German - and quality depends on what type of microphone was used and if its a recording from a radio and so forth. Some of the dialogue is hard to hear, but everything is subtitled.

As additional material, we are offered a look behind the scenes. We get to see the mechanics preparing the bikes, audiences setting up their location, how life is living in a car, and a portrain of Voight. Good supplements, but nothing more than footnotes really.

What sadly is missing is an audio commentary by Gislason, preferable with Riis. This is a film that almost screams for having its director talking about method, style and production.
---




DVD Menus
---
Screen Captures
subtitle sample (English only)
Captures resized to 800px from 1016px














DONATIONS Keep DVDBeaver alive:
Mail cheques, money orders, cash to: or CLICK PayPal logo to donate!
Thank You!
Tómas Gislason's - Overcoming - DVD Review Tómas Gislason Overcoming DVD Review Tómas Gislason Overcoming DVD Review Tómas Gislason Overcoming DVD Review Tómas Gislason Overcoming DVD Review Tómas Gislason Overcoming DVD Review Tómas Gislason Overcoming DVD Review Tómas Gislason Overcoming DVD Review Tómas Gislason Overcoming DVD Review Tómas Gislason Overcoming DVD Review Tómas Gislason Overcoming DVD Review Tómas Gislason Overcoming DVD Review Tómas Gislason's - Overcoming - DVD Review Tómas Gislason Overcoming DVD Review Tómas Gislason Overcoming DVD Review Tómas Gislason Overcoming DVD Review Tómas Gislason Overcoming DVD Review Tómas Gislason Overcoming DVD Review Tómas Gislason Overcoming DVD Review Tómas Gislason Overcoming DVD Review Tómas Gislason Overcoming DVD Review Tómas Gislason Overcoming DVD Review Tómas Gislason Overcoming DVD Review Tómas Gislason Overcoming DVD Review Tómas Gislason's - Overcoming - DVD Review Tómas Gislason Overcoming DVD Review Tómas Gislason Overcoming DVD Review Tómas Gislason Overcoming DVD Review Tómas Gislason Overcoming DVD Review Tómas Gislason Overcoming DVD Review Tómas Gislason Overcoming DVD Review Tómas Gislason Overcoming DVD Review Tómas Gislason Overcoming DVD Review Tómas Gislason Overcoming DVD Review Tómas Gislason Overcoming DVD Review Tómas Gislason Overcoming DVD Review Tómas Gislason's - Overcoming - DVD Review Tómas Gislason Overcoming DVD Review Tómas Gislason Overcoming DVD Review Tómas Gislason Overcoming DVD Review Tómas Gislason Overcoming DVD Review Tómas Gislason Overcoming DVD Review Tómas Gislason Overcoming DVD Review Tómas Gislason Overcoming DVD Review Tómas Gislason Overcoming DVD Review Tómas Gislason Overcoming DVD Review Tómas Gislason Overcoming DVD Review Tómas Gislason Overcoming DVD Review Tómas Gislason's - Overcoming - DVD Review Tómas Gislason Overcoming DVD Review Tómas Gislason Overcoming DVD Review Tómas Gislason Overcoming DVD Review Tómas Gislason Overcoming DVD Review Tómas Gislason Overcoming DVD Review Tómas Gislason Overcoming DVD Review Tómas Gislason Overcoming DVD Review Tómas Gislason Overcoming DVD Review Tómas Gislason Overcoming DVD Review Tómas Gislason Overcoming DVD Review Tómas Gislason Overcoming DVD Review Tómas Gislason's - Overcoming - DVD Review Tómas Gislason Overcoming DVD Review Tómas Gislason Overcoming DVD Review Tómas Gislason Overcoming DVD Review Tómas Gislason Overcoming DVD Review Tómas Gislason Overcoming DVD Review Tómas Gislason Overcoming DVD Review Tómas Gislason Overcoming DVD Review Tómas Gislason Overcoming DVD Review Tómas Gislason Overcoming DVD Review Tómas Gislason Overcoming DVD Review Tómas Gislason Overcoming DVD Review Tómas Gislason's - Overcoming - DVD Review Tómas Gislason Overcoming DVD Review Tómas Gislason Overcoming DVD Review Tómas Gislason Overcoming DVD Review Tómas Gislason Overcoming DVD Review Tómas Gislason Overcoming DVD Review Tómas Gislason Overcoming DVD Review Tómas Gislason Overcoming DVD Review Tómas Gislason Overcoming DVD Review Tómas Gislason Overcoming DVD Review Tómas Gislason Overcoming DVD Review Tómas Gislason Overcoming DVD Review Tómas Gislason's - Overcoming - DVD Review Tómas Gislason Overcoming DVD Review Tómas Gislason Overcoming DVD Review Tómas Gislason Overcoming DVD Review Tómas Gislason Overcoming DVD Review Tómas Gislason Overcoming DVD Review Tómas Gislason Overcoming DVD Review Tómas Gislason Overcoming DVD Review Tómas Gislason Overcoming DVD Review Tómas Gislason Overcoming DVD Review Tómas Gislason Overcoming DVD Review Tómas Gislason Overcoming DVD Review Tómas Gislason's - Overcoming - DVD Review Tómas Gislason Overcoming DVD Review Tómas Gislason Overcoming DVD Review Tómas Gislason Overcoming DVD Review Tómas Gislason Overcoming DVD Review Tómas Gislason Overcoming DVD Review Tómas Gislason Overcoming DVD Review Tómas Gislason Overcoming DVD Review Tómas Gislason Overcoming DVD Review Tómas Gislason Overcoming DVD Review Tómas Gislason Overcoming DVD Review Tómas Gislason Overcoming DVD Review Tómas Gislason's - Overcoming - DVD Review Tómas Gislason Overcoming DVD Review Tómas Gislason Overcoming DVD Review Tómas Gislason Overcoming DVD Review Tómas Gislason Overcoming DVD Review Tómas Gislason Overcoming DVD Review Tómas Gislason Overcoming DVD Review Tómas Gislason Overcoming DVD Review Tómas Gislason Overcoming DVD Review Tómas Gislason Overcoming DVD Review Tómas Gislason Overcoming DVD Review Tómas Gislason Overcoming DVD Review Tómas Gislason's - Overcoming - DVD Review Tómas Gislason Overcoming DVD Review Tómas Gislason Overcoming DVD Review Tómas Gislason Overcoming DVD Review Tómas Gislason Overcoming DVD Review Tómas Gislason Overcoming DVD Review Tómas Gislason Overcoming DVD Review Tómas Gislason Overcoming DVD Review Tómas Gislason Overcoming DVD Review Tómas Gislason Overcoming DVD Review Tómas Gislason Overcoming DVD Review Tómas Gislason Overcoming DVD Review Tómas Gislason's - Overcoming - DVD Review Tómas Gislason Overcoming DVD Review Tómas Gislason Overcoming DVD Review Tómas Gislason Overcoming DVD Review Tómas Gislason Overcoming DVD Review Tómas Gislason Overcoming DVD Review Tómas Gislason Overcoming DVD Review Tómas Gislason Overcoming DVD Review Tómas Gislason Overcoming DVD Review Tómas Gislason Overcoming DVD Review Tómas Gislason Overcoming DVD Review Tómas Gislason Overcoming DVD Review Tómas Gislason's - Overcoming - DVD Review Tómas Gislason Overcoming DVD Review Tómas Gislason Overcoming DVD Review Tómas Gislason Overcoming DVD Review Tómas Gislason Overcoming DVD Review Tómas Gislason Overcoming DVD Review Tómas Gislason Overcoming DVD Review Tómas Gislason Overcoming DVD Review Tómas Gislason Overcoming DVD Review Tómas Gislason Overcoming DVD Review Tómas Gislason Overcoming DVD Review Tómas Gislason Overcoming DVD Review Tómas Gislason's - Overcoming - DVD Review Tómas Gislason Overcoming DVD Review Tómas Gislason Overcoming DVD Review Tómas Gislason Overcoming DVD Review Tómas Gislason Overcoming DVD Review Tómas Gislason Overcoming DVD Review Tómas Gislason Overcoming DVD Review Tómas Gislason Overcoming DVD Review Tómas Gislason Overcoming DVD Review Tómas Gislason Overcoming DVD Review Tómas Gislason Overcoming DVD Review Tómas Gislason Overcoming DVD Review Tómas Gislason's - Overcoming - DVD Review Tómas Gislason Overcoming DVD Review Tómas Gislason Overcoming DVD Review Tómas Gislason Overcoming DVD Review Tómas Gislason Overcoming DVD Review Tómas Gislason Overcoming DVD Review Tómas Gislason Overcoming DVD Review Tómas Gislason Overcoming DVD Review Tómas Gislason Overcoming DVD Review Tómas Gislason Overcoming DVD Review Tómas Gislason Overcoming DVD Review Tómas Gislason Overcoming DVD Review Tómas Gislason's - Overcoming - DVD Review Tómas Gislason Overcoming DVD Review Tómas Gislason Overcoming DVD Review Tómas Gislason Overcoming DVD Review Tómas Gislason Overcoming DVD Review Tómas Gislason Overcoming DVD Review Tómas Gislason Overcoming DVD Review Tómas Gislason Overcoming DVD Review Tómas Gislason Overcoming DVD Review Tómas Gislason Overcoming DVD Review Tómas Gislason Overcoming DVD Review Tómas Gislason Overcoming DVD Review Tómas Gislason's - Overcoming - DVD Review Tómas Gislason Overcoming DVD Review Tómas Gislason Overcoming DVD Review Tómas Gislason Overcoming DVD Review Tómas Gislason Overcoming DVD Review Tómas Gislason Overcoming DVD Review Tómas Gislason Overcoming DVD Review Tómas Gislason Overcoming DVD Review Tómas Gislason Overcoming DVD Review Tómas Gislason Overcoming DVD Review Tómas Gislason Overcoming DVD Review Tómas Gislason Overcoming DVD Review Tómas Gislason's - Overcoming - DVD Review Tómas Gislason Overcoming DVD Review Tómas Gislason Overcoming DVD Review Tómas Gislason Overcoming DVD Review Tómas Gislason Overcoming DVD Review Tómas Gislason Overcoming DVD Review Tómas Gislason Overcoming DVD Review Tómas Gislason Overcoming DVD Review Tómas Gislason Overcoming DVD Review Tómas Gislason Overcoming DVD Review Tómas Gislason Overcoming DVD Review Tómas Gislason Overcoming DVD Review Tómas Gislason's - Overcoming - DVD Review Tómas Gislason Overcoming DVD Review Tómas Gislason Overcoming DVD Review Tómas Gislason Overcoming DVD Review Tómas Gislason Overcoming DVD Review Tómas Gislason Overcoming DVD Review Tómas Gislason Overcoming DVD Review Tómas Gislason Overcoming DVD Review Tómas Gislason Overcoming DVD Review Tómas Gislason Overcoming DVD Review Tómas Gislason Overcoming DVD Review Tómas Gislason Overcoming DVD Review Tómas Gislason's - Overcoming - DVD Review Tómas Gislason Overcoming DVD Review Tómas Gislason Overcoming DVD Review Tómas Gislason Overcoming DVD Review Tómas Gislason Overcoming DVD Review Tómas Gislason Overcoming DVD Review Tómas Gislason Overcoming DVD Review Tómas Gislason Overcoming DVD Review Tómas Gislason Overcoming DVD Review Tómas Gislason Overcoming DVD Review Tómas Gislason Overcoming DVD Review Tómas Gislason Overcoming DVD Review