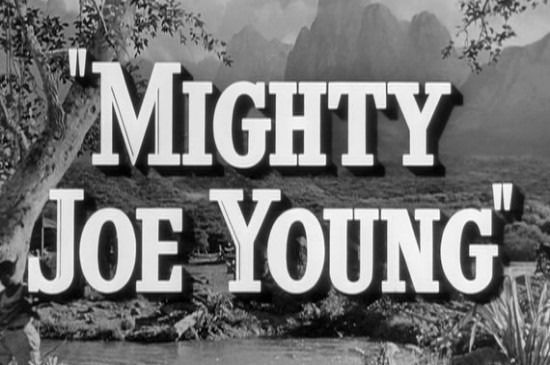 (aka 'Mr. Joseph Young of Africa')
Directed by Ernest B. Schoedsack
USA 1949
He may only come up to King Kong's shin, but Joe makes up in heart what he lacks in size. This sweet tale of a girl and her pet/best friend, an African gorilla with the soul of a kitten, pulls on a different set of heartstrings than the giant ape classic. Robert Armstrong practically repeats his role from King Kong as a Broadway producer who lures Jill Young (Terry Moore) and Joe, an ape she raised from baby (a splendidly realized stop-motion character created by Willis O'Brien, the creator behind Kong), to New York as the star attraction at his new nightclub. Caged in a cramped basement holding cell, the unhappy Joe finally goes berserk after a trio of drunks ply him with alcohol, and the city rules him a menace. In a desperate attempt to save Joe from execution, Jill rounds up her friends and confidants (including beefy love interest Ben Johnson) for a jailbreak. This human-scale drama is more subdued than its inspiration, but the nightclub rampage remains a terrifying scene in its mad destruction; and the climax, involving a raging fire at an orphanage (have these filmmakers no shame?!), still impresses.
Excerpt from Sean Axmaker's comments located HERE
Posters
Theatrical Release: July 27th, 1949
Reviews More Reviews DVD Reviews
DVD Review: Warner - Region 1 - NTSC
| | |
| --- | --- |
| | ** NOTE: The blue cover King Kong 3-Disc Special Edition contains King Kong / Son of Kong and Mighty Joe Young ** |
Distribution
Warner Home Video - Region 1 - NTSC
Runtime
1:33:39
Video
1.33:1 Original Aspect Ratio
Average Bitrate: 5.72 mb/s
NTSC 720x480 29.97 f/s

NOTE: The Vertical axis represents the bits transferred per second. The Horizontal is the time in minutes.

Bitrate:

Audio
English (Dolby Digital 1.0)
Subtitles
English, Spanish, French, None
Features

Release Information:
Studio: Warner Home Video

Aspect Ratio:
Original Aspect Ratio 1.33:1

Edition Details:

• Commentary by Ray Harryhausen, Terry Moore and Ken Ralston
• A Conversation with Ray Harryhausen and the Chiodo Brothers
• Featurette: Ray Harryhausen and Mighty Joe Young
• Theatrical trailer

DVD Release Date: November 22nd, 2005
Keep Case
Chapters: 26
Comments:

What a fabulous image, since it is a much newer film it is far superior to Kong in terms of sharpness and contrast. It looks exceptionally good in all areas. Harryhausen has really come into his own in these releases and comes across very well indeed in both the commentary and the featurettes. If this had come out by itself I would vote on it for DVD of the Year - a personal favorite film! Aside from some very minor damage marks this has no flaws at all. out of

My suggestion, unless you are dead set against the bigger ape film then buy the blue-cover edition with this, King Kong and Son of Kong for a little in excess of $10 more than this... or you may buy them separately quite reasonably.
---



DVD Menus

---
Subtitle Sample
Screen Captures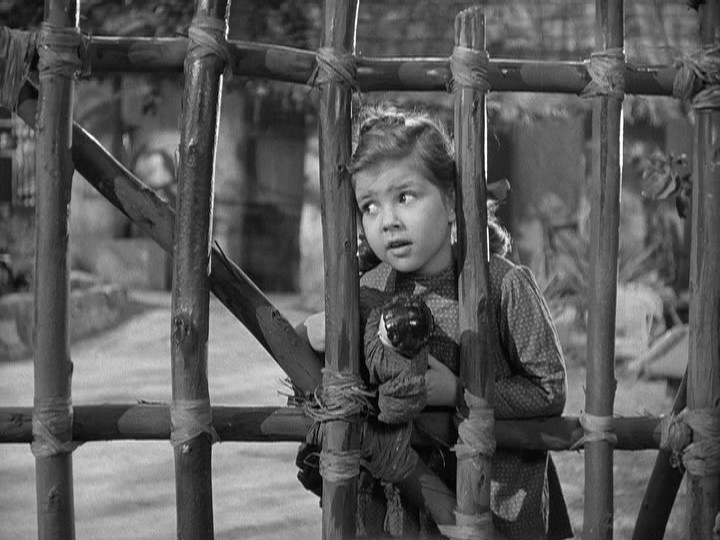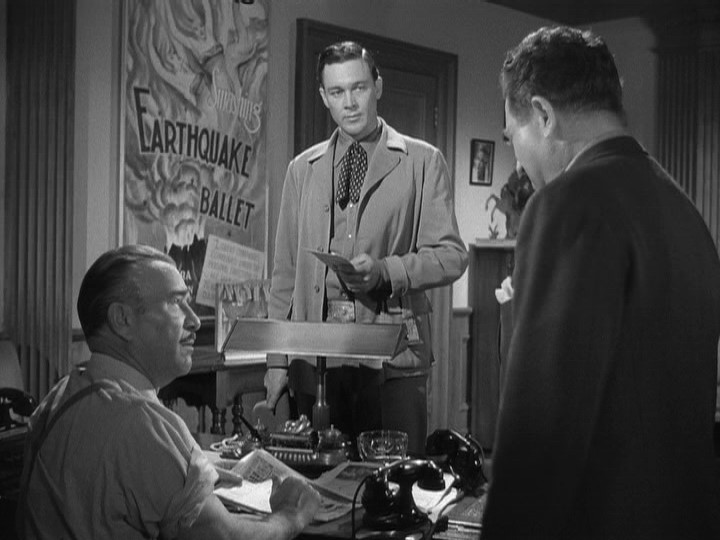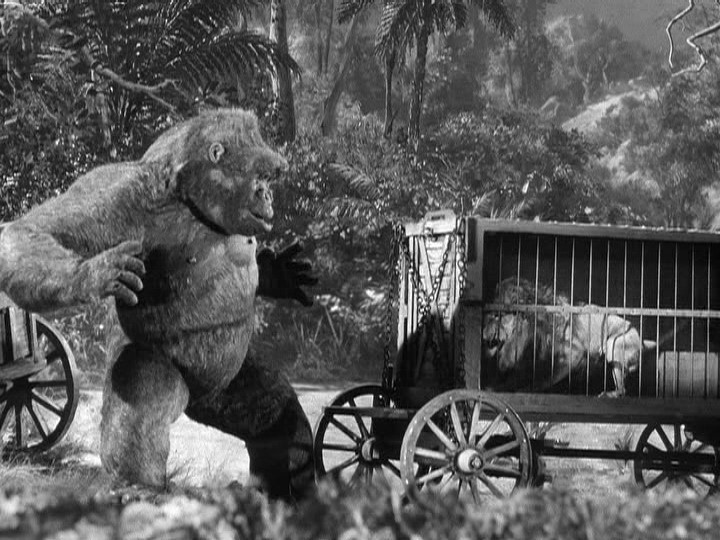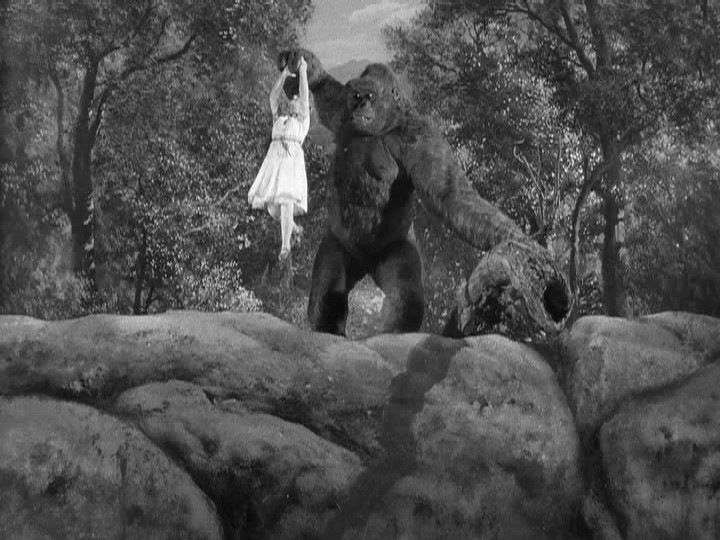 ---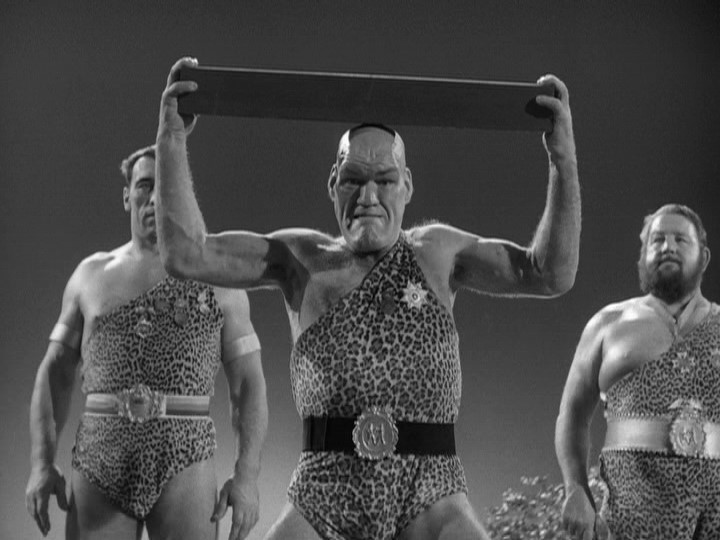 ---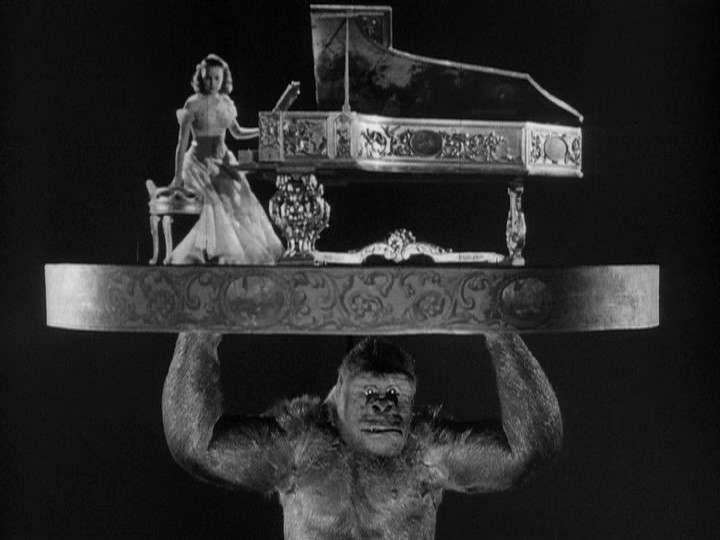 Mail cheques, money orders, cash to: or CLICK PayPal logo to donate!
Gary Tooze

Mississauga, Ontario,

CANADA
Thank You!
Ernest B. Schoedsack's - Mighty Joe Young - DVD Review Ernest B. Schoedsack Mighty Joe Young DVD Review Ernest B. Schoedsack Mighty Joe Young DVD Review Ernest B. Schoedsack Mighty Joe Young DVD Review Ernest B. Schoedsack Mighty Joe Young DVD Review Ernest B. Schoedsack Mighty Joe Young DVD Review Ernest B. Schoedsack Mighty Joe Young DVD Review Ernest B. Schoedsack Mighty Joe Young DVD Review Ernest B. Schoedsack Mighty Joe Young DVD Review Ernest B. Schoedsack Mighty Joe Young DVD Review Ernest B. Schoedsack's - Mighty Joe Young - DVD Review Ernest B. Schoedsack Mighty Joe Young DVD Review Ernest B. Schoedsack Mighty Joe Young DVD Review Ernest B. Schoedsack Mighty Joe Young DVD Review Ernest B. Schoedsack Mighty Joe Young DVD Review Ernest B. Schoedsack Mighty Joe Young DVD Review Ernest B. Schoedsack Mighty Joe Young DVD Review Ernest B. Schoedsack Mighty Joe Young DVD Review Ernest B. Schoedsack Mighty Joe Young DVD Review Ernest B. Schoedsack Mighty Joe Young DVD Review Ernest B. Schoedsack's - Mighty Joe Young - DVD Review Ernest B. Schoedsack Mighty Joe Young DVD Review Ernest B. Schoedsack Mighty Joe Young DVD Review Ernest B. Schoedsack Mighty Joe Young DVD Review Ernest B. Schoedsack Mighty Joe Young DVD Review Ernest B. Schoedsack Mighty Joe Young DVD Review Ernest B. Schoedsack Mighty Joe Young DVD Review Ernest B. Schoedsack Mighty Joe Young DVD Review Ernest B. Schoedsack Mighty Joe Young DVD Review Ernest B. Schoedsack Mighty Joe Young DVD Review Ernest B. Schoedsack's - Mighty Joe Young - DVD Review Ernest B. Schoedsack Mighty Joe Young DVD Review Ernest B. Schoedsack Mighty Joe Young DVD Review Ernest B. Schoedsack Mighty Joe Young DVD Review Ernest B. Schoedsack Mighty Joe Young DVD Review Ernest B. Schoedsack Mighty Joe Young DVD Review Ernest B. Schoedsack Mighty Joe Young DVD Review Ernest B. Schoedsack Mighty Joe Young DVD Review Ernest B. Schoedsack Mighty Joe Young DVD Review Ernest B. Schoedsack Mighty Joe Young DVD Review Ernest B. Schoedsack's - Mighty Joe Young - DVD Review Ernest B. Schoedsack Mighty Joe Young DVD Review Ernest B. Schoedsack Mighty Joe Young DVD Review Ernest B. Schoedsack Mighty Joe Young DVD Review Ernest B. Schoedsack Mighty Joe Young DVD Review Ernest B. Schoedsack Mighty Joe Young DVD Review Ernest B. Schoedsack Mighty Joe Young DVD Review Ernest B. Schoedsack Mighty Joe Young DVD Review Ernest B. Schoedsack Mighty Joe Young DVD Review Ernest B. Schoedsack Mighty Joe Young DVD Review Ernest B. Schoedsack's - Mighty Joe Young - DVD Review Ernest B. Schoedsack Mighty Joe Young DVD Review Ernest B. Schoedsack Mighty Joe Young DVD Review Ernest B. Schoedsack Mighty Joe Young DVD Review Ernest B. Schoedsack Mighty Joe Young DVD Review Ernest B. Schoedsack Mighty Joe Young DVD Review Ernest B. Schoedsack Mighty Joe Young DVD Review Ernest B. Schoedsack Mighty Joe Young DVD Review Ernest B. Schoedsack Mighty Joe Young DVD Review Ernest B. Schoedsack Mighty Joe Young DVD Review Ernest B. Schoedsack's - Mighty Joe Young - DVD Review Ernest B. Schoedsack Mighty Joe Young DVD Review Ernest B. Schoedsack Mighty Joe Young DVD Review Ernest B. Schoedsack Mighty Joe Young DVD Review Ernest B. Schoedsack Mighty Joe Young DVD Review Ernest B. Schoedsack Mighty Joe Young DVD Review Ernest B. Schoedsack Mighty Joe Young DVD Review Ernest B. Schoedsack Mighty Joe Young DVD Review Ernest B. Schoedsack Mighty Joe Young DVD Review Ernest B. Schoedsack Mighty Joe Young DVD Review Ernest B. Schoedsack's - Mighty Joe Young - DVD Review Ernest B. Schoedsack Mighty Joe Young DVD Review Ernest B. Schoedsack Mighty Joe Young DVD Review Ernest B. Schoedsack Mighty Joe Young DVD Review Ernest B. Schoedsack Mighty Joe Young DVD Review Ernest B. Schoedsack Mighty Joe Young DVD Review Ernest B. Schoedsack Mighty Joe Young DVD Review Ernest B. Schoedsack Mighty Joe Young DVD Review Ernest B. Schoedsack Mighty Joe Young DVD Review Ernest B. Schoedsack Mighty Joe Young DVD Review Ernest B. Schoedsack's - Mighty Joe Young - DVD Review Ernest B. Schoedsack Mighty Joe Young DVD Review Ernest B. Schoedsack Mighty Joe Young DVD Review Ernest B. Schoedsack Mighty Joe Young DVD Review Ernest B. Schoedsack Mighty Joe Young DVD Review Ernest B. Schoedsack Mighty Joe Young DVD Review Ernest B. Schoedsack Mighty Joe Young DVD Review Ernest B. Schoedsack Mighty Joe Young DVD Review Ernest B. Schoedsack Mighty Joe Young DVD Review Ernest B. Schoedsack Mighty Joe Young DVD Review Ernest B. Schoedsack's - Mighty Joe Young - DVD Review Ernest B. Schoedsack Mighty Joe Young DVD Review Ernest B. Schoedsack Mighty Joe Young DVD Review Ernest B. Schoedsack Mighty Joe Young DVD Review Ernest B. Schoedsack Mighty Joe Young DVD Review Ernest B. Schoedsack Mighty Joe Young DVD Review Ernest B. Schoedsack Mighty Joe Young DVD Review Ernest B. Schoedsack Mighty Joe Young DVD Review Ernest B. Schoedsack Mighty Joe Young DVD Review Ernest B. Schoedsack Mighty Joe Young DVD Review Ernest B. Schoedsack's - Mighty Joe Young - DVD Review Ernest B. Schoedsack Mighty Joe Young DVD Review Ernest B. Schoedsack Mighty Joe Young DVD Review Ernest B. Schoedsack Mighty Joe Young DVD Review Ernest B. Schoedsack Mighty Joe Young DVD Review Ernest B. Schoedsack Mighty Joe Young DVD Review Ernest B. Schoedsack Mighty Joe Young DVD Review Ernest B. Schoedsack Mighty Joe Young DVD Review Ernest B. Schoedsack Mighty Joe Young DVD Review Ernest B. Schoedsack Mighty Joe Young DVD Review Ernest B. Schoedsack's - Mighty Joe Young - DVD Review Ernest B. Schoedsack Mighty Joe Young DVD Review Ernest B. Schoedsack Mighty Joe Young DVD Review Ernest B. Schoedsack Mighty Joe Young DVD Review Ernest B. Schoedsack Mighty Joe Young DVD Review Ernest B. Schoedsack Mighty Joe Young DVD Review Ernest B. Schoedsack Mighty Joe Young DVD Review Ernest B. Schoedsack Mighty Joe Young DVD Review Ernest B. Schoedsack Mighty Joe Young DVD Review Ernest B. Schoedsack Mighty Joe Young DVD Review Ernest B. Schoedsack's - Mighty Joe Young - DVD Review Ernest B. Schoedsack Mighty Joe Young DVD Review Ernest B. Schoedsack Mighty Joe Young DVD Review Ernest B. Schoedsack Mighty Joe Young DVD Review Ernest B. Schoedsack Mighty Joe Young DVD Review Ernest B. Schoedsack Mighty Joe Young DVD Review Ernest B. Schoedsack Mighty Joe Young DVD Review Ernest B. Schoedsack Mighty Joe Young DVD Review Ernest B. Schoedsack Mighty Joe Young DVD Review Ernest B. Schoedsack Mighty Joe Young DVD Review Ernest B. Schoedsack's - Mighty Joe Young - DVD Review Ernest B. Schoedsack Mighty Joe Young DVD Review Ernest B. Schoedsack Mighty Joe Young DVD Review Ernest B. Schoedsack Mighty Joe Young DVD Review Ernest B. Schoedsack Mighty Joe Young DVD Review Ernest B. Schoedsack Mighty Joe Young DVD Review Ernest B. Schoedsack Mighty Joe Young DVD Review Ernest B. Schoedsack Mighty Joe Young DVD Review Ernest B. Schoedsack Mighty Joe Young DVD Review Ernest B. Schoedsack Mighty Joe Young DVD Review Ernest B. Schoedsack's - Mighty Joe Young - DVD Review Ernest B. Schoedsack Mighty Joe Young DVD Review Ernest B. Schoedsack Mighty Joe Young DVD Review Ernest B. Schoedsack Mighty Joe Young DVD Review Ernest B. Schoedsack Mighty Joe Young DVD Review Ernest B. Schoedsack Mighty Joe Young DVD Review Ernest B. Schoedsack Mighty Joe Young DVD Review Ernest B. Schoedsack Mighty Joe Young DVD Review Ernest B. Schoedsack Mighty Joe Young DVD Review Ernest B. Schoedsack Mighty Joe Young DVD Review Ernest B. Schoedsack's - Mighty Joe Young - DVD Review Ernest B. Schoedsack Mighty Joe Young DVD Review Ernest B. Schoedsack Mighty Joe Young DVD Review Ernest B. Schoedsack Mighty Joe Young DVD Review Ernest B. Schoedsack Mighty Joe Young DVD Review Ernest B. Schoedsack Mighty Joe Young DVD Review Ernest B. Schoedsack Mighty Joe Young DVD Review Ernest B. Schoedsack Mighty Joe Young DVD Review Ernest B. Schoedsack Mighty Joe Young DVD Review Ernest B. Schoedsack Mighty Joe Young DVD Review Ernest B. Schoedsack's - Mighty Joe Young - DVD Review Ernest B. Schoedsack Mighty Joe Young DVD Review Ernest B. Schoedsack Mighty Joe Young DVD Review Ernest B. Schoedsack Mighty Joe Young DVD Review Ernest B. Schoedsack Mighty Joe Young DVD Review Ernest B. Schoedsack Mighty Joe Young DVD Review Ernest B. Schoedsack Mighty Joe Young DVD Review Ernest B. Schoedsack Mighty Joe Young DVD Review Ernest B. Schoedsack Mighty Joe Young DVD Review Ernest B. Schoedsack Mighty Joe Young DVD Review Ernest B. Schoedsack's - Mighty Joe Young - DVD Review Ernest B. Schoedsack Mighty Joe Young DVD Review Ernest B. Schoedsack Mighty Joe Young DVD Review Ernest B. Schoedsack Mighty Joe Young DVD Review Ernest B. Schoedsack Mighty Joe Young DVD Review Ernest B. Schoedsack Mighty Joe Young DVD Review Ernest B. Schoedsack Mighty Joe Young DVD Review Ernest B. Schoedsack Mighty Joe Young DVD Review Ernest B. Schoedsack Mighty Joe Young DVD Review Ernest B. Schoedsack Mighty Joe Young DVD Review Ernest B. Schoedsack's - Mighty Joe Young - DVD Review Ernest B. Schoedsack Mighty Joe Young DVD Review Ernest B. Schoedsack Mighty Joe Young DVD Review Ernest B. Schoedsack Mighty Joe Young DVD Review Ernest B. Schoedsack Mighty Joe Young DVD Review Ernest B. Schoedsack Mighty Joe Young DVD Review Ernest B. Schoedsack Mighty Joe Young DVD Review Ernest B. Schoedsack Mighty Joe Young DVD Review Ernest B. Schoedsack Mighty Joe Young DVD Review Ernest B. Schoedsack Mighty Joe Young DVD Review Ernest B. Schoedsack's - Mighty Joe Young - DVD Review Ernest B. Schoedsack Mighty Joe Young DVD Review Ernest B. Schoedsack Mighty Joe Young DVD Review Ernest B. Schoedsack Mighty Joe Young DVD Review Ernest B. Schoedsack Mighty Joe Young DVD Review Ernest B. Schoedsack Mighty Joe Young DVD Review Ernest B. Schoedsack Mighty Joe Young DVD Review Ernest B. Schoedsack Mighty Joe Young DVD Review Ernest B. Schoedsack Mighty Joe Young DVD Review Ernest B. Schoedsack Mighty Joe Young DVD Review Ernest B. Schoedsack's - Mighty Joe Young - DVD Review Ernest B. Schoedsack Mighty Joe Young DVD Review Ernest B. Schoedsack Mighty Joe Young DVD Review Ernest B. Schoedsack Mighty Joe Young DVD Review Ernest B. Schoedsack Mighty Joe Young DVD Review Ernest B. Schoedsack Mighty Joe Young DVD Review Ernest B. Schoedsack Mighty Joe Young DVD Review Ernest B. Schoedsack Mighty Joe Young DVD Review Ernest B. Schoedsack Mighty Joe Young DVD Review Ernest B. Schoedsack Mighty Joe Young DVD Review