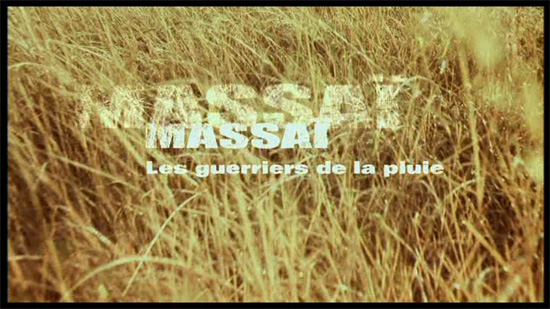 (aka "Massai - Les guerriers de la pluie" )
directed by Pascal Plisson
France 2004
Nothing is more sacred to the Masai, than cattle. It is such a part of their being, that they consider all cattle in the entire world theirs and will defend that right by any means. As such, the only real threat to the Masai is the lion. This makes the lion an integrated part of their lives, and to the Masai, the killing of a lion is a test of manhood, as only a man can defend the tribe.

Both are central to the story of "Massai – The Rain Warrior". Drought is decimating the livestock of a Masai tribe, and the elders decide, that in order to end the drought, they had to kill the god of vengeance, the lion Vitchua. But when Vitchua kills their best warrior, the village has to put their future and faith in the hands of a group of not yet men nor warriors, who never held a spear in their hands in their lives.

Part reality, part mythology, "Massai – The Rain Warrior" is one incredible film. One literary feels the burden of the entire tribe resting on the shoulders of these kids, who without any idea, go forth knowing, that their future depends on their actions. A mere test of manhood has become an existential quest.

As serious a subtext the story has, the film is surprisingly light and entertaining. There is a playfulness to their nature, which is used both to make peaceful scenes more relaxing and amusing, but also to stress the difference between being a child and being a man.

With a cast of non-actors, Plisson has created a colourful and profound tale of coming of age.

Theatrical Release: October 15, 2004 (Saint-Jean-de-Luz Film Festival)
Reviews More Reviews DVD Reviews
DVD Review: Optimum - Region 2 - PAL
Big thanks to Henrik Sylow for the Review!
DVD Box Cover

CLICK to order from:

Distribution

Optimum

Region 2 - PAL

Runtime
1:29:42 (4% PAL speedup)
Video

1.78:1 Aspect Ratio

16X9 enhanced
Average Bitrate: 5.49 mb/s
PAL 720x576 25.00 f/s

NOTE: The Vertical axis represents the bits transferred per second. The Horizontal is the time in minutes.

Bitrate

Audio
2.0 Dolby Digital Kimassaļ , 5.1 Dolby Digital Kimassaļ
Subtitles
Fixed English Subtitles
Features
Release Information:
Studio: Optimum

Aspect Ratio:
Widescreen anamorphic - 1.78:1

Edition Details:
• No Extras

DVD Release Date: November 21, 2005
Keep Case

Chapters 12
| | |
| --- | --- |
| Comments | A very beautiful transfer. Colors are very strong, even stronger as the image has received a healthy dose of contrast boosting, details are good and there artifacts are very few to speak of. Another stunning DVD5 transfer from Optimum. |
---




DVD Menus

---
Screen Captures
subtitle sample
Captures resized to 800px from 1016px native resolution
---














DONATIONS Keep DVDBeaver alive:
Mail cheques, money orders, cash to: or CLICK PayPal logo to donate!
Thank You!
Pascal Plisson's - Masai - Massai - Les guerriers de la pluie DVD Review Pascal Plisson Masai - Massai - Les guerriers de la pluie DVD Review Pascal Plisson Masai - Massai - Les guerriers de la pluie DVD Review Pascal Plisson Masai - Massai - Les guerriers de la pluie DVD Review Pascal Plisson Masai - Massai - Les guerriers de la pluie DVD Review Pascal Plisson Masai - Massai - Les guerriers de la pluie DVD Review Pascal Plisson Masai - Massai - Les guerriers de la pluie DVD Review Pascal Plisson Masai - Massai - Les guerriers de la pluie DVD Review Pascal Plisson Masai - Massai - Les guerriers de la pluie DVD Review Pascal Plisson's - Masai - Massai - Les guerriers de la pluie DVD Review Pascal Plisson Masai - Massai - Les guerriers de la pluie DVD Review Pascal Plisson Masai - Massai - Les guerriers de la pluie DVD Review Pascal Plisson Masai - Massai - Les guerriers de la pluie DVD Review Pascal Plisson Masai - Massai - Les guerriers de la pluie DVD Review Pascal Plisson Masai - Massai - Les guerriers de la pluie DVD Review Pascal Plisson Masai - Massai - Les guerriers de la pluie DVD Review Pascal Plisson Masai - Massai - Les guerriers de la pluie DVD Review Pascal Plisson Masai - Massai - Les guerriers de la pluie DVD Review Pascal Plisson's - Masai - Massai - Les guerriers de la pluie DVD Review Pascal Plisson Masai - Massai - Les guerriers de la pluie DVD Review Pascal Plisson Masai - Massai - Les guerriers de la pluie DVD Review Pascal Plisson Masai - Massai - Les guerriers de la pluie DVD Review Pascal Plisson Masai - Massai - Les guerriers de la pluie DVD Review Pascal Plisson Masai - Massai - Les guerriers de la pluie DVD Review Pascal Plisson Masai - Massai - Les guerriers de la pluie DVD Review Pascal Plisson Masai - Massai - Les guerriers de la pluie DVD Review Pascal Plisson Masai - Massai - Les guerriers de la pluie DVD Review Pascal Plisson's - Masai - Massai - Les guerriers de la pluie DVD Review Pascal Plisson Masai - Massai - Les guerriers de la pluie DVD Review Pascal Plisson Masai - Massai - Les guerriers de la pluie DVD Review Pascal Plisson Masai - Massai - Les guerriers de la pluie DVD Review Pascal Plisson Masai - Massai - Les guerriers de la pluie DVD Review Pascal Plisson Masai - Massai - Les guerriers de la pluie DVD Review Pascal Plisson Masai - Massai - Les guerriers de la pluie DVD Review Pascal Plisson Masai - Massai - Les guerriers de la pluie DVD Review Pascal Plisson Masai - Massai - Les guerriers de la pluie DVD Review Pascal Plisson's - Masai - Massai - Les guerriers de la pluie DVD Review Pascal Plisson Masai - Massai - Les guerriers de la pluie DVD Review Pascal Plisson Masai - Massai - Les guerriers de la pluie DVD Review Pascal Plisson Masai - Massai - Les guerriers de la pluie DVD Review Pascal Plisson Masai - Massai - Les guerriers de la pluie DVD Review Pascal Plisson Masai - Massai - Les guerriers de la pluie DVD Review Pascal Plisson Masai - Massai - Les guerriers de la pluie DVD Review Pascal Plisson Masai - Massai - Les guerriers de la pluie DVD Review Pascal Plisson Masai - Massai - Les guerriers de la pluie DVD Review Pascal Plisson's - Masai - Massai - Les guerriers de la pluie DVD Review Pascal Plisson Masai - Massai - Les guerriers de la pluie DVD Review Pascal Plisson Masai - Massai - Les guerriers de la pluie DVD Review Pascal Plisson Masai - Massai - Les guerriers de la pluie DVD Review Pascal Plisson Masai - Massai - Les guerriers de la pluie DVD Review Pascal Plisson Masai - Massai - Les guerriers de la pluie DVD Review Pascal Plisson Masai - Massai - Les guerriers de la pluie DVD Review Pascal Plisson Masai - Massai - Les guerriers de la pluie DVD Review Pascal Plisson Masai - Massai - Les guerriers de la pluie DVD Review Pascal Plisson's - Masai - Massai - Les guerriers de la pluie DVD Review Pascal Plisson Masai - Massai - Les guerriers de la pluie DVD Review Pascal Plisson Masai - Massai - Les guerriers de la pluie DVD Review Pascal Plisson Masai - Massai - Les guerriers de la pluie DVD Review Pascal Plisson Masai - Massai - Les guerriers de la pluie DVD Review Pascal Plisson Masai - Massai - Les guerriers de la pluie DVD Review Pascal Plisson Masai - Massai - Les guerriers de la pluie DVD Review Pascal Plisson Masai - Massai - Les guerriers de la pluie DVD Review Pascal Plisson Masai - Massai - Les guerriers de la pluie DVD Review Pascal Plisson's - Masai - Massai - Les guerriers de la pluie DVD Review Pascal Plisson Masai - Massai - Les guerriers de la pluie DVD Review Pascal Plisson Masai - Massai - Les guerriers de la pluie DVD Review Pascal Plisson Masai - Massai - Les guerriers de la pluie DVD Review Pascal Plisson Masai - Massai - Les guerriers de la pluie DVD Review Pascal Plisson Masai - Massai - Les guerriers de la pluie DVD Review Pascal Plisson Masai - Massai - Les guerriers de la pluie DVD Review Pascal Plisson Masai - Massai - Les guerriers de la pluie DVD Review Pascal Plisson Masai - Massai - Les guerriers de la pluie DVD Review Pascal Plisson's - Masai - Massai - Les guerriers de la pluie DVD Review Pascal Plisson Masai - Massai - Les guerriers de la pluie DVD Review Pascal Plisson Masai - Massai - Les guerriers de la pluie DVD Review Pascal Plisson Masai - Massai - Les guerriers de la pluie DVD Review Pascal Plisson Masai - Massai - Les guerriers de la pluie DVD Review Pascal Plisson Masai - Massai - Les guerriers de la pluie DVD Review Pascal Plisson Masai - Massai - Les guerriers de la pluie DVD Review Pascal Plisson Masai - Massai - Les guerriers de la pluie DVD Review Pascal Plisson Masai - Massai - Les guerriers de la pluie DVD Review Pascal Plisson's - Masai - Massai - Les guerriers de la pluie DVD Review Pascal Plisson Masai - Massai - Les guerriers de la pluie DVD Review Pascal Plisson Masai - Massai - Les guerriers de la pluie DVD Review Pascal Plisson Masai - Massai - Les guerriers de la pluie DVD Review Pascal Plisson Masai - Massai - Les guerriers de la pluie DVD Review Pascal Plisson Masai - Massai - Les guerriers de la pluie DVD Review Pascal Plisson Masai - Massai - Les guerriers de la pluie DVD Review Pascal Plisson Masai - Massai - Les guerriers de la pluie DVD Review Pascal Plisson Masai - Massai - Les guerriers de la pluie DVD Review Pascal Plisson's - Masai - Massai - Les guerriers de la pluie DVD Review Pascal Plisson Masai - Massai - Les guerriers de la pluie DVD Review Pascal Plisson Masai - Massai - Les guerriers de la pluie DVD Review Pascal Plisson Masai - Massai - Les guerriers de la pluie DVD Review Pascal Plisson Masai - Massai - Les guerriers de la pluie DVD Review Pascal Plisson Masai - Massai - Les guerriers de la pluie DVD Review Pascal Plisson Masai - Massai - Les guerriers de la pluie DVD Review Pascal Plisson Masai - Massai - Les guerriers de la pluie DVD Review Pascal Plisson Masai - Massai - Les guerriers de la pluie DVD Review Pascal Plisson's - Masai - Massai - Les guerriers de la pluie DVD Review Pascal Plisson Masai - Massai - Les guerriers de la pluie DVD Review Pascal Plisson Masai - Massai - Les guerriers de la pluie DVD Review Pascal Plisson Masai - Massai - Les guerriers de la pluie DVD Review Pascal Plisson Masai - Massai - Les guerriers de la pluie DVD Review Pascal Plisson Masai - Massai - Les guerriers de la pluie DVD Review Pascal Plisson Masai - Massai - Les guerriers de la pluie DVD Review Pascal Plisson Masai - Massai - Les guerriers de la pluie DVD Review Pascal Plisson Masai - Massai - Les guerriers de la pluie DVD Review Pascal Plisson's - Masai - Massai - Les guerriers de la pluie DVD Review Pascal Plisson Masai - Massai - Les guerriers de la pluie DVD Review Pascal Plisson Masai - Massai - Les guerriers de la pluie DVD Review Pascal Plisson Masai - Massai - Les guerriers de la pluie DVD Review Pascal Plisson Masai - Massai - Les guerriers de la pluie DVD Review Pascal Plisson Masai - Massai - Les guerriers de la pluie DVD Review Pascal Plisson Masai - Massai - Les guerriers de la pluie DVD Review Pascal Plisson Masai - Massai - Les guerriers de la pluie DVD Review Pascal Plisson Masai - Massai - Les guerriers de la pluie DVD Review Pascal Plisson's - Masai - Massai - Les guerriers de la pluie DVD Review Pascal Plisson Masai - Massai - Les guerriers de la pluie DVD Review Pascal Plisson Masai - Massai - Les guerriers de la pluie DVD Review Pascal Plisson Masai - Massai - Les guerriers de la pluie DVD Review Pascal Plisson Masai - Massai - Les guerriers de la pluie DVD Review Pascal Plisson Masai - Massai - Les guerriers de la pluie DVD Review Pascal Plisson Masai - Massai - Les guerriers de la pluie DVD Review Pascal Plisson Masai - Massai - Les guerriers de la pluie DVD Review Pascal Plisson Masai - Massai - Les guerriers de la pluie DVD Review Pascal Plisson's - Masai - Massai - Les guerriers de la pluie DVD Review Pascal Plisson Masai - Massai - Les guerriers de la pluie DVD Review Pascal Plisson Masai - Massai - Les guerriers de la pluie DVD Review Pascal Plisson Masai - Massai - Les guerriers de la pluie DVD Review Pascal Plisson Masai - Massai - Les guerriers de la pluie DVD Review Pascal Plisson Masai - Massai - Les guerriers de la pluie DVD Review Pascal Plisson Masai - Massai - Les guerriers de la pluie DVD Review Pascal Plisson Masai - Massai - Les guerriers de la pluie DVD Review Pascal Plisson Masai - Massai - Les guerriers de la pluie DVD Review