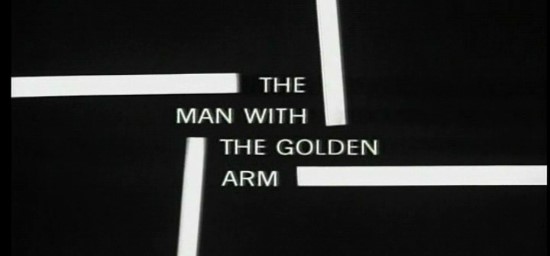 Directed by Otto Preminger
USA 19
55
The first major Hollywood film to tackle heroin addiction, The Man With The Golden Arm shocked contemporary audiences, defying a strict production code and eliciting Oscar-nominated work from composer Elmer Bernstein and star Frank Sinatra. Martin Scorsese has called it, "the first honest depiction of drug addiction on American screens," and even today, the honesty is harrowing.

For those more familiar with his performances in musicals, Sinatra's transformation into Ol' Yellow Eyes is little short of a revelation. As the ex-con and card-sharp Frankie Machine, struggling to stay clean and start again as a jazz drummer, Sinatra is wholly convincing, and never more so than during a particularly disturbing cold turkey sequence. His concerned mistress and resentful wife – played by a beautifully wooden Kim Novak and over-the-top Eleanor Parker – offer less, but strong support does come from Arnold Stang, who is excellent as Sparrow, Frankie's slightly retarded friend. Based on a 1949 novel by Nelson Algren, the film occasionally looks dated, and director Otto Preminger's slick style sometimes sits oddly with the gritty subject matter. But by breaking taboos, this was real shot in the arm stuff for Hollywood, breaking further ground with a (literally) unheard of jazz soundtrack. Still revered, Bernstein's score pushes and prods at Frankie's reluctance to do likewise, creating a tension which lingers long after the end. Brilliant, risk-taking cinema.

Excerpt from Future Movies (Jay Richardson) review HERE.
Posters
Theatrical Release: December 14th, 1955
Reviews More Reviews DVD Reviews
DVD Review: Hart Sharp Video - Region 0 - NTSC
DVD Box Cover

CLICK to order from:

Distribution
Hart Sharp Video - Region 0 - NTSC
Runtime
1:59:36
Video
1.33:1 Original Aspect Ratio
Average Bitrate: 5.63 mb/s
NTSC 720x480 29.97 f/s

NOTE: The Vertical axis represents the bits transferred per second. The Horizontal is the time in minutes.

Bitrate:

Audio
English (Dolby Digital 2.0 Mono), English (Dolby Digital 5.1 Surround)
Subtitles
English, Spanish, French, None
Features

Release Information:
Studio: Hart Sharp Video

Aspect Ratio:
Original aspect Ratio 1.33:1

Edition Details:

• Commentary by film historian, Ken Barnes
• Original Theatrical Trailer
Disc 2
• Exclusive archive interview with Frank Sinatra
• Interview with Academy Award winning composer, Elmer Bernstein
• Stills and Posters gallery
• Audio Visual Montage of "The Man with the Golden Arm" recording featuring the DVD debut of Frank Sinatra's vocal of the title song (not used in the film's commercial release)
• Cast and Crew Bios
• Production Background

DVD Release Date: October 18th, 2005
Double Slim Keep Case
Chapters: 21
Comments:

This movie is in the Public Domain (I have it as an extra on a Disc Plaza Suddenly DVD). For the most part major studios don't bother with PD stuff - their problem is not getting rights to produce films to DVD - their problem is selling enough DVDs to cover costs for restorations, decent extras and transfers. So their competition will be outfits like Madacy Entertainment or Geneon that can slap it on DVD and charge $5-6 and thereby severely undercutting the majors break-even cost. It seems not everyone reads sites like DVDBeaver to make their purchasing decisions.

So, in an unusual case, unknown Hart Sharp Video, attempts to puff themselves up with a classic title, good cover, 2-disc special edition etc. and appear like a major DVD production outfit. Now I don't want to make it sound like they are pulling a fast one here - they have included a 'fake' 5.1 track and 3 optional subtitles - the extras are not world class, but a true effort was put forth. My complaint will be with the transfer which is not progressive (see last capture for combing) and it is a bit hazy - definitely analog. Still as a positive this is the best I have seen the film look or sound on the digital format. So our bottom line is 'don't expect too much from this edition and you won't be disappointed'. Its the definitive edition out there, but I question the pricing - it seems a little high to me.

The film is magnificent - extremely memorable and possibly Sinatra's best role. It's so rich in Film Noir elements that it is considered an essential by many fans of the genre.
---
Disc 2
---
Subtitle Sample
Screen Captures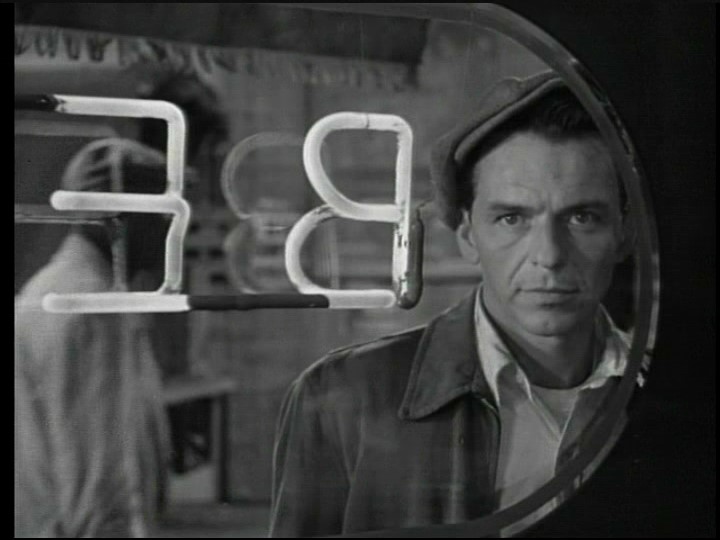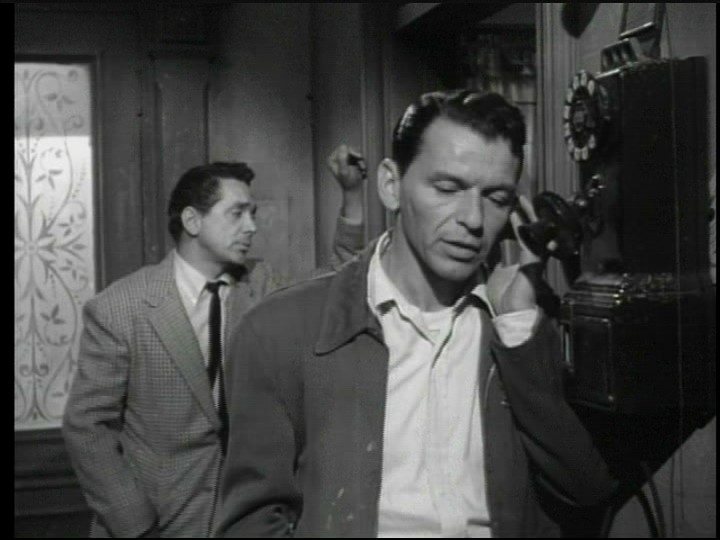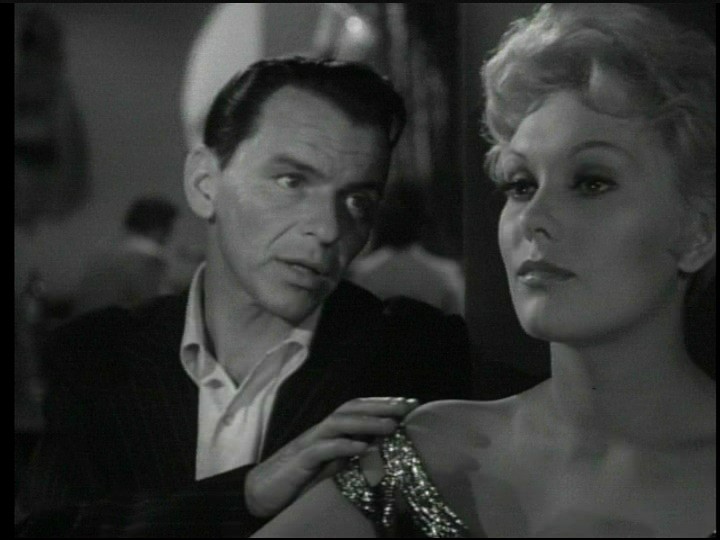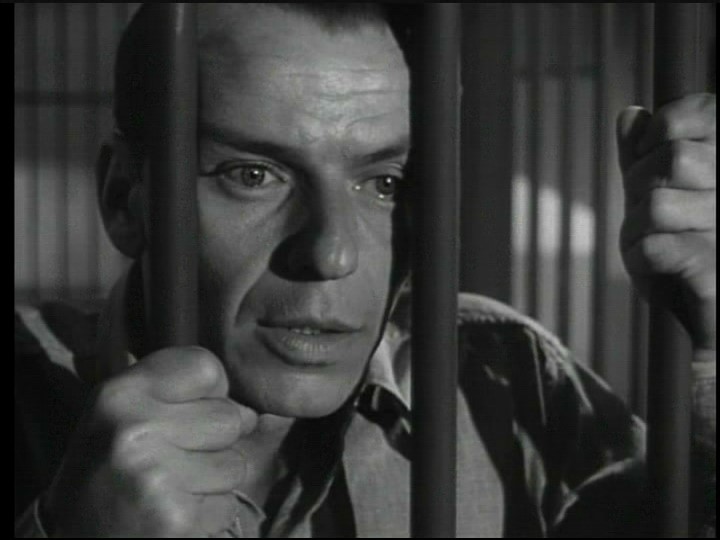 ---
---
Combing prevalent
DVD Box Cover

CLICK to order from:

Distribution
Hart Sharp Video - Region 0 - NTSC
---





DONATIONS Keep DVDBeaver alive and advertisement free:
Mail cheques, money orders, cash to: or CLICK PayPal logo to donate!
Gary Tooze

Mississauga, Ontario,

CANADA
Thank You!
Otto Preminger's - The Man with the Golden Arm - Frank Sinatra DVD Review Otto Preminger The Man with the Golden Arm Frank Sinatra DVD Review Otto Preminger The Man with the Golden Arm Frank Sinatra DVD Review Otto Preminger The Man with the Golden Arm Frank Sinatra DVD Review Otto Preminger The Man with the Golden Arm Frank Sinatra DVD Review Otto Preminger The Man with the Golden Arm Frank Sinatra DVD Review Otto Preminger The Man with the Golden Arm Frank Sinatra DVD Review Otto Preminger The Man with the Golden Arm Frank Sinatra DVD Review Otto Preminger The Man with the Golden Arm Frank Sinatra DVD Review Otto Preminger The Man with the Golden Arm Frank Sinatra DVD Review Otto Preminger The Man with the Golden Arm Frank Sinatra DVD Review Otto Preminger The Man with the Golden Arm Frank Sinatra DVD Review Otto Preminger The Man with the Golden Arm Frank Sinatra DVD Review Otto Preminger's - The Man with the Golden Arm - Frank Sinatra DVD Review Otto Preminger The Man with the Golden Arm Frank Sinatra DVD Review Otto Preminger The Man with the Golden Arm Frank Sinatra DVD Review Otto Preminger The Man with the Golden Arm Frank Sinatra DVD Review Otto Preminger The Man with the Golden Arm Frank Sinatra DVD Review Otto Preminger The Man with the Golden Arm Frank Sinatra DVD Review Otto Preminger The Man with the Golden Arm Frank Sinatra DVD Review Otto Preminger The Man with the Golden Arm Frank Sinatra DVD Review Otto Preminger The Man with the Golden Arm Frank Sinatra DVD Review Otto Preminger The Man with the Golden Arm Frank Sinatra DVD Review Otto Preminger The Man with the Golden Arm Frank Sinatra DVD Review Otto Preminger The Man with the Golden Arm Frank Sinatra DVD Review Otto Preminger The Man with the Golden Arm Frank Sinatra DVD Review Otto Preminger's - The Man with the Golden Arm - Frank Sinatra DVD Review Otto Preminger The Man with the Golden Arm Frank Sinatra DVD Review Otto Preminger The Man with the Golden Arm Frank Sinatra DVD Review Otto Preminger The Man with the Golden Arm Frank Sinatra DVD Review Otto Preminger The Man with the Golden Arm Frank Sinatra DVD Review Otto Preminger The Man with the Golden Arm Frank Sinatra DVD Review Otto Preminger The Man with the Golden Arm Frank Sinatra DVD Review Otto Preminger The Man with the Golden Arm Frank Sinatra DVD Review Otto Preminger The Man with the Golden Arm Frank Sinatra DVD Review Otto Preminger The Man with the Golden Arm Frank Sinatra DVD Review Otto Preminger The Man with the Golden Arm Frank Sinatra DVD Review Otto Preminger The Man with the Golden Arm Frank Sinatra DVD Review Otto Preminger The Man with the Golden Arm Frank Sinatra DVD Review Otto Preminger's - The Man with the Golden Arm - Frank Sinatra DVD Review Otto Preminger The Man with the Golden Arm Frank Sinatra DVD Review Otto Preminger The Man with the Golden Arm Frank Sinatra DVD Review Otto Preminger The Man with the Golden Arm Frank Sinatra DVD Review Otto Preminger The Man with the Golden Arm Frank Sinatra DVD Review Otto Preminger The Man with the Golden Arm Frank Sinatra DVD Review Otto Preminger The Man with the Golden Arm Frank Sinatra DVD Review Otto Preminger The Man with the Golden Arm Frank Sinatra DVD Review Otto Preminger The Man with the Golden Arm Frank Sinatra DVD Review Otto Preminger The Man with the Golden Arm Frank Sinatra DVD Review Otto Preminger The Man with the Golden Arm Frank Sinatra DVD Review Otto Preminger The Man with the Golden Arm Frank Sinatra DVD Review Otto Preminger The Man with the Golden Arm Frank Sinatra DVD Review Otto Preminger's - The Man with the Golden Arm - Frank Sinatra DVD Review Otto Preminger The Man with the Golden Arm Frank Sinatra DVD Review Otto Preminger The Man with the Golden Arm Frank Sinatra DVD Review Otto Preminger The Man with the Golden Arm Frank Sinatra DVD Review Otto Preminger The Man with the Golden Arm Frank Sinatra DVD Review Otto Preminger The Man with the Golden Arm Frank Sinatra DVD Review Otto Preminger The Man with the Golden Arm Frank Sinatra DVD Review Otto Preminger The Man with the Golden Arm Frank Sinatra DVD Review Otto Preminger The Man with the Golden Arm Frank Sinatra DVD Review Otto Preminger The Man with the Golden Arm Frank Sinatra DVD Review Otto Preminger The Man with the Golden Arm Frank Sinatra DVD Review Otto Preminger The Man with the Golden Arm Frank Sinatra DVD Review Otto Preminger The Man with the Golden Arm Frank Sinatra DVD Review Otto Preminger's - The Man with the Golden Arm - Frank Sinatra DVD Review Otto Preminger The Man with the Golden Arm Frank Sinatra DVD Review Otto Preminger The Man with the Golden Arm Frank Sinatra DVD Review Otto Preminger The Man with the Golden Arm Frank Sinatra DVD Review Otto Preminger The Man with the Golden Arm Frank Sinatra DVD Review Otto Preminger The Man with the Golden Arm Frank Sinatra DVD Review Otto Preminger The Man with the Golden Arm Frank Sinatra DVD Review Otto Preminger The Man with the Golden Arm Frank Sinatra DVD Review Otto Preminger The Man with the Golden Arm Frank Sinatra DVD Review Otto Preminger The Man with the Golden Arm Frank Sinatra DVD Review Otto Preminger The Man with the Golden Arm Frank Sinatra DVD Review Otto Preminger The Man with the Golden Arm Frank Sinatra DVD Review Otto Preminger The Man with the Golden Arm Frank Sinatra DVD Review Otto Preminger's - The Man with the Golden Arm - Frank Sinatra DVD Review Otto Preminger The Man with the Golden Arm Frank Sinatra DVD Review Otto Preminger The Man with the Golden Arm Frank Sinatra DVD Review Otto Preminger The Man with the Golden Arm Frank Sinatra DVD Review Otto Preminger The Man with the Golden Arm Frank Sinatra DVD Review Otto Preminger The Man with the Golden Arm Frank Sinatra DVD Review Otto Preminger The Man with the Golden Arm Frank Sinatra DVD Review Otto Preminger The Man with the Golden Arm Frank Sinatra DVD Review Otto Preminger The Man with the Golden Arm Frank Sinatra DVD Review Otto Preminger The Man with the Golden Arm Frank Sinatra DVD Review Otto Preminger The Man with the Golden Arm Frank Sinatra DVD Review Otto Preminger The Man with the Golden Arm Frank Sinatra DVD Review Otto Preminger The Man with the Golden Arm Frank Sinatra DVD Review Otto Preminger's - The Man with the Golden Arm - Frank Sinatra DVD Review Otto Preminger The Man with the Golden Arm Frank Sinatra DVD Review Otto Preminger The Man with the Golden Arm Frank Sinatra DVD Review Otto Preminger The Man with the Golden Arm Frank Sinatra DVD Review Otto Preminger The Man with the Golden Arm Frank Sinatra DVD Review Otto Preminger The Man with the Golden Arm Frank Sinatra DVD Review Otto Preminger The Man with the Golden Arm Frank Sinatra DVD Review Otto Preminger The Man with the Golden Arm Frank Sinatra DVD Review Otto Preminger The Man with the Golden Arm Frank Sinatra DVD Review Otto Preminger The Man with the Golden Arm Frank Sinatra DVD Review Otto Preminger The Man with the Golden Arm Frank Sinatra DVD Review Otto Preminger The Man with the Golden Arm Frank Sinatra DVD Review Otto Preminger The Man with the Golden Arm Frank Sinatra DVD Review Otto Preminger's - The Man with the Golden Arm - Frank Sinatra DVD Review Otto Preminger The Man with the Golden Arm Frank Sinatra DVD Review Otto Preminger The Man with the Golden Arm Frank Sinatra DVD Review Otto Preminger The Man with the Golden Arm Frank Sinatra DVD Review Otto Preminger The Man with the Golden Arm Frank Sinatra DVD Review Otto Preminger The Man with the Golden Arm Frank Sinatra DVD Review Otto Preminger The Man with the Golden Arm Frank Sinatra DVD Review Otto Preminger The Man with the Golden Arm Frank Sinatra DVD Review Otto Preminger The Man with the Golden Arm Frank Sinatra DVD Review Otto Preminger The Man with the Golden Arm Frank Sinatra DVD Review Otto Preminger The Man with the Golden Arm Frank Sinatra DVD Review Otto Preminger The Man with the Golden Arm Frank Sinatra DVD Review Otto Preminger The Man with the Golden Arm Frank Sinatra DVD Review Otto Preminger's - The Man with the Golden Arm - Frank Sinatra DVD Review Otto Preminger The Man with the Golden Arm Frank Sinatra DVD Review Otto Preminger The Man with the Golden Arm Frank Sinatra DVD Review Otto Preminger The Man with the Golden Arm Frank Sinatra DVD Review Otto Preminger The Man with the Golden Arm Frank Sinatra DVD Review Otto Preminger The Man with the Golden Arm Frank Sinatra DVD Review Otto Preminger The Man with the Golden Arm Frank Sinatra DVD Review Otto Preminger The Man with the Golden Arm Frank Sinatra DVD Review Otto Preminger The Man with the Golden Arm Frank Sinatra DVD Review Otto Preminger The Man with the Golden Arm Frank Sinatra DVD Review Otto Preminger The Man with the Golden Arm Frank Sinatra DVD Review Otto Preminger The Man with the Golden Arm Frank Sinatra DVD Review Otto Preminger The Man with the Golden Arm Frank Sinatra DVD Review Otto Preminger's - The Man with the Golden Arm - Frank Sinatra DVD Review Otto Preminger The Man with the Golden Arm Frank Sinatra DVD Review Otto Preminger The Man with the Golden Arm Frank Sinatra DVD Review Otto Preminger The Man with the Golden Arm Frank Sinatra DVD Review Otto Preminger The Man with the Golden Arm Frank Sinatra DVD Review Otto Preminger The Man with the Golden Arm Frank Sinatra DVD Review Otto Preminger The Man with the Golden Arm Frank Sinatra DVD Review Otto Preminger The Man with the Golden Arm Frank Sinatra DVD Review Otto Preminger The Man with the Golden Arm Frank Sinatra DVD Review Otto Preminger The Man with the Golden Arm Frank Sinatra DVD Review Otto Preminger The Man with the Golden Arm Frank Sinatra DVD Review Otto Preminger The Man with the Golden Arm Frank Sinatra DVD Review Otto Preminger The Man with the Golden Arm Frank Sinatra DVD Review Otto Preminger's - The Man with the Golden Arm - Frank Sinatra DVD Review Otto Preminger The Man with the Golden Arm Frank Sinatra DVD Review Otto Preminger The Man with the Golden Arm Frank Sinatra DVD Review Otto Preminger The Man with the Golden Arm Frank Sinatra DVD Review Otto Preminger The Man with the Golden Arm Frank Sinatra DVD Review Otto Preminger The Man with the Golden Arm Frank Sinatra DVD Review Otto Preminger The Man with the Golden Arm Frank Sinatra DVD Review Otto Preminger The Man with the Golden Arm Frank Sinatra DVD Review Otto Preminger The Man with the Golden Arm Frank Sinatra DVD Review Otto Preminger The Man with the Golden Arm Frank Sinatra DVD Review Otto Preminger The Man with the Golden Arm Frank Sinatra DVD Review Otto Preminger The Man with the Golden Arm Frank Sinatra DVD Review Otto Preminger The Man with the Golden Arm Frank Sinatra DVD Review Otto Preminger's - The Man with the Golden Arm - Frank Sinatra DVD Review Otto Preminger The Man with the Golden Arm Frank Sinatra DVD Review Otto Preminger The Man with the Golden Arm Frank Sinatra DVD Review Otto Preminger The Man with the Golden Arm Frank Sinatra DVD Review Otto Preminger The Man with the Golden Arm Frank Sinatra DVD Review Otto Preminger The Man with the Golden Arm Frank Sinatra DVD Review Otto Preminger The Man with the Golden Arm Frank Sinatra DVD Review Otto Preminger The Man with the Golden Arm Frank Sinatra DVD Review Otto Preminger The Man with the Golden Arm Frank Sinatra DVD Review Otto Preminger The Man with the Golden Arm Frank Sinatra DVD Review Otto Preminger The Man with the Golden Arm Frank Sinatra DVD Review Otto Preminger The Man with the Golden Arm Frank Sinatra DVD Review Otto Preminger The Man with the Golden Arm Frank Sinatra DVD Review