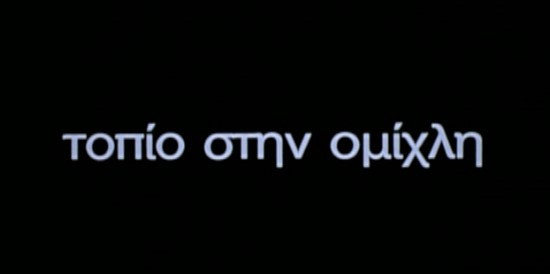 (aka 'Τοπίο στην ομίχλη' or 'Landscape in the Mist' or 'Paesaggio nella nebbia' or ' Paysage dans le brouillard')
Directed by Theo Angelopoulos
France / Greece / Italy 1988
Road movies are not a novelty in Angelopoulos' cinema. From his universally acclaimed The Travelling Players to The Bee-Keeper, his characters have always been engaged in endless journeys in mainland Greece. But whereas some of his previous work suffers from overlong sequences, Landscape in the Mist maintains a balance of time, evoking perfectly the duration of the long but wholly unpredictable journey.

Two kids search for their father whom they've never met. Traveling north in rural Greece, they encounter a plethora of characters and images, allegories on the state of the country. An uncle who's unwilling to take custody of the kids, a truck driver who rapes the little girl, and young Orestes who is working for a group of traveling players and emerges as an oasis in a climate of hostility and exploitation are all presences incapable of filling the traumatized experience of the kids.

The bleak and desolate atmosphere of the film leaves the kids exposed in a landscape of misty images, captured beautifully by Arvanitis' excellent photography. A dying horse on the snow juxtaposed with a marital celebration, a gigantic hand emerging from the sea, and an old man playing sad tunes on his violin construct an impressive but often disturbing imagery. Angelopoulos' treatment of rape, where by seeing nothing you "see" everything, is the most sensitive reference to the issue I've ever encountered on the screen, rendering a comparison with pathetic films such as The Accused or Cape Fear very interesting.

Landscape in the Mist, overtly influenced by Antonioni's filmmaking , may not be a masterpiece but it's a film which works well on all levels, with gleaming performances by the two kids. Having received the Golden Lion Prize at the Venice Film Festival, it's undoubtedly Angelopoulos' best film since The Traveling Players.

Review by Spiros Gangas Taken from EUFS Programme 1992-93 located HERE
Posters
Theatrical Release: Feb 11th, 1989 - Berlin Film Festival
DVD Review: New Yorker - Region 1 - NTSC
DVD Box Cover

CLICK to order from:

Distribution
New Yorker Video - Region 1 - NTSC
Runtime
1:59:24
Video
1.33:1 Original Aspect Ratio
Average Bitrate: 4.26 mb/s
NTSC 720x480 29.97 f/s

NOTE: The Vertical axis represents the bits transferred per second. The Horizontal is the time in minutes.

Bitrate:

Audio
Greek (Dolby Digital 2.0)
Subtitles
English, None
Features

Release Information:
Studio: New Yorker Video

Aspect Ratio:
Original Aspect Ratio 1.33:1

Edition Details:

• none

DVD Release Date: December, 2005
Keep Case
Chapters: 28
| | |
| --- | --- |
| Comments: | This is acceptable for tube viewing - although non-progressive (exhibiting 'combing' - see last capture) its has good clarity for the most part. It is a little soft in spots and colors look faded. Overall, it is a bit of a disappointment for Angelopoulos fans who seem to have had very little luck getting this master director's films expertly transferred to DVD. The subtitles are well-done and removable but there are no extras. This is a typically unremarkable transfer from NY'er who are, at least, releasing some of these masterpiece films they have in their vault. There is a Taiwanese version available in a 3-disc boxset (see below), and I hope to compare one day soon. We strongly recommend the film considered the pinnacle of this lauded director's work. |
Angelopoulos


---



DVD Menus

---
Subtitle Sample
Screen Captures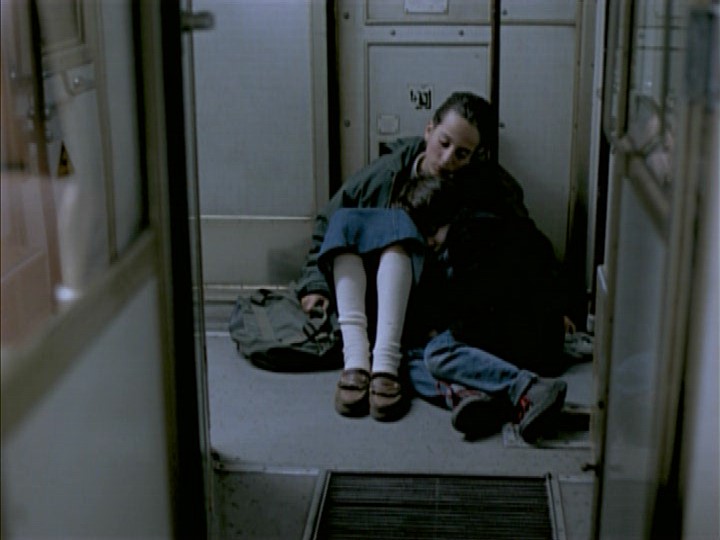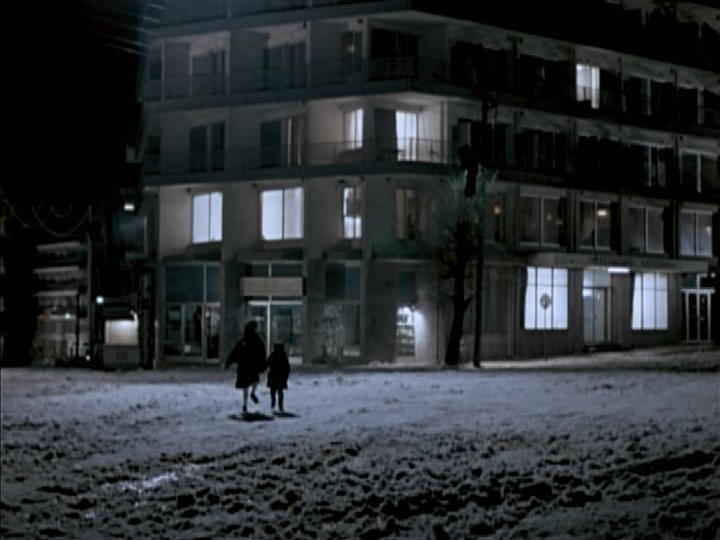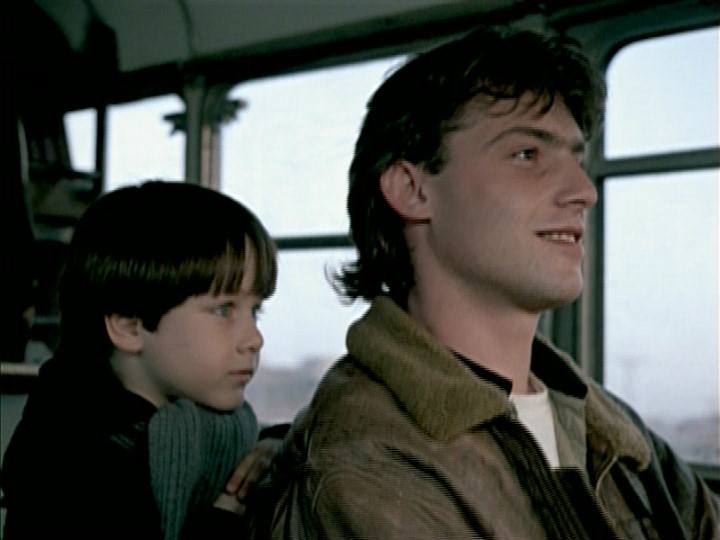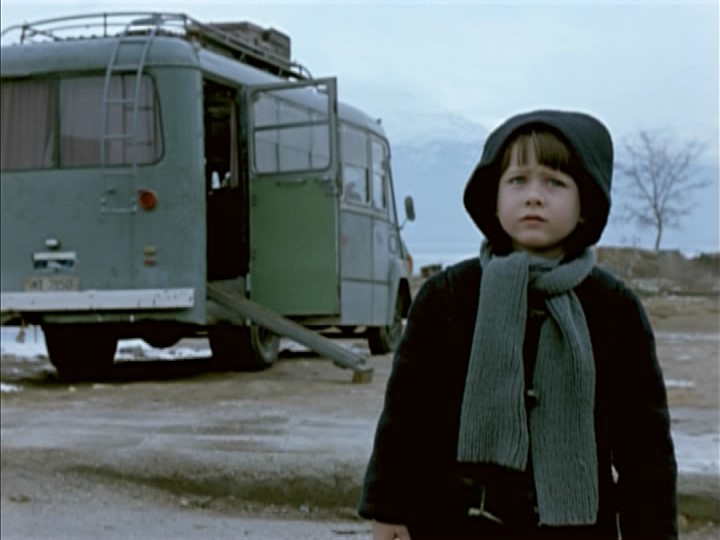 ---
---
DVD Box Cover

CLICK to order from:

Distribution
New Yorker Video - Region 1 - NTSC



















DONATIONS Keep DVDBeaver alive:
Mail cheques, money orders, cash to: or CLICK PayPal logo to donate!
Gary Tooze

Mississauga, Ontario,

CANADA
Thank You!
Theo Angelopoulos' - Landscape in the Mist - Topio stin omichli - DVD Review Theo Angelopoulos Landscape in the Mist Topio stin omichli DVD Review Theo Angelopoulos Landscape in the Mist Topio stin omichli DVD Review Theo Angelopoulos Landscape in the Mist Topio stin omichli DVD Review Theo Angelopoulos Landscape in the Mist Topio stin omichli DVD Review Theo Angelopoulos Landscape in the Mist Topio stin omichli DVD Review Theo Angelopoulos Landscape in the Mist Topio stin omichli DVD Review Theo Angelopoulos Landscape in the Mist Topio stin omichli DVD Review Theo Angelopoulos Landscape in the Mist Topio stin omichli DVD Review Theo Angelopoulos' - Landscape in the Mist - Topio stin omichli - DVD Review Theo Angelopoulos Landscape in the Mist Topio stin omichli DVD Review Theo Angelopoulos Landscape in the Mist Topio stin omichli DVD Review Theo Angelopoulos Landscape in the Mist Topio stin omichli DVD Review Theo Angelopoulos Landscape in the Mist Topio stin omichli DVD Review Theo Angelopoulos Landscape in the Mist Topio stin omichli DVD Review Theo Angelopoulos Landscape in the Mist Topio stin omichli DVD Review Theo Angelopoulos Landscape in the Mist Topio stin omichli DVD Review Theo Angelopoulos Landscape in the Mist Topio stin omichli DVD Review Theo Angelopoulos' - Landscape in the Mist - Topio stin omichli - DVD Review Theo Angelopoulos Landscape in the Mist Topio stin omichli DVD Review Theo Angelopoulos Landscape in the Mist Topio stin omichli DVD Review Theo Angelopoulos Landscape in the Mist Topio stin omichli DVD Review Theo Angelopoulos Landscape in the Mist Topio stin omichli DVD Review Theo Angelopoulos Landscape in the Mist Topio stin omichli DVD Review Theo Angelopoulos Landscape in the Mist Topio stin omichli DVD Review Theo Angelopoulos Landscape in the Mist Topio stin omichli DVD Review Theo Angelopoulos Landscape in the Mist Topio stin omichli DVD Review Theo Angelopoulos' - Landscape in the Mist - Topio stin omichli - DVD Review Theo Angelopoulos Landscape in the Mist Topio stin omichli DVD Review Theo Angelopoulos Landscape in the Mist Topio stin omichli DVD Review Theo Angelopoulos Landscape in the Mist Topio stin omichli DVD Review Theo Angelopoulos Landscape in the Mist Topio stin omichli DVD Review Theo Angelopoulos Landscape in the Mist Topio stin omichli DVD Review Theo Angelopoulos Landscape in the Mist Topio stin omichli DVD Review Theo Angelopoulos Landscape in the Mist Topio stin omichli DVD Review Theo Angelopoulos Landscape in the Mist Topio stin omichli DVD Review Theo Angelopoulos' - Landscape in the Mist - Topio stin omichli - DVD Review Theo Angelopoulos Landscape in the Mist Topio stin omichli DVD Review Theo Angelopoulos Landscape in the Mist Topio stin omichli DVD Review Theo Angelopoulos Landscape in the Mist Topio stin omichli DVD Review Theo Angelopoulos Landscape in the Mist Topio stin omichli DVD Review Theo Angelopoulos Landscape in the Mist Topio stin omichli DVD Review Theo Angelopoulos Landscape in the Mist Topio stin omichli DVD Review Theo Angelopoulos Landscape in the Mist Topio stin omichli DVD Review Theo Angelopoulos Landscape in the Mist Topio stin omichli DVD Review Theo Angelopoulos' - Landscape in the Mist - Topio stin omichli - DVD Review Theo Angelopoulos Landscape in the Mist Topio stin omichli DVD Review Theo Angelopoulos Landscape in the Mist Topio stin omichli DVD Review Theo Angelopoulos Landscape in the Mist Topio stin omichli DVD Review Theo Angelopoulos Landscape in the Mist Topio stin omichli DVD Review Theo Angelopoulos Landscape in the Mist Topio stin omichli DVD Review Theo Angelopoulos Landscape in the Mist Topio stin omichli DVD Review Theo Angelopoulos Landscape in the Mist Topio stin omichli DVD Review Theo Angelopoulos Landscape in the Mist Topio stin omichli DVD Review Theo Angelopoulos' - Landscape in the Mist - Topio stin omichli - DVD Review Theo Angelopoulos Landscape in the Mist Topio stin omichli DVD Review Theo Angelopoulos Landscape in the Mist Topio stin omichli DVD Review Theo Angelopoulos Landscape in the Mist Topio stin omichli DVD Review Theo Angelopoulos Landscape in the Mist Topio stin omichli DVD Review Theo Angelopoulos Landscape in the Mist Topio stin omichli DVD Review Theo Angelopoulos Landscape in the Mist Topio stin omichli DVD Review Theo Angelopoulos Landscape in the Mist Topio stin omichli DVD Review Theo Angelopoulos Landscape in the Mist Topio stin omichli DVD Review Theo Angelopoulos' - Landscape in the Mist - Topio stin omichli - DVD Review Theo Angelopoulos Landscape in the Mist Topio stin omichli DVD Review Theo Angelopoulos Landscape in the Mist Topio stin omichli DVD Review Theo Angelopoulos Landscape in the Mist Topio stin omichli DVD Review Theo Angelopoulos Landscape in the Mist Topio stin omichli DVD Review Theo Angelopoulos Landscape in the Mist Topio stin omichli DVD Review Theo Angelopoulos Landscape in the Mist Topio stin omichli DVD Review Theo Angelopoulos Landscape in the Mist Topio stin omichli DVD Review Theo Angelopoulos Landscape in the Mist Topio stin omichli DVD Review Theo Angelopoulos' - Landscape in the Mist - Topio stin omichli - DVD Review Theo Angelopoulos Landscape in the Mist Topio stin omichli DVD Review Theo Angelopoulos Landscape in the Mist Topio stin omichli DVD Review Theo Angelopoulos Landscape in the Mist Topio stin omichli DVD Review Theo Angelopoulos Landscape in the Mist Topio stin omichli DVD Review Theo Angelopoulos Landscape in the Mist Topio stin omichli DVD Review Theo Angelopoulos Landscape in the Mist Topio stin omichli DVD Review Theo Angelopoulos Landscape in the Mist Topio stin omichli DVD Review Theo Angelopoulos Landscape in the Mist Topio stin omichli DVD Review Theo Angelopoulos' - Landscape in the Mist - Topio stin omichli - DVD Review Theo Angelopoulos Landscape in the Mist Topio stin omichli DVD Review Theo Angelopoulos Landscape in the Mist Topio stin omichli DVD Review Theo Angelopoulos Landscape in the Mist Topio stin omichli DVD Review Theo Angelopoulos Landscape in the Mist Topio stin omichli DVD Review Theo Angelopoulos Landscape in the Mist Topio stin omichli DVD Review Theo Angelopoulos Landscape in the Mist Topio stin omichli DVD Review Theo Angelopoulos Landscape in the Mist Topio stin omichli DVD Review Theo Angelopoulos Landscape in the Mist Topio stin omichli DVD Review Theo Angelopoulos' - Landscape in the Mist - Topio stin omichli - DVD Review Theo Angelopoulos Landscape in the Mist Topio stin omichli DVD Review Theo Angelopoulos Landscape in the Mist Topio stin omichli DVD Review Theo Angelopoulos Landscape in the Mist Topio stin omichli DVD Review Theo Angelopoulos Landscape in the Mist Topio stin omichli DVD Review Theo Angelopoulos Landscape in the Mist Topio stin omichli DVD Review Theo Angelopoulos Landscape in the Mist Topio stin omichli DVD Review Theo Angelopoulos Landscape in the Mist Topio stin omichli DVD Review Theo Angelopoulos Landscape in the Mist Topio stin omichli DVD Review Theo Angelopoulos' - Landscape in the Mist - Topio stin omichli - DVD Review Theo Angelopoulos Landscape in the Mist Topio stin omichli DVD Review Theo Angelopoulos Landscape in the Mist Topio stin omichli DVD Review Theo Angelopoulos Landscape in the Mist Topio stin omichli DVD Review Theo Angelopoulos Landscape in the Mist Topio stin omichli DVD Review Theo Angelopoulos Landscape in the Mist Topio stin omichli DVD Review Theo Angelopoulos Landscape in the Mist Topio stin omichli DVD Review Theo Angelopoulos Landscape in the Mist Topio stin omichli DVD Review Theo Angelopoulos Landscape in the Mist Topio stin omichli DVD Review Theo Angelopoulos' - Landscape in the Mist - Topio stin omichli - DVD Review Theo Angelopoulos Landscape in the Mist Topio stin omichli DVD Review Theo Angelopoulos Landscape in the Mist Topio stin omichli DVD Review Theo Angelopoulos Landscape in the Mist Topio stin omichli DVD Review Theo Angelopoulos Landscape in the Mist Topio stin omichli DVD Review Theo Angelopoulos Landscape in the Mist Topio stin omichli DVD Review Theo Angelopoulos Landscape in the Mist Topio stin omichli DVD Review Theo Angelopoulos Landscape in the Mist Topio stin omichli DVD Review Theo Angelopoulos Landscape in the Mist Topio stin omichli DVD Review Theo Angelopoulos' - Landscape in the Mist - Topio stin omichli - DVD Review Theo Angelopoulos Landscape in the Mist Topio stin omichli DVD Review Theo Angelopoulos Landscape in the Mist Topio stin omichli DVD Review Theo Angelopoulos Landscape in the Mist Topio stin omichli DVD Review Theo Angelopoulos Landscape in the Mist Topio stin omichli DVD Review Theo Angelopoulos Landscape in the Mist Topio stin omichli DVD Review Theo Angelopoulos Landscape in the Mist Topio stin omichli DVD Review Theo Angelopoulos Landscape in the Mist Topio stin omichli DVD Review Theo Angelopoulos Landscape in the Mist Topio stin omichli DVD Review Theo Angelopoulos' - Landscape in the Mist - Topio stin omichli - DVD Review Theo Angelopoulos Landscape in the Mist Topio stin omichli DVD Review Theo Angelopoulos Landscape in the Mist Topio stin omichli DVD Review Theo Angelopoulos Landscape in the Mist Topio stin omichli DVD Review Theo Angelopoulos Landscape in the Mist Topio stin omichli DVD Review Theo Angelopoulos Landscape in the Mist Topio stin omichli DVD Review Theo Angelopoulos Landscape in the Mist Topio stin omichli DVD Review Theo Angelopoulos Landscape in the Mist Topio stin omichli DVD Review Theo Angelopoulos Landscape in the Mist Topio stin omichli DVD Review Theo Angelopoulos' - Landscape in the Mist - Topio stin omichli - DVD Review Theo Angelopoulos Landscape in the Mist Topio stin omichli DVD Review Theo Angelopoulos Landscape in the Mist Topio stin omichli DVD Review Theo Angelopoulos Landscape in the Mist Topio stin omichli DVD Review Theo Angelopoulos Landscape in the Mist Topio stin omichli DVD Review Theo Angelopoulos Landscape in the Mist Topio stin omichli DVD Review Theo Angelopoulos Landscape in the Mist Topio stin omichli DVD Review Theo Angelopoulos Landscape in the Mist Topio stin omichli DVD Review Theo Angelopoulos Landscape in the Mist Topio stin omichli DVD Review Theo Angelopoulos' - Landscape in the Mist - Topio stin omichli - DVD Review Theo Angelopoulos Landscape in the Mist Topio stin omichli DVD Review Theo Angelopoulos Landscape in the Mist Topio stin omichli DVD Review Theo Angelopoulos Landscape in the Mist Topio stin omichli DVD Review Theo Angelopoulos Landscape in the Mist Topio stin omichli DVD Review Theo Angelopoulos Landscape in the Mist Topio stin omichli DVD Review Theo Angelopoulos Landscape in the Mist Topio stin omichli DVD Review Theo Angelopoulos Landscape in the Mist Topio stin omichli DVD Review Theo Angelopoulos Landscape in the Mist Topio stin omichli DVD Review Theo Angelopoulos' - Landscape in the Mist - Topio stin omichli - DVD Review Theo Angelopoulos Landscape in the Mist Topio stin omichli DVD Review Theo Angelopoulos Landscape in the Mist Topio stin omichli DVD Review Theo Angelopoulos Landscape in the Mist Topio stin omichli DVD Review Theo Angelopoulos Landscape in the Mist Topio stin omichli DVD Review Theo Angelopoulos Landscape in the Mist Topio stin omichli DVD Review Theo Angelopoulos Landscape in the Mist Topio stin omichli DVD Review Theo Angelopoulos Landscape in the Mist Topio stin omichli DVD Review Theo Angelopoulos Landscape in the Mist Topio stin omichli DVD Review Theo Angelopoulos' - Landscape in the Mist - Topio stin omichli - DVD Review Theo Angelopoulos Landscape in the Mist Topio stin omichli DVD Review Theo Angelopoulos Landscape in the Mist Topio stin omichli DVD Review Theo Angelopoulos Landscape in the Mist Topio stin omichli DVD Review Theo Angelopoulos Landscape in the Mist Topio stin omichli DVD Review Theo Angelopoulos Landscape in the Mist Topio stin omichli DVD Review Theo Angelopoulos Landscape in the Mist Topio stin omichli DVD Review Theo Angelopoulos Landscape in the Mist Topio stin omichli DVD Review Theo Angelopoulos Landscape in the Mist Topio stin omichli DVD Review Theo Angelopoulos' - Landscape in the Mist - Topio stin omichli - DVD Review Theo Angelopoulos Landscape in the Mist Topio stin omichli DVD Review Theo Angelopoulos Landscape in the Mist Topio stin omichli DVD Review Theo Angelopoulos Landscape in the Mist Topio stin omichli DVD Review Theo Angelopoulos Landscape in the Mist Topio stin omichli DVD Review Theo Angelopoulos Landscape in the Mist Topio stin omichli DVD Review Theo Angelopoulos Landscape in the Mist Topio stin omichli DVD Review Theo Angelopoulos Landscape in the Mist Topio stin omichli DVD Review Theo Angelopoulos Landscape in the Mist Topio stin omichli DVD Review Theo Angelopoulos' - Landscape in the Mist - Topio stin omichli - DVD Review Theo Angelopoulos Landscape in the Mist Topio stin omichli DVD Review Theo Angelopoulos Landscape in the Mist Topio stin omichli DVD Review Theo Angelopoulos Landscape in the Mist Topio stin omichli DVD Review Theo Angelopoulos Landscape in the Mist Topio stin omichli DVD Review Theo Angelopoulos Landscape in the Mist Topio stin omichli DVD Review Theo Angelopoulos Landscape in the Mist Topio stin omichli DVD Review Theo Angelopoulos Landscape in the Mist Topio stin omichli DVD Review Theo Angelopoulos Landscape in the Mist Topio stin omichli DVD Review