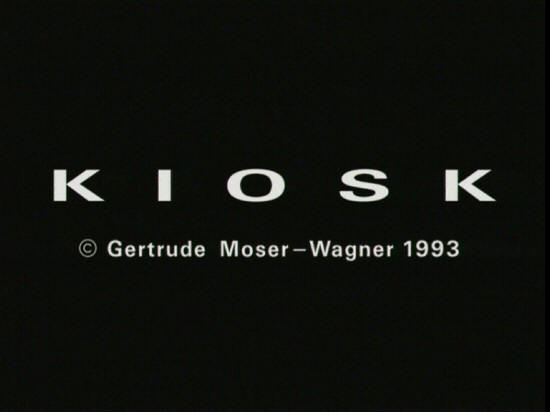 directed by Gertrude Moser-Wagner
Austria 1992
Alles/Etwas
The sculptress and project artist Gertrude Moser-Wagner understands her work chiefly as something (ETWAS) out of the abundance of everything (ALLES); evocation as a drawing out, originating from concept and coincidence.The process is essential as it determines the outcome.

Operation
Mostly using that which exists or which is discovered as inspiration and/or point of departure, a decisive art intervention (analogy, action, handiwork) is set up to confront thinking with a totally new situation.
This situation, much more this intended transformation, is in the end defined, observed and localized as a field of art.
As outcome realized in different media, it is physically comprehensible, has volume, process, context and can be understood as extended sculpture.

Results
The sculptures of the artist store actions, cultural conditions and interstices.
They are objects and offerings, visual installations and processes in (also public) space, language games, video and audio works, communications projects, investigations and attempts at making binding statements in the minus format of time.
DVD Review: Index DVD - Region 0 - PAL
Concept & Coincidence
DVD Box Cover

CLICK to order from:

Distribution

Index DVD

Region 0 - PAL

Runtime
0:57:01
Video

4:3 Original Aspect Ratio
Average Bitrate: 6.1 mb/s
PAL 720x576 25.00 f/s

NOTE: The Vertical axis represents the bits transferred per second. The Horizontal is the time in minutes.

Bitrate

Audio
Dolby Digital 2.0
Subtitles
English
Features
Release Information:
Studio: Index DVD

Aspect Ratio:
Fullscreen - 4:3

Edition Details:
• Reprinted film notes & interview with Gertrude Moser-Wagner

DVD Release Date: 2004
Transparent single keep case

Chapters
| | |
| --- | --- |
| Comments | Personally I had a very hard time connecting with these films: I did appreciate them on some intellectual level, but that was about it. These are films which are deeply rooted in theory and concept, without ever opening up and for me, and these films present the worst side about avant-garde filmmaking: the dry and theoretical side. Nevertheless, these films must have some value that's just beyond me and for those who do get it, this disc will probably prove rewarding, for the DVD is again up to the standards of the Austrian-based Index label. The selected films presumably give a good impression of the oeuvre of Moser-Wagner and the packaging is of course in the stylish, minimalist vein we've grown accustomed with. Also, the extensive booklet gives some vital background information on the film maker and her works. Not the best DVD from Index if you ask me, but still quite a nice effort. |
---




DVD Menus

---
Screen Captures














DONATIONS Keep DVDBeaver alive:
Mail cheques, money orders, cash to: or CLICK PayPal logo to donate!
Thank You!
Kiosk Gertrude Moser-Wagner DVD Review Kiosk Gertrude Moser-Wagner DVD Review Kiosk Gertrude Moser-Wagner DVD Review Kiosk Gertrude Moser-Wagner DVD Review Kiosk Gertrude Moser-Wagner DVD Review Kiosk Gertrude Moser-Wagner DVD Review Kiosk Gertrude Moser-Wagner DVD Review Kiosk Gertrude Moser-Wagner DVD Review Kiosk Gertrude Moser-Wagner DVD Review Kiosk Gertrude Moser-Wagner DVD Review Kiosk Gertrude Moser-Wagner DVD Review Kiosk Gertrude Moser-Wagner DVD Review Kiosk Gertrude Moser-Wagner DVD Review Kiosk Gertrude Moser-Wagner DVD Review Kiosk Gertrude Moser-Wagner DVD Review Kiosk Gertrude Moser-Wagner DVD Review Kiosk Gertrude Moser-Wagner DVD Review Kiosk Gertrude Moser-Wagner DVD Review Kiosk Gertrude Moser-Wagner DVD Review Kiosk Gertrude Moser-Wagner DVD Review Kiosk Gertrude Moser-Wagner DVD Review Kiosk Gertrude Moser-Wagner DVD Review Kiosk Gertrude Moser-Wagner DVD Review Kiosk Gertrude Moser-Wagner DVD Review Kiosk Gertrude Moser-Wagner DVD Review Kiosk Gertrude Moser-Wagner DVD Review Kiosk Gertrude Moser-Wagner DVD Review Kiosk Gertrude Moser-Wagner DVD Review Kiosk Gertrude Moser-Wagner DVD Review Kiosk Gertrude Moser-Wagner DVD Review Kiosk Gertrude Moser-Wagner DVD Review Kiosk Gertrude Moser-Wagner DVD Review Kiosk Gertrude Moser-Wagner DVD Review Kiosk Gertrude Moser-Wagner DVD Review Kiosk Gertrude Moser-Wagner DVD Review Kiosk Gertrude Moser-Wagner DVD Review Kiosk Gertrude Moser-Wagner DVD Review Kiosk Gertrude Moser-Wagner DVD Review Kiosk Gertrude Moser-Wagner DVD Review Kiosk Gertrude Moser-Wagner DVD Review Kiosk Gertrude Moser-Wagner DVD Review Kiosk Gertrude Moser-Wagner DVD Review Kiosk Gertrude Moser-Wagner DVD Review Kiosk Gertrude Moser-Wagner DVD Review Kiosk Gertrude Moser-Wagner DVD Review Kiosk Gertrude Moser-Wagner DVD Review Kiosk Gertrude Moser-Wagner DVD Review Kiosk Gertrude Moser-Wagner DVD Review Kiosk Gertrude Moser-Wagner DVD Review Kiosk Gertrude Moser-Wagner DVD Review Kiosk Gertrude Moser-Wagner DVD Review Kiosk Gertrude Moser-Wagner DVD Review Kiosk Gertrude Moser-Wagner DVD Review Kiosk Gertrude Moser-Wagner DVD Review Kiosk Gertrude Moser-Wagner DVD Review Kiosk Gertrude Moser-Wagner DVD Review Kiosk Gertrude Moser-Wagner DVD Review Kiosk Gertrude Moser-Wagner DVD Review Kiosk Gertrude Moser-Wagner DVD Review Kiosk Gertrude Moser-Wagner DVD Review Kiosk Gertrude Moser-Wagner DVD Review Kiosk Gertrude Moser-Wagner DVD Review Kiosk Gertrude Moser-Wagner DVD Review Kiosk Gertrude Moser-Wagner DVD Review Kiosk Gertrude Moser-Wagner DVD Review Kiosk Gertrude Moser-Wagner DVD Review Kiosk Gertrude Moser-Wagner DVD Review Kiosk Gertrude Moser-Wagner DVD Review Kiosk Gertrude Moser-Wagner DVD Review Kiosk Gertrude Moser-Wagner DVD Review Kiosk Gertrude Moser-Wagner DVD Review Kiosk Gertrude Moser-Wagner DVD Review Kiosk Gertrude Moser-Wagner DVD Review Kiosk Gertrude Moser-Wagner DVD Review Kiosk Gertrude Moser-Wagner DVD Review Kiosk Gertrude Moser-Wagner DVD Review Kiosk Gertrude Moser-Wagner DVD Review Kiosk Gertrude Moser-Wagner DVD Review Kiosk Gertrude Moser-Wagner DVD Review Kiosk Gertrude Moser-Wagner DVD Review Kiosk Gertrude Moser-Wagner DVD Review Kiosk Gertrude Moser-Wagner DVD Review Kiosk Gertrude Moser-Wagner DVD Review Kiosk Gertrude Moser-Wagner DVD Review Kiosk Gertrude Moser-Wagner DVD Review Kiosk Gertrude Moser-Wagner DVD Review Kiosk Gertrude Moser-Wagner DVD Review Kiosk Gertrude Moser-Wagner DVD Review Kiosk Gertrude Moser-Wagner DVD Review Kiosk Gertrude Moser-Wagner DVD Review Kiosk Gertrude Moser-Wagner DVD Review Kiosk Gertrude Moser-Wagner DVD Review Kiosk Gertrude Moser-Wagner DVD Review Kiosk Gertrude Moser-Wagner DVD Review Kiosk Gertrude Moser-Wagner DVD Review Kiosk Gertrude Moser-Wagner DVD Review Kiosk Gertrude Moser-Wagner DVD Review Kiosk Gertrude Moser-Wagner DVD Review Kiosk Gertrude Moser-Wagner DVD Review Kiosk Gertrude Moser-Wagner DVD Review Kiosk Gertrude Moser-Wagner DVD Review Kiosk Gertrude Moser-Wagner DVD Review Kiosk Gertrude Moser-Wagner DVD Review Kiosk Gertrude Moser-Wagner DVD Review Kiosk Gertrude Moser-Wagner DVD Review