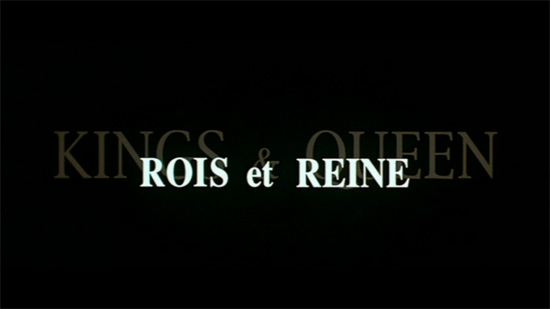 (aka "Kings and Queen" )
directed by Arnaud Desplechin
France 2004
Rich and strange, Arnaud Desplechin's "Kings and Queen" is a movie of large gestures and outsize performances. This extravagant family melodrama, one of the highlights of last year's New York Film Festival, runs two and a half hours and never lags, so moment-to-moment enthralling are Desplechin's narrative gambits, as well as his reckless eccentricity.

At 44, Desplechin has established himself as the least predictable, most interesting of younger French directors—and certainly the most film-intoxicated. His movies are remarkably generous; his interviews give evidence of considerable enthusiasm, for the process even more than the history of cinema: "I love to make films like roller coasters," he told Cineaste, explaining that while shooting "Kings and Queen" he nailed a Truffaut maxim to the wall: Every minute, four ideas.

"Kings and Queen" just picks up the baggage and runs — it's terrific filmmaking.

J. Hoberman of Village Voice (read full review here)
Poster
Theatrical Release: September 3, 2004 (Venice Film Festival)
Reviews More Reviews DVD Reviews
DVD Review: Artificial Eye - Region 2 - PAL
Big thanks to Henrik Sylow for the Review!
DVD Box Cover

CLICK to order from:

Distribution

Artificial Eye

Region 2 - PAL

Runtime
2:26:24 (4% PAL speedup)
Video

2.35:1 Original Aspect Ratio

16X9 enhanced
Average Bitrate: 5.60 mb/s
PAL 720x576 25.00 f/s

NOTE: The Vertical axis represents the bits transferred per second. The Horizontal is the time in minutes.

Bitrate

Audio
2.0 Dolby Digital French
Subtitles
English, None
Features
Release Information:
Studio: Artificial Eye

Aspect Ratio:
Widescreen anamorphic - 2.35:1

Edition Details:
• Interview with Mathieu Amalric and Hyppolite Giradot (19:09 / 4:3)
• Interview with Arnaud Desplechin (29:55 / 4:3)
• Biographies & Filmographies

DVD Release Date:
Transparent Amarey Case

Chapters 16
Comments
It is quiet surprising, that a film with this running length doesn't display more compression artifacts. The image is soft, details are not as sharp as they could be. There as been altered with contrast. But even so, it is a surprisingly good image. Except for halos and edge enhancement, I couldn't detect any other artifacts.

The additional material is made up by two excellent interviews, brief but very informative. But this is a complex film and I would love to have had a scholar or directorial commentary to talk about the narrative, the mise-en-scene, the use of non-space, etc.
---




DVD Menus
---
Screen Captures
subtitle sample
Captures resized to 800px from 1016px native resolution
---














DONATIONS Keep DVDBeaver alive:
Mail cheques, money orders, cash to: or CLICK PayPal logo to donate!
Thank You!
Arnaud Desplechin's - Kings and Queen - Rois et reine - DVD Review Arnaud Desplechin Kings and Queen Rois et reine DVD Review Arnaud Desplechin Kings and Queen Rois et reine DVD Review Arnaud Desplechin Kings and Queen Rois et reine DVD Review Arnaud Desplechin Kings and Queen Rois et reine DVD Review Arnaud Desplechin Kings and Queen Rois et reine DVD Review Arnaud Desplechin Kings and Queen Rois et reine DVD Review Arnaud Desplechin Kings and Queen Rois et reine DVD Review Arnaud Desplechin Kings and Queen Rois et reine DVD Review Arnaud Desplechin Kings and Queen Rois et reine DVD Review Arnaud Desplechin Kings and Queen Rois et reine DVD Review Arnaud Desplechin Kings and Queen Rois et reine DVD Review Arnaud Desplechin Kings and Queen Rois et reine DVD Review Arnaud Desplechin's - Kings and Queen - Rois et reine - DVD Review Arnaud Desplechin Kings and Queen Rois et reine DVD Review Arnaud Desplechin Kings and Queen Rois et reine DVD Review Arnaud Desplechin Kings and Queen Rois et reine DVD Review Arnaud Desplechin Kings and Queen Rois et reine DVD Review Arnaud Desplechin Kings and Queen Rois et reine DVD Review Arnaud Desplechin Kings and Queen Rois et reine DVD Review Arnaud Desplechin Kings and Queen Rois et reine DVD Review Arnaud Desplechin Kings and Queen Rois et reine DVD Review Arnaud Desplechin Kings and Queen Rois et reine DVD Review Arnaud Desplechin Kings and Queen Rois et reine DVD Review Arnaud Desplechin Kings and Queen Rois et reine DVD Review Arnaud Desplechin Kings and Queen Rois et reine DVD Review
Arnaud Desplechin's - Kings and Queen - Rois et reine - DVD Review Arnaud Desplechin Kings and Queen Rois et reine DVD Review Arnaud Desplechin Kings and Queen Rois et reine DVD Review Arnaud Desplechin Kings and Queen Rois et reine DVD Review Arnaud Desplechin Kings and Queen Rois et reine DVD Review Arnaud Desplechin Kings and Queen Rois et reine DVD Review Arnaud Desplechin Kings and Queen Rois et reine DVD Review Arnaud Desplechin Kings and Queen Rois et reine DVD Review Arnaud Desplechin Kings and Queen Rois et reine DVD Review Arnaud Desplechin Kings and Queen Rois et reine DVD Review Arnaud Desplechin Kings and Queen Rois et reine DVD Review Arnaud Desplechin Kings and Queen Rois et reine DVD Review Arnaud Desplechin Kings and Queen Rois et reine DVD Review
Arnaud Desplechin's - Kings and Queen - Rois et reine - DVD Review Arnaud Desplechin Kings and Queen Rois et reine DVD Review Arnaud Desplechin Kings and Queen Rois et reine DVD Review Arnaud Desplechin Kings and Queen Rois et reine DVD Review Arnaud Desplechin Kings and Queen Rois et reine DVD Review Arnaud Desplechin Kings and Queen Rois et reine DVD Review Arnaud Desplechin Kings and Queen Rois et reine DVD Review Arnaud Desplechin Kings and Queen Rois et reine DVD Review Arnaud Desplechin Kings and Queen Rois et reine DVD Review Arnaud Desplechin Kings and Queen Rois et reine DVD Review Arnaud Desplechin Kings and Queen Rois et reine DVD Review Arnaud Desplechin Kings and Queen Rois et reine DVD Review Arnaud Desplechin Kings and Queen Rois et reine DVD Review
Arnaud Desplechin's - Kings and Queen - Rois et reine - DVD Review Arnaud Desplechin Kings and Queen Rois et reine DVD Review Arnaud Desplechin Kings and Queen Rois et reine DVD Review Arnaud Desplechin Kings and Queen Rois et reine DVD Review Arnaud Desplechin Kings and Queen Rois et reine DVD Review Arnaud Desplechin Kings and Queen Rois et reine DVD Review Arnaud Desplechin Kings and Queen Rois et reine DVD Review Arnaud Desplechin Kings and Queen Rois et reine DVD Review Arnaud Desplechin Kings and Queen Rois et reine DVD Review Arnaud Desplechin Kings and Queen Rois et reine DVD Review Arnaud Desplechin Kings and Queen Rois et reine DVD Review Arnaud Desplechin Kings and Queen Rois et reine DVD Review Arnaud Desplechin Kings and Queen Rois et reine DVD Review
Arnaud Desplechin's - Kings and Queen - Rois et reine - DVD Review Arnaud Desplechin Kings and Queen Rois et reine DVD Review Arnaud Desplechin Kings and Queen Rois et reine DVD Review Arnaud Desplechin Kings and Queen Rois et reine DVD Review Arnaud Desplechin Kings and Queen Rois et reine DVD Review Arnaud Desplechin Kings and Queen Rois et reine DVD Review Arnaud Desplechin Kings and Queen Rois et reine DVD Review Arnaud Desplechin Kings and Queen Rois et reine DVD Review Arnaud Desplechin Kings and Queen Rois et reine DVD Review Arnaud Desplechin Kings and Queen Rois et reine DVD Review Arnaud Desplechin Kings and Queen Rois et reine DVD Review Arnaud Desplechin Kings and Queen Rois et reine DVD Review Arnaud Desplechin Kings and Queen Rois et reine DVD Review
Arnaud Desplechin's - Kings and Queen - Rois et reine - DVD Review Arnaud Desplechin Kings and Queen Rois et reine DVD Review Arnaud Desplechin Kings and Queen Rois et reine DVD Review Arnaud Desplechin Kings and Queen Rois et reine DVD Review Arnaud Desplechin Kings and Queen Rois et reine DVD Review Arnaud Desplechin Kings and Queen Rois et reine DVD Review Arnaud Desplechin Kings and Queen Rois et reine DVD Review Arnaud Desplechin Kings and Queen Rois et reine DVD Review Arnaud Desplechin Kings and Queen Rois et reine DVD Review Arnaud Desplechin Kings and Queen Rois et reine DVD Review Arnaud Desplechin Kings and Queen Rois et reine DVD Review Arnaud Desplechin Kings and Queen Rois et reine DVD Review Arnaud Desplechin Kings and Queen Rois et reine DVD Review
Arnaud Desplechin's - Kings and Queen - Rois et reine - DVD Review Arnaud Desplechin Kings and Queen Rois et reine DVD Review Arnaud Desplechin Kings and Queen Rois et reine DVD Review Arnaud Desplechin Kings and Queen Rois et reine DVD Review Arnaud Desplechin Kings and Queen Rois et reine DVD Review Arnaud Desplechin Kings and Queen Rois et reine DVD Review Arnaud Desplechin Kings and Queen Rois et reine DVD Review Arnaud Desplechin Kings and Queen Rois et reine DVD Review Arnaud Desplechin Kings and Queen Rois et reine DVD Review Arnaud Desplechin Kings and Queen Rois et reine DVD Review Arnaud Desplechin Kings and Queen Rois et reine DVD Review Arnaud Desplechin Kings and Queen Rois et reine DVD Review Arnaud Desplechin Kings and Queen Rois et reine DVD Review
Arnaud Desplechin's - Kings and Queen - Rois et reine - DVD Review Arnaud Desplechin Kings and Queen Rois et reine DVD Review Arnaud Desplechin Kings and Queen Rois et reine DVD Review Arnaud Desplechin Kings and Queen Rois et reine DVD Review Arnaud Desplechin Kings and Queen Rois et reine DVD Review Arnaud Desplechin Kings and Queen Rois et reine DVD Review Arnaud Desplechin Kings and Queen Rois et reine DVD Review Arnaud Desplechin Kings and Queen Rois et reine DVD Review Arnaud Desplechin Kings and Queen Rois et reine DVD Review Arnaud Desplechin Kings and Queen Rois et reine DVD Review Arnaud Desplechin Kings and Queen Rois et reine DVD Review Arnaud Desplechin Kings and Queen Rois et reine DVD Review Arnaud Desplechin Kings and Queen Rois et reine DVD Review
Arnaud Desplechin's - Kings and Queen - Rois et reine - DVD Review Arnaud Desplechin Kings and Queen Rois et reine DVD Review Arnaud Desplechin Kings and Queen Rois et reine DVD Review Arnaud Desplechin Kings and Queen Rois et reine DVD Review Arnaud Desplechin Kings and Queen Rois et reine DVD Review Arnaud Desplechin Kings and Queen Rois et reine DVD Review Arnaud Desplechin Kings and Queen Rois et reine DVD Review Arnaud Desplechin Kings and Queen Rois et reine DVD Review Arnaud Desplechin Kings and Queen Rois et reine DVD Review Arnaud Desplechin Kings and Queen Rois et reine DVD Review Arnaud Desplechin Kings and Queen Rois et reine DVD Review Arnaud Desplechin Kings and Queen Rois et reine DVD Review Arnaud Desplechin Kings and Queen Rois et reine DVD Review
Arnaud Desplechin's - Kings and Queen - Rois et reine - DVD Review Arnaud Desplechin Kings and Queen Rois et reine DVD Review Arnaud Desplechin Kings and Queen Rois et reine DVD Review Arnaud Desplechin Kings and Queen Rois et reine DVD Review Arnaud Desplechin Kings and Queen Rois et reine DVD Review Arnaud Desplechin Kings and Queen Rois et reine DVD Review Arnaud Desplechin Kings and Queen Rois et reine DVD Review Arnaud Desplechin Kings and Queen Rois et reine DVD Review Arnaud Desplechin Kings and Queen Rois et reine DVD Review Arnaud Desplechin Kings and Queen Rois et reine DVD Review Arnaud Desplechin Kings and Queen Rois et reine DVD Review Arnaud Desplechin Kings and Queen Rois et reine DVD Review Arnaud Desplechin Kings and Queen Rois et reine DVD Review
Arnaud Desplechin's - Kings and Queen - Rois et reine - DVD Review Arnaud Desplechin Kings and Queen Rois et reine DVD Review Arnaud Desplechin Kings and Queen Rois et reine DVD Review Arnaud Desplechin Kings and Queen Rois et reine DVD Review Arnaud Desplechin Kings and Queen Rois et reine DVD Review Arnaud Desplechin Kings and Queen Rois et reine DVD Review Arnaud Desplechin Kings and Queen Rois et reine DVD Review Arnaud Desplechin Kings and Queen Rois et reine DVD Review Arnaud Desplechin Kings and Queen Rois et reine DVD Review Arnaud Desplechin Kings and Queen Rois et reine DVD Review Arnaud Desplechin Kings and Queen Rois et reine DVD Review Arnaud Desplechin Kings and Queen Rois et reine DVD Review Arnaud Desplechin Kings and Queen Rois et reine DVD Review
Arnaud Desplechin's - Kings and Queen - Rois et reine - DVD Review Arnaud Desplechin Kings and Queen Rois et reine DVD Review Arnaud Desplechin Kings and Queen Rois et reine DVD Review Arnaud Desplechin Kings and Queen Rois et reine DVD Review Arnaud Desplechin Kings and Queen Rois et reine DVD Review Arnaud Desplechin Kings and Queen Rois et reine DVD Review Arnaud Desplechin Kings and Queen Rois et reine DVD Review Arnaud Desplechin Kings and Queen Rois et reine DVD Review Arnaud Desplechin Kings and Queen Rois et reine DVD Review Arnaud Desplechin Kings and Queen Rois et reine DVD Review Arnaud Desplechin Kings and Queen Rois et reine DVD Review Arnaud Desplechin Kings and Queen Rois et reine DVD Review Arnaud Desplechin Kings and Queen Rois et reine DVD Review
Arnaud Desplechin's - Kings and Queen - Rois et reine - DVD Review Arnaud Desplechin Kings and Queen Rois et reine DVD Review Arnaud Desplechin Kings and Queen Rois et reine DVD Review Arnaud Desplechin Kings and Queen Rois et reine DVD Review Arnaud Desplechin Kings and Queen Rois et reine DVD Review Arnaud Desplechin Kings and Queen Rois et reine DVD Review Arnaud Desplechin Kings and Queen Rois et reine DVD Review Arnaud Desplechin Kings and Queen Rois et reine DVD Review Arnaud Desplechin Kings and Queen Rois et reine DVD Review Arnaud Desplechin Kings and Queen Rois et reine DVD Review Arnaud Desplechin Kings and Queen Rois et reine DVD Review Arnaud Desplechin Kings and Queen Rois et reine DVD Review Arnaud Desplechin Kings and Queen Rois et reine DVD Review
Arnaud Desplechin's - Kings and Queen - Rois et reine - DVD Review Arnaud Desplechin Kings and Queen Rois et reine DVD Review Arnaud Desplechin Kings and Queen Rois et reine DVD Review Arnaud Desplechin Kings and Queen Rois et reine DVD Review Arnaud Desplechin Kings and Queen Rois et reine DVD Review Arnaud Desplechin Kings and Queen Rois et reine DVD Review Arnaud Desplechin Kings and Queen Rois et reine DVD Review Arnaud Desplechin Kings and Queen Rois et reine DVD Review Arnaud Desplechin Kings and Queen Rois et reine DVD Review Arnaud Desplechin Kings and Queen Rois et reine DVD Review Arnaud Desplechin Kings and Queen Rois et reine DVD Review Arnaud Desplechin Kings and Queen Rois et reine DVD Review Arnaud Desplechin Kings and Queen Rois et reine DVD Review
Arnaud Desplechin's - Kings and Queen - Rois et reine - DVD Review Arnaud Desplechin Kings and Queen Rois et reine DVD Review Arnaud Desplechin Kings and Queen Rois et reine DVD Review Arnaud Desplechin Kings and Queen Rois et reine DVD Review Arnaud Desplechin Kings and Queen Rois et reine DVD Review Arnaud Desplechin Kings and Queen Rois et reine DVD Review Arnaud Desplechin Kings and Queen Rois et reine DVD Review Arnaud Desplechin Kings and Queen Rois et reine DVD Review Arnaud Desplechin Kings and Queen Rois et reine DVD Review Arnaud Desplechin Kings and Queen Rois et reine DVD Review Arnaud Desplechin Kings and Queen Rois et reine DVD Review Arnaud Desplechin Kings and Queen Rois et reine DVD Review Arnaud Desplechin Kings and Queen Rois et reine DVD Review