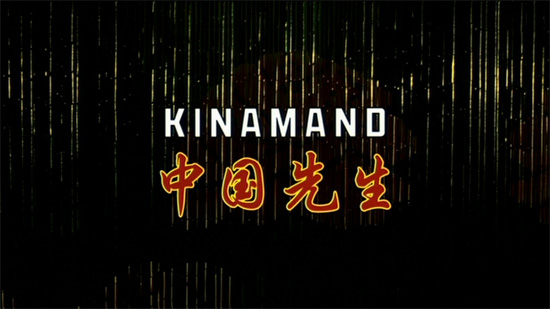 (aka "Chinaman" )
directed by Henrik Ruben Genz
Denmark 2005
Keld (Bjarne Henriksen) is indecision personified. His wife has left him and his business is not going anywhere, so he closes his shop down, with a note saying, "Closed because of…" By chance he becomes friends with Feng, the owner of a Chinese grill, and because he is lonely, they arrange for him to be married to Feng's sister Ling (Vivian Wu).

While the outer story is your average clash of cultures, the inner story, the love story between Keld and Ling, is of immense beauty. Without any real dialogue, as Keld doesn't speak Chinese, Ling doesn't speak Danish, and none of them has a vocabulary of English larger than "toilet room", only those few very important words are spoken, such as "Sorry" and "I love you". This adds an intimacy to the acting, which rarely is seen in film today, and almost never in Danish film.

Without dialogue, the story gets its momentum from the tension within the frame, and here Sebastian Blenkov ("Accused", "Adams Apples") on one side pays homage to the cinematography of Christopher Doyle, the films of Wong Kar-Wai, using green filters, but also underlines the distance between Keld and Ling with existing geometrical lines within the frame, such as doorways and walls. Not the most impressive cinematography, but without parallels the most conscious stylistic cinematography of Danish cinema in 2005.

Written by Kim Fupz Aakeson, "Kinamand" is a soft-spoken lyrical and beautiful film about love which comes out of nowhere and transcends cultures. Full of Danish humor and irony, this is a wonderful little film.
Poster
Theatrical Release: April 1, 2005
Reviews More Reviews DVD Reviews
DVD Review: Nordisk Film - Region 2 - PAL
Big thanks to Henrik Sylow for the Review!
DVD Box Cover

CLICK to order from:

Distribution

Nordisk Film

Region 2 - PAL

Runtime
1:28:38
Video

1.78:1 Aspect Ratio

16X9 enhanced
Average Bitrate: 7.28 mb/s
PAL 720x576 25.00 f/s

NOTE: The Vertical axis represents the bits transferred per second. The Horizontal is the time in minutes.

Bitrate

Audio
2.0 Dolby Digital Danish, 5.1 Dolby Digital Danish
Subtitles
English, Danish, Swedish, Norwegian, Finnish, None
Features
Release Information:
Studio: Nordisk Film

Aspect Ratio:
Widescreen anamorphic - 1.78:1

Edition Details:
• Trailer (2:06 / 4:3)

DVD Release Date: November 2, 2005
Amarey

Chapters 9
Comments
While there is some color smudging going on, look at image #6, and a little to much contrast boost, the image is quiet beautiful. Apart from halos, artifacts are not visible as such. Color definition and graininess of the theatrical print is maintained. Not as impressive as other transfers from Nordisk, but still solid.

Whats not impressive is the lack of additional material. No making of, no audio commentary, no nothing except the trailer. I know this isn't one of their major films, but to release as such is below par for Nordisk.
---




DVD Menus

---
Screen Captures
Subtitle sample (English only)
Captures resized to 800px from 1016px
Not exact frame match














DONATIONS Keep DVDBeaver alive:
Mail cheques, money orders, cash to: or CLICK PayPal logo to donate!
Thank You!
Henrik Ruben Genz' - Kinamand - DVD Review Henrik Ruben Genz Kinamand DVD Review Henrik Ruben Genz Kinamand DVD Review Henrik Ruben Genz Kinamand DVD Review Henrik Ruben Genz Kinamand DVD Review Henrik Ruben Genz Kinamand DVD Review Henrik Ruben Genz Kinamand DVD Review Henrik Ruben Genz Kinamand DVD Review Henrik Ruben Genz Kinamand DVD Review Henrik Ruben Genz Kinamand DVD Review Henrik Ruben Genz Kinamand DVD Review Henrik Ruben Genz' - Kinamand - DVD Review Henrik Ruben Genz Kinamand DVD Review Henrik Ruben Genz Kinamand DVD Review Henrik Ruben Genz Kinamand DVD Review Henrik Ruben Genz Kinamand DVD Review Henrik Ruben Genz Kinamand DVD Review Henrik Ruben Genz Kinamand DVD Review Henrik Ruben Genz Kinamand DVD Review Henrik Ruben Genz Kinamand DVD Review Henrik Ruben Genz Kinamand DVD Review Henrik Ruben Genz Kinamand DVD Review Henrik Ruben Genz' - Kinamand - DVD Review Henrik Ruben Genz Kinamand DVD Review Henrik Ruben Genz Kinamand DVD Review Henrik Ruben Genz Kinamand DVD Review Henrik Ruben Genz Kinamand DVD Review Henrik Ruben Genz Kinamand DVD Review Henrik Ruben Genz Kinamand DVD Review Henrik Ruben Genz Kinamand DVD Review Henrik Ruben Genz Kinamand DVD Review Henrik Ruben Genz Kinamand DVD Review Henrik Ruben Genz Kinamand DVD Review Henrik Ruben Genz' - Kinamand - DVD Review Henrik Ruben Genz Kinamand DVD Review Henrik Ruben Genz Kinamand DVD Review Henrik Ruben Genz Kinamand DVD Review Henrik Ruben Genz Kinamand DVD Review Henrik Ruben Genz Kinamand DVD Review Henrik Ruben Genz Kinamand DVD Review Henrik Ruben Genz Kinamand DVD Review Henrik Ruben Genz Kinamand DVD Review Henrik Ruben Genz Kinamand DVD Review Henrik Ruben Genz Kinamand DVD Review Henrik Ruben Genz' - Kinamand - DVD Review Henrik Ruben Genz Kinamand DVD Review Henrik Ruben Genz Kinamand DVD Review Henrik Ruben Genz Kinamand DVD Review Henrik Ruben Genz Kinamand DVD Review Henrik Ruben Genz Kinamand DVD Review Henrik Ruben Genz Kinamand DVD Review Henrik Ruben Genz Kinamand DVD Review Henrik Ruben Genz Kinamand DVD Review Henrik Ruben Genz Kinamand DVD Review Henrik Ruben Genz Kinamand DVD Review Henrik Ruben Genz' - Kinamand - DVD Review Henrik Ruben Genz Kinamand DVD Review Henrik Ruben Genz Kinamand DVD Review Henrik Ruben Genz Kinamand DVD Review Henrik Ruben Genz Kinamand DVD Review Henrik Ruben Genz Kinamand DVD Review Henrik Ruben Genz Kinamand DVD Review Henrik Ruben Genz Kinamand DVD Review Henrik Ruben Genz Kinamand DVD Review Henrik Ruben Genz Kinamand DVD Review Henrik Ruben Genz Kinamand DVD Review Henrik Ruben Genz' - Kinamand - DVD Review Henrik Ruben Genz Kinamand DVD Review Henrik Ruben Genz Kinamand DVD Review Henrik Ruben Genz Kinamand DVD Review Henrik Ruben Genz Kinamand DVD Review Henrik Ruben Genz Kinamand DVD Review Henrik Ruben Genz Kinamand DVD Review Henrik Ruben Genz Kinamand DVD Review Henrik Ruben Genz Kinamand DVD Review Henrik Ruben Genz Kinamand DVD Review Henrik Ruben Genz Kinamand DVD Review Henrik Ruben Genz' - Kinamand - DVD Review Henrik Ruben Genz Kinamand DVD Review Henrik Ruben Genz Kinamand DVD Review Henrik Ruben Genz Kinamand DVD Review Henrik Ruben Genz Kinamand DVD Review Henrik Ruben Genz Kinamand DVD Review Henrik Ruben Genz Kinamand DVD Review Henrik Ruben Genz Kinamand DVD Review Henrik Ruben Genz Kinamand DVD Review Henrik Ruben Genz Kinamand DVD Review Henrik Ruben Genz Kinamand DVD Review Henrik Ruben Genz' - Kinamand - DVD Review Henrik Ruben Genz Kinamand DVD Review Henrik Ruben Genz Kinamand DVD Review Henrik Ruben Genz Kinamand DVD Review Henrik Ruben Genz Kinamand DVD Review Henrik Ruben Genz Kinamand DVD Review Henrik Ruben Genz Kinamand DVD Review Henrik Ruben Genz Kinamand DVD Review Henrik Ruben Genz Kinamand DVD Review Henrik Ruben Genz Kinamand DVD Review Henrik Ruben Genz Kinamand DVD Review Henrik Ruben Genz' - Kinamand - DVD Review Henrik Ruben Genz Kinamand DVD Review Henrik Ruben Genz Kinamand DVD Review Henrik Ruben Genz Kinamand DVD Review Henrik Ruben Genz Kinamand DVD Review Henrik Ruben Genz Kinamand DVD Review Henrik Ruben Genz Kinamand DVD Review Henrik Ruben Genz Kinamand DVD Review Henrik Ruben Genz Kinamand DVD Review Henrik Ruben Genz Kinamand DVD Review Henrik Ruben Genz Kinamand DVD Review Henrik Ruben Genz' - Kinamand - DVD Review Henrik Ruben Genz Kinamand DVD Review Henrik Ruben Genz Kinamand DVD Review Henrik Ruben Genz Kinamand DVD Review Henrik Ruben Genz Kinamand DVD Review Henrik Ruben Genz Kinamand DVD Review Henrik Ruben Genz Kinamand DVD Review Henrik Ruben Genz Kinamand DVD Review Henrik Ruben Genz Kinamand DVD Review Henrik Ruben Genz Kinamand DVD Review Henrik Ruben Genz Kinamand DVD Review Henrik Ruben Genz' - Kinamand - DVD Review Henrik Ruben Genz Kinamand DVD Review Henrik Ruben Genz Kinamand DVD Review Henrik Ruben Genz Kinamand DVD Review Henrik Ruben Genz Kinamand DVD Review Henrik Ruben Genz Kinamand DVD Review Henrik Ruben Genz Kinamand DVD Review Henrik Ruben Genz Kinamand DVD Review Henrik Ruben Genz Kinamand DVD Review Henrik Ruben Genz Kinamand DVD Review Henrik Ruben Genz Kinamand DVD Review Henrik Ruben Genz' - Kinamand - DVD Review Henrik Ruben Genz Kinamand DVD Review Henrik Ruben Genz Kinamand DVD Review Henrik Ruben Genz Kinamand DVD Review Henrik Ruben Genz Kinamand DVD Review Henrik Ruben Genz Kinamand DVD Review Henrik Ruben Genz Kinamand DVD Review Henrik Ruben Genz Kinamand DVD Review Henrik Ruben Genz Kinamand DVD Review Henrik Ruben Genz Kinamand DVD Review Henrik Ruben Genz Kinamand DVD Review Henrik Ruben Genz' - Kinamand - DVD Review Henrik Ruben Genz Kinamand DVD Review Henrik Ruben Genz Kinamand DVD Review Henrik Ruben Genz Kinamand DVD Review Henrik Ruben Genz Kinamand DVD Review Henrik Ruben Genz Kinamand DVD Review Henrik Ruben Genz Kinamand DVD Review Henrik Ruben Genz Kinamand DVD Review Henrik Ruben Genz Kinamand DVD Review Henrik Ruben Genz Kinamand DVD Review Henrik Ruben Genz Kinamand DVD Review