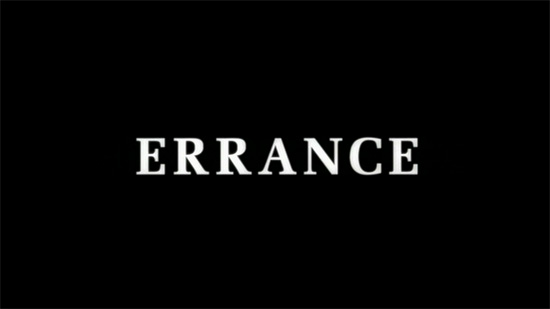 directed by Damien Odoul
France 2003
After the truly amazing "Le Souffle" and before the questionable "En Attendant le Deluge", Damien Odoul made "Errance", a portrait of a couple in crisis, set in three different time periods between 1968 and 1973.

Odoul's mise-en-scene is at first glance without any impact nor point, passive in its observations, but exactly that is the point, to make the composition as powerless as the powerlessness of the couple. Their inner struggle becomes our struggle with the images.

The question here should be, whether or not such an approach to ones mise-en-scene justifies boring the audiences. One thing is to portrait the lack of meaning in a relationship, another is to create a lack of meaning communicating with an audience.
Theatrical Release: September 7, 2003 (Toronto Film Festival)
Reviews More Reviews DVD Reviews
DVD Review: Tartan (the ciné lumière collection) - Region 0 - PAL
Big thanks to Henrik Sylow for the Review!
DVD Box Cover

CLICK to order from:

Distribution

Tartan

Region 0 - PAL

Runtime
1:30:54 (4% PAL speedup)
Video

1.85:1 Original Aspect Ratio

16X9 enhanced
Average Bitrate: 8.87 mb/s
PAL 720x576 25.00 f/s

NOTE: The Vertical axis represents the bits transferred per second. The Horizontal is the time in minutes.

Bitrate

Audio
2.0 Dolby Digital French, 5.1 Dolby Digital French, DTS French
Subtitles
English, None
Features
Release Information:
Studio: Tartan

Aspect Ratio:
Widescreen anamorphic - 1.85:1

Edition Details:
• Original Trailer (1:49 / 4:3)

DVD Release Date: October 24, 2005
Keep Case

Chapters 16
Comments
An acceptable transfer. Of artifacts, Red/Blue and Red/Yellow do blend and there are minor edge enhancements. Details are not that sharp and black isn't solid enough.

Tartan includes three sound mixes (almost as usual), and for this film, both the 5.1 Dolby Digital and the DTS are superfluous. The dialogue is very center and nothing much is gained by adding these two tracks, except taking space from the film.
---




DVD Menus


---
Screen Captures
subtitle sample (English only)
Captures resized to 800px from 1016px














DONATIONS Keep DVDBeaver alive:
Mail cheques, money orders, cash to: or CLICK PayPal logo to donate!
Thank You!
Damien Odoul's - Errance - DVD Review Damien Odoul Errance DVD Review Damien Odoul Errance DVD Review Damien Odoul Errance DVD Review Damien Odoul Errance DVD Review Damien Odoul Errance DVD Review Damien Odoul Errance DVD Review Damien Odoul Errance DVD Review Damien Odoul Errance DVD Review Damien Odoul Errance DVD Review Damien Odoul's - Errance - DVD Review Damien Odoul Errance DVD Review Damien Odoul Errance DVD Review Damien Odoul Errance DVD Review Damien Odoul Errance DVD Review Damien Odoul Errance DVD Review Damien Odoul Errance DVD Review Damien Odoul Errance DVD Review Damien Odoul Errance DVD Review Damien Odoul Errance DVD Review Damien Odoul's - Errance - DVD Review Damien Odoul Errance DVD Review Damien Odoul Errance DVD Review Damien Odoul Errance DVD Review Damien Odoul Errance DVD Review Damien Odoul Errance DVD Review Damien Odoul Errance DVD Review Damien Odoul Errance DVD Review Damien Odoul Errance DVD Review Damien Odoul Errance DVD Review Damien Odoul's - Errance - DVD Review Damien Odoul Errance DVD Review Damien Odoul Errance DVD Review Damien Odoul Errance DVD Review Damien Odoul Errance DVD Review Damien Odoul Errance DVD Review Damien Odoul Errance DVD Review Damien Odoul Errance DVD Review Damien Odoul Errance DVD Review Damien Odoul Errance DVD Review Damien Odoul's - Errance - DVD Review Damien Odoul Errance DVD Review Damien Odoul Errance DVD Review Damien Odoul Errance DVD Review Damien Odoul Errance DVD Review Damien Odoul Errance DVD Review Damien Odoul Errance DVD Review Damien Odoul Errance DVD Review Damien Odoul Errance DVD Review Damien Odoul Errance DVD Review Damien Odoul's - Errance - DVD Review Damien Odoul Errance DVD Review Damien Odoul Errance DVD Review Damien Odoul Errance DVD Review Damien Odoul Errance DVD Review Damien Odoul Errance DVD Review Damien Odoul Errance DVD Review Damien Odoul Errance DVD Review Damien Odoul Errance DVD Review Damien Odoul Errance DVD Review Damien Odoul's - Errance - DVD Review Damien Odoul Errance DVD Review Damien Odoul Errance DVD Review Damien Odoul Errance DVD Review Damien Odoul Errance DVD Review Damien Odoul Errance DVD Review Damien Odoul Errance DVD Review Damien Odoul Errance DVD Review Damien Odoul Errance DVD Review Damien Odoul Errance DVD Review Damien Odoul's - Errance - DVD Review Damien Odoul Errance DVD Review Damien Odoul Errance DVD Review Damien Odoul Errance DVD Review Damien Odoul Errance DVD Review Damien Odoul Errance DVD Review Damien Odoul Errance DVD Review Damien Odoul Errance DVD Review Damien Odoul Errance DVD Review Damien Odoul Errance DVD Review Damien Odoul's - Errance - DVD Review Damien Odoul Errance DVD Review Damien Odoul Errance DVD Review Damien Odoul Errance DVD Review Damien Odoul Errance DVD Review Damien Odoul Errance DVD Review Damien Odoul Errance DVD Review Damien Odoul Errance DVD Review Damien Odoul Errance DVD Review Damien Odoul Errance DVD Review Damien Odoul's - Errance - DVD Review Damien Odoul Errance DVD Review Damien Odoul Errance DVD Review Damien Odoul Errance DVD Review Damien Odoul Errance DVD Review Damien Odoul Errance DVD Review Damien Odoul Errance DVD Review Damien Odoul Errance DVD Review Damien Odoul Errance DVD Review Damien Odoul Errance DVD Review Damien Odoul's - Errance - DVD Review Damien Odoul Errance DVD Review Damien Odoul Errance DVD Review Damien Odoul Errance DVD Review Damien Odoul Errance DVD Review Damien Odoul Errance DVD Review Damien Odoul Errance DVD Review Damien Odoul Errance DVD Review Damien Odoul Errance DVD Review Damien Odoul Errance DVD Review Damien Odoul's - Errance - DVD Review Damien Odoul Errance DVD Review Damien Odoul Errance DVD Review Damien Odoul Errance DVD Review Damien Odoul Errance DVD Review Damien Odoul Errance DVD Review Damien Odoul Errance DVD Review Damien Odoul Errance DVD Review Damien Odoul Errance DVD Review Damien Odoul Errance DVD Review Damien Odoul's - Errance - DVD Review Damien Odoul Errance DVD Review Damien Odoul Errance DVD Review Damien Odoul Errance DVD Review Damien Odoul Errance DVD Review Damien Odoul Errance DVD Review Damien Odoul Errance DVD Review Damien Odoul Errance DVD Review Damien Odoul Errance DVD Review Damien Odoul Errance DVD Review Damien Odoul's - Errance - DVD Review Damien Odoul Errance DVD Review Damien Odoul Errance DVD Review Damien Odoul Errance DVD Review Damien Odoul Errance DVD Review Damien Odoul Errance DVD Review Damien Odoul Errance DVD Review Damien Odoul Errance DVD Review Damien Odoul Errance DVD Review Damien Odoul Errance DVD Review Damien Odoul's - Errance - DVD Review Damien Odoul Errance DVD Review Damien Odoul Errance DVD Review Damien Odoul Errance DVD Review Damien Odoul Errance DVD Review Damien Odoul Errance DVD Review Damien Odoul Errance DVD Review Damien Odoul Errance DVD Review Damien Odoul Errance DVD Review Damien Odoul Errance DVD Review Damien Odoul's - Errance - DVD Review Damien Odoul Errance DVD Review Damien Odoul Errance DVD Review Damien Odoul Errance DVD Review Damien Odoul Errance DVD Review Damien Odoul Errance DVD Review Damien Odoul Errance DVD Review Damien Odoul Errance DVD Review Damien Odoul Errance DVD Review Damien Odoul Errance DVD Review Damien Odoul's - Errance - DVD Review Damien Odoul Errance DVD Review Damien Odoul Errance DVD Review Damien Odoul Errance DVD Review Damien Odoul Errance DVD Review Damien Odoul Errance DVD Review Damien Odoul Errance DVD Review Damien Odoul Errance DVD Review Damien Odoul Errance DVD Review Damien Odoul Errance DVD Review Damien Odoul's - Errance - DVD Review Damien Odoul Errance DVD Review Damien Odoul Errance DVD Review Damien Odoul Errance DVD Review Damien Odoul Errance DVD Review Damien Odoul Errance DVD Review Damien Odoul Errance DVD Review Damien Odoul Errance DVD Review Damien Odoul Errance DVD Review Damien Odoul Errance DVD Review Damien Odoul's - Errance - DVD Review Damien Odoul Errance DVD Review Damien Odoul Errance DVD Review Damien Odoul Errance DVD Review Damien Odoul Errance DVD Review Damien Odoul Errance DVD Review Damien Odoul Errance DVD Review Damien Odoul Errance DVD Review Damien Odoul Errance DVD Review Damien Odoul Errance DVD Review Damien Odoul's - Errance - DVD Review Damien Odoul Errance DVD Review Damien Odoul Errance DVD Review Damien Odoul Errance DVD Review Damien Odoul Errance DVD Review Damien Odoul Errance DVD Review Damien Odoul Errance DVD Review Damien Odoul Errance DVD Review Damien Odoul Errance DVD Review Damien Odoul Errance DVD Review