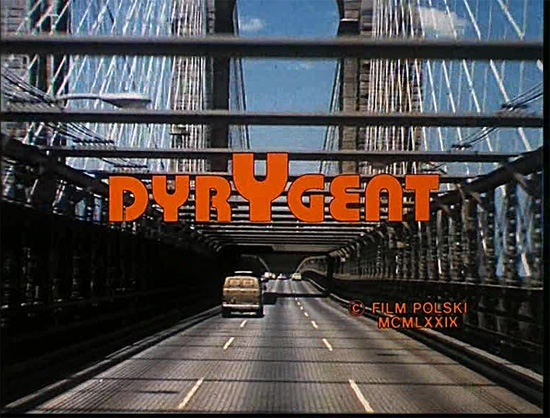 (aka "Orchestra Conductor" or "The Conductor")
directed by Andrzej Wajda
Poland 1980
"Frustrated as we all were at that time in Poland, not knowing what to do, we felt in the air a kind of expectation for a miracle to happen; perhaps a longing for some kind of model, especially if it came from the West. It was to be personified by a world-famous conductor, leading an anniversary concert in the small Polish town where he had been born.

Accordingly, the story had to take place in a provincial town, with its obtrusive and ruthless local dignitaries. All sorts of party leaders, unworthy creatures typical of the so-called "films of moral unrest", found their way onto the screen.

Andrzej Kijowski made two important alterations to his script. He devised the awe-inspiring, if slightly absurd, main character - the hallowed maestro, absolutely dedicated to his art and taking the admiration of his companions for granted. Also, Kijowski added the story of the young couple whose marital troubles begin when the husband, a conductor himself, becomes jealous of the admiration which his violinist wife feels for the maestro. After Karol Wojtyla became Pope, the pace of events suddenly accelerated in Poland. The "Visitor-from-the-West" did no longer have to be a monster. We expected such a personage to be our patron and guide. The dream was already there, but the likelihood of a visit by John Paul II to Poland seemed unrealistic. Very quickly the script got out of control and the film began to evolve in its own way."

Andrzej Wajda
Posters
Theatrical Release: West Germany February 1980 (Berlin International Film Festival)
Reviews More Reviews DVD Reviews
DVD Review: Vision - Region 0 - PAL
Big thanks to Per-Olof Strandberg for the Review!
DVD Box Cover

CLICK to order from:

Distribution

Vision

Region 0 - PAL

Runtime
1:36:30 (4% PAL speedup)
Video

1:1.33 Original Aspect Ratio
Average Bitrate: 5.79 mb/s
PAL 720x576 25.00 f/s

NOTE: The Vertical axis represents the bits transferred per second. The Horizontal is the time in minutes.

Bitrate

Audio
Polish: English (Dolby Digital 2.0), Polish (the English parts with Polish voice over) (Dolby Digital 2.0)
Subtitles
English (on the Polish parts), German, French, Polish and None
Features
Release Information:
Studio: Vision

Aspect Ratio:
Fullscreen - 1:1.33

Edition Details:
• None

DVD Release Date:
Keep Case

Chapters 12
| | |
| --- | --- |
| Comments | This Polish DVD's master-tape is made from a heavily used 35 mm cinema print. The big problem isn't the dirt, scratches, the broken and fixed film or the reel change marks every 8-10 minute (in old East European film copies the reel change was made every 10 minute). The problem is the black level in this DVD. Outdoor and daylight scenes seems sharp, tough contrast boosted, but immediately when we go inside, or have a night scene the black color is blocked, without any depth at all. That doesn't give justice for the photography in this film, and makes it a little difficult to watch. The sound feels very decayed, as someone trying to blow a horn without good success! There are no extras! |
---




DVD Menus

---
Screen Captures














DONATIONS Keep DVDBeaver alive:
Mail cheques, money orders, cash to: or CLICK PayPal logo to donate!
Thank You!
Andrzej Wajda's - Dyrygent - Orchestra Conductor DVD Review Andrzej Wajda Dyrygent Orchestra Conductor DVD Review Andrzej Wajda Dyrygent Orchestra Conductor DVD Review Andrzej Wajda Dyrygent Orchestra Conductor DVD Review Andrzej Wajda Dyrygent Orchestra Conductor DVD Review Andrzej Wajda Dyrygent Orchestra Conductor DVD Review Andrzej Wajda Dyrygent Orchestra Conductor DVD Review Andrzej Wajda's - Dyrygent - Orchestra Conductor DVD Review Andrzej Wajda Dyrygent Orchestra Conductor DVD Review Andrzej Wajda Dyrygent Orchestra Conductor DVD Review Andrzej Wajda Dyrygent Orchestra Conductor DVD Review Andrzej Wajda Dyrygent Orchestra Conductor DVD Review Andrzej Wajda Dyrygent Orchestra Conductor DVD Review Andrzej Wajda Dyrygent Orchestra Conductor DVD Review Andrzej Wajda's - Dyrygent - Orchestra Conductor DVD Review Andrzej Wajda Dyrygent Orchestra Conductor DVD Review Andrzej Wajda Dyrygent Orchestra Conductor DVD Review Andrzej Wajda Dyrygent Orchestra Conductor DVD Review Andrzej Wajda Dyrygent Orchestra Conductor DVD Review Andrzej Wajda Dyrygent Orchestra Conductor DVD Review Andrzej Wajda Dyrygent Orchestra Conductor DVD Review Andrzej Wajda's - Dyrygent - Orchestra Conductor DVD Review Andrzej Wajda Dyrygent Orchestra Conductor DVD Review Andrzej Wajda Dyrygent Orchestra Conductor DVD Review Andrzej Wajda Dyrygent Orchestra Conductor DVD Review Andrzej Wajda Dyrygent Orchestra Conductor DVD Review Andrzej Wajda Dyrygent Orchestra Conductor DVD Review Andrzej Wajda Dyrygent Orchestra Conductor DVD Review Andrzej Wajda's - Dyrygent - Orchestra Conductor DVD Review Andrzej Wajda Dyrygent Orchestra Conductor DVD Review Andrzej Wajda Dyrygent Orchestra Conductor DVD Review Andrzej Wajda Dyrygent Orchestra Conductor DVD Review Andrzej Wajda Dyrygent Orchestra Conductor DVD Review Andrzej Wajda Dyrygent Orchestra Conductor DVD Review Andrzej Wajda Dyrygent Orchestra Conductor DVD Review Andrzej Wajda's - Dyrygent - Orchestra Conductor DVD Review Andrzej Wajda Dyrygent Orchestra Conductor DVD Review Andrzej Wajda Dyrygent Orchestra Conductor DVD Review Andrzej Wajda Dyrygent Orchestra Conductor DVD Review Andrzej Wajda Dyrygent Orchestra Conductor DVD Review Andrzej Wajda Dyrygent Orchestra Conductor DVD Review Andrzej Wajda Dyrygent Orchestra Conductor DVD Review Andrzej Wajda's - Dyrygent - Orchestra Conductor DVD Review Andrzej Wajda Dyrygent Orchestra Conductor DVD Review Andrzej Wajda Dyrygent Orchestra Conductor DVD Review Andrzej Wajda Dyrygent Orchestra Conductor DVD Review Andrzej Wajda Dyrygent Orchestra Conductor DVD Review Andrzej Wajda Dyrygent Orchestra Conductor DVD Review Andrzej Wajda Dyrygent Orchestra Conductor DVD Review Andrzej Wajda's - Dyrygent - Orchestra Conductor DVD Review Andrzej Wajda Dyrygent Orchestra Conductor DVD Review Andrzej Wajda Dyrygent Orchestra Conductor DVD Review Andrzej Wajda Dyrygent Orchestra Conductor DVD Review Andrzej Wajda Dyrygent Orchestra Conductor DVD Review Andrzej Wajda Dyrygent Orchestra Conductor DVD Review Andrzej Wajda Dyrygent Orchestra Conductor DVD Review Andrzej Wajda's - Dyrygent - Orchestra Conductor DVD Review Andrzej Wajda Dyrygent Orchestra Conductor DVD Review Andrzej Wajda Dyrygent Orchestra Conductor DVD Review Andrzej Wajda Dyrygent Orchestra Conductor DVD Review Andrzej Wajda Dyrygent Orchestra Conductor DVD Review Andrzej Wajda Dyrygent Orchestra Conductor DVD Review Andrzej Wajda Dyrygent Orchestra Conductor DVD Review Andrzej Wajda's - Dyrygent - Orchestra Conductor DVD Review Andrzej Wajda Dyrygent Orchestra Conductor DVD Review Andrzej Wajda Dyrygent Orchestra Conductor DVD Review Andrzej Wajda Dyrygent Orchestra Conductor DVD Review Andrzej Wajda Dyrygent Orchestra Conductor DVD Review Andrzej Wajda Dyrygent Orchestra Conductor DVD Review Andrzej Wajda Dyrygent Orchestra Conductor DVD Review Andrzej Wajda's - Dyrygent - Orchestra Conductor DVD Review Andrzej Wajda Dyrygent Orchestra Conductor DVD Review Andrzej Wajda Dyrygent Orchestra Conductor DVD Review Andrzej Wajda Dyrygent Orchestra Conductor DVD Review Andrzej Wajda Dyrygent Orchestra Conductor DVD Review Andrzej Wajda Dyrygent Orchestra Conductor DVD Review Andrzej Wajda Dyrygent Orchestra Conductor DVD Review