Dogme Collection #1-4: 10th Anniversary (5-disc)
Festen Idioterne Mifunes sidste sang The King Is Alive Bonus Disc
NOTE: All commentaries in the boxset have English subtitles
There are many ideas of what Dogme is. Concocted by Lars von Trier and Thomas Vinterberg one late evening after having discussed cinema and consumed several bottles of wine, the ten rules of chastity were written down in less than 20 minutes, and as Vinterberg later said, we laughed all the way, yet were very serious about it. As such, what these ten simple rules say is Dogme. But at the same time, Dogme is also a state of mind which one enters film with. It is an attempt to make films out of a necessity, as Wim Wenders says and self attempts to. It is freedom to follow a hunch here and now during production, to film what you want, to have the luxury of being able to film with the speed of thought. It is political, the most true cinematic idea since Nouvelle Vague, attacking the values, conformity, traditions and rules of no rules of cinema, attempting to kick start the lost idea of the Nouvelle Vague back to life, as Lars von Trier says, "In 1960 film was dead. The goal was true, but the means failed, and the new wave became a ripple, which became mud hitting the shore."

…and so did Dogme.

The reason why Dogme failed was that people in general didn't understood the idea. Many believed it was an attempt for restrict the artistic freedom by a set of rules. Many believed it was an attempt to create a hype. Many simply saw the word rules and stayed away. All of the missing the boat.

As Wim Wenders said it, there is nothing new about Dogme; himself having worked with a similar set of rules for years. Dogme is a reminder first and foremost, that there is something as passion, creativity and freedom to follow these when making film, rather than having to make film by 2 scenes a day and not being able to say action without having the go from 20 people. Look at a director as Miike Takeshi, while not being Dogme, everything about his filmmaking is in essence Dogme.

But even within the Dogme circle, many didn't realize what Dogme was. Far too many Dogme films where made with the rules in mind before the story, and of over 100 Dogme films today, only a handful are great films, not because they are Dogme, but because they are great stories to begin with. Films like "The Celebration", "Italian for beginners" and "Open Hearts" would all have been great films regardless of form.

Today we can look back at Dogme. As the new wave, it became nothing more than a ripple, noticed by some, ignored by most, understood by even less. All that is left, is the films. And they will be with us forever.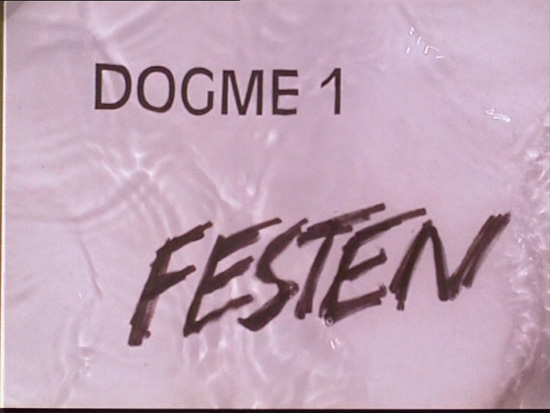 (aka "The Celebration" or "Dogme # 1 - Festen")
directed by Thomas Vinterberg
Denmark 1998
Scripted with friend and tutor Mogens Rukov, "Festen" was Danish director Thomas Vinterberg's second film, the first Dogme film, which, when shown in Cannes, became the equivalent of an atom bomb.

If was not its powerful story that attracted people. It was its form. Hand-held camera, bad light, bad sound. How could something as bad as this be as good as it was. Added to this confusion came the political aspect of Dogme, openly attacking cinema. The turmoil was further amplified by the presence of Lars von Trier and his Dogme film, "Idioterne".

With two films present at Cannes, the message was clear. This was a movement. This was political. And soon everything became about the form, about Dogme, about the rules. Press conferences, posters, EPK… this was a military planned coup d'etat of the Cannes Festival.

In retrospect, I do believe, that hadn't it been for all the fuss, "Festen" may had gone with the Palme d'Or. It was the best film of that year in Cannes. Instead, the jury didn't knew what to do with the film, so it received a polite Grand Prix du Jury.

And had "Festen" not been as good and powerful film as it is, I doubt anyone would remember it today. But it was first and foremost a great story, and audiences and critics around the world reacted to it. With awe.

Dealing with sexual abuse, racism and relationship conflicts, "Festen" is a rare demonstration of almost perfect storytelling, dealing with multiple characters, relations and conflicts at the same time, with an almost nonchalant ease.

It is also a showcase for some of the greatest Danish actors, Ulrich Thomsen, Henning Moritzen, Thomas Bo Larsen, Paprika Steen, Birthe Neumann and Trine Dyrholm, all close friends of Vinterberg, all parts specifically written for them, all just becoming the character.

Today few see "Festen" as Dogme, but see it for its story. The form is secondary, a historical footnote which one can use when addressing cinematography and lighting. And then again, "Festen" is pure Dogme.

Theatrical Release: May 18, 1998 (Cannes Film Festival)
Reviews More Reviews DVD Reviews
DVD Review: Electric Parc (Dogme Collection #1-4: 10th Anniversary) - Region 2 - PAL
Big thanks to Henrik Sylow for the Review!
DVD Box Cover

CLICK to order from:

Distribution

Electric Parc

Region 2 - PAL

Runtime
1:40:50 (4% PAL speedup)
Video

1.33:1 Original Aspect Ratio
Average Bitrate: 5.92 mb/s
PAL 720x576 25.00 f/s

NOTE: The Vertical axis represents the bits transferred per second. The Horizontal is the time in minutes.

Bitrate

Audio
2.0 Dolby Digital Danish
Subtitles
English, Danish, Swedish, Norwegian, Finnish, None (NOTE: All commentaries in the boxset have English subtitles)
Features
Release Information:
Studio: Electric Parc

Aspect Ratio:
Fullscreen - 1.33:1

Edition Details:
• Audio commentary by Thomas Vinterberg
• Rukov - A Portrait of a Screenwriter (57:27 / 16x9)
• The Disclosure of 'The Celebration' (9:35 / 4:3)
• 'The Celebration' in Retrospect (28:54)
• Deleted Scenes
• - The Pick-Up (6:39 / 4:3)
• - Christian's Insanity (5:41 / 4:3)
• - The Letter (0:48 / 4:3)
• - Alternative Ending (2:41 / 4:3)
• with optional audio commentary by Thomas Vinterberg
• Trailer (1:38 / 4:3)
• ...
• 16 page booklet on Dogme

DVD Release Date: November 18, 2005
Boxed digipack

Chapters 12
Comments
"Festen" was shot on a Sony PC-7E Camera, then blown up to 35mm. The quality of the print is as perfect as can be, given the source. There are no compression artifacts, at least none I can detect. What may appear like color banding is grain / pixels.

Comparing frame to the other releases of this film, this edition by Electric Parc has more frame information, as it is less over scanned.

The additional material is superb, to say the least. An audio commentary by director Thomas Vinterberg, where he in detail talks about the film, then a one hour portrait of writer Mogens Rukov, then a good half hour of the film seen in retrospect.

But then comes the deleted scenes, with optional audio commentary by Vinterberg, and they are the hidden gem. Vinterberg carefully explains what the intention of the scenes were and why they were cut. But the reason they are so good is, that if they had been part of the film, "Festen" would have been a completely different film. These are not cutting room floor footage. These are not darlings. These are potent story-alterating scenes, and demonstrate how a scene of a mere 1 minute can alter the perception on an entire film.
---




DVD Menus


---
Screen Captures
subtitle sample (English only)
Captures in 768 px native resolution















DONATIONS Keep DVDBeaver alive:
Mail cheques, money orders, cash to: or CLICK PayPal logo to donate!
Thank You!
Festen Idioterne Mifunes sidste sang The King Is Alive Bonus Disc Dogme Collection 1-4 DVD Review Dogme Collection 1-4 DVD Review Dogme Collection 1-4 DVD Review Dogme Collection 1-4 DVD Review Dogme Collection 1-4 DVD Review Dogme Collection 1-4 DVD Review Dogme Collection 1-4 DVD Review Dogme Collection 1-4 DVD Review Dogme Collection 1-4 DVD Review Dogme Collection 1-4 DVD Review Dogme Collection 1-4 DVD Review Dogme Collection 1-4 DVD Review Dogme Collection 1-4 DVD Review Dogme Collection 1-4 DVD Review Dogme Collection 1-4 DVD Review Festen Idioterne Mifunes sidste sang The King Is Alive Bonus Disc Dogme Collection 1-4 DVD Review Dogme Collection 1-4 DVD Review Dogme Collection 1-4 DVD Review Dogme Collection 1-4 DVD Review Dogme Collection 1-4 DVD Review Dogme Collection 1-4 DVD Review Dogme Collection 1-4 DVD Review Dogme Collection 1-4 DVD Review Dogme Collection 1-4 DVD Review Dogme Collection 1-4 DVD Review Dogme Collection 1-4 DVD Review Dogme Collection 1-4 DVD Review Dogme Collection 1-4 DVD Review Dogme Collection 1-4 DVD Review Dogme Collection 1-4 DVD Review
Festen Idioterne Mifunes sidste sang The King Is Alive Bonus Disc Dogme Collection 1-4 DVD Review Dogme Collection 1-4 DVD Review Dogme Collection 1-4 DVD Review Dogme Collection 1-4 DVD Review Dogme Collection 1-4 DVD Review Dogme Collection 1-4 DVD Review Dogme Collection 1-4 DVD Review Dogme Collection 1-4 DVD Review Dogme Collection 1-4 DVD Review Dogme Collection 1-4 DVD Review Dogme Collection 1-4 DVD Review Dogme Collection 1-4 DVD Review Dogme Collection 1-4 DVD Review Dogme Collection 1-4 DVD Review Dogme Collection 1-4 DVD Review
Festen Idioterne Mifunes sidste sang The King Is Alive Bonus Disc Dogme Collection 1-4 DVD Review Dogme Collection 1-4 DVD Review Dogme Collection 1-4 DVD Review Dogme Collection 1-4 DVD Review Dogme Collection 1-4 DVD Review Dogme Collection 1-4 DVD Review Dogme Collection 1-4 DVD Review Dogme Collection 1-4 DVD Review Dogme Collection 1-4 DVD Review Dogme Collection 1-4 DVD Review Dogme Collection 1-4 DVD Review Dogme Collection 1-4 DVD Review Dogme Collection 1-4 DVD Review Dogme Collection 1-4 DVD Review Dogme Collection 1-4 DVD Review
Festen Idioterne Mifunes sidste sang The King Is Alive Bonus Disc Dogme Collection 1-4 DVD Review Dogme Collection 1-4 DVD Review Dogme Collection 1-4 DVD Review Dogme Collection 1-4 DVD Review Dogme Collection 1-4 DVD Review Dogme Collection 1-4 DVD Review Dogme Collection 1-4 DVD Review Dogme Collection 1-4 DVD Review Dogme Collection 1-4 DVD Review Dogme Collection 1-4 DVD Review Dogme Collection 1-4 DVD Review Dogme Collection 1-4 DVD Review Dogme Collection 1-4 DVD Review Dogme Collection 1-4 DVD Review Dogme Collection 1-4 DVD Review
Festen Idioterne Mifunes sidste sang The King Is Alive Bonus Disc Dogme Collection 1-4 DVD Review Dogme Collection 1-4 DVD Review Dogme Collection 1-4 DVD Review Dogme Collection 1-4 DVD Review Dogme Collection 1-4 DVD Review Dogme Collection 1-4 DVD Review Dogme Collection 1-4 DVD Review Dogme Collection 1-4 DVD Review Dogme Collection 1-4 DVD Review Dogme Collection 1-4 DVD Review Dogme Collection 1-4 DVD Review Dogme Collection 1-4 DVD Review Dogme Collection 1-4 DVD Review Dogme Collection 1-4 DVD Review Dogme Collection 1-4 DVD Review
Festen Idioterne Mifunes sidste sang The King Is Alive Bonus Disc Dogme Collection 1-4 DVD Review Dogme Collection 1-4 DVD Review Dogme Collection 1-4 DVD Review Dogme Collection 1-4 DVD Review Dogme Collection 1-4 DVD Review Dogme Collection 1-4 DVD Review Dogme Collection 1-4 DVD Review Dogme Collection 1-4 DVD Review Dogme Collection 1-4 DVD Review Dogme Collection 1-4 DVD Review Dogme Collection 1-4 DVD Review Dogme Collection 1-4 DVD Review Dogme Collection 1-4 DVD Review Dogme Collection 1-4 DVD Review Dogme Collection 1-4 DVD Review
Festen Idioterne Mifunes sidste sang The King Is Alive Bonus Disc Dogme Collection 1-4 DVD Review Dogme Collection 1-4 DVD Review Dogme Collection 1-4 DVD Review Dogme Collection 1-4 DVD Review Dogme Collection 1-4 DVD Review Dogme Collection 1-4 DVD Review Dogme Collection 1-4 DVD Review Dogme Collection 1-4 DVD Review Dogme Collection 1-4 DVD Review Dogme Collection 1-4 DVD Review Dogme Collection 1-4 DVD Review Dogme Collection 1-4 DVD Review Dogme Collection 1-4 DVD Review Dogme Collection 1-4 DVD Review Dogme Collection 1-4 DVD Review
Festen Idioterne Mifunes sidste sang The King Is Alive Bonus Disc Dogme Collection 1-4 DVD Review Dogme Collection 1-4 DVD Review Dogme Collection 1-4 DVD Review Dogme Collection 1-4 DVD Review Dogme Collection 1-4 DVD Review Dogme Collection 1-4 DVD Review Dogme Collection 1-4 DVD Review Dogme Collection 1-4 DVD Review Dogme Collection 1-4 DVD Review Dogme Collection 1-4 DVD Review Dogme Collection 1-4 DVD Review Dogme Collection 1-4 DVD Review Dogme Collection 1-4 DVD Review Dogme Collection 1-4 DVD Review Dogme Collection 1-4 DVD Review
Festen Idioterne Mifunes sidste sang The King Is Alive Bonus Disc Dogme Collection 1-4 DVD Review Dogme Collection 1-4 DVD Review Dogme Collection 1-4 DVD Review Dogme Collection 1-4 DVD Review Dogme Collection 1-4 DVD Review Dogme Collection 1-4 DVD Review Dogme Collection 1-4 DVD Review Dogme Collection 1-4 DVD Review Dogme Collection 1-4 DVD Review Dogme Collection 1-4 DVD Review Dogme Collection 1-4 DVD Review Dogme Collection 1-4 DVD Review Dogme Collection 1-4 DVD Review Dogme Collection 1-4 DVD Review Dogme Collection 1-4 DVD Review
Festen Idioterne Mifunes sidste sang The King Is Alive Bonus Disc Dogme Collection 1-4 DVD Review Dogme Collection 1-4 DVD Review Dogme Collection 1-4 DVD Review Dogme Collection 1-4 DVD Review Dogme Collection 1-4 DVD Review Dogme Collection 1-4 DVD Review Dogme Collection 1-4 DVD Review Dogme Collection 1-4 DVD Review Dogme Collection 1-4 DVD Review Dogme Collection 1-4 DVD Review Dogme Collection 1-4 DVD Review Dogme Collection 1-4 DVD Review Dogme Collection 1-4 DVD Review Dogme Collection 1-4 DVD Review Dogme Collection 1-4 DVD Review
Festen Idioterne Mifunes sidste sang The King Is Alive Bonus Disc Dogme Collection 1-4 DVD Review Dogme Collection 1-4 DVD Review Dogme Collection 1-4 DVD Review Dogme Collection 1-4 DVD Review Dogme Collection 1-4 DVD Review Dogme Collection 1-4 DVD Review Dogme Collection 1-4 DVD Review Dogme Collection 1-4 DVD Review Dogme Collection 1-4 DVD Review Dogme Collection 1-4 DVD Review Dogme Collection 1-4 DVD Review Dogme Collection 1-4 DVD Review Dogme Collection 1-4 DVD Review Dogme Collection 1-4 DVD Review Dogme Collection 1-4 DVD Review
Festen Idioterne Mifunes sidste sang The King Is Alive Bonus Disc Dogme Collection 1-4 DVD Review Dogme Collection 1-4 DVD Review Dogme Collection 1-4 DVD Review Dogme Collection 1-4 DVD Review Dogme Collection 1-4 DVD Review Dogme Collection 1-4 DVD Review Dogme Collection 1-4 DVD Review Dogme Collection 1-4 DVD Review Dogme Collection 1-4 DVD Review Dogme Collection 1-4 DVD Review Dogme Collection 1-4 DVD Review Dogme Collection 1-4 DVD Review Dogme Collection 1-4 DVD Review Dogme Collection 1-4 DVD Review Dogme Collection 1-4 DVD Review
Festen Idioterne Mifunes sidste sang The King Is Alive Bonus Disc Dogme Collection 1-4 DVD Review Dogme Collection 1-4 DVD Review Dogme Collection 1-4 DVD Review Dogme Collection 1-4 DVD Review Dogme Collection 1-4 DVD Review Dogme Collection 1-4 DVD Review Dogme Collection 1-4 DVD Review Dogme Collection 1-4 DVD Review Dogme Collection 1-4 DVD Review Dogme Collection 1-4 DVD Review Dogme Collection 1-4 DVD Review Dogme Collection 1-4 DVD Review Dogme Collection 1-4 DVD Review Dogme Collection 1-4 DVD Review Dogme Collection 1-4 DVD Review
Festen Idioterne Mifunes sidste sang The King Is Alive Bonus Disc Dogme Collection 1-4 DVD Review Dogme Collection 1-4 DVD Review Dogme Collection 1-4 DVD Review Dogme Collection 1-4 DVD Review Dogme Collection 1-4 DVD Review Dogme Collection 1-4 DVD Review Dogme Collection 1-4 DVD Review Dogme Collection 1-4 DVD Review Dogme Collection 1-4 DVD Review Dogme Collection 1-4 DVD Review Dogme Collection 1-4 DVD Review Dogme Collection 1-4 DVD Review Dogme Collection 1-4 DVD Review Dogme Collection 1-4 DVD Review Dogme Collection 1-4 DVD Review
Festen Idioterne Mifunes sidste sang The King Is Alive Bonus Disc Dogme Collection 1-4 DVD Review Dogme Collection 1-4 DVD Review Dogme Collection 1-4 DVD Review Dogme Collection 1-4 DVD Review Dogme Collection 1-4 DVD Review Dogme Collection 1-4 DVD Review Dogme Collection 1-4 DVD Review Dogme Collection 1-4 DVD Review Dogme Collection 1-4 DVD Review Dogme Collection 1-4 DVD Review Dogme Collection 1-4 DVD Review Dogme Collection 1-4 DVD Review Dogme Collection 1-4 DVD Review Dogme Collection 1-4 DVD Review Dogme Collection 1-4 DVD Review
Festen Idioterne Mifunes sidste sang The King Is Alive Bonus Disc Dogme Collection 1-4 DVD Review Dogme Collection 1-4 DVD Review Dogme Collection 1-4 DVD Review Dogme Collection 1-4 DVD Review Dogme Collection 1-4 DVD Review Dogme Collection 1-4 DVD Review Dogme Collection 1-4 DVD Review Dogme Collection 1-4 DVD Review Dogme Collection 1-4 DVD Review Dogme Collection 1-4 DVD Review Dogme Collection 1-4 DVD Review Dogme Collection 1-4 DVD Review Dogme Collection 1-4 DVD Review Dogme Collection 1-4 DVD Review Dogme Collection 1-4 DVD Review
Festen Idioterne Mifunes sidste sang The King Is Alive Bonus Disc Dogme Collection 1-4 DVD Review Dogme Collection 1-4 DVD Review Dogme Collection 1-4 DVD Review Dogme Collection 1-4 DVD Review Dogme Collection 1-4 DVD Review Dogme Collection 1-4 DVD Review Dogme Collection 1-4 DVD Review Dogme Collection 1-4 DVD Review Dogme Collection 1-4 DVD Review Dogme Collection 1-4 DVD Review Dogme Collection 1-4 DVD Review Dogme Collection 1-4 DVD Review Dogme Collection 1-4 DVD Review Dogme Collection 1-4 DVD Review Dogme Collection 1-4 DVD Review
Festen Idioterne Mifunes sidste sang The King Is Alive Bonus Disc Dogme Collection 1-4 DVD Review Dogme Collection 1-4 DVD Review Dogme Collection 1-4 DVD Review Dogme Collection 1-4 DVD Review Dogme Collection 1-4 DVD Review Dogme Collection 1-4 DVD Review Dogme Collection 1-4 DVD Review Dogme Collection 1-4 DVD Review Dogme Collection 1-4 DVD Review Dogme Collection 1-4 DVD Review Dogme Collection 1-4 DVD Review Dogme Collection 1-4 DVD Review Dogme Collection 1-4 DVD Review Dogme Collection 1-4 DVD Review Dogme Collection 1-4 DVD Review
Festen Idioterne Mifunes sidste sang The King Is Alive Bonus Disc Dogme Collection 1-4 DVD Review Dogme Collection 1-4 DVD Review Dogme Collection 1-4 DVD Review Dogme Collection 1-4 DVD Review Dogme Collection 1-4 DVD Review Dogme Collection 1-4 DVD Review Dogme Collection 1-4 DVD Review Dogme Collection 1-4 DVD Review Dogme Collection 1-4 DVD Review Dogme Collection 1-4 DVD Review Dogme Collection 1-4 DVD Review Dogme Collection 1-4 DVD Review Dogme Collection 1-4 DVD Review Dogme Collection 1-4 DVD Review Dogme Collection 1-4 DVD Review