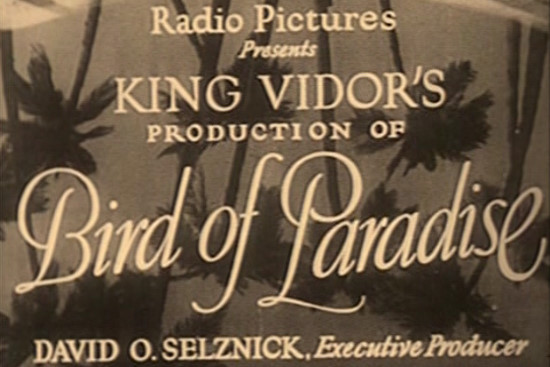 Directed by King Vidor
USA 1932
This film, highly recognized for its PRE-CODE lack of restrictions, began principal photography without a complete script. Selznick was said to remark "I don't care what happens in the plot, as long as Dolores is thrown into the volcano at the end". Despite that, director King Vidor's does give a valiant attempt to create a genuinely adept film. Although I was somewhat agog at seeing Dolores del Rio clearly swimming buck naked (see last three large captures below) and bra-less throughout the film - what I was most surprised at was her character's open admission to enjoying 'rough sex' both with her as the aggressor or with Joel McCrea forcefully holding her down (see capture below)! This is 1932 you say? Well recognized more for its PRE-CODE openness rather than any other attribute, the film does captures some euphoric moments of deserted island fantasy and an interracial Polynesian love fable. I think it is well worth seeing.
Poster
Theatrical Release: August 12th, 1932
Reviews More Reviews DVD Reviews
DVD Review: Roan Group - Region 0 - NTSC
DVD Box Cover

CLICK to order from:

Distribution
Roan Group - Region 0 - NTSC
Runtime
1:22:00
Video
1.33:1 Original Aspect Ratio
Average Bitrate: 6.77 mb/s
NTSC 720x480 29.97 f/s

NOTE: The Vertical axis represents the bits transferred per second. The Horizontal is the time in minutes.

Bitrate:

Audio
English (Dolby Digital 2.0)
Subtitles
None
Features

Release Information:
Studio: Roan Group

Aspect Ratio:
Original Aspect Ratio 1.33:1

Edition Details:

• Cast and Crew text screens
• Film Background text screen

DVD Release Date: September 27th, 1999
Keep Case
Chapters: 15
Comments:

NOTE: KINO Blu-ray review and compared HERE

This is the PRE-CODE Hollywood Boxset # 2 by the Roan Group.

Another early Public Domain film transferred to digital over 6 years ago. Advertised on the cover as 'Presented in original sepia tone!" - this looks quite inconsistent at times and only suitable for tube viewing. The audio is akin to the image - fluctuating and weak. I suspect that there is a slim chance that someone will restore this one day - if only based on del Rio's nudity, but for now the price isn't too bad considering you get another film on the opposite side of the single layered DVD.

NOTE: This release comes with another PRE-CODE film; The Lady Refuses on the opposite side.
---



DVD Menus


---
Screen Captures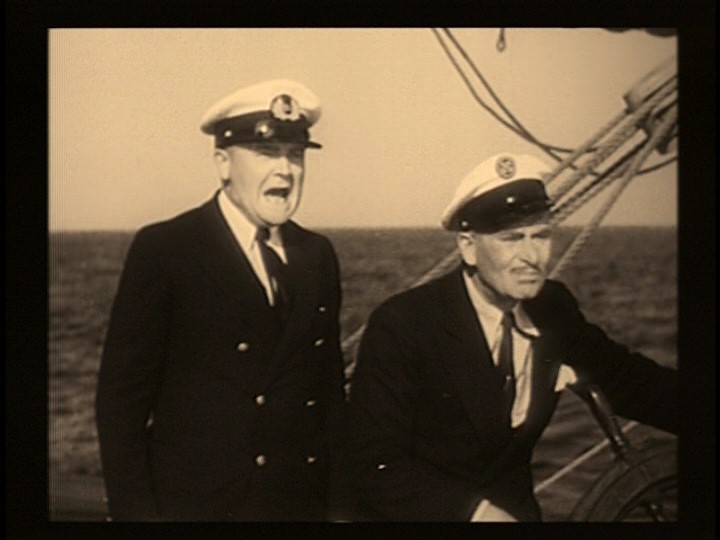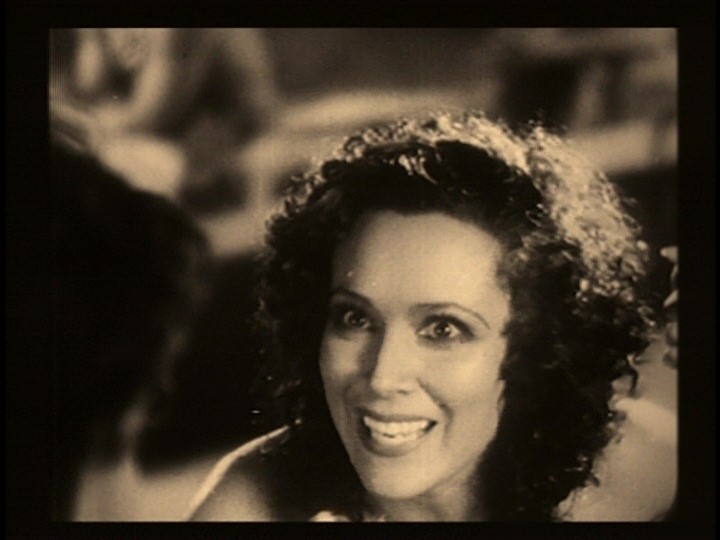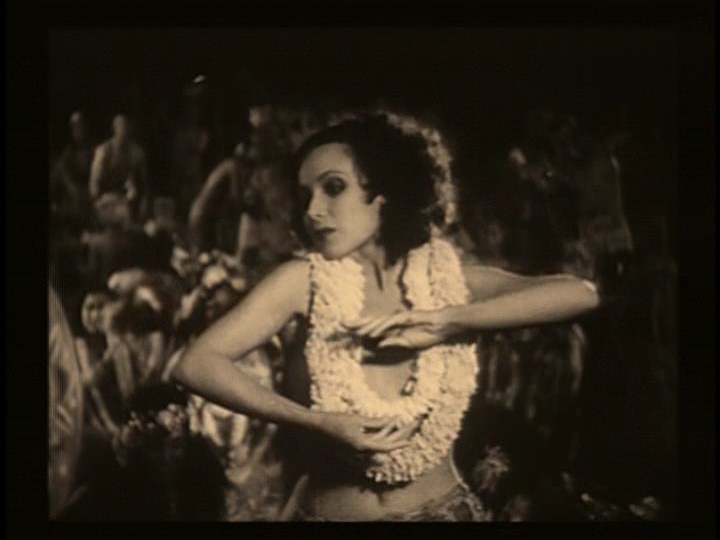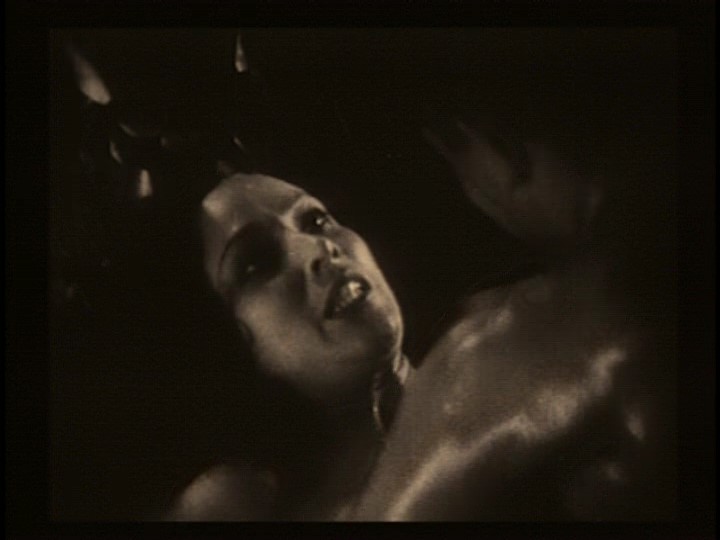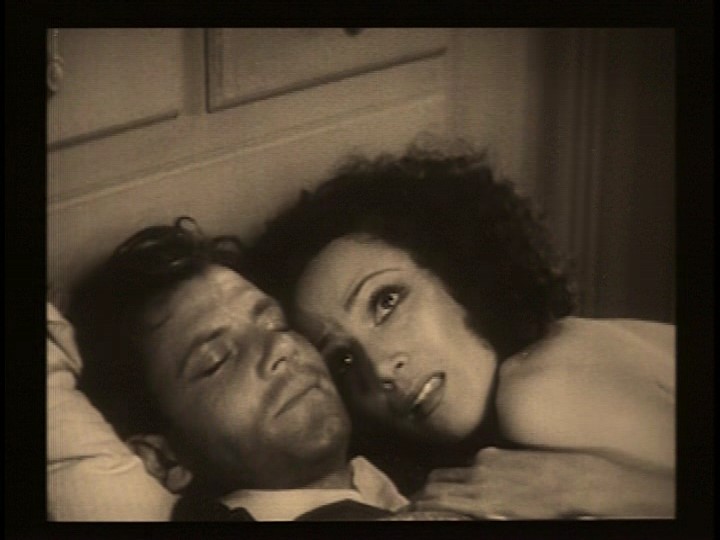 ---
---
---
One reason Bird of Paradise garnered its PRE-CODE appeal status...
DVD Box Cover

CLICK to order from:

Distribution
Roan Group Home Video - Region 0 - NTSC
---




















DONATIONS Keep DVDBeaver alive:
Mail cheques, money orders, cash to: or CLICK PayPal logo to donate!
Gary Tooze

Mississauga, Ontario,

CANADA
Thank You!
King Vidor's - Bird of Paradise - Dolores del Rio Pre-code DVD Review King Vidor Bird of Paradise Dolores del Rio Pre-code DVD Review King Vidor Bird of Paradise Dolores del Rio Pre-code DVD Review King Vidor Bird of Paradise Dolores del Rio Pre-code DVD Review King Vidor Bird of Paradise Dolores del Rio Pre-code DVD Review King Vidor Bird of Paradise Dolores del Rio Pre-code DVD Review King Vidor Bird of Paradise Dolores del Rio Pre-code DVD Review King Vidor Bird of Paradise Dolores del Rio Pre-code DVD Review King Vidor Bird of Paradise Dolores del Rio Pre-code DVD Review King Vidor Bird of Paradise Dolores del Rio Pre-code DVD Review King Vidor Bird of Paradise Dolores del Rio Pre-code DVD Review King Vidor's - Bird of Paradise - Dolores del Rio Pre-code DVD Review King Vidor Bird of Paradise Dolores del Rio Pre-code DVD Review King Vidor Bird of Paradise Dolores del Rio Pre-code DVD Review King Vidor Bird of Paradise Dolores del Rio Pre-code DVD Review King Vidor Bird of Paradise Dolores del Rio Pre-code DVD Review King Vidor Bird of Paradise Dolores del Rio Pre-code DVD Review King Vidor Bird of Paradise Dolores del Rio Pre-code DVD Review King Vidor Bird of Paradise Dolores del Rio Pre-code DVD Review King Vidor Bird of Paradise Dolores del Rio Pre-code DVD Review King Vidor Bird of Paradise Dolores del Rio Pre-code DVD Review King Vidor Bird of Paradise Dolores del Rio Pre-code DVD Review King Vidor's - Bird of Paradise - Dolores del Rio Pre-code DVD Review King Vidor Bird of Paradise Dolores del Rio Pre-code DVD Review King Vidor Bird of Paradise Dolores del Rio Pre-code DVD Review King Vidor Bird of Paradise Dolores del Rio Pre-code DVD Review King Vidor Bird of Paradise Dolores del Rio Pre-code DVD Review King Vidor Bird of Paradise Dolores del Rio Pre-code DVD Review King Vidor Bird of Paradise Dolores del Rio Pre-code DVD Review King Vidor Bird of Paradise Dolores del Rio Pre-code DVD Review King Vidor Bird of Paradise Dolores del Rio Pre-code DVD Review King Vidor Bird of Paradise Dolores del Rio Pre-code DVD Review King Vidor Bird of Paradise Dolores del Rio Pre-code DVD Review King Vidor's - Bird of Paradise - Dolores del Rio Pre-code DVD Review King Vidor Bird of Paradise Dolores del Rio Pre-code DVD Review King Vidor Bird of Paradise Dolores del Rio Pre-code DVD Review King Vidor Bird of Paradise Dolores del Rio Pre-code DVD Review King Vidor Bird of Paradise Dolores del Rio Pre-code DVD Review King Vidor Bird of Paradise Dolores del Rio Pre-code DVD Review King Vidor Bird of Paradise Dolores del Rio Pre-code DVD Review King Vidor Bird of Paradise Dolores del Rio Pre-code DVD Review King Vidor Bird of Paradise Dolores del Rio Pre-code DVD Review King Vidor Bird of Paradise Dolores del Rio Pre-code DVD Review King Vidor Bird of Paradise Dolores del Rio Pre-code DVD Review King Vidor's - Bird of Paradise - Dolores del Rio Pre-code DVD Review King Vidor Bird of Paradise Dolores del Rio Pre-code DVD Review King Vidor Bird of Paradise Dolores del Rio Pre-code DVD Review King Vidor Bird of Paradise Dolores del Rio Pre-code DVD Review King Vidor Bird of Paradise Dolores del Rio Pre-code DVD Review King Vidor Bird of Paradise Dolores del Rio Pre-code DVD Review King Vidor Bird of Paradise Dolores del Rio Pre-code DVD Review King Vidor Bird of Paradise Dolores del Rio Pre-code DVD Review King Vidor Bird of Paradise Dolores del Rio Pre-code DVD Review King Vidor Bird of Paradise Dolores del Rio Pre-code DVD Review King Vidor Bird of Paradise Dolores del Rio Pre-code DVD Review King Vidor's - Bird of Paradise - Dolores del Rio Pre-code DVD Review King Vidor Bird of Paradise Dolores del Rio Pre-code DVD Review King Vidor Bird of Paradise Dolores del Rio Pre-code DVD Review King Vidor Bird of Paradise Dolores del Rio Pre-code DVD Review King Vidor Bird of Paradise Dolores del Rio Pre-code DVD Review King Vidor Bird of Paradise Dolores del Rio Pre-code DVD Review King Vidor Bird of Paradise Dolores del Rio Pre-code DVD Review King Vidor Bird of Paradise Dolores del Rio Pre-code DVD Review King Vidor Bird of Paradise Dolores del Rio Pre-code DVD Review King Vidor Bird of Paradise Dolores del Rio Pre-code DVD Review King Vidor Bird of Paradise Dolores del Rio Pre-code DVD Review King Vidor's - Bird of Paradise - Dolores del Rio Pre-code DVD Review King Vidor Bird of Paradise Dolores del Rio Pre-code DVD Review King Vidor Bird of Paradise Dolores del Rio Pre-code DVD Review King Vidor Bird of Paradise Dolores del Rio Pre-code DVD Review King Vidor Bird of Paradise Dolores del Rio Pre-code DVD Review King Vidor Bird of Paradise Dolores del Rio Pre-code DVD Review King Vidor Bird of Paradise Dolores del Rio Pre-code DVD Review King Vidor Bird of Paradise Dolores del Rio Pre-code DVD Review King Vidor Bird of Paradise Dolores del Rio Pre-code DVD Review King Vidor Bird of Paradise Dolores del Rio Pre-code DVD Review King Vidor Bird of Paradise Dolores del Rio Pre-code DVD Review King Vidor's - Bird of Paradise - Dolores del Rio Pre-code DVD Review King Vidor Bird of Paradise Dolores del Rio Pre-code DVD Review King Vidor Bird of Paradise Dolores del Rio Pre-code DVD Review King Vidor Bird of Paradise Dolores del Rio Pre-code DVD Review King Vidor Bird of Paradise Dolores del Rio Pre-code DVD Review King Vidor Bird of Paradise Dolores del Rio Pre-code DVD Review King Vidor Bird of Paradise Dolores del Rio Pre-code DVD Review King Vidor Bird of Paradise Dolores del Rio Pre-code DVD Review King Vidor Bird of Paradise Dolores del Rio Pre-code DVD Review King Vidor Bird of Paradise Dolores del Rio Pre-code DVD Review King Vidor Bird of Paradise Dolores del Rio Pre-code DVD Review King Vidor's - Bird of Paradise - Dolores del Rio Pre-code DVD Review King Vidor Bird of Paradise Dolores del Rio Pre-code DVD Review King Vidor Bird of Paradise Dolores del Rio Pre-code DVD Review King Vidor Bird of Paradise Dolores del Rio Pre-code DVD Review King Vidor Bird of Paradise Dolores del Rio Pre-code DVD Review King Vidor Bird of Paradise Dolores del Rio Pre-code DVD Review King Vidor Bird of Paradise Dolores del Rio Pre-code DVD Review King Vidor Bird of Paradise Dolores del Rio Pre-code DVD Review King Vidor Bird of Paradise Dolores del Rio Pre-code DVD Review King Vidor Bird of Paradise Dolores del Rio Pre-code DVD Review King Vidor Bird of Paradise Dolores del Rio Pre-code DVD Review King Vidor's - Bird of Paradise - Dolores del Rio Pre-code DVD Review King Vidor Bird of Paradise Dolores del Rio Pre-code DVD Review King Vidor Bird of Paradise Dolores del Rio Pre-code DVD Review King Vidor Bird of Paradise Dolores del Rio Pre-code DVD Review King Vidor Bird of Paradise Dolores del Rio Pre-code DVD Review King Vidor Bird of Paradise Dolores del Rio Pre-code DVD Review King Vidor Bird of Paradise Dolores del Rio Pre-code DVD Review King Vidor Bird of Paradise Dolores del Rio Pre-code DVD Review King Vidor Bird of Paradise Dolores del Rio Pre-code DVD Review King Vidor Bird of Paradise Dolores del Rio Pre-code DVD Review King Vidor Bird of Paradise Dolores del Rio Pre-code DVD Review King Vidor's - Bird of Paradise - Dolores del Rio Pre-code DVD Review King Vidor Bird of Paradise Dolores del Rio Pre-code DVD Review King Vidor Bird of Paradise Dolores del Rio Pre-code DVD Review King Vidor Bird of Paradise Dolores del Rio Pre-code DVD Review King Vidor Bird of Paradise Dolores del Rio Pre-code DVD Review King Vidor Bird of Paradise Dolores del Rio Pre-code DVD Review King Vidor Bird of Paradise Dolores del Rio Pre-code DVD Review King Vidor Bird of Paradise Dolores del Rio Pre-code DVD Review King Vidor Bird of Paradise Dolores del Rio Pre-code DVD Review King Vidor Bird of Paradise Dolores del Rio Pre-code DVD Review King Vidor Bird of Paradise Dolores del Rio Pre-code DVD Review King Vidor's - Bird of Paradise - Dolores del Rio Pre-code DVD Review King Vidor Bird of Paradise Dolores del Rio Pre-code DVD Review King Vidor Bird of Paradise Dolores del Rio Pre-code DVD Review King Vidor Bird of Paradise Dolores del Rio Pre-code DVD Review King Vidor Bird of Paradise Dolores del Rio Pre-code DVD Review King Vidor Bird of Paradise Dolores del Rio Pre-code DVD Review King Vidor Bird of Paradise Dolores del Rio Pre-code DVD Review King Vidor Bird of Paradise Dolores del Rio Pre-code DVD Review King Vidor Bird of Paradise Dolores del Rio Pre-code DVD Review King Vidor Bird of Paradise Dolores del Rio Pre-code DVD Review King Vidor Bird of Paradise Dolores del Rio Pre-code DVD Review King Vidor's - Bird of Paradise - Dolores del Rio Pre-code DVD Review King Vidor Bird of Paradise Dolores del Rio Pre-code DVD Review King Vidor Bird of Paradise Dolores del Rio Pre-code DVD Review King Vidor Bird of Paradise Dolores del Rio Pre-code DVD Review King Vidor Bird of Paradise Dolores del Rio Pre-code DVD Review King Vidor Bird of Paradise Dolores del Rio Pre-code DVD Review King Vidor Bird of Paradise Dolores del Rio Pre-code DVD Review King Vidor Bird of Paradise Dolores del Rio Pre-code DVD Review King Vidor Bird of Paradise Dolores del Rio Pre-code DVD Review King Vidor Bird of Paradise Dolores del Rio Pre-code DVD Review King Vidor Bird of Paradise Dolores del Rio Pre-code DVD Review