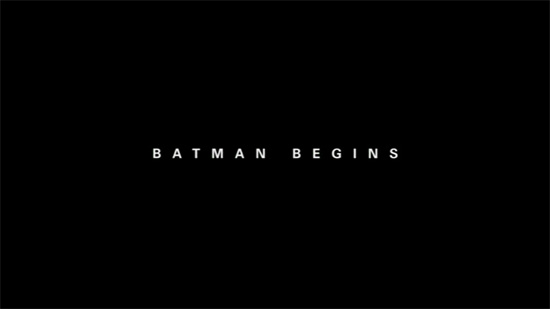 directed by Christopher Nolan
USA 2005
In the fall of 2000, Warner began talking about reviewing the Batman franchise, which Burton created and Schumacher destroyed. Every possible idea was put on the table, even a "Batman vs. Superman" film, but at the end of the day, the only thing they knew was, that they had to review the franchise.

A decision was made to have Darren Aronofsky direct; George Clooney would return as Batman and Aronofsky began writing a script with Frank Miller, based on his Year One. But then suddenly in the summer of 2002 Aronofsky was replaced by Wolfgang Peterson, who didn't do a lot until he left for "Troy" and long story short, the choice fell on Christopher Nolan to direct.

Nolan insisted on two things: The first was, that Christian Bale was to play Bruce Wayne / Batman, which almost didn't happened, as Bale just had finished shooting "The Machinist", for which he had lost 65 lbs. The second was, that they had to rethink Batman. It had to be a classic Batman tale, yet look like nothing that ever had been done before. Together with David Goyer, Nolan began to read up on 65 years of Batman mythology and history, using some of the Miller / Aronofsky script as a base, but also drawing from other sources, especially the Batman stories of O'Neils (Birth of the Demon, Tales of the Demon), as Goyer wanted the villain to be Ra's Al Ghul. However, the most useful element of Nolan's story became the black holes in the history of Batman. These gaps in the chronology offered Nolan and Goyer a place where their imagination could run wild and create a new side of the myth.

What's new is, that Nolan makes Batman and Wayne three-dimensional. Why the bat motif? Why dress up like a bat and run around fighting crime? Why a lot of things; and all questions answered by Nolan.

Where Burton's Batman / Wayne was two-dimensional in the sense that there were two one-dimensional archetypical sides, being internal, secluded and a thinker foremost, Nolan's Batman is all three-dimensional external, an idiot playboy and a man of action; not that he doesn't think, more that he hasn't got the discipline to sit and meditate over a problem.

Significant here is, that both Batman and Wayne wears a mask. Unlike previous Bruce Waynes', Nolan shows, that it is as heavy, if not more so, a burden to act like a moron in public for an intelligent person as Wayne, as it is to keep his Batman persona a secret. It comes almost as a relief, as those close to Wayne are permitted to know his true identity; and then again not. The burden is evermore.

In "Batman Begins", no one would ever believe Wayne to be Batman, if he were unmasked. His Wayne persona is so irresponsible, that when his house is burned down, the press reports "Drunk billionaire burns down his own house."

Another issue Nolan tackles is the meaning of the bat, what it represents, the fear and its origin. A signature motif of Nolan, which he has explored in all films, the nature of what we believe we see and what we really see, here thru various means, from the methods of Scarecrow and the Ra's al Ghul's ninjas, to the ideology of batman. In regards to the meaning of the bat, it is fear, and fear is the central theme throughout the film, in the actions of Ra's al Ghul, in the past and present of Wayne, in the projection of the bat image; Nolan stresses the word "fear" and "afraid" over and over again throughout entire first 45 minutes. To have such depth in both character and leitmotivs gives "Batman Begins" a narrative strength which surpasses the complexity of The Penguin in Burton's "Batman Returns".

Thanks to a very strong script, where one both can hear and feel how much thought and homage was put into each word, and aided by an impressive cast, Liam Neeson, Michael Caine, Morgan Freeman, Gary Oldman, Tom Wilkinson, Rutger Hauer and Cillian Murphy, "Batman Begins" dwells in strong characters. Caine is the definitive Alfred; everyone else pales next to his dry British sarcasm and butlers code, and has some of the best lines in the film. There has been a lot of talk about Katie Holmes, but she is actually quiet good here, and does in no way pull the film down.

One thing remains. Is "Batman Begins" a better film than "Batman Returns". The answer is no one can tell. It is a better written script, the story is better and more complex, but it lacks a villain as The Penguin and Burton's set design. It is two completely different forms of film. Return is pure Burtonesque comic book, Begins is gothic character study.

"Batman Begins" is the best (super)hero film since Singer's "X-Men 2", which together with Burton's "Batman Returns" forms a trio of highly entertaining masterpieces of comic book cinema.

Posters
Theatrical Release: June 10, 2005 (limited Russia) - June 15, 2005 (general)
Reviews More Reviews DVD Reviews
DVD Comparison:
Warner (2-Disc Special Edition) - Region 2, 5 - PAL vs. Warner (Single disc - Widescreen) - Region 1 - NTSC
Big thanks to Henrik Sylow for the Review!
(Warner (2-Disc Special Edition) - Region 2, 5 - PAL LEFT vs. Warner (Single disc - Widescreen) - Region 1 - NTSC RIGHT)
DVD Box Cover

Distribution

Warner Europe

Region 2, 5 - PAL

Warner

Region 1 - NTSC

Runtime
2:14:17 (4% PAL speedup)
2:19:50
Video

2.40:1 Original Aspect Ratio

16X9 enhanced
Average Bitrate: 6.70 mb/s
PAL 720x576 25.00 f/s

2.35:1 Original Aspect Ratio

16X9 enhanced
Average Bitrate: 6.63 mb/s
NTSC 720x480 29.97 f/s

NOTE: The Vertical axis represents the bits transferred per second. The Horizontal is the time in minutes.

Bitrate

Bitrate

Audio
5.1 Dolby Digital English (384 Kbps), 5.1 Dolby Digital Polish (VO) (384 Kbps), 2.0 Dolby Digital Russian (192 Kbps)
English (Dolby Digital 5.1), DUB: French (Dolby Digital 5.1)
Subtitles
English, Danish, Norwegian, Swedish, Finnish, Estonian, Greek, Lettik, Polish and None
English, Spanish, French and none
Features
Release Information:
Studio: Warner Europe

Aspect Ratio:
Widescreen anamorphic - 2.40:1

Edition Details:
• Theatrical Trailer (1:00 / 16x9)
• Inner Demons Comic (10:42 / 16x9)
• Batman - The Journey Begins (14:17 / 4:3)
• Shaping Mind And Body (12:50 / 4:3)
• Cape and Cowl (8:18 / 4:3)
• Path to Discovery (14:14 / 4:3)
• Batman - The Tumbler (13:40 / 4:3)
• Gotham City Rises (12:49 / 4:3)
• Saving Gotham City (13:01 / 4:3)
• Genesis Of The Bat (14:53 / 4:3)
• Confidential Files
• - Hardware (utility belt, cape, suit, tumbler) (5:36 / 16x9)
• - Enemies (scarecrow, ra's al ghul, carmine falcone) (4:17 / 16x9)
• - Allies and Mentors (James Gordon, Rachel Dawes, lucius fox, Alfred Pennyworth, Henry Ducard) (8:22
• Artgallery

DVD Release Date: November 23, 2005
Double think Keep Case

Chapters 40

Release Information:
Studio: Warner

Aspect Ratio:
Widescreen anamorphic - 2.35:1

Edition Details:
• Theatrical Trailer (1:11 / 16x9)


DVD Release Date: October 18th, 2005
Keep Case

Chapters 40
Comments
ADDITION: Warner - Region 1- NTSC - Dec 05': I don't see any discernable differences in this image and aside from the obvious (extras, dubs, sub options) it is quite a similar product. If I was forced to choose I might say the PAL is slightly sharper. Personally I am not a fan of the film, but feel you will get a decent version from this Warner title on DVD no matter where you reside.

Gary Tooze

*****

The Transfer
The transfer is breathtaking. Presented in 2.40:1, there are no artifacts visible, not even zooming into 500% and using a BatViewer. Colors are balanced and saturated, black is very black, yet has different shades of black within it; I have not seen this solid display of white light vs. black surroundings since "Se7en". Details are sharp and I doubt it is possible to get a better picture on a DVD. Flawless, perfect and simply stunning.

The Sound
While one would have expected a DTS 6.1 ES track, only a 384 Kbps 5.1 Dolby Digital track is present. A fairly good option, considering the running time of the film (135 minutes - 5.8GB; making transfer even more impressive), as each track takes up 377MB. There actually is room enough for a DTS track, with almost 1GB to spare on the disc, but Warner obviously played it safe, not to have sound compress image.

Even so, this 5.1 Dolby Digital mix is extremely aggressive, taking full use of all channels from the very first second. Superb separation, very heavy bas. Who needs DTS with sound like this.

The Extras
Sadly no audio commentary by Nolan, which one has grown accustomed to from his other DVD releases.

Additional material are to be found on Disc 2, which missed spoof (available on Region 1) MTV's Tankman Begins. But apart from this, the rest is the same on all editions.

Disc 2 does not begin with a menu, but with an semi-animated version of the comic book Inner Demons, which you either can watch automatically or change page manually.

Then comes about 95 minutes of production featurettes, 10-15 minutes a piece, where Nolan and others talks about this specific part of the production; the cape, Gotham, the car, the mind of Batman and so forth. They are quiet good and very informative, giving the viewer a good perception of the overall production.

On Region 1, a Deluxe Edition, includes a 72-page booklet with three Batman stories: the first Batman comic ever, his origin story and the introduction of "The Long Halloween"; all three inspirations for "Batman Begins".
---

DVD Menus

(Warner (2-Disc Special Edition) - Region 2, 5 - PAL LEFT vs. Warner (Single disc - Widescreen) - Region 1 - NTSC RIGHT)

| | |
| --- | --- |
| | |
| | |
| | |
| | |
| | |
| | |
---
Screen Captures
subtitle sample (English only)
Captures resized to 800px from 1016px
(Warner (2-Disc Special Edition) - Region 2, 5 - PAL TOP vs. Warner (Single disc - Widescreen) - Region 1 - NTSC BOTTOM)
---
(Warner (2-Disc Special Edition) - Region 2, 5 - PAL TOP vs. Warner (Single disc - Widescreen) - Region 1 - NTSC BOTTOM)
---
(Warner (2-Disc Special Edition) - Region 2, 5 - PAL TOP vs. Warner (Single disc - Widescreen) - Region 1 - NTSC BOTTOM)
---
(Warner (2-Disc Special Edition) - Region 2, 5 - PAL TOP vs. Warner (Single disc - Widescreen) - Region 1 - NTSC BOTTOM)
---
(Warner (2-Disc Special Edition) - Region 2, 5 - PAL TOP vs. Warner (Single disc - Widescreen) - Region 1 - NTSC BOTTOM)
---
(Warner (2-Disc Special Edition) - Region 2, 5 - PAL TOP vs. Warner (Single disc - Widescreen) - Region 1 - NTSC BOTTOM)
---
(Warner (2-Disc Special Edition) - Region 2, 5 - PAL TOP vs. Warner (Single disc - Widescreen) - Region 1 - NTSC BOTTOM)