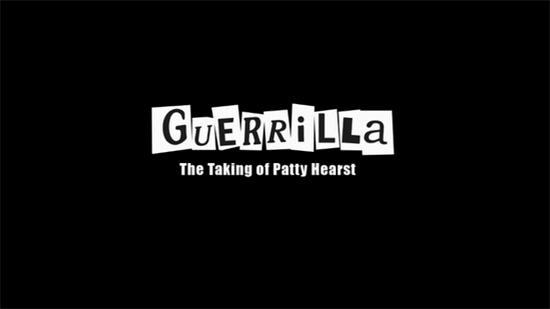 (aka "Neverland: The Rise and Fall of the Symbionese Liberation Army" )
directed by Robert Stone
USA 2004
February 4, 1974, only two weeks before her 20th birthday, granddaughter of William Randolph Heart, Patty Hearst, was kidnapped by the Symbionese Liberation Army (SLA), who first demanded a prisoner swap for Hearst, then, as it failed, demanded $6 million worth of food for the poor of the Bay Area, a demand which was met, but never countered by SLA, as Hearst wasn't released.

A reason might be found in the surveillance footage of the bank robbery of the Hibernia Bank, April 15, 1974, where Hearst was photographed with a rifle during the robbery. She later announced, that she had changed her name to Tania and had become a member of the SLA.

Thus began the hunt for both SLA, who increased their activities and their violence, and to "rescue" Patty Hearst. She was captured in September 1975 and stood trial in January 1976, where she claimed that it all had been fake, that she "did what they wanted her to", being sexually abused and having suffered from the Stockholm Syndrome. She was still convicted for bank robbery, a sentence commuted in 1979 by president Jimmy Carter and later fully pardoned by president Bill Clinton.

Robert Stone portraits the Hearst case with detailed background and interviews by those involved, showing how the free speech movement from Berkeley, how the Kent State incident and other events, formed the mind frame of those involved with the SLA. As one of the former members say, the reasons were true, but also covered by a lot of bullshit romanticism.

More so, Stone shows how the media circus arose, how the media leeched on the case, how reality became entertainment; A point, he ends with showing Patty Hearst having become a media sensation, giving interviews, where she calls her upbringing perfect. Stone demonstrates how media savvy the SLA were, how they manipulated and used the media as their weapon in their war, and thereby shows how the media will no anything to get news, and how the Patty Hearst case foreshadowed today's excesses of journalism.

"Guerrilla" is one of the best documentaries out there. It is gripping as any thriller, is it more revealing than any reality program, and it uncovers previously unknown facts about the case. A mind blowing portrait of romantic fantasies, political terrorism and the media.

Posters
Theatrical Release: January 2004 (Sundance Film Festival)
Reviews More Reviews DVD Reviews
DVD Review: Tartan - Region 2 - PAL
Big thanks to Henrik Sylow for the Review!
DVD Box Cover

CLICK to order from:

Distribution

Tartan

Region 2 - PAL

Runtime
1:25:47 (4% PAL speedup)
Video

1.78:1 Aspect Ratio

16X9 enhanced
Average Bitrate: 7.25 mb/s
PAL 720x576 25.00 f/s

NOTE: The Vertical axis represents the bits transferred per second. The Horizontal is the time in minutes.

Bitrate

Audio
2.0 Dolby Digital English
Subtitles
No subtitles
Features
Release Information:
Studio: Tartan

Aspect Ratio:
Widescreen anamorphic - 1.78:1

Edition Details:
• Audio Commentary by Robert Stone
• Interview with Robert Stone (20:35 / 16x9)
• Deleted Scene 1: Hibernia Bank Robbery (6:43 / 4:3)
• Deleted Scene 2: Sacramento Court House (25:04 / 4:3)
• Original Trailer

DVD Release Date: October 24, 2005
Keep Case

Chapters 16
Comments
As with all documentaries using archive material, the quality of the image depends on the quality of such material. But based from the interview footage, the image is without any artifacts and looks just perfect.

Sound is 2.0 Dolby Digital here, while it is 5.1 Dolby Digital on New Video Group R1 DVD.

The additional material is about the same as on New Video Group R1 DVD, except that the Patty Hearst audio tapes are missing, which is due to copyright.

The film is supported by an audio commentary by director Robert Stone. It is one amazing commentary, almost a documentary in itself, where Stone comments each piece of information. More than a footnote, this is extended background information, both about the film and about the subject of the film.

Followed by an interview with Stone, where he goes into details about some of the elements, which he also notes upon in the commentary, like talking about the media savvy of SLA and how they were the forerunners of Al-Quada today. A great interview.

The additional material is rounded up by two deleted scenes, which really are archive footage of the Hibernia Bank Robbery and the sentence reading of the court case.
---




DVD Menus


---
Screen Captures
Captures resized to 800px from 1016px native resolution














DONATIONS Keep DVDBeaver alive:
Mail cheques, money orders, cash to: or CLICK PayPal logo to donate!
Thank You!
Robert Stone's - Neverland:The Rise and Fall of the Symbionese Liberation Army - Guerrilla: The Taking of Patty Hearst - DVD Review Robert Stone Neverland The Rise and Fall of the Symbionese Liberation Army Guerrilla The Taking of Patty Hearst DVD Review Robert Stone Neverland The Rise and Fall of the Symbionese Liberation Army Guerrilla The Taking of Patty Hearst DVD Review Robert Stone Neverland The Rise and Fall of the Symbionese Liberation Army Guerrilla The Taking of Patty Hearst DVD Review Robert Stone Neverland The Rise and Fall of the Symbionese Liberation Army Guerrilla The Taking of Patty Hearst DVD Review Robert Stone Neverland The Rise and Fall of the Symbionese Liberation Army Guerrilla The Taking of Patty Hearst DVD Review Robert Stone Neverland The Rise and Fall of the Symbionese Liberation Army Guerrilla The Taking of Patty Hearst DVD Review Robert Stone Neverland The Rise and Fall of the Symbionese Liberation Army Guerrilla The Taking of Patty Hearst DVD Review Robert Stone Neverland The Rise and Fall of the Symbionese Liberation Army Guerrilla The Taking of Patty Hearst DVD Review Robert Stone's - Neverland:The Rise and Fall of the Symbionese Liberation Army - Guerrilla: The Taking of Patty Hearst - DVD Review Robert Stone Neverland The Rise and Fall of the Symbionese Liberation Army Guerrilla The Taking of Patty Hearst DVD Review Robert Stone Neverland The Rise and Fall of the Symbionese Liberation Army Guerrilla The Taking of Patty Hearst DVD Review Robert Stone Neverland The Rise and Fall of the Symbionese Liberation Army Guerrilla The Taking of Patty Hearst DVD Review Robert Stone Neverland The Rise and Fall of the Symbionese Liberation Army Guerrilla The Taking of Patty Hearst DVD Review Robert Stone Neverland The Rise and Fall of the Symbionese Liberation Army Guerrilla The Taking of Patty Hearst DVD Review Robert Stone Neverland The Rise and Fall of the Symbionese Liberation Army Guerrilla The Taking of Patty Hearst DVD Review Robert Stone Neverland The Rise and Fall of the Symbionese Liberation Army Guerrilla The Taking of Patty Hearst DVD Review Robert Stone Neverland The Rise and Fall of the Symbionese Liberation Army Guerrilla The Taking of Patty Hearst DVD Review Robert Stone's - Neverland:The Rise and Fall of the Symbionese Liberation Army - Guerrilla: The Taking of Patty Hearst - DVD Review Robert Stone Neverland The Rise and Fall of the Symbionese Liberation Army Guerrilla The Taking of Patty Hearst DVD Review Robert Stone Neverland The Rise and Fall of the Symbionese Liberation Army Guerrilla The Taking of Patty Hearst DVD Review Robert Stone Neverland The Rise and Fall of the Symbionese Liberation Army Guerrilla The Taking of Patty Hearst DVD Review Robert Stone Neverland The Rise and Fall of the Symbionese Liberation Army Guerrilla The Taking of Patty Hearst DVD Review Robert Stone Neverland The Rise and Fall of the Symbionese Liberation Army Guerrilla The Taking of Patty Hearst DVD Review Robert Stone Neverland The Rise and Fall of the Symbionese Liberation Army Guerrilla The Taking of Patty Hearst DVD Review Robert Stone Neverland The Rise and Fall of the Symbionese Liberation Army Guerrilla The Taking of Patty Hearst DVD Review Robert Stone Neverland The Rise and Fall of the Symbionese Liberation Army Guerrilla The Taking of Patty Hearst DVD Review Robert Stone's - Neverland:The Rise and Fall of the Symbionese Liberation Army - Guerrilla: The Taking of Patty Hearst - DVD Review Robert Stone Neverland The Rise and Fall of the Symbionese Liberation Army Guerrilla The Taking of Patty Hearst DVD Review Robert Stone Neverland The Rise and Fall of the Symbionese Liberation Army Guerrilla The Taking of Patty Hearst DVD Review Robert Stone Neverland The Rise and Fall of the Symbionese Liberation Army Guerrilla The Taking of Patty Hearst DVD Review Robert Stone Neverland The Rise and Fall of the Symbionese Liberation Army Guerrilla The Taking of Patty Hearst DVD Review Robert Stone Neverland The Rise and Fall of the Symbionese Liberation Army Guerrilla The Taking of Patty Hearst DVD Review Robert Stone Neverland The Rise and Fall of the Symbionese Liberation Army Guerrilla The Taking of Patty Hearst DVD Review Robert Stone Neverland The Rise and Fall of the Symbionese Liberation Army Guerrilla The Taking of Patty Hearst DVD Review Robert Stone Neverland The Rise and Fall of the Symbionese Liberation Army Guerrilla The Taking of Patty Hearst DVD Review Robert Stone's - Neverland:The Rise and Fall of the Symbionese Liberation Army - Guerrilla: The Taking of Patty Hearst - DVD Review Robert Stone Neverland The Rise and Fall of the Symbionese Liberation Army Guerrilla The Taking of Patty Hearst DVD Review Robert Stone Neverland The Rise and Fall of the Symbionese Liberation Army Guerrilla The Taking of Patty Hearst DVD Review Robert Stone Neverland The Rise and Fall of the Symbionese Liberation Army Guerrilla The Taking of Patty Hearst DVD Review Robert Stone Neverland The Rise and Fall of the Symbionese Liberation Army Guerrilla The Taking of Patty Hearst DVD Review Robert Stone Neverland The Rise and Fall of the Symbionese Liberation Army Guerrilla The Taking of Patty Hearst DVD Review Robert Stone Neverland The Rise and Fall of the Symbionese Liberation Army Guerrilla The Taking of Patty Hearst DVD Review Robert Stone Neverland The Rise and Fall of the Symbionese Liberation Army Guerrilla The Taking of Patty Hearst DVD Review Robert Stone Neverland The Rise and Fall of the Symbionese Liberation Army Guerrilla The Taking of Patty Hearst DVD Review Robert Stone's - Neverland:The Rise and Fall of the Symbionese Liberation Army - Guerrilla: The Taking of Patty Hearst - DVD Review Robert Stone Neverland The Rise and Fall of the Symbionese Liberation Army Guerrilla The Taking of Patty Hearst DVD Review Robert Stone Neverland The Rise and Fall of the Symbionese Liberation Army Guerrilla The Taking of Patty Hearst DVD Review Robert Stone Neverland The Rise and Fall of the Symbionese Liberation Army Guerrilla The Taking of Patty Hearst DVD Review Robert Stone Neverland The Rise and Fall of the Symbionese Liberation Army Guerrilla The Taking of Patty Hearst DVD Review Robert Stone Neverland The Rise and Fall of the Symbionese Liberation Army Guerrilla The Taking of Patty Hearst DVD Review Robert Stone Neverland The Rise and Fall of the Symbionese Liberation Army Guerrilla The Taking of Patty Hearst DVD Review Robert Stone Neverland The Rise and Fall of the Symbionese Liberation Army Guerrilla The Taking of Patty Hearst DVD Review Robert Stone Neverland The Rise and Fall of the Symbionese Liberation Army Guerrilla The Taking of Patty Hearst DVD Review Robert Stone's - Neverland:The Rise and Fall of the Symbionese Liberation Army - Guerrilla: The Taking of Patty Hearst - DVD Review Robert Stone Neverland The Rise and Fall of the Symbionese Liberation Army Guerrilla The Taking of Patty Hearst DVD Review Robert Stone Neverland The Rise and Fall of the Symbionese Liberation Army Guerrilla The Taking of Patty Hearst DVD Review Robert Stone Neverland The Rise and Fall of the Symbionese Liberation Army Guerrilla The Taking of Patty Hearst DVD Review Robert Stone Neverland The Rise and Fall of the Symbionese Liberation Army Guerrilla The Taking of Patty Hearst DVD Review Robert Stone Neverland The Rise and Fall of the Symbionese Liberation Army Guerrilla The Taking of Patty Hearst DVD Review Robert Stone Neverland The Rise and Fall of the Symbionese Liberation Army Guerrilla The Taking of Patty Hearst DVD Review Robert Stone Neverland The Rise and Fall of the Symbionese Liberation Army Guerrilla The Taking of Patty Hearst DVD Review Robert Stone Neverland The Rise and Fall of the Symbionese Liberation Army Guerrilla The Taking of Patty Hearst DVD Review Robert Stone's - Neverland:The Rise and Fall of the Symbionese Liberation Army - Guerrilla: The Taking of Patty Hearst - DVD Review Robert Stone Neverland The Rise and Fall of the Symbionese Liberation Army Guerrilla The Taking of Patty Hearst DVD Review Robert Stone Neverland The Rise and Fall of the Symbionese Liberation Army Guerrilla The Taking of Patty Hearst DVD Review Robert Stone Neverland The Rise and Fall of the Symbionese Liberation Army Guerrilla The Taking of Patty Hearst DVD Review Robert Stone Neverland The Rise and Fall of the Symbionese Liberation Army Guerrilla The Taking of Patty Hearst DVD Review Robert Stone Neverland The Rise and Fall of the Symbionese Liberation Army Guerrilla The Taking of Patty Hearst DVD Review Robert Stone Neverland The Rise and Fall of the Symbionese Liberation Army Guerrilla The Taking of Patty Hearst DVD Review Robert Stone Neverland The Rise and Fall of the Symbionese Liberation Army Guerrilla The Taking of Patty Hearst DVD Review Robert Stone Neverland The Rise and Fall of the Symbionese Liberation Army Guerrilla The Taking of Patty Hearst DVD Review Robert Stone's - Neverland:The Rise and Fall of the Symbionese Liberation Army - Guerrilla: The Taking of Patty Hearst - DVD Review Robert Stone Neverland The Rise and Fall of the Symbionese Liberation Army Guerrilla The Taking of Patty Hearst DVD Review Robert Stone Neverland The Rise and Fall of the Symbionese Liberation Army Guerrilla The Taking of Patty Hearst DVD Review Robert Stone Neverland The Rise and Fall of the Symbionese Liberation Army Guerrilla The Taking of Patty Hearst DVD Review Robert Stone Neverland The Rise and Fall of the Symbionese Liberation Army Guerrilla The Taking of Patty Hearst DVD Review Robert Stone Neverland The Rise and Fall of the Symbionese Liberation Army Guerrilla The Taking of Patty Hearst DVD Review Robert Stone Neverland The Rise and Fall of the Symbionese Liberation Army Guerrilla The Taking of Patty Hearst DVD Review Robert Stone Neverland The Rise and Fall of the Symbionese Liberation Army Guerrilla The Taking of Patty Hearst DVD Review Robert Stone Neverland The Rise and Fall of the Symbionese Liberation Army Guerrilla The Taking of Patty Hearst DVD Review Robert Stone's - Neverland:The Rise and Fall of the Symbionese Liberation Army - Guerrilla: The Taking of Patty Hearst - DVD Review Robert Stone Neverland The Rise and Fall of the Symbionese Liberation Army Guerrilla The Taking of Patty Hearst DVD Review Robert Stone Neverland The Rise and Fall of the Symbionese Liberation Army Guerrilla The Taking of Patty Hearst DVD Review Robert Stone Neverland The Rise and Fall of the Symbionese Liberation Army Guerrilla The Taking of Patty Hearst DVD Review Robert Stone Neverland The Rise and Fall of the Symbionese Liberation Army Guerrilla The Taking of Patty Hearst DVD Review Robert Stone Neverland The Rise and Fall of the Symbionese Liberation Army Guerrilla The Taking of Patty Hearst DVD Review Robert Stone Neverland The Rise and Fall of the Symbionese Liberation Army Guerrilla The Taking of Patty Hearst DVD Review Robert Stone Neverland The Rise and Fall of the Symbionese Liberation Army Guerrilla The Taking of Patty Hearst DVD Review Robert Stone Neverland The Rise and Fall of the Symbionese Liberation Army Guerrilla The Taking of Patty Hearst DVD Review Robert Stone's - Neverland:The Rise and Fall of the Symbionese Liberation Army - Guerrilla: The Taking of Patty Hearst - DVD Review Robert Stone Neverland The Rise and Fall of the Symbionese Liberation Army Guerrilla The Taking of Patty Hearst DVD Review Robert Stone Neverland The Rise and Fall of the Symbionese Liberation Army Guerrilla The Taking of Patty Hearst DVD Review Robert Stone Neverland The Rise and Fall of the Symbionese Liberation Army Guerrilla The Taking of Patty Hearst DVD Review Robert Stone Neverland The Rise and Fall of the Symbionese Liberation Army Guerrilla The Taking of Patty Hearst DVD Review Robert Stone Neverland The Rise and Fall of the Symbionese Liberation Army Guerrilla The Taking of Patty Hearst DVD Review Robert Stone Neverland The Rise and Fall of the Symbionese Liberation Army Guerrilla The Taking of Patty Hearst DVD Review Robert Stone Neverland The Rise and Fall of the Symbionese Liberation Army Guerrilla The Taking of Patty Hearst DVD Review Robert Stone Neverland The Rise and Fall of the Symbionese Liberation Army Guerrilla The Taking of Patty Hearst DVD Review Robert Stone's - Neverland:The Rise and Fall of the Symbionese Liberation Army - Guerrilla: The Taking of Patty Hearst - DVD Review Robert Stone Neverland The Rise and Fall of the Symbionese Liberation Army Guerrilla The Taking of Patty Hearst DVD Review Robert Stone Neverland The Rise and Fall of the Symbionese Liberation Army Guerrilla The Taking of Patty Hearst DVD Review Robert Stone Neverland The Rise and Fall of the Symbionese Liberation Army Guerrilla The Taking of Patty Hearst DVD Review Robert Stone Neverland The Rise and Fall of the Symbionese Liberation Army Guerrilla The Taking of Patty Hearst DVD Review Robert Stone Neverland The Rise and Fall of the Symbionese Liberation Army Guerrilla The Taking of Patty Hearst DVD Review Robert Stone Neverland The Rise and Fall of the Symbionese Liberation Army Guerrilla The Taking of Patty Hearst DVD Review Robert Stone Neverland The Rise and Fall of the Symbionese Liberation Army Guerrilla The Taking of Patty Hearst DVD Review Robert Stone Neverland The Rise and Fall of the Symbionese Liberation Army Guerrilla The Taking of Patty Hearst DVD Review Robert Stone's - Neverland:The Rise and Fall of the Symbionese Liberation Army - Guerrilla: The Taking of Patty Hearst - DVD Review Robert Stone Neverland The Rise and Fall of the Symbionese Liberation Army Guerrilla The Taking of Patty Hearst DVD Review Robert Stone Neverland The Rise and Fall of the Symbionese Liberation Army Guerrilla The Taking of Patty Hearst DVD Review Robert Stone Neverland The Rise and Fall of the Symbionese Liberation Army Guerrilla The Taking of Patty Hearst DVD Review Robert Stone Neverland The Rise and Fall of the Symbionese Liberation Army Guerrilla The Taking of Patty Hearst DVD Review Robert Stone Neverland The Rise and Fall of the Symbionese Liberation Army Guerrilla The Taking of Patty Hearst DVD Review Robert Stone Neverland The Rise and Fall of the Symbionese Liberation Army Guerrilla The Taking of Patty Hearst DVD Review Robert Stone Neverland The Rise and Fall of the Symbionese Liberation Army Guerrilla The Taking of Patty Hearst DVD Review Robert Stone Neverland The Rise and Fall of the Symbionese Liberation Army Guerrilla The Taking of Patty Hearst DVD Review