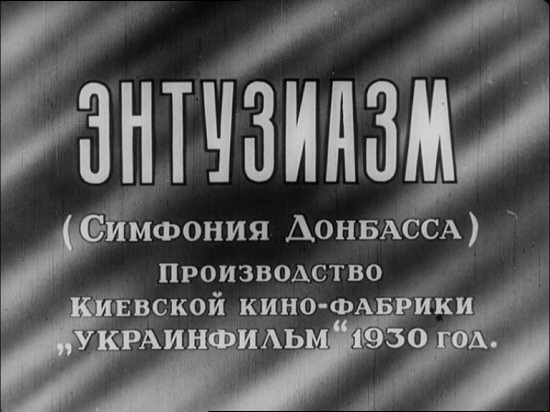 (aka "Simfonija Donbassa" or "Enthusiasm" or "The Dombass Symphony")
directed by Dziga Vertov
Soviet Union 1930
Dziga Vertov's hatred of the narrative film has been well-documented. He was in search of some kind of pure cinema, a kind of international film language that could be understood universally. For this he invented the term 'Kino-Eye', which meant for Vertov that the camera is superior to the human eye and it was only the camera which could record the world as it really was. This doctrine led to Vertov's greatest film 'Man with a Movie Camera' (1929), a radical exploration of the possibilities offered by the Kino-Eye. His style was so radical however it got him in trouble with the Russian authorities who ordered him to temper his style and the result of this 'change' was 'Entuziazm' (1930). People familiar with 'Man with a Movie Camera' will notice many similarities: the same filmic tricks (superimpositions, split-screen, reversal etc.), the same odd camera angles and of course the same reliance on montage, for Vertov remains one of the pioneers of the Soviet Montage Movement. But there is one crucial difference between these two films: Entuziazm is a sound film, where 'Movie Camera' was silent.

The advent of sound only furthered Vertov's interest in the technical possibilities of film, because it opened up a whole new set of possibilities. While not everyone immediately embraced the sound film, it was Dziga Vertov who showed the world the possibilities of the use of sound in film. Vertov uses sound in very imaginative and innovative ways throughout the whole film. In fact, he explores the notion that the sounds of everyday life are just as musical as 'normal' music years before composer John Cage began promoting this idea. 'Entuziazm' is a film in which the images are constructed in close harmony with the sounds, resulting in a close examination of the relationship between image and sound. When looking at this film all these years later, one realizes how little of the possibilities of sound are actually used in most films.

'Entuziazm' may not enjoy the same popularity or critical appeal as 'Man with a Movie Camera', but it is a totally unique and rewarding film in its own way; a masterpiece of both early sound cinema and of the Russian avant-garde.
Theatrical Release: April 2nd , 1931 - Soviet Union
Reviews More Reviews DVD Reviews
DVD Review: Edition Filmmuseum - Region 0 - PAL
DVD Box Cover

CLICK to order from:

Distribution

Edition Filmmuseum

Region 0 - PAL

Runtime
1:05:01
Video

4:3 Original Aspect Ratio

16X9 enhanced
Average Bitrate: 6.97 mb/s
PAL 720x576 25.00 f/s

NOTE: The Vertical axis represents the bits transferred per second. The Horizontal is the time in minutes.

Bitrate

Audio
Mono
Subtitles
German, English (removable)
Features
Release Information:
Studio: Edition Filmmuseum

Aspect Ratio:
Widescreen anamorphic - 4:3

Edition Details:
• DVD 1:
• Entuziazm (restored version) 65'
• Entuziazm (unrestored) 65'
• DVD 2:
• Peter Kubelka: Restoring Entuziazm 65'
• Vertov Filmed in Person 1'
• Vertov Exhibition 1974 12'

DVD Release Date: October 15th, 2005
Keep Case

Chapters - none
Comments
'Entuziazm' is the first release of what will become a series of releases from Edition Filmmuseum, a collaboration between several film museums of the German-speaking parts of Europe. There are two versions of the film here: the unrestored print preserved in the former Soviet Union's Gosfilmofond and the more famous Peter Kubelka restoration from 1972. It is in fact not so much of a restoration as more of a re-synchronization, because the original print is totally out of synch and Kubelka tried to approximate the film Vertov intended it to be. Exactly because this film relies so heavily on sound, the contrast between these two versions is very illuminating, and I am very happy both versions are included here. Other than the re-synchronization, there has been no restoration of the images however, and the result is a pretty damaged film: full of dots, lines and speckles, although it's certainly more than viewable. I asked the Austrian Film Museum why they have done this and I got the following reply:

'We are skeptical, though not opposed to digital image restoration; in this particular case, though, every further manipulation of the original film material (aside from a meticulous cleaning of the print and taking care of the perfect contrast and gradient balance of the
transfer) was out of question since we wanted to preserve and present the film-as-an-artifact, a mutilated and battered testimonial to the fragility and durability of the celluloid medium.'

This totally makes sense of course, especially in the case of this film, which has had a highly tumultuous history. The sound is characteristic of early sound cinema, with again no digital cleaning up, but preserving the original mono as it was intended. The extra's on the second disc are very interesting; the 65 minute documentary in which filmmaker Peter Kubelka discusses his re-synchronization and Vertov's approach to the film is almost worth the money alone. All in all this is a splendid package and very likely the definitive version of this remarkable film, so I'm very much looking out for the upcoming releases of this promising new label. 2005 has already been a great year for avant-garde film on DVD, but this release makes my year yet another bit brighter.
---




DVD Menus

---
Screen Captures
Subtitle sample
---

An example of the damage to the film
---














DONATIONS Keep DVDBeaver alive:
Mail cheques, money orders, cash to: or CLICK PayPal logo to donate!
Thank You
Dziga Vertov's - Entuziazm: Simfoniya Donbassa - DVD Review Dziga Vertov Entuziazm - Simfoniya Donbassa DVD Review Dziga Vertov Entuziazm - Simfoniya Donbassa DVD Review Dziga Vertov Entuziazm - Simfoniya Donbassa DVD Review Dziga Vertov Entuziazm - Simfoniya Donbassa DVD Review Dziga Vertov Entuziazm - Simfoniya Donbassa DVD Review Dziga Vertov Entuziazm - Simfoniya Donbassa DVD Review Dziga Vertov Entuziazm - Simfoniya Donbassa DVD Review Dziga Vertov Entuziazm - Simfoniya Donbassa DVD Review Dziga Vertov Entuziazm - Simfoniya Donbassa DVD Review Dziga Vertov Entuziazm - Simfoniya Donbassa DVD Review Dziga Vertov Entuziazm - Simfoniya Donbassa DVD Review Dziga Vertov Entuziazm - Simfoniya Donbassa DVD Review Dziga Vertov Entuziazm - Simfoniya Donbassa DVD Review Dziga Vertov's - Entuziazm: Simfoniya Donbassa - DVD Review Dziga Vertov Entuziazm - Simfoniya Donbassa DVD Review Dziga Vertov Entuziazm - Simfoniya Donbassa DVD Review Dziga Vertov Entuziazm - Simfoniya Donbassa DVD Review Dziga Vertov Entuziazm - Simfoniya Donbassa DVD Review Dziga Vertov Entuziazm - Simfoniya Donbassa DVD Review Dziga Vertov Entuziazm - Simfoniya Donbassa DVD Review Dziga Vertov Entuziazm - Simfoniya Donbassa DVD Review Dziga Vertov Entuziazm - Simfoniya Donbassa DVD Review Dziga Vertov Entuziazm - Simfoniya Donbassa DVD Review Dziga Vertov Entuziazm - Simfoniya Donbassa DVD Review Dziga Vertov Entuziazm - Simfoniya Donbassa DVD Review Dziga Vertov Entuziazm - Simfoniya Donbassa DVD Review Dziga Vertov Entuziazm - Simfoniya Donbassa DVD Review Dziga Vertov's - Entuziazm: Simfoniya Donbassa - DVD Review Dziga Vertov Entuziazm - Simfoniya Donbassa DVD Review Dziga Vertov Entuziazm - Simfoniya Donbassa DVD Review Dziga Vertov Entuziazm - Simfoniya Donbassa DVD Review Dziga Vertov Entuziazm - Simfoniya Donbassa DVD Review Dziga Vertov Entuziazm - Simfoniya Donbassa DVD Review Dziga Vertov Entuziazm - Simfoniya Donbassa DVD Review Dziga Vertov Entuziazm - Simfoniya Donbassa DVD Review Dziga Vertov Entuziazm - Simfoniya Donbassa DVD Review Dziga Vertov Entuziazm - Simfoniya Donbassa DVD Review Dziga Vertov Entuziazm - Simfoniya Donbassa DVD Review Dziga Vertov Entuziazm - Simfoniya Donbassa DVD Review Dziga Vertov Entuziazm - Simfoniya Donbassa DVD Review Dziga Vertov Entuziazm - Simfoniya Donbassa DVD Review Dziga Vertov's - Entuziazm: Simfoniya Donbassa - DVD Review Dziga Vertov Entuziazm - Simfoniya Donbassa DVD Review Dziga Vertov Entuziazm - Simfoniya Donbassa DVD Review Dziga Vertov Entuziazm - Simfoniya Donbassa DVD Review Dziga Vertov Entuziazm - Simfoniya Donbassa DVD Review Dziga Vertov Entuziazm - Simfoniya Donbassa DVD Review Dziga Vertov Entuziazm - Simfoniya Donbassa DVD Review Dziga Vertov Entuziazm - Simfoniya Donbassa DVD Review Dziga Vertov Entuziazm - Simfoniya Donbassa DVD Review Dziga Vertov Entuziazm - Simfoniya Donbassa DVD Review Dziga Vertov Entuziazm - Simfoniya Donbassa DVD Review Dziga Vertov Entuziazm - Simfoniya Donbassa DVD Review Dziga Vertov Entuziazm - Simfoniya Donbassa DVD Review Dziga Vertov Entuziazm - Simfoniya Donbassa DVD Review Dziga Vertov's - Entuziazm: Simfoniya Donbassa - DVD Review Dziga Vertov Entuziazm - Simfoniya Donbassa DVD Review Dziga Vertov Entuziazm - Simfoniya Donbassa DVD Review Dziga Vertov Entuziazm - Simfoniya Donbassa DVD Review Dziga Vertov Entuziazm - Simfoniya Donbassa DVD Review Dziga Vertov Entuziazm - Simfoniya Donbassa DVD Review Dziga Vertov Entuziazm - Simfoniya Donbassa DVD Review Dziga Vertov Entuziazm - Simfoniya Donbassa DVD Review Dziga Vertov Entuziazm - Simfoniya Donbassa DVD Review Dziga Vertov Entuziazm - Simfoniya Donbassa DVD Review Dziga Vertov Entuziazm - Simfoniya Donbassa DVD Review Dziga Vertov Entuziazm - Simfoniya Donbassa DVD Review Dziga Vertov Entuziazm - Simfoniya Donbassa DVD Review Dziga Vertov Entuziazm - Simfoniya Donbassa DVD Review Dziga Vertov's - Entuziazm: Simfoniya Donbassa - DVD Review Dziga Vertov Entuziazm - Simfoniya Donbassa DVD Review Dziga Vertov Entuziazm - Simfoniya Donbassa DVD Review Dziga Vertov Entuziazm - Simfoniya Donbassa DVD Review Dziga Vertov Entuziazm - Simfoniya Donbassa DVD Review Dziga Vertov Entuziazm - Simfoniya Donbassa DVD Review Dziga Vertov Entuziazm - Simfoniya Donbassa DVD Review Dziga Vertov Entuziazm - Simfoniya Donbassa DVD Review Dziga Vertov Entuziazm - Simfoniya Donbassa DVD Review Dziga Vertov Entuziazm - Simfoniya Donbassa DVD Review Dziga Vertov Entuziazm - Simfoniya Donbassa DVD Review Dziga Vertov Entuziazm - Simfoniya Donbassa DVD Review Dziga Vertov Entuziazm - Simfoniya Donbassa DVD Review Dziga Vertov Entuziazm - Simfoniya Donbassa DVD Review Dziga Vertov's - Entuziazm: Simfoniya Donbassa - DVD Review Dziga Vertov Entuziazm - Simfoniya Donbassa DVD Review Dziga Vertov Entuziazm - Simfoniya Donbassa DVD Review Dziga Vertov Entuziazm - Simfoniya Donbassa DVD Review Dziga Vertov Entuziazm - Simfoniya Donbassa DVD Review Dziga Vertov Entuziazm - Simfoniya Donbassa DVD Review Dziga Vertov Entuziazm - Simfoniya Donbassa DVD Review Dziga Vertov Entuziazm - Simfoniya Donbassa DVD Review Dziga Vertov Entuziazm - Simfoniya Donbassa DVD Review Dziga Vertov Entuziazm - Simfoniya Donbassa DVD Review Dziga Vertov Entuziazm - Simfoniya Donbassa DVD Review Dziga Vertov Entuziazm - Simfoniya Donbassa DVD Review Dziga Vertov Entuziazm - Simfoniya Donbassa DVD Review Dziga Vertov Entuziazm - Simfoniya Donbassa DVD Review Dziga Vertov's - Entuziazm: Simfoniya Donbassa - DVD Review Dziga Vertov Entuziazm - Simfoniya Donbassa DVD Review Dziga Vertov Entuziazm - Simfoniya Donbassa DVD Review Dziga Vertov Entuziazm - Simfoniya Donbassa DVD Review Dziga Vertov Entuziazm - Simfoniya Donbassa DVD Review Dziga Vertov Entuziazm - Simfoniya Donbassa DVD Review Dziga Vertov Entuziazm - Simfoniya Donbassa DVD Review Dziga Vertov Entuziazm - Simfoniya Donbassa DVD Review Dziga Vertov Entuziazm - Simfoniya Donbassa DVD Review Dziga Vertov Entuziazm - Simfoniya Donbassa DVD Review Dziga Vertov Entuziazm - Simfoniya Donbassa DVD Review Dziga Vertov Entuziazm - Simfoniya Donbassa DVD Review Dziga Vertov Entuziazm - Simfoniya Donbassa DVD Review Dziga Vertov Entuziazm - Simfoniya Donbassa DVD Review Dziga Vertov's - Entuziazm: Simfoniya Donbassa - DVD Review Dziga Vertov Entuziazm - Simfoniya Donbassa DVD Review Dziga Vertov Entuziazm - Simfoniya Donbassa DVD Review Dziga Vertov Entuziazm - Simfoniya Donbassa DVD Review Dziga Vertov Entuziazm - Simfoniya Donbassa DVD Review Dziga Vertov Entuziazm - Simfoniya Donbassa DVD Review Dziga Vertov Entuziazm - Simfoniya Donbassa DVD Review Dziga Vertov Entuziazm - Simfoniya Donbassa DVD Review Dziga Vertov Entuziazm - Simfoniya Donbassa DVD Review Dziga Vertov Entuziazm - Simfoniya Donbassa DVD Review Dziga Vertov Entuziazm - Simfoniya Donbassa DVD Review Dziga Vertov Entuziazm - Simfoniya Donbassa DVD Review Dziga Vertov Entuziazm - Simfoniya Donbassa DVD Review Dziga Vertov Entuziazm - Simfoniya Donbassa DVD Review Dziga Vertov's - Entuziazm: Simfoniya Donbassa - DVD Review Dziga Vertov Entuziazm - Simfoniya Donbassa DVD Review Dziga Vertov Entuziazm - Simfoniya Donbassa DVD Review Dziga Vertov Entuziazm - Simfoniya Donbassa DVD Review Dziga Vertov Entuziazm - Simfoniya Donbassa DVD Review Dziga Vertov Entuziazm - Simfoniya Donbassa DVD Review Dziga Vertov Entuziazm - Simfoniya Donbassa DVD Review Dziga Vertov Entuziazm - Simfoniya Donbassa DVD Review Dziga Vertov Entuziazm - Simfoniya Donbassa DVD Review Dziga Vertov Entuziazm - Simfoniya Donbassa DVD Review Dziga Vertov Entuziazm - Simfoniya Donbassa DVD Review Dziga Vertov Entuziazm - Simfoniya Donbassa DVD Review Dziga Vertov Entuziazm - Simfoniya Donbassa DVD Review Dziga Vertov Entuziazm - Simfoniya Donbassa DVD Review Dziga Vertov's - Entuziazm: Simfoniya Donbassa - DVD Review Dziga Vertov Entuziazm - Simfoniya Donbassa DVD Review Dziga Vertov Entuziazm - Simfoniya Donbassa DVD Review Dziga Vertov Entuziazm - Simfoniya Donbassa DVD Review Dziga Vertov Entuziazm - Simfoniya Donbassa DVD Review Dziga Vertov Entuziazm - Simfoniya Donbassa DVD Review Dziga Vertov Entuziazm - Simfoniya Donbassa DVD Review Dziga Vertov Entuziazm - Simfoniya Donbassa DVD Review Dziga Vertov Entuziazm - Simfoniya Donbassa DVD Review Dziga Vertov Entuziazm - Simfoniya Donbassa DVD Review Dziga Vertov Entuziazm - Simfoniya Donbassa DVD Review Dziga Vertov Entuziazm - Simfoniya Donbassa DVD Review Dziga Vertov Entuziazm - Simfoniya Donbassa DVD Review Dziga Vertov Entuziazm - Simfoniya Donbassa DVD Review Dziga Vertov's - Entuziazm: Simfoniya Donbassa - DVD Review Dziga Vertov Entuziazm - Simfoniya Donbassa DVD Review Dziga Vertov Entuziazm - Simfoniya Donbassa DVD Review Dziga Vertov Entuziazm - Simfoniya Donbassa DVD Review Dziga Vertov Entuziazm - Simfoniya Donbassa DVD Review Dziga Vertov Entuziazm - Simfoniya Donbassa DVD Review Dziga Vertov Entuziazm - Simfoniya Donbassa DVD Review Dziga Vertov Entuziazm - Simfoniya Donbassa DVD Review Dziga Vertov Entuziazm - Simfoniya Donbassa DVD Review Dziga Vertov Entuziazm - Simfoniya Donbassa DVD Review Dziga Vertov Entuziazm - Simfoniya Donbassa DVD Review Dziga Vertov Entuziazm - Simfoniya Donbassa DVD Review Dziga Vertov Entuziazm - Simfoniya Donbassa DVD Review Dziga Vertov Entuziazm - Simfoniya Donbassa DVD Review Dziga Vertov's - Entuziazm: Simfoniya Donbassa - DVD Review Dziga Vertov Entuziazm - Simfoniya Donbassa DVD Review Dziga Vertov Entuziazm - Simfoniya Donbassa DVD Review Dziga Vertov Entuziazm - Simfoniya Donbassa DVD Review Dziga Vertov Entuziazm - Simfoniya Donbassa DVD Review Dziga Vertov Entuziazm - Simfoniya Donbassa DVD Review Dziga Vertov Entuziazm - Simfoniya Donbassa DVD Review Dziga Vertov Entuziazm - Simfoniya Donbassa DVD Review Dziga Vertov Entuziazm - Simfoniya Donbassa DVD Review Dziga Vertov Entuziazm - Simfoniya Donbassa DVD Review Dziga Vertov Entuziazm - Simfoniya Donbassa DVD Review Dziga Vertov Entuziazm - Simfoniya Donbassa DVD Review Dziga Vertov Entuziazm - Simfoniya Donbassa DVD Review Dziga Vertov Entuziazm - Simfoniya Donbassa DVD Review Dziga Vertov's - Entuziazm: Simfoniya Donbassa - DVD Review Dziga Vertov Entuziazm - Simfoniya Donbassa DVD Review Dziga Vertov Entuziazm - Simfoniya Donbassa DVD Review Dziga Vertov Entuziazm - Simfoniya Donbassa DVD Review Dziga Vertov Entuziazm - Simfoniya Donbassa DVD Review Dziga Vertov Entuziazm - Simfoniya Donbassa DVD Review Dziga Vertov Entuziazm - Simfoniya Donbassa DVD Review Dziga Vertov Entuziazm - Simfoniya Donbassa DVD Review Dziga Vertov Entuziazm - Simfoniya Donbassa DVD Review Dziga Vertov Entuziazm - Simfoniya Donbassa DVD Review Dziga Vertov Entuziazm - Simfoniya Donbassa DVD Review Dziga Vertov Entuziazm - Simfoniya Donbassa DVD Review Dziga Vertov Entuziazm - Simfoniya Donbassa DVD Review Dziga Vertov Entuziazm - Simfoniya Donbassa DVD Review Dziga Vertov's - Entuziazm: Simfoniya Donbassa - DVD Review Dziga Vertov Entuziazm - Simfoniya Donbassa DVD Review Dziga Vertov Entuziazm - Simfoniya Donbassa DVD Review Dziga Vertov Entuziazm - Simfoniya Donbassa DVD Review Dziga Vertov Entuziazm - Simfoniya Donbassa DVD Review Dziga Vertov Entuziazm - Simfoniya Donbassa DVD Review Dziga Vertov Entuziazm - Simfoniya Donbassa DVD Review Dziga Vertov Entuziazm - Simfoniya Donbassa DVD Review Dziga Vertov Entuziazm - Simfoniya Donbassa DVD Review Dziga Vertov Entuziazm - Simfoniya Donbassa DVD Review Dziga Vertov Entuziazm - Simfoniya Donbassa DVD Review Dziga Vertov Entuziazm - Simfoniya Donbassa DVD Review Dziga Vertov Entuziazm - Simfoniya Donbassa DVD Review Dziga Vertov Entuziazm - Simfoniya Donbassa DVD Review