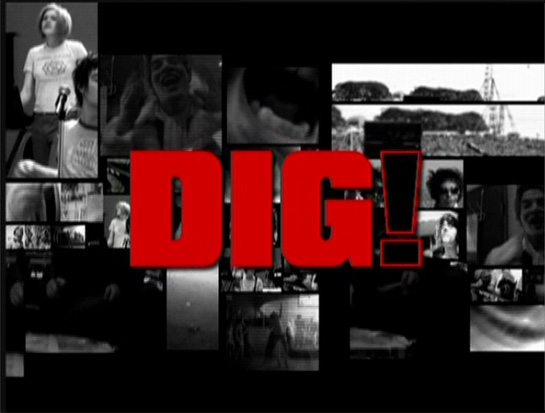 directed by Ondi Timoner
USA 2004
"DiG!" is a miracle of a film. What began in 1995 as a portrait of Anton Newcombe, leader of the Brian Jonestown Massacre, and Courtney Taylor, leader of the Dandy Warhols, whom at that time was intimate friends, developed as into a portrait of two bands, one lead by a genius, with a self destructive ego, another by a lesser genius, who chose to sell "a little out" and become rich and famous.

Documentarist Ondi Timoner began the project as the idea for a TV-aimed series about ten bands, but after only a few months, it was clear to her, that only two bands had potential and they were the ones show chose to follow in an attempt to document a band just before their breaking-thru moment, just before the moment where they sign up with a major label and after. Timoners intention was to follow an event unfolding, later to recreate it as documentary film.

But doing so, she could not have known what she was recording, which in retrospect is nothing less than, history evolving. "DiG!" portraits the introduction of an entire new movement in music, the early days of the revolution, where everything is a post-modern homage to the sixties, or as one studio exec says, "It is so retro, it's the future."

The timing for "DiG!" was also perfect, as it was completed during the up of the current documentary and reality craze, but also because the Dandy Warhols were really beginning to hitting it big time.

With everything coming together, "DiG!" is the best documentary about music I have ever seen. The style and form of Newcombe and Taylor apart, the portrait of how musical genius and suicidal self destructive ego clash with the industry and its ideas about success, of how and what success is and demands, and at what cost success comes, has never been depicted as brutal and honest as here. But more than just being reality captured and reconstructed, Timoner has arranged it with comments by industry and music people, thus made it accessible to everyone. "DiG!" is a miracle of a film.

Poster
Theatrical Release: January 18, 2004 (Sundance Film Festival)
Reviews More Reviews DVD Reviews
DVD Review: Tartan - Region 0 - PAL
Big thanks to Henrik Sylow for the Review!
DVD Box Cover

CLICK to order from:

Distribution

Tartan

Region 0 - PAL

Runtime
1:47:09
Video

1.33:1 Original Aspect Ratio
Average Bitrate: mb/s
PAL 720x576 25.00 f/s

NOTE: The Vertical axis represents the bits transferred per second. The Horizontal is the time in minutes.

Bitrate

Audio
2.0 Dolby Digital English, 5.1 Dolby Digital English, DTS English
Subtitles
English, None
Features
Release Information:
Studio: Tartan

Aspect Ratio:
Fullscreen - 1.33:1

Edition Details:
• Theatrical Trailer (2:11 / 4:3)
• Ondi Timoner interview (15:08 / 4:3)

DVD Release Date: November 14, 2005
Keep Case

Chapters 16
Comments
A direct digital transfer, there are no PAL to NTSC issues. There are however an interlace issue, where even simple movement causes combing.

Recorded on hidden camera, 8mm, 16mm and miniDV, the quality varies a lot, but in general, this is a beautiful image. The images which are recorded on good source have strong colours and are basically picture perfect, and apart from some minor macro blocking, there are no visible artifacts. With the exception of the interlace issue, this is a amazing presentation.

The sound ranges from hidden microphone mono to full blow-out concert stereo recordings. But at all times, dialogue is clear and when in doubt, it is supported by subtitles. The sound bites sound amazing and the music really comes to its potential in the 5.1 Dolby Digital and DTS track. Great sound.

The only negative mark for this DVD is... where are the extras? Apart from a trailer and a brief, but still decent, interview with documentarist Ondi Timoner, this DVD lacks the impressive 3 audio commentaries and about three hours of extras on disc 2 of the Region 1 release. So due to copyright, this DVD has nothing to offer, except great picture and amazing sound - and one incredible film of course.
---




DVD Menus


---
Screen Captures
subtitle sample
Captures in 768 px native resolution
---

demonstration of fixed subtitles in the film during for instance conversations
---














DONATIONS Keep DVDBeaver alive:
Mail cheques, money orders, cash to: or CLICK PayPal logo to donate!
Thank You!
Ondi Timoner's - DiG! - DVD Review Ondi Timoner DiG! DVD Review Ondi Timoner DiG! DVD Review Ondi Timoner DiG! DVD Review Ondi Timoner DiG! DVD Review Ondi Timoner DiG! DVD Review Ondi Timoner DiG! DVD Review Ondi Timoner DiG! DVD Review Ondi Timoner DiG! DVD Review Ondi Timoner DiG! DVD Review Ondi Timoner DiG! DVD Review Ondi Timoner DiG! DVD Review Ondi Timoner DiG! DVD Review Ondi Timoner DiG! DVD Review Ondi Timoner DiG! DVD Review Ondi Timoner DiG! DVD Review Ondi Timoner DiG! DVD Review Ondi Timoner's - DiG! - DVD Review Ondi Timoner DiG! DVD Review Ondi Timoner DiG! DVD Review Ondi Timoner DiG! DVD Review Ondi Timoner DiG! DVD Review Ondi Timoner DiG! DVD Review Ondi Timoner DiG! DVD Review Ondi Timoner DiG! DVD Review Ondi Timoner DiG! DVD Review Ondi Timoner DiG! DVD Review Ondi Timoner DiG! DVD Review Ondi Timoner DiG! DVD Review Ondi Timoner DiG! DVD Review Ondi Timoner DiG! DVD Review Ondi Timoner DiG! DVD Review Ondi Timoner DiG! DVD Review Ondi Timoner DiG! DVD Review Ondi Timoner's - DiG! - DVD Review Ondi Timoner DiG! DVD Review Ondi Timoner DiG! DVD Review Ondi Timoner DiG! DVD Review Ondi Timoner DiG! DVD Review Ondi Timoner DiG! DVD Review Ondi Timoner DiG! DVD Review Ondi Timoner DiG! DVD Review Ondi Timoner DiG! DVD Review Ondi Timoner DiG! DVD Review Ondi Timoner DiG! DVD Review Ondi Timoner DiG! DVD Review Ondi Timoner DiG! DVD Review Ondi Timoner DiG! DVD Review Ondi Timoner DiG! DVD Review Ondi Timoner DiG! DVD Review Ondi Timoner DiG! DVD Review Ondi Timoner's - DiG! - DVD Review Ondi Timoner DiG! DVD Review Ondi Timoner DiG! DVD Review Ondi Timoner DiG! DVD Review Ondi Timoner DiG! DVD Review Ondi Timoner DiG! DVD Review Ondi Timoner DiG! DVD Review Ondi Timoner DiG! DVD Review Ondi Timoner DiG! DVD Review Ondi Timoner DiG! DVD Review Ondi Timoner DiG! DVD Review Ondi Timoner DiG! DVD Review Ondi Timoner DiG! DVD Review Ondi Timoner DiG! DVD Review Ondi Timoner DiG! DVD Review Ondi Timoner DiG! DVD Review Ondi Timoner DiG! DVD Review Ondi Timoner's - DiG! - DVD Review Ondi Timoner DiG! DVD Review Ondi Timoner DiG! DVD Review Ondi Timoner DiG! DVD Review Ondi Timoner DiG! DVD Review Ondi Timoner DiG! DVD Review Ondi Timoner DiG! DVD Review Ondi Timoner DiG! DVD Review Ondi Timoner DiG! DVD Review Ondi Timoner DiG! DVD Review Ondi Timoner DiG! DVD Review Ondi Timoner DiG! DVD Review Ondi Timoner DiG! DVD Review Ondi Timoner DiG! DVD Review Ondi Timoner DiG! DVD Review Ondi Timoner DiG! DVD Review Ondi Timoner DiG! DVD Review Ondi Timoner's - DiG! - DVD Review Ondi Timoner DiG! DVD Review Ondi Timoner DiG! DVD Review Ondi Timoner DiG! DVD Review Ondi Timoner DiG! DVD Review Ondi Timoner DiG! DVD Review Ondi Timoner DiG! DVD Review Ondi Timoner DiG! DVD Review Ondi Timoner DiG! DVD Review Ondi Timoner DiG! DVD Review Ondi Timoner DiG! DVD Review Ondi Timoner DiG! DVD Review Ondi Timoner DiG! DVD Review Ondi Timoner DiG! DVD Review Ondi Timoner DiG! DVD Review Ondi Timoner DiG! DVD Review Ondi Timoner DiG! DVD Review Ondi Timoner's - DiG! - DVD Review Ondi Timoner DiG! DVD Review Ondi Timoner DiG! DVD Review Ondi Timoner DiG! DVD Review Ondi Timoner DiG! DVD Review Ondi Timoner DiG! DVD Review Ondi Timoner DiG! DVD Review Ondi Timoner DiG! DVD Review Ondi Timoner DiG! DVD Review Ondi Timoner DiG! DVD Review Ondi Timoner DiG! DVD Review Ondi Timoner DiG! DVD Review Ondi Timoner DiG! DVD Review Ondi Timoner DiG! DVD Review Ondi Timoner DiG! DVD Review Ondi Timoner DiG! DVD Review Ondi Timoner DiG! DVD Review Ondi Timoner's - DiG! - DVD Review Ondi Timoner DiG! DVD Review Ondi Timoner DiG! DVD Review Ondi Timoner DiG! DVD Review Ondi Timoner DiG! DVD Review Ondi Timoner DiG! DVD Review Ondi Timoner DiG! DVD Review Ondi Timoner DiG! DVD Review Ondi Timoner DiG! DVD Review Ondi Timoner DiG! DVD Review Ondi Timoner DiG! DVD Review Ondi Timoner DiG! DVD Review Ondi Timoner DiG! DVD Review Ondi Timoner DiG! DVD Review Ondi Timoner DiG! DVD Review Ondi Timoner DiG! DVD Review Ondi Timoner DiG! DVD Review Ondi Timoner's - DiG! - DVD Review Ondi Timoner DiG! DVD Review Ondi Timoner DiG! DVD Review Ondi Timoner DiG! DVD Review Ondi Timoner DiG! DVD Review Ondi Timoner DiG! DVD Review Ondi Timoner DiG! DVD Review Ondi Timoner DiG! DVD Review Ondi Timoner DiG! DVD Review Ondi Timoner DiG! DVD Review Ondi Timoner DiG! DVD Review Ondi Timoner DiG! DVD Review Ondi Timoner DiG! DVD Review Ondi Timoner DiG! DVD Review Ondi Timoner DiG! DVD Review Ondi Timoner DiG! DVD Review Ondi Timoner DiG! DVD Review Ondi Timoner's - DiG! - DVD Review Ondi Timoner DiG! DVD Review Ondi Timoner DiG! DVD Review Ondi Timoner DiG! DVD Review Ondi Timoner DiG! DVD Review Ondi Timoner DiG! DVD Review Ondi Timoner DiG! DVD Review Ondi Timoner DiG! DVD Review Ondi Timoner DiG! DVD Review Ondi Timoner DiG! DVD Review Ondi Timoner DiG! DVD Review Ondi Timoner DiG! DVD Review Ondi Timoner DiG! DVD Review Ondi Timoner DiG! DVD Review Ondi Timoner DiG! DVD Review Ondi Timoner DiG! DVD Review Ondi Timoner DiG! DVD Review Ondi Timoner's - DiG! - DVD Review Ondi Timoner DiG! DVD Review Ondi Timoner DiG! DVD Review Ondi Timoner DiG! DVD Review Ondi Timoner DiG! DVD Review Ondi Timoner DiG! DVD Review Ondi Timoner DiG! DVD Review Ondi Timoner DiG! DVD Review Ondi Timoner DiG! DVD Review Ondi Timoner DiG! DVD Review Ondi Timoner DiG! DVD Review Ondi Timoner DiG! DVD Review Ondi Timoner DiG! DVD Review Ondi Timoner DiG! DVD Review Ondi Timoner DiG! DVD Review Ondi Timoner DiG! DVD Review Ondi Timoner DiG! DVD Review Ondi Timoner's - DiG! - DVD Review Ondi Timoner DiG! DVD Review Ondi Timoner DiG! DVD Review Ondi Timoner DiG! DVD Review Ondi Timoner DiG! DVD Review Ondi Timoner DiG! DVD Review Ondi Timoner DiG! DVD Review Ondi Timoner DiG! DVD Review Ondi Timoner DiG! DVD Review Ondi Timoner DiG! DVD Review Ondi Timoner DiG! DVD Review Ondi Timoner DiG! DVD Review Ondi Timoner DiG! DVD Review Ondi Timoner DiG! DVD Review Ondi Timoner DiG! DVD Review Ondi Timoner DiG! DVD Review Ondi Timoner DiG! DVD Review Ondi Timoner's - DiG! - DVD Review Ondi Timoner DiG! DVD Review Ondi Timoner DiG! DVD Review Ondi Timoner DiG! DVD Review Ondi Timoner DiG! DVD Review Ondi Timoner DiG! DVD Review Ondi Timoner DiG! DVD Review Ondi Timoner DiG! DVD Review Ondi Timoner DiG! DVD Review Ondi Timoner DiG! DVD Review Ondi Timoner DiG! DVD Review Ondi Timoner DiG! DVD Review Ondi Timoner DiG! DVD Review Ondi Timoner DiG! DVD Review Ondi Timoner DiG! DVD Review Ondi Timoner DiG! DVD Review Ondi Timoner DiG! DVD Review Ondi Timoner's - DiG! - DVD Review Ondi Timoner DiG! DVD Review Ondi Timoner DiG! DVD Review Ondi Timoner DiG! DVD Review Ondi Timoner DiG! DVD Review Ondi Timoner DiG! DVD Review Ondi Timoner DiG! DVD Review Ondi Timoner DiG! DVD Review Ondi Timoner DiG! DVD Review Ondi Timoner DiG! DVD Review Ondi Timoner DiG! DVD Review Ondi Timoner DiG! DVD Review Ondi Timoner DiG! DVD Review Ondi Timoner DiG! DVD Review Ondi Timoner DiG! DVD Review Ondi Timoner DiG! DVD Review Ondi Timoner DiG! DVD Review Ondi Timoner's - DiG! - DVD Review Ondi Timoner DiG! DVD Review Ondi Timoner DiG! DVD Review Ondi Timoner DiG! DVD Review Ondi Timoner DiG! DVD Review Ondi Timoner DiG! DVD Review Ondi Timoner DiG! DVD Review Ondi Timoner DiG! DVD Review Ondi Timoner DiG! DVD Review Ondi Timoner DiG! DVD Review Ondi Timoner DiG! DVD Review Ondi Timoner DiG! DVD Review Ondi Timoner DiG! DVD Review Ondi Timoner DiG! DVD Review Ondi Timoner DiG! DVD Review Ondi Timoner DiG! DVD Review Ondi Timoner DiG! DVD Review Ondi Timoner's - DiG! - DVD Review Ondi Timoner DiG! DVD Review Ondi Timoner DiG! DVD Review Ondi Timoner DiG! DVD Review Ondi Timoner DiG! DVD Review Ondi Timoner DiG! DVD Review Ondi Timoner DiG! DVD Review Ondi Timoner DiG! DVD Review Ondi Timoner DiG! DVD Review Ondi Timoner DiG! DVD Review Ondi Timoner DiG! DVD Review Ondi Timoner DiG! DVD Review Ondi Timoner DiG! DVD Review Ondi Timoner DiG! DVD Review Ondi Timoner DiG! DVD Review Ondi Timoner DiG! DVD Review Ondi Timoner DiG! DVD Review