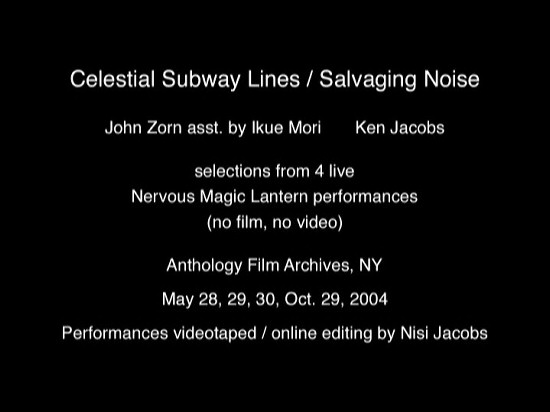 directed by Ken Jacobs
USA 2005
Long before the invention of film, there was an optic toy called the Magic Lantern, which was able to create an optic illusion through light and shadows. Ken Jacobs adopted this technique in his Nervous Magic Lantern films. In these films, Jacobs (who has been at the forefront of the New York underground scene since the late '50s and whose best-known works include 'Star Spangled to Death' and 'Tom, Tom the Piper's Son') combines the optic illusion of the Magic Lantern with a stroboscopic effect as to create an ingenious play of shadows and light, which conjures up the most beautiful images. No video or film is used in the making of these 'films', just projected light and images.

Because stroboscopic effects are used during the whole film, there's not one single continuous shot that lasts more than one second. Because of this, the already complex configurations of light and shadow start to take on many forms and shapes and gradually you literally start 'seeing things'. It's basically the same thing as when you're watching clouds for a long period. After a while you start seeing things in these clouds (various animals etc.) you didn't see before and these images can be completely different to the person next to you. The whole experience is aided considerably by the electronic noise soundtrack, improvised on the spot by legendary avant-garde musicians John Zorn and Ikue Mori. It's basically one long continuous soundscape, which grows more dense, heavy and disorientating when the film progresses. The effect of this music can be compared to the effect of a Merzbow record: when you listen to this for a long period on a very high volume, your brain gets completely scrambled and eventually you come to a point where the brain doesn't register anything at all anymore (this, of course, is a temporary effect). When you get beyond this point however, you start seeing and hearing things that aren't possible in a 'normal' mental state. It's like taking drugs, so to speak.

Thanks to the extreme nature of this film, it's only suitable for a very small audience. People with epilepsy should avoid this film in any case, as should anyone who isn't interested in the outer regions of filmmaking. If you are very open-minded however and dare to immerse yourself in this work, you'll find much beauty in it. It's an invigorating experience that you'll find yourself returning to over and over again.
DVD Review: Tzadik/Koch Entertainment - Region 0 - NTSC
DVD Box Cover

CLICK to order from:

Distribution

Tzadik/Koch Entertainment

Region 0 - NTSC

Runtime
1:07:54
Video

1:33 Original Aspect Ratio
Average Bitrate: 7.60 mb/s
NTSC 720x480 29.97 f/s

NOTE: The Vertical axis represents the bits transferred per second. The Horizontal is the time in minutes.

Bitrate

Audio
English (Dolby Digital 2.0)
Subtitles
None
Features
Release Information:
Studio: Tzadik/Koch Entertainment

Aspect Ratio:
Fullscreen - 1:33

Edition Details:
• Liner notes

DVD Release Date: October 4th, 2005
Digi-pak

Chapters 9
| | |
| --- | --- |
| Comments | This DVD offers a selection of four live Nervous Magic Lantern performances, which were videotaped and edited together, so it plays like one continuous film. Because of the unusual nature of the film, one can't say anything conclusive about the image quality, but this DVD was made in close collaboration with Ken Jacobs, so you can assume this DVD is true to the nature of the material. The quality of the music is as good as you would expect, although it's probably not for the squeamish, but that qualification is applicable to this whole DVD. Especially given the limited amount of avant-garde cinema available on DVD, I'm very happy with this release and many kudos to John Zorn and his Tzadik company for bringing us this DVD. |
---




DVD Menus

---
Screen Captures














DONATIONS Keep DVDBeaver alive:
Mail cheques, money orders, cash to: or CLICK PayPal logo to donate!
Thank You!
Ken Jacobs' - Celestial Subway Lines - DVD Review Ken Jacobs Celestial Subway Lines DVD Review Ken Jacobs Celestial Subway Lines DVD Review Ken Jacobs Celestial Subway Lines DVD Review Ken Jacobs Celestial Subway Lines DVD Review Ken Jacobs Celestial Subway Lines DVD Review Ken Jacobs Celestial Subway Lines DVD Review Ken Jacobs Celestial Subway Lines DVD Review Ken Jacobs Celestial Subway Lines DVD Review Ken Jacobs Celestial Subway Lines DVD Review Ken Jacobs Celestial Subway Lines DVD Review Ken Jacobs' - Celestial Subway Lines - DVD Review Ken Jacobs Celestial Subway Lines DVD Review Ken Jacobs Celestial Subway Lines DVD Review Ken Jacobs Celestial Subway Lines DVD Review Ken Jacobs Celestial Subway Lines DVD Review Ken Jacobs Celestial Subway Lines DVD Review Ken Jacobs Celestial Subway Lines DVD Review Ken Jacobs Celestial Subway Lines DVD Review Ken Jacobs Celestial Subway Lines DVD Review Ken Jacobs Celestial Subway Lines DVD Review Ken Jacobs Celestial Subway Lines DVD Review Ken Jacobs' - Celestial Subway Lines - DVD Review Ken Jacobs Celestial Subway Lines DVD Review Ken Jacobs Celestial Subway Lines DVD Review Ken Jacobs Celestial Subway Lines DVD Review Ken Jacobs Celestial Subway Lines DVD Review Ken Jacobs Celestial Subway Lines DVD Review Ken Jacobs Celestial Subway Lines DVD Review Ken Jacobs Celestial Subway Lines DVD Review Ken Jacobs Celestial Subway Lines DVD Review Ken Jacobs Celestial Subway Lines DVD Review Ken Jacobs Celestial Subway Lines DVD Review Ken Jacobs' - Celestial Subway Lines - DVD Review Ken Jacobs Celestial Subway Lines DVD Review Ken Jacobs Celestial Subway Lines DVD Review Ken Jacobs Celestial Subway Lines DVD Review Ken Jacobs Celestial Subway Lines DVD Review Ken Jacobs Celestial Subway Lines DVD Review Ken Jacobs Celestial Subway Lines DVD Review Ken Jacobs Celestial Subway Lines DVD Review Ken Jacobs Celestial Subway Lines DVD Review Ken Jacobs Celestial Subway Lines DVD Review Ken Jacobs Celestial Subway Lines DVD Review Ken Jacobs' - Celestial Subway Lines - DVD Review Ken Jacobs Celestial Subway Lines DVD Review Ken Jacobs Celestial Subway Lines DVD Review Ken Jacobs Celestial Subway Lines DVD Review Ken Jacobs Celestial Subway Lines DVD Review Ken Jacobs Celestial Subway Lines DVD Review Ken Jacobs Celestial Subway Lines DVD Review Ken Jacobs Celestial Subway Lines DVD Review Ken Jacobs Celestial Subway Lines DVD Review Ken Jacobs Celestial Subway Lines DVD Review Ken Jacobs Celestial Subway Lines DVD Review Ken Jacobs' - Celestial Subway Lines - DVD Review Ken Jacobs Celestial Subway Lines DVD Review Ken Jacobs Celestial Subway Lines DVD Review Ken Jacobs Celestial Subway Lines DVD Review Ken Jacobs Celestial Subway Lines DVD Review Ken Jacobs Celestial Subway Lines DVD Review Ken Jacobs Celestial Subway Lines DVD Review Ken Jacobs Celestial Subway Lines DVD Review Ken Jacobs Celestial Subway Lines DVD Review Ken Jacobs Celestial Subway Lines DVD Review Ken Jacobs Celestial Subway Lines DVD Review Ken Jacobs' - Celestial Subway Lines - DVD Review Ken Jacobs Celestial Subway Lines DVD Review Ken Jacobs Celestial Subway Lines DVD Review Ken Jacobs Celestial Subway Lines DVD Review Ken Jacobs Celestial Subway Lines DVD Review Ken Jacobs Celestial Subway Lines DVD Review Ken Jacobs Celestial Subway Lines DVD Review Ken Jacobs Celestial Subway Lines DVD Review Ken Jacobs Celestial Subway Lines DVD Review Ken Jacobs Celestial Subway Lines DVD Review Ken Jacobs Celestial Subway Lines DVD Review Ken Jacobs' - Celestial Subway Lines - DVD Review Ken Jacobs Celestial Subway Lines DVD Review Ken Jacobs Celestial Subway Lines DVD Review Ken Jacobs Celestial Subway Lines DVD Review Ken Jacobs Celestial Subway Lines DVD Review Ken Jacobs Celestial Subway Lines DVD Review Ken Jacobs Celestial Subway Lines DVD Review Ken Jacobs Celestial Subway Lines DVD Review Ken Jacobs Celestial Subway Lines DVD Review Ken Jacobs Celestial Subway Lines DVD Review Ken Jacobs Celestial Subway Lines DVD Review Ken Jacobs' - Celestial Subway Lines - DVD Review Ken Jacobs Celestial Subway Lines DVD Review Ken Jacobs Celestial Subway Lines DVD Review Ken Jacobs Celestial Subway Lines DVD Review Ken Jacobs Celestial Subway Lines DVD Review Ken Jacobs Celestial Subway Lines DVD Review Ken Jacobs Celestial Subway Lines DVD Review Ken Jacobs Celestial Subway Lines DVD Review Ken Jacobs Celestial Subway Lines DVD Review Ken Jacobs Celestial Subway Lines DVD Review Ken Jacobs Celestial Subway Lines DVD Review Ken Jacobs' - Celestial Subway Lines - DVD Review Ken Jacobs Celestial Subway Lines DVD Review Ken Jacobs Celestial Subway Lines DVD Review Ken Jacobs Celestial Subway Lines DVD Review Ken Jacobs Celestial Subway Lines DVD Review Ken Jacobs Celestial Subway Lines DVD Review Ken Jacobs Celestial Subway Lines DVD Review Ken Jacobs Celestial Subway Lines DVD Review Ken Jacobs Celestial Subway Lines DVD Review Ken Jacobs Celestial Subway Lines DVD Review Ken Jacobs Celestial Subway Lines DVD Review Ken Jacobs' - Celestial Subway Lines - DVD Review Ken Jacobs Celestial Subway Lines DVD Review Ken Jacobs Celestial Subway Lines DVD Review Ken Jacobs Celestial Subway Lines DVD Review Ken Jacobs Celestial Subway Lines DVD Review Ken Jacobs Celestial Subway Lines DVD Review Ken Jacobs Celestial Subway Lines DVD Review Ken Jacobs Celestial Subway Lines DVD Review Ken Jacobs Celestial Subway Lines DVD Review Ken Jacobs Celestial Subway Lines DVD Review Ken Jacobs Celestial Subway Lines DVD Review Ken Jacobs' - Celestial Subway Lines - DVD Review Ken Jacobs Celestial Subway Lines DVD Review Ken Jacobs Celestial Subway Lines DVD Review Ken Jacobs Celestial Subway Lines DVD Review Ken Jacobs Celestial Subway Lines DVD Review Ken Jacobs Celestial Subway Lines DVD Review Ken Jacobs Celestial Subway Lines DVD Review Ken Jacobs Celestial Subway Lines DVD Review Ken Jacobs Celestial Subway Lines DVD Review Ken Jacobs Celestial Subway Lines DVD Review Ken Jacobs Celestial Subway Lines DVD Review Ken Jacobs' - Celestial Subway Lines - DVD Review Ken Jacobs Celestial Subway Lines DVD Review Ken Jacobs Celestial Subway Lines DVD Review Ken Jacobs Celestial Subway Lines DVD Review Ken Jacobs Celestial Subway Lines DVD Review Ken Jacobs Celestial Subway Lines DVD Review Ken Jacobs Celestial Subway Lines DVD Review Ken Jacobs Celestial Subway Lines DVD Review Ken Jacobs Celestial Subway Lines DVD Review Ken Jacobs Celestial Subway Lines DVD Review Ken Jacobs Celestial Subway Lines DVD Review Ken Jacobs' - Celestial Subway Lines - DVD Review Ken Jacobs Celestial Subway Lines DVD Review Ken Jacobs Celestial Subway Lines DVD Review Ken Jacobs Celestial Subway Lines DVD Review Ken Jacobs Celestial Subway Lines DVD Review Ken Jacobs Celestial Subway Lines DVD Review Ken Jacobs Celestial Subway Lines DVD Review Ken Jacobs Celestial Subway Lines DVD Review Ken Jacobs Celestial Subway Lines DVD Review Ken Jacobs Celestial Subway Lines DVD Review Ken Jacobs Celestial Subway Lines DVD Review Ken Jacobs' - Celestial Subway Lines - DVD Review Ken Jacobs Celestial Subway Lines DVD Review Ken Jacobs Celestial Subway Lines DVD Review Ken Jacobs Celestial Subway Lines DVD Review Ken Jacobs Celestial Subway Lines DVD Review Ken Jacobs Celestial Subway Lines DVD Review Ken Jacobs Celestial Subway Lines DVD Review Ken Jacobs Celestial Subway Lines DVD Review Ken Jacobs Celestial Subway Lines DVD Review Ken Jacobs Celestial Subway Lines DVD Review Ken Jacobs Celestial Subway Lines DVD Review Ken Jacobs' - Celestial Subway Lines - DVD Review Ken Jacobs Celestial Subway Lines DVD Review Ken Jacobs Celestial Subway Lines DVD Review Ken Jacobs Celestial Subway Lines DVD Review Ken Jacobs Celestial Subway Lines DVD Review Ken Jacobs Celestial Subway Lines DVD Review Ken Jacobs Celestial Subway Lines DVD Review Ken Jacobs Celestial Subway Lines DVD Review Ken Jacobs Celestial Subway Lines DVD Review Ken Jacobs Celestial Subway Lines DVD Review Ken Jacobs Celestial Subway Lines DVD Review Ken Jacobs' - Celestial Subway Lines - DVD Review Ken Jacobs Celestial Subway Lines DVD Review Ken Jacobs Celestial Subway Lines DVD Review Ken Jacobs Celestial Subway Lines DVD Review Ken Jacobs Celestial Subway Lines DVD Review Ken Jacobs Celestial Subway Lines DVD Review Ken Jacobs Celestial Subway Lines DVD Review Ken Jacobs Celestial Subway Lines DVD Review Ken Jacobs Celestial Subway Lines DVD Review Ken Jacobs Celestial Subway Lines DVD Review Ken Jacobs Celestial Subway Lines DVD Review Ken Jacobs' - Celestial Subway Lines - DVD Review Ken Jacobs Celestial Subway Lines DVD Review Ken Jacobs Celestial Subway Lines DVD Review Ken Jacobs Celestial Subway Lines DVD Review Ken Jacobs Celestial Subway Lines DVD Review Ken Jacobs Celestial Subway Lines DVD Review Ken Jacobs Celestial Subway Lines DVD Review Ken Jacobs Celestial Subway Lines DVD Review Ken Jacobs Celestial Subway Lines DVD Review Ken Jacobs Celestial Subway Lines DVD Review Ken Jacobs Celestial Subway Lines DVD Review Ken Jacobs' - Celestial Subway Lines - DVD Review Ken Jacobs Celestial Subway Lines DVD Review Ken Jacobs Celestial Subway Lines DVD Review Ken Jacobs Celestial Subway Lines DVD Review Ken Jacobs Celestial Subway Lines DVD Review Ken Jacobs Celestial Subway Lines DVD Review Ken Jacobs Celestial Subway Lines DVD Review Ken Jacobs Celestial Subway Lines DVD Review Ken Jacobs Celestial Subway Lines DVD Review Ken Jacobs Celestial Subway Lines DVD Review Ken Jacobs Celestial Subway Lines DVD Review Ken Jacobs' - Celestial Subway Lines - DVD Review Ken Jacobs Celestial Subway Lines DVD Review Ken Jacobs Celestial Subway Lines DVD Review Ken Jacobs Celestial Subway Lines DVD Review Ken Jacobs Celestial Subway Lines DVD Review Ken Jacobs Celestial Subway Lines DVD Review Ken Jacobs Celestial Subway Lines DVD Review Ken Jacobs Celestial Subway Lines DVD Review Ken Jacobs Celestial Subway Lines DVD Review Ken Jacobs Celestial Subway Lines DVD Review Ken Jacobs Celestial Subway Lines DVD Review Ken Jacobs' - Celestial Subway Lines - DVD Review Ken Jacobs Celestial Subway Lines DVD Review Ken Jacobs Celestial Subway Lines DVD Review Ken Jacobs Celestial Subway Lines DVD Review Ken Jacobs Celestial Subway Lines DVD Review Ken Jacobs Celestial Subway Lines DVD Review Ken Jacobs Celestial Subway Lines DVD Review Ken Jacobs Celestial Subway Lines DVD Review Ken Jacobs Celestial Subway Lines DVD Review Ken Jacobs Celestial Subway Lines DVD Review Ken Jacobs Celestial Subway Lines DVD Review