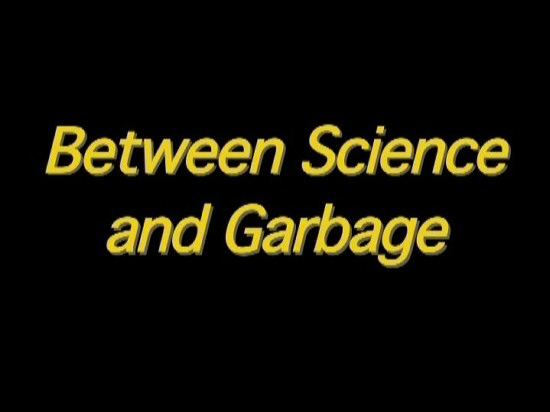 directed by Pierre Hébert & Bob Ostertag
USA/Canada 2003
Pierre Hébert has been pioneering a technique called 'live scratch animation' since the 1980's. With this technique, the animator is able to animate dead objects and drawings during a live performance. The principle is basically very simple: you place an object (say, a miniature fire engine) on different places on the animation screen and from that moment on you're able to create an animated, riding fire engine. The same technique is applied to drawings, food, stones, toys etc. Obviously, the piece begins with almost nothing and as it gradually develops, it becomes more dense and interesting, as more and more things are animated. The result comes across like a strange cross between Jan Svankmajer and Phil Mulloy. The music is provided by sample wizard Bob Ostertag, who uses more or less the same technique, but with sounds instead of visuals. He creates a completely sampled, musique concrète-like, soundtrack to go with the images.

As the creators point out in the liner notes, 'Between Science and Garbage' is a work in constant progress. While there are of course certain basic elements on which the piece is based, the two performers are constantly adding new ideas, allowing the piece to develop and as such, there is no definitive version of this work, nor will there ever be one. The Living Cinema project, as has the total development of this work has been dubbed, started in San Francisco in 1999 and had as major themes food and technology. The work reportedly took a major turn after September 11, 2001, an event which had such an impact it couldn't be left out of the work, as was the case with the Iraq war. In this way, the work is in constant motion, reflecting the sociological en political changes of the time.

The main goal of this project is to reflect the changing world in which it is created. So the two performers certainly want to say something with this work, but at the same time they don't seem to take it too seriously. As a result, 'Between Science and Garbage' is a curious mixture of serious social/political engagement and just plain humor. It's at the same time a true experimental work, as well as a critique on the often too theoretical nature of much avant-garde cinema. But it is exactly this characteristic that prevents the work from achieving truly great heights: while it is an often funny and original work, it is not substantial enough to be rated as a masterpiece. But it's charming nature makes up more than enough for that.
Theatrical Release:
Reviews More Reviews DVD Reviews
DVD Review: Tzadik/Koch Entertainment - Region 0 - NTSC
DVD Box Cover

CLICK to order from:

Distribution

Tzadik/Koch Entertainment

Region 0 - NTSC

Runtime
49:33
Video

4:3 Original Aspect Ratio
Average Bitrate: 7.73 mb/s
NTSC 720x480 29.97 f/s

NOTE: The Vertical axis represents the bits transferred per second. The Horizontal is the time in minutes.

Bitrate

Audio
English (Dolby Digital 2.0)
Subtitles
None
Features
Release Information:
Studio: Tzadik/Koch Entertainment

Aspect Ratio:
Fullscreen - 4:3

Edition Details:
• Liner notes

DVD Release Date: April 27th, 2004
Digi-pak

Chapters 13
| | |
| --- | --- |
| Comments | This DVD presents us with a combination of several live performances, edited together to make it look like one single performance. Because the live performance aspect of this work is so important, this DVD alternates between images of the animated screen and those of the performers, so you get a good impression of how the piece is actually created on the spot. The DVD seems to be a sort of legitimate audience recording, which makes sense because of the emphasis on the live aspect of this work. While the sound is great, the image looks like a videotaped bootleg (see the last capture), but that only adds to the improvisational nature of the work. By no means I would rate this DVD essential, but it certainly is a lot of fun and if you're interested in these kinds of performance art, you should check it out. At any rate, a big thanks to John Zorn and Tzadik for making this available. |
---




DVD Menus
---
Screen Captures














DONATIONS Keep DVDBeaver alive:
Mail cheques, money orders, cash to: or CLICK PayPal logo to donate!
Thank You!
Between Science and Garbage DVD Review Between Science and Garbage DVD Review Between Science and Garbage DVD Review Between Science and Garbage DVD Review Between Science and Garbage DVD Review Between Science and Garbage DVD Review Between Science and Garbage DVD Review Between Science and Garbage DVD Review Between Science and Garbage DVD Review Between Science and Garbage DVD Review Between Science and Garbage DVD Review Between Science and Garbage DVD Review Between Science and Garbage DVD Review Between Science and Garbage DVD Review Between Science and Garbage DVD Review Between Science and Garbage DVD Review Between Science and Garbage DVD Review Between Science and Garbage DVD Review Between Science and Garbage DVD Review Between Science and Garbage DVD Review Between Science and Garbage DVD Review Between Science and Garbage DVD Review Between Science and Garbage DVD Review Between Science and Garbage DVD Review Between Science and Garbage DVD Review Between Science and Garbage DVD Review Between Science and Garbage DVD Review Between Science and Garbage DVD Review Between Science and Garbage DVD Review Between Science and Garbage DVD Review Between Science and Garbage DVD Review Between Science and Garbage DVD Review Between Science and Garbage DVD Review Between Science and Garbage DVD Review Between Science and Garbage DVD Review Between Science and Garbage DVD Review Between Science and Garbage DVD Review Between Science and Garbage DVD Review Between Science and Garbage DVD Review Between Science and Garbage DVD Review Between Science and Garbage DVD Review Between Science and Garbage DVD Review Between Science and Garbage DVD Review Between Science and Garbage DVD Review Between Science and Garbage DVD Review Between Science and Garbage DVD Review Between Science and Garbage DVD Review Between Science and Garbage DVD Review Between Science and Garbage DVD Review Between Science and Garbage DVD Review Between Science and Garbage DVD Review Between Science and Garbage DVD Review Between Science and Garbage DVD Review Between Science and Garbage DVD Review Between Science and Garbage DVD Review Between Science and Garbage DVD Review Between Science and Garbage DVD Review Between Science and Garbage DVD Review Between Science and Garbage DVD Review Between Science and Garbage DVD Review Between Science and Garbage DVD Review Between Science and Garbage DVD Review Between Science and Garbage DVD Review Between Science and Garbage DVD Review Between Science and Garbage DVD Review Between Science and Garbage DVD Review Between Science and Garbage DVD Review Between Science and Garbage DVD Review Between Science and Garbage DVD Review Between Science and Garbage DVD Review Between Science and Garbage DVD Review Between Science and Garbage DVD Review Between Science and Garbage DVD Review Between Science and Garbage DVD Review Between Science and Garbage DVD Review Between Science and Garbage DVD Review Between Science and Garbage DVD Review Between Science and Garbage DVD Review Between Science and Garbage DVD Review Between Science and Garbage DVD Review Between Science and Garbage DVD Review Between Science and Garbage DVD Review Between Science and Garbage DVD Review Between Science and Garbage DVD Review Between Science and Garbage DVD Review Between Science and Garbage DVD Review Between Science and Garbage DVD Review Between Science and Garbage DVD Review Between Science and Garbage DVD Review Between Science and Garbage DVD Review Between Science and Garbage DVD Review Between Science and Garbage DVD Review Between Science and Garbage DVD Review Between Science and Garbage DVD Review Between Science and Garbage DVD Review Between Science and Garbage DVD Review Between Science and Garbage DVD Review Between Science and Garbage DVD Review Between Science and Garbage DVD Review Between Science and Garbage DVD Review Between Science and Garbage DVD Review Between Science and Garbage DVD Review Between Science and Garbage DVD Review Between Science and Garbage DVD Review Between Science and Garbage DVD Review Between Science and Garbage DVD Review Between Science and Garbage DVD Review Between Science and Garbage DVD Review Between Science and Garbage DVD Review Between Science and Garbage DVD Review Between Science and Garbage DVD Review Between Science and Garbage DVD Review Between Science and Garbage DVD Review Between Science and Garbage DVD Review Between Science and Garbage DVD Review Between Science and Garbage DVD Review Between Science and Garbage DVD Review Between Science and Garbage DVD Review Between Science and Garbage DVD Review Between Science and Garbage DVD Review Between Science and Garbage DVD Review Between Science and Garbage DVD Review Between Science and Garbage DVD Review Between Science and Garbage DVD Review Between Science and Garbage DVD Review Between Science and Garbage DVD Review Between Science and Garbage DVD Review Between Science and Garbage DVD Review Between Science and Garbage DVD Review Between Science and Garbage DVD Review Between Science and Garbage DVD Review Between Science and Garbage DVD Review Between Science and Garbage DVD Review Between Science and Garbage DVD Review Between Science and Garbage DVD Review Between Science and Garbage DVD Review Between Science and Garbage DVD Review Between Science and Garbage DVD Review Between Science and Garbage DVD Review Between Science and Garbage DVD Review Between Science and Garbage DVD Review Between Science and Garbage DVD Review Between Science and Garbage DVD Review Between Science and Garbage DVD Review Between Science and Garbage DVD Review Between Science and Garbage DVD Review Between Science and Garbage DVD Review Between Science and Garbage DVD Review Between Science and Garbage DVD Review Between Science and Garbage DVD Review Between Science and Garbage DVD Review Between Science and Garbage DVD Review Between Science and Garbage DVD Review Between Science and Garbage DVD Review Between Science and Garbage DVD Review Between Science and Garbage DVD Review Between Science and Garbage DVD Review Between Science and Garbage DVD Review Between Science and Garbage DVD Review Between Science and Garbage DVD Review Between Science and Garbage DVD Review Between Science and Garbage DVD Review Between Science and Garbage DVD Review Between Science and Garbage DVD Review Between Science and Garbage DVD Review Between Science and Garbage DVD Review Between Science and Garbage DVD Review Between Science and Garbage DVD Review Between Science and Garbage DVD Review Between Science and Garbage DVD Review Between Science and Garbage DVD Review Between Science and Garbage DVD Review Between Science and Garbage DVD Review Between Science and Garbage DVD Review Between Science and Garbage DVD Review Between Science and Garbage DVD Review Between Science and Garbage DVD Review Between Science and Garbage DVD Review Between Science and Garbage DVD Review Between Science and Garbage DVD Review Between Science and Garbage DVD Review Between Science and Garbage DVD Review Between Science and Garbage DVD Review Between Science and Garbage DVD Review Between Science and Garbage DVD Review Between Science and Garbage DVD Review Between Science and Garbage DVD Review Between Science and Garbage DVD Review Between Science and Garbage DVD Review Between Science and Garbage DVD Review Between Science and Garbage DVD Review Between Science and Garbage DVD Review Between Science and Garbage DVD Review Between Science and Garbage DVD Review Between Science and Garbage DVD Review