Directed by Christophe Honoré
France 2004
Ma mère takes place in the Canary Islands, where the film's family shares a home. The mother Hélène (Isabelle Huppert), cool and in charge, and her teenaged son Pierre (Louis Garrel), a pious Catholic back from boarding school, discuss his father's infidelity; the next they hear, he is dead in a car crash. Hélène launches into a wild series of parties, gradually involving her son in her drugging, drinking and sex-fuelled nights out.

When she mysteriously goes away, her son is left in the care of her mistress Réa (Joana Preiss) and Hansi (Emma de Caunes), an icy blonde sadist with whom he falls in love. As the film evolves, we realize that this is a period of initiation for the young man until his mother can return and fully bring him to sexual maturity and adulthood.
Posters
Theatrical Release: May 13th, 2004 - Cannes Film Festicval
Reviews More Reviews DVD Reviews
DVD Review: Mongrel Media / TLA Releasing - Region 1 - NTSC
DVD Box Cover

CLICK to order from:

Distribution
Mongrel Media / TLA Releasing - Region 1 - NTSC
Runtime
1:47:40
Video
1.78:1 Original Aspect Ratio
Average Bitrate: 6.87 mb/s
NTSC 720x480 29.97 f/s

NOTE: The Vertical axis represents the bits transferred per second. The Horizontal is the time in minutes.

Bitrate:

Audio
French (Dolby Digital 2.0)
Subtitles
English, None
Features

Release Information:
Studio: Mongrel Media / TLA Releasing

Aspect Ratio:
Original aspect Ratio 1.78:1

Edition Details:

• Deleted Scene (2:22)
• Interview with Director Christophe Honoré (16:34)
• Interview with Emma de Caunes (11:17)
• Alternate Ending (5:39)
• Theatrical Trailer

• 4 TLA Releasing trailers

DVD Release Date: October 18th, 2005
Keep Case
Chapters: 17
Comments:

This DVD is being released in the US by TLA Releasing and Mongrel Media in Canada. The editions are exactly the same, but our Amazon.com link is for the TLA and Amazon.ca link is for the Mongrel Media edition as that is the most economical method of ordering (not considered an import). The image is not bad at all, colors look good, it has some sharpness, but there is some well-disguised ghosting in motion sequences but I can't positively state that it is from an unconverted PAL source. It certainly looks sharp enough to be progressive. The optional subtitles are clean and readable, if a bit gaudy. Audio is 2-channel and quite consistent. There are numerous extra features including 2 sets of interviews, a deleted scene and an alternate ending. It is a pretty salacious film with one of my favorites - the enigmatic Isabelle Huppert performing at her usual high standard. It certainly isn't hard to determine the core of the film's narrative, so if you are offended by it, surely avoid. Critically panned but you may not think it as hollow as some film journalists. I presume its weaknesses are intended to reflect the emptiness of its central characters.

NOTE: My PAL version (Revolver / UK) is 1:47:44, so the R1 seems to be converted from PAL. IMDb list is as 1:50! (Thanks Pepsi!)
---



DVD Menus

---
Subtitle Sample
Screen Captures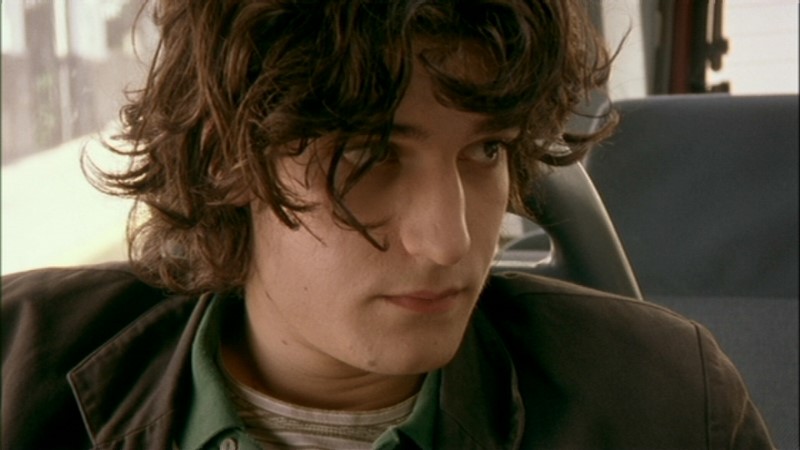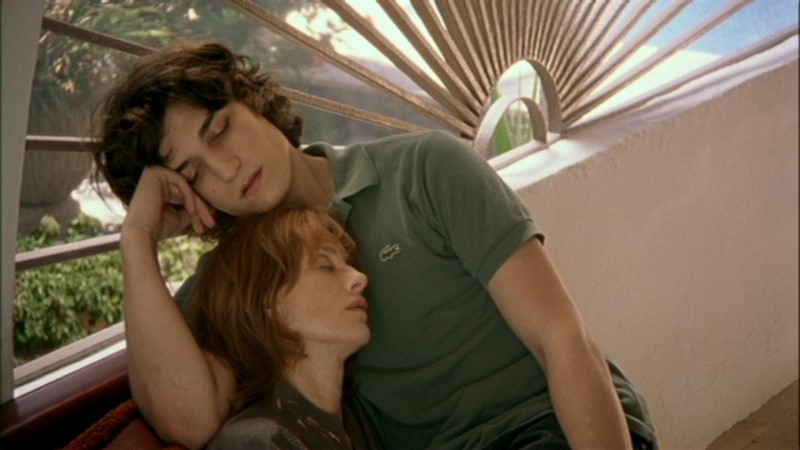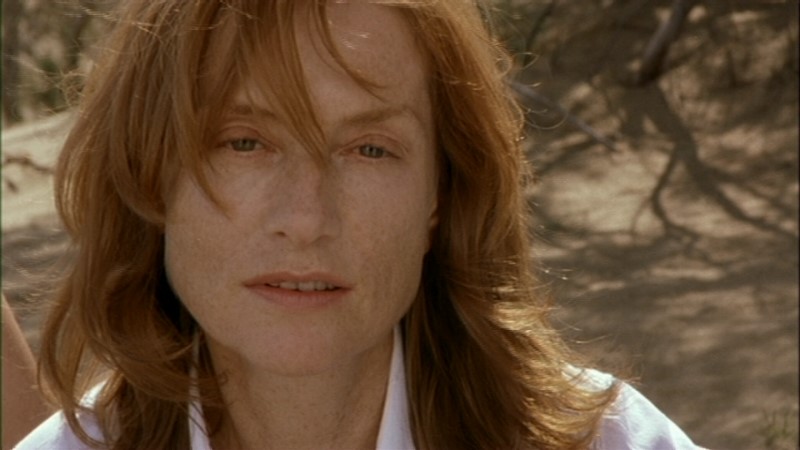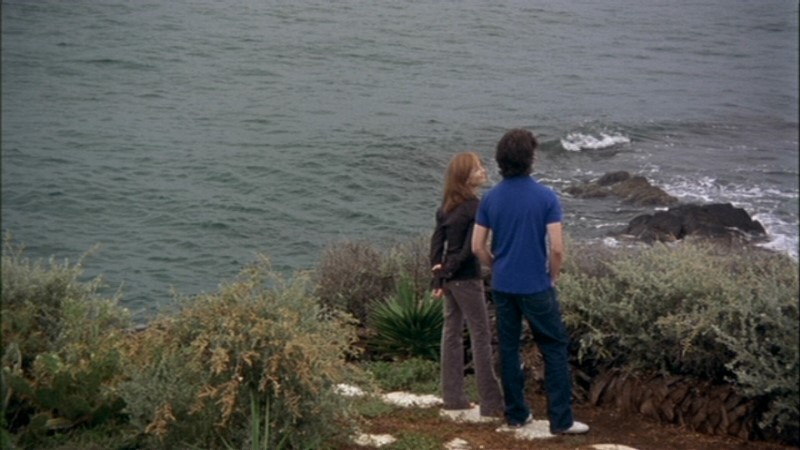 ---
---
Loose ghosting sequences in motions pans
DVD Box Cover

CLICK to order from:

Distribution
Mongrel Media / TLA Releasing - Region 1 - NTSC
---




















DONATIONS Keep DVDBeaver alive:
Mail cheques, money orders, cash to: or CLICK PayPal logo to donate!
Gary Tooze

Mississauga, Ontario,

CANADA
Thank You!
Christophe Honoré's - Ma mère - DVD Review Isabelle Huppert Christophe Honoré Ma mère DVD Review Isabelle Huppert Christophe Honoré Ma mère DVD Review Isabelle Huppert Christophe Honoré Ma mère DVD Review Isabelle Huppert Christophe Honoré Ma mère DVD Review Isabelle Huppert Christophe Honoré Ma mère DVD Review Isabelle Huppert Christophe Honoré Ma mère DVD Review Isabelle Huppert Christophe Honoré Ma mère DVD Review Isabelle Huppert Christophe Honoré Ma mère DVD Review Isabelle Huppert Christophe Honoré Ma mère DVD Review Isabelle Huppert Christophe Honoré's - Ma mère - DVD Review Isabelle Huppert Christophe Honoré Ma mère DVD Review Isabelle Huppert Christophe Honoré Ma mère DVD Review Isabelle Huppert Christophe Honoré Ma mère DVD Review Isabelle Huppert Christophe Honoré Ma mère DVD Review Isabelle Huppert Christophe Honoré Ma mère DVD Review Isabelle Huppert Christophe Honoré Ma mère DVD Review Isabelle Huppert Christophe Honoré Ma mère DVD Review Isabelle Huppert Christophe Honoré Ma mère DVD Review Isabelle Huppert Christophe Honoré Ma mère DVD Review Isabelle Huppert Christophe Honoré's - Ma mère - DVD Review Isabelle Huppert Christophe Honoré Ma mère DVD Review Isabelle Huppert Christophe Honoré Ma mère DVD Review Isabelle Huppert Christophe Honoré Ma mère DVD Review Isabelle Huppert Christophe Honoré Ma mère DVD Review Isabelle Huppert Christophe Honoré Ma mère DVD Review Isabelle Huppert Christophe Honoré Ma mère DVD Review Isabelle Huppert Christophe Honoré Ma mère DVD Review Isabelle Huppert Christophe Honoré Ma mère DVD Review Isabelle Huppert Christophe Honoré Ma mère DVD Review Isabelle Huppert Christophe Honoré's - Ma mère - DVD Review Isabelle Huppert Christophe Honoré Ma mère DVD Review Isabelle Huppert Christophe Honoré Ma mère DVD Review Isabelle Huppert Christophe Honoré Ma mère DVD Review Isabelle Huppert Christophe Honoré Ma mère DVD Review Isabelle Huppert Christophe Honoré Ma mère DVD Review Isabelle Huppert Christophe Honoré Ma mère DVD Review Isabelle Huppert Christophe Honoré Ma mère DVD Review Isabelle Huppert Christophe Honoré Ma mère DVD Review Isabelle Huppert Christophe Honoré Ma mère DVD Review Isabelle Huppert Christophe Honoré's - Ma mère - DVD Review Isabelle Huppert Christophe Honoré Ma mère DVD Review Isabelle Huppert Christophe Honoré Ma mère DVD Review Isabelle Huppert Christophe Honoré Ma mère DVD Review Isabelle Huppert Christophe Honoré Ma mère DVD Review Isabelle Huppert Christophe Honoré Ma mère DVD Review Isabelle Huppert Christophe Honoré Ma mère DVD Review Isabelle Huppert Christophe Honoré Ma mère DVD Review Isabelle Huppert Christophe Honoré Ma mère DVD Review Isabelle Huppert Christophe Honoré Ma mère DVD Review Isabelle Huppert Christophe Honoré's - Ma mère - DVD Review Isabelle Huppert Christophe Honoré Ma mère DVD Review Isabelle Huppert Christophe Honoré Ma mère DVD Review Isabelle Huppert Christophe Honoré Ma mère DVD Review Isabelle Huppert Christophe Honoré Ma mère DVD Review Isabelle Huppert Christophe Honoré Ma mère DVD Review Isabelle Huppert Christophe Honoré Ma mère DVD Review Isabelle Huppert Christophe Honoré Ma mère DVD Review Isabelle Huppert Christophe Honoré Ma mère DVD Review Isabelle Huppert Christophe Honoré Ma mère DVD Review Isabelle Huppert Christophe Honoré's - Ma mère - DVD Review Isabelle Huppert Christophe Honoré Ma mère DVD Review Isabelle Huppert Christophe Honoré Ma mère DVD Review Isabelle Huppert Christophe Honoré Ma mère DVD Review Isabelle Huppert Christophe Honoré Ma mère DVD Review Isabelle Huppert Christophe Honoré Ma mère DVD Review Isabelle Huppert Christophe Honoré Ma mère DVD Review Isabelle Huppert Christophe Honoré Ma mère DVD Review Isabelle Huppert Christophe Honoré Ma mère DVD Review Isabelle Huppert Christophe Honoré Ma mère DVD Review Isabelle Huppert Christophe Honoré's - Ma mère - DVD Review Isabelle Huppert Christophe Honoré Ma mère DVD Review Isabelle Huppert Christophe Honoré Ma mère DVD Review Isabelle Huppert Christophe Honoré Ma mère DVD Review Isabelle Huppert Christophe Honoré Ma mère DVD Review Isabelle Huppert Christophe Honoré Ma mère DVD Review Isabelle Huppert Christophe Honoré Ma mère DVD Review Isabelle Huppert Christophe Honoré Ma mère DVD Review Isabelle Huppert Christophe Honoré Ma mère DVD Review Isabelle Huppert Christophe Honoré Ma mère DVD Review Isabelle Huppert Christophe Honoré's - Ma mère - DVD Review Isabelle Huppert Christophe Honoré Ma mère DVD Review Isabelle Huppert Christophe Honoré Ma mère DVD Review Isabelle Huppert Christophe Honoré Ma mère DVD Review Isabelle Huppert Christophe Honoré Ma mère DVD Review Isabelle Huppert Christophe Honoré Ma mère DVD Review Isabelle Huppert Christophe Honoré Ma mère DVD Review Isabelle Huppert Christophe Honoré Ma mère DVD Review Isabelle Huppert Christophe Honoré Ma mère DVD Review Isabelle Huppert Christophe Honoré Ma mère DVD Review Isabelle Huppert Christophe Honoré's - Ma mère - DVD Review Isabelle Huppert Christophe Honoré Ma mère DVD Review Isabelle Huppert Christophe Honoré Ma mère DVD Review Isabelle Huppert Christophe Honoré Ma mère DVD Review Isabelle Huppert Christophe Honoré Ma mère DVD Review Isabelle Huppert Christophe Honoré Ma mère DVD Review Isabelle Huppert Christophe Honoré Ma mère DVD Review Isabelle Huppert Christophe Honoré Ma mère DVD Review Isabelle Huppert Christophe Honoré Ma mère DVD Review Isabelle Huppert Christophe Honoré Ma mère DVD Review Isabelle Huppert Christophe Honoré's - Ma mère - DVD Review Isabelle Huppert Christophe Honoré Ma mère DVD Review Isabelle Huppert Christophe Honoré Ma mère DVD Review Isabelle Huppert Christophe Honoré Ma mère DVD Review Isabelle Huppert Christophe Honoré Ma mère DVD Review Isabelle Huppert Christophe Honoré Ma mère DVD Review Isabelle Huppert Christophe Honoré Ma mère DVD Review Isabelle Huppert Christophe Honoré Ma mère DVD Review Isabelle Huppert Christophe Honoré Ma mère DVD Review Isabelle Huppert Christophe Honoré Ma mère DVD Review Isabelle Huppert Christophe Honoré's - Ma mère - DVD Review Isabelle Huppert Christophe Honoré Ma mère DVD Review Isabelle Huppert Christophe Honoré Ma mère DVD Review Isabelle Huppert Christophe Honoré Ma mère DVD Review Isabelle Huppert Christophe Honoré Ma mère DVD Review Isabelle Huppert Christophe Honoré Ma mère DVD Review Isabelle Huppert Christophe Honoré Ma mère DVD Review Isabelle Huppert Christophe Honoré Ma mère DVD Review Isabelle Huppert Christophe Honoré Ma mère DVD Review Isabelle Huppert Christophe Honoré Ma mère DVD Review Isabelle Huppert Christophe Honoré's - Ma mère - DVD Review Isabelle Huppert Christophe Honoré Ma mère DVD Review Isabelle Huppert Christophe Honoré Ma mère DVD Review Isabelle Huppert Christophe Honoré Ma mère DVD Review Isabelle Huppert Christophe Honoré Ma mère DVD Review Isabelle Huppert Christophe Honoré Ma mère DVD Review Isabelle Huppert Christophe Honoré Ma mère DVD Review Isabelle Huppert Christophe Honoré Ma mère DVD Review Isabelle Huppert Christophe Honoré Ma mère DVD Review Isabelle Huppert Christophe Honoré Ma mère DVD Review Isabelle Huppert Christophe Honoré's - Ma mère - DVD Review Isabelle Huppert Christophe Honoré Ma mère DVD Review Isabelle Huppert Christophe Honoré Ma mère DVD Review Isabelle Huppert Christophe Honoré Ma mère DVD Review Isabelle Huppert Christophe Honoré Ma mère DVD Review Isabelle Huppert Christophe Honoré Ma mère DVD Review Isabelle Huppert Christophe Honoré Ma mère DVD Review Isabelle Huppert Christophe Honoré Ma mère DVD Review Isabelle Huppert Christophe Honoré Ma mère DVD Review Isabelle Huppert Christophe Honoré Ma mère DVD Review Isabelle Huppert