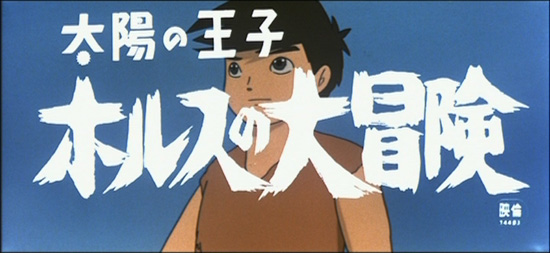 (aka "Taiyo no oji: Horusu no daiboken" or "Prince of the Sun: The Great Adventure of Horus" or "The Little Norse Prince Valiant")
directed by Isao Takahata
Japan 1968
"The Little Norse Prince" is a key film in Japanese animation history, being both the first modern anime, but also the film on which Hayao Miyazaki and Isao Takahata, who later formed Studio Ghibli, first worked together.

Based upon a puppet-theatre drama by Kazuo Fuzakawa, who based his script upon an Anui legend, the producers at Toei changed the setting from Northern Japan to Scandinavia and the Anui to Vikings, in hope to make it more appealing internationally. This was not the only thing Toei changed or forced upon the animators and the production became a trial for both sides, going over budget and schedule. When it finally was released, it proved such a failure, that it was withdrawn after only ten days.

Horus is a boy, who pulls a sword out of a rock giant, only to discover that it is the Sword of the Sun, which transforms Horus into the Prince of the Sun and battles an evil Ice Demon.

It is a very confusing film, especially for a Dane. Much of the mythology is Japanese, but people have Nordic names. But it has an energy and boyish go-get-em attitude and it is easy to see why it became such a hit amongst animators and anime fans.

Poster
Theatrical Release: July 21, 1968
Reviews More Reviews DVD Reviews
DVD Review: Optimum Asia - Region 2 - PAL
Big thanks to Henrik Sylow for the Review!
DVD Box Cover

CLICK to order from:

Distribution

Optimum Asia

Region 2 - PAL

Runtime
1:21:46 (4% PAL speedup)
Video

2.10:1 Aspect Ratio

16X9 enhanced
Average Bitrate: 6.27 mb/s
PAL 720x576 25.00 f/s

NOTE: The Vertical axis represents the bits transferred per second. The Horizontal is the time in minutes.

Bitrate

Audio
2.0 Dolby Digital Japanese
Subtitles
English, None
Features
Release Information:
Studio: Optimum Asia

Aspect Ratio:
Widescreen anamorphic - 2.10:1

Edition Details:
• Trailer (3:19 / 16x9)

DVD Release Date: October 17, 2005
Keep Case

Chapters 12
| | |
| --- | --- |
| Comments | Considering the age of the film, it looks surprisingly good. Compression artifacts are at a minimum. Only two things of the image are to critic. The first is, that its not OAR of 2.35:1 ToeiScope, but a cropped 2.10:1. The other is, that combing and ghosting are very visible even at the smallest movement. |
---




DVD Menus


---
Screen Captures
subtitle sample
Captures resized to 800px from 1016px native resolution
---














DONATIONS Keep DVDBeaver alive:
Mail cheques, money orders, cash to: or CLICK PayPal logo to donate!
Thank You!
Isao Takahata's - Little Norse Prince - DVD Review Taiyo no oji Horusu no daiboken Isao Takahata Little Norse Prince DVD Review Taiyo no oji Horusu no daiboken Isao Takahata Little Norse Prince DVD Review Taiyo no oji Horusu no daiboken Isao Takahata Little Norse Prince DVD Review Taiyo no oji Horusu no daiboken Isao Takahata Little Norse Prince DVD Review Taiyo no oji Horusu no daiboken Isao Takahata Little Norse Prince DVD Review Taiyo no oji Horusu no daiboken Isao Takahata Little Norse Prince DVD Review Taiyo no oji Horusu no daiboken Isao Takahata Little Norse Prince DVD Review Taiyo no oji Horusu no daiboken Isao Takahata Little Norse Prince DVD Review Taiyo no oji Horusu no daiboken Isao Takahata's - Little Norse Prince - DVD Review Taiyo no oji Horusu no daiboken Isao Takahata Little Norse Prince DVD Review Taiyo no oji Horusu no daiboken Isao Takahata Little Norse Prince DVD Review Taiyo no oji Horusu no daiboken Isao Takahata Little Norse Prince DVD Review Taiyo no oji Horusu no daiboken Isao Takahata Little Norse Prince DVD Review Taiyo no oji Horusu no daiboken Isao Takahata Little Norse Prince DVD Review Taiyo no oji Horusu no daiboken Isao Takahata Little Norse Prince DVD Review Taiyo no oji Horusu no daiboken Isao Takahata Little Norse Prince DVD Review Taiyo no oji Horusu no daiboken Isao Takahata Little Norse Prince DVD Review Taiyo no oji Horusu no daiboken Isao Takahata's - Little Norse Prince - DVD Review Taiyo no oji Horusu no daiboken Isao Takahata Little Norse Prince DVD Review Taiyo no oji Horusu no daiboken Isao Takahata Little Norse Prince DVD Review Taiyo no oji Horusu no daiboken Isao Takahata Little Norse Prince DVD Review Taiyo no oji Horusu no daiboken Isao Takahata Little Norse Prince DVD Review Taiyo no oji Horusu no daiboken Isao Takahata Little Norse Prince DVD Review Taiyo no oji Horusu no daiboken Isao Takahata Little Norse Prince DVD Review Taiyo no oji Horusu no daiboken Isao Takahata Little Norse Prince DVD Review Taiyo no oji Horusu no daiboken Isao Takahata Little Norse Prince DVD Review Taiyo no oji Horusu no daiboken Isao Takahata's - Little Norse Prince - DVD Review Taiyo no oji Horusu no daiboken Isao Takahata Little Norse Prince DVD Review Taiyo no oji Horusu no daiboken Isao Takahata Little Norse Prince DVD Review Taiyo no oji Horusu no daiboken Isao Takahata Little Norse Prince DVD Review Taiyo no oji Horusu no daiboken Isao Takahata Little Norse Prince DVD Review Taiyo no oji Horusu no daiboken Isao Takahata Little Norse Prince DVD Review Taiyo no oji Horusu no daiboken Isao Takahata Little Norse Prince DVD Review Taiyo no oji Horusu no daiboken Isao Takahata Little Norse Prince DVD Review Taiyo no oji Horusu no daiboken Isao Takahata Little Norse Prince DVD Review Taiyo no oji Horusu no daiboken Isao Takahata's - Little Norse Prince - DVD Review Taiyo no oji Horusu no daiboken Isao Takahata Little Norse Prince DVD Review Taiyo no oji Horusu no daiboken Isao Takahata Little Norse Prince DVD Review Taiyo no oji Horusu no daiboken Isao Takahata Little Norse Prince DVD Review Taiyo no oji Horusu no daiboken Isao Takahata Little Norse Prince DVD Review Taiyo no oji Horusu no daiboken Isao Takahata Little Norse Prince DVD Review Taiyo no oji Horusu no daiboken Isao Takahata Little Norse Prince DVD Review Taiyo no oji Horusu no daiboken Isao Takahata Little Norse Prince DVD Review Taiyo no oji Horusu no daiboken Isao Takahata Little Norse Prince DVD Review Taiyo no oji Horusu no daiboken Isao Takahata's - Little Norse Prince - DVD Review Taiyo no oji Horusu no daiboken Isao Takahata Little Norse Prince DVD Review Taiyo no oji Horusu no daiboken Isao Takahata Little Norse Prince DVD Review Taiyo no oji Horusu no daiboken Isao Takahata Little Norse Prince DVD Review Taiyo no oji Horusu no daiboken Isao Takahata Little Norse Prince DVD Review Taiyo no oji Horusu no daiboken Isao Takahata Little Norse Prince DVD Review Taiyo no oji Horusu no daiboken Isao Takahata Little Norse Prince DVD Review Taiyo no oji Horusu no daiboken Isao Takahata Little Norse Prince DVD Review Taiyo no oji Horusu no daiboken Isao Takahata Little Norse Prince DVD Review Taiyo no oji Horusu no daiboken Isao Takahata's - Little Norse Prince - DVD Review Taiyo no oji Horusu no daiboken Isao Takahata Little Norse Prince DVD Review Taiyo no oji Horusu no daiboken Isao Takahata Little Norse Prince DVD Review Taiyo no oji Horusu no daiboken Isao Takahata Little Norse Prince DVD Review Taiyo no oji Horusu no daiboken Isao Takahata Little Norse Prince DVD Review Taiyo no oji Horusu no daiboken Isao Takahata Little Norse Prince DVD Review Taiyo no oji Horusu no daiboken Isao Takahata Little Norse Prince DVD Review Taiyo no oji Horusu no daiboken Isao Takahata Little Norse Prince DVD Review Taiyo no oji Horusu no daiboken Isao Takahata Little Norse Prince DVD Review Taiyo no oji Horusu no daiboken Isao Takahata's - Little Norse Prince - DVD Review Taiyo no oji Horusu no daiboken Isao Takahata Little Norse Prince DVD Review Taiyo no oji Horusu no daiboken Isao Takahata Little Norse Prince DVD Review Taiyo no oji Horusu no daiboken Isao Takahata Little Norse Prince DVD Review Taiyo no oji Horusu no daiboken Isao Takahata Little Norse Prince DVD Review Taiyo no oji Horusu no daiboken Isao Takahata Little Norse Prince DVD Review Taiyo no oji Horusu no daiboken Isao Takahata Little Norse Prince DVD Review Taiyo no oji Horusu no daiboken Isao Takahata Little Norse Prince DVD Review Taiyo no oji Horusu no daiboken Isao Takahata Little Norse Prince DVD Review Taiyo no oji Horusu no daiboken Isao Takahata's - Little Norse Prince - DVD Review Taiyo no oji Horusu no daiboken Isao Takahata Little Norse Prince DVD Review Taiyo no oji Horusu no daiboken Isao Takahata Little Norse Prince DVD Review Taiyo no oji Horusu no daiboken Isao Takahata Little Norse Prince DVD Review Taiyo no oji Horusu no daiboken Isao Takahata Little Norse Prince DVD Review Taiyo no oji Horusu no daiboken Isao Takahata Little Norse Prince DVD Review Taiyo no oji Horusu no daiboken Isao Takahata Little Norse Prince DVD Review Taiyo no oji Horusu no daiboken Isao Takahata Little Norse Prince DVD Review Taiyo no oji Horusu no daiboken Isao Takahata Little Norse Prince DVD Review Taiyo no oji Horusu no daiboken Isao Takahata's - Little Norse Prince - DVD Review Taiyo no oji Horusu no daiboken Isao Takahata Little Norse Prince DVD Review Taiyo no oji Horusu no daiboken Isao Takahata Little Norse Prince DVD Review Taiyo no oji Horusu no daiboken Isao Takahata Little Norse Prince DVD Review Taiyo no oji Horusu no daiboken Isao Takahata Little Norse Prince DVD Review Taiyo no oji Horusu no daiboken Isao Takahata Little Norse Prince DVD Review Taiyo no oji Horusu no daiboken Isao Takahata Little Norse Prince DVD Review Taiyo no oji Horusu no daiboken Isao Takahata Little Norse Prince DVD Review Taiyo no oji Horusu no daiboken Isao Takahata Little Norse Prince DVD Review Taiyo no oji Horusu no daiboken Isao Takahata's - Little Norse Prince - DVD Review Taiyo no oji Horusu no daiboken Isao Takahata Little Norse Prince DVD Review Taiyo no oji Horusu no daiboken Isao Takahata Little Norse Prince DVD Review Taiyo no oji Horusu no daiboken Isao Takahata Little Norse Prince DVD Review Taiyo no oji Horusu no daiboken Isao Takahata Little Norse Prince DVD Review Taiyo no oji Horusu no daiboken Isao Takahata Little Norse Prince DVD Review Taiyo no oji Horusu no daiboken Isao Takahata Little Norse Prince DVD Review Taiyo no oji Horusu no daiboken Isao Takahata Little Norse Prince DVD Review Taiyo no oji Horusu no daiboken Isao Takahata Little Norse Prince DVD Review Taiyo no oji Horusu no daiboken Isao Takahata's - Little Norse Prince - DVD Review Taiyo no oji Horusu no daiboken Isao Takahata Little Norse Prince DVD Review Taiyo no oji Horusu no daiboken Isao Takahata Little Norse Prince DVD Review Taiyo no oji Horusu no daiboken Isao Takahata Little Norse Prince DVD Review Taiyo no oji Horusu no daiboken Isao Takahata Little Norse Prince DVD Review Taiyo no oji Horusu no daiboken Isao Takahata Little Norse Prince DVD Review Taiyo no oji Horusu no daiboken Isao Takahata Little Norse Prince DVD Review Taiyo no oji Horusu no daiboken Isao Takahata Little Norse Prince DVD Review Taiyo no oji Horusu no daiboken Isao Takahata Little Norse Prince DVD Review Taiyo no oji Horusu no daiboken Isao Takahata's - Little Norse Prince - DVD Review Taiyo no oji Horusu no daiboken Isao Takahata Little Norse Prince DVD Review Taiyo no oji Horusu no daiboken Isao Takahata Little Norse Prince DVD Review Taiyo no oji Horusu no daiboken Isao Takahata Little Norse Prince DVD Review Taiyo no oji Horusu no daiboken Isao Takahata Little Norse Prince DVD Review Taiyo no oji Horusu no daiboken Isao Takahata Little Norse Prince DVD Review Taiyo no oji Horusu no daiboken Isao Takahata Little Norse Prince DVD Review Taiyo no oji Horusu no daiboken Isao Takahata Little Norse Prince DVD Review Taiyo no oji Horusu no daiboken Isao Takahata Little Norse Prince DVD Review Taiyo no oji Horusu no daiboken