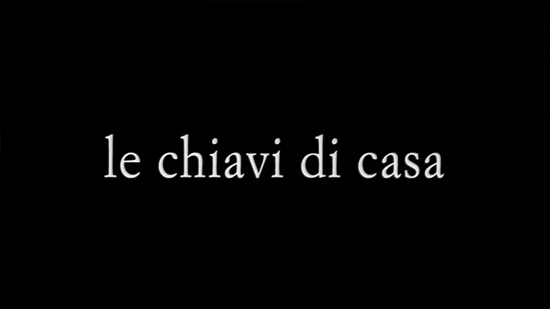 (aka "Le Chiavi di casa" or "Les Clefs de la maison")
directed by Gianni Amelio
Italy 2004
Ashamed of the disability of his son, Gianni abandoned him at birth and leaves him with his sister-in-law and her husband. Now fifteen, the son Paolo has to visit a specialist in Berlin and having to accompany him, Gianni comes face to face with the disability of his son, his own responsibility as a father and his son as a person.

In Berlin, Gianni meets Nicole, a woman dedicated to the care of her own handicapped son, and thru her, Gianni begins to come to terms with his own guilt and begins to understand what it means to be a father and how much love there is between him and Paolo.

While Gianni Amelio direction at times is a bit heavy-handed, as his own script at times feels like trying too hard to make a point and a bit too contrived, the tone of the film is surprisingly sober. It avoids becoming sentimental and thanks to almost extraordinary strong performances by especially Andrea Rossi, characters, and thus story, is believable and goes directly to ones heart. At the end, Amelio thankfully avoids clichés and statements, and just allows the film to be what it really is to begin with, a heartfelt emotional story about a father and his son.

Poster
Theatrical Release: September 9, 2004 (Venice Film Festival)
Reviews More Reviews DVD Reviews
DVD Review: Artificial Eye - Region 2 - PAL
Big thanks to Henrik Sylow for the Review!
DVD Box Cover

CLICK to order from:

Distribution

Artificial Eye

Region 2 - PAL

Runtime
1:46:43
Video

1.85:1 Original Aspect Ratio

16X9 enhanced
Average Bitrate: 5.54 mb/s
PAL 720x576 25.00 f/s

NOTE: The Vertical axis represents the bits transferred per second. The Horizontal is the time in minutes.

Bitrate

Audio
2.0 Dolby Digital Italian, 5.1 Dolby Digital Italian
Subtitles
English, None
Features
Release Information:
Studio: Artificial Eye

Aspect Ratio:
Widescreen anamorphic - 1.85:1

Edition Details:
• 9 Deleted Scenes (10:11 / 4:3)
• Dietro la Cinepresa (43:47 / 4:3)
• Cercando
• Interviews:
• - Kim Rossi Stuart (6:54 / 4:3)
• - Charlotte Rampling (9:58 / 4:3)
• Biographies and Filmographies for Gianni Amelio, Kim Rossi Stuart, Andrea Rossi and Charlotte

DVD Release Date: September 26, 2005
Transparent Amarey Case

Chapters 14
Comments
The image displays various degrees of compression artifacts, mainly edge enhancements, but overall an acceptable image.

Sharpness varies a lot, from lacking details during long shots to being very sharp during extreme close ups. Clearly, this is to be contributed to the nature of the film and not to the transfer.

The additional material is a mixed blessing. The 45-minute long Making of documentary by Luan Amelio Ujkaj is very repetitive and could easily have been shorted by 30 minutes, without losing any information. The same goes for the standard presskit "Looking for the Keys of the House", also by Luan Amelio Ujkaj, which feels like a "best of" of the additional material.

Contra to this, the nine deleted scenes (play each / play all) are brilliant, and while lacking either an introduction or commentary, they tell us what deleted scenes do.

The best material are the two interviews, where the actors talk about working with Amelio.
---




DVD Menus


---
Screen Captures
subtitle sample
Captures resized to 800px from 1016px native resolution














DONATIONS Keep DVDBeaver alive:
Mail cheques, money orders, cash to: or CLICK PayPal logo to donate!
Thank You!
Gianni Amelio's - The Keys to the House - Chiavi di casa DVD Review Gianni Amelio The Keys to the House Chiavi di casa DVD Review Gianni Amelio The Keys to the House Chiavi di casa DVD Review Gianni Amelio The Keys to the House Chiavi di casa DVD Review Gianni Amelio The Keys to the House Chiavi di casa DVD Review Gianni Amelio The Keys to the House Chiavi di casa DVD Review Gianni Amelio The Keys to the House Chiavi di casa DVD Review Gianni Amelio The Keys to the House Chiavi di casa DVD Review Gianni Amelio The Keys to the House Chiavi di casa DVD Review Gianni Amelio's - The Keys to the House - Chiavi di casa DVD Review Gianni Amelio The Keys to the House Chiavi di casa DVD Review Gianni Amelio The Keys to the House Chiavi di casa DVD Review Gianni Amelio The Keys to the House Chiavi di casa DVD Review Gianni Amelio The Keys to the House Chiavi di casa DVD Review Gianni Amelio The Keys to the House Chiavi di casa DVD Review Gianni Amelio The Keys to the House Chiavi di casa DVD Review Gianni Amelio The Keys to the House Chiavi di casa DVD Review Gianni Amelio The Keys to the House Chiavi di casa DVD Review Gianni Amelio's - The Keys to the House - Chiavi di casa DVD Review Gianni Amelio The Keys to the House Chiavi di casa DVD Review Gianni Amelio The Keys to the House Chiavi di casa DVD Review Gianni Amelio The Keys to the House Chiavi di casa DVD Review Gianni Amelio The Keys to the House Chiavi di casa DVD Review Gianni Amelio The Keys to the House Chiavi di casa DVD Review Gianni Amelio The Keys to the House Chiavi di casa DVD Review Gianni Amelio The Keys to the House Chiavi di casa DVD Review Gianni Amelio The Keys to the House Chiavi di casa DVD Review Gianni Amelio's - The Keys to the House - Chiavi di casa DVD Review Gianni Amelio The Keys to the House Chiavi di casa DVD Review Gianni Amelio The Keys to the House Chiavi di casa DVD Review Gianni Amelio The Keys to the House Chiavi di casa DVD Review Gianni Amelio The Keys to the House Chiavi di casa DVD Review Gianni Amelio The Keys to the House Chiavi di casa DVD Review Gianni Amelio The Keys to the House Chiavi di casa DVD Review Gianni Amelio The Keys to the House Chiavi di casa DVD Review Gianni Amelio The Keys to the House Chiavi di casa DVD Review Gianni Amelio's - The Keys to the House - Chiavi di casa DVD Review Gianni Amelio The Keys to the House Chiavi di casa DVD Review Gianni Amelio The Keys to the House Chiavi di casa DVD Review Gianni Amelio The Keys to the House Chiavi di casa DVD Review Gianni Amelio The Keys to the House Chiavi di casa DVD Review Gianni Amelio The Keys to the House Chiavi di casa DVD Review Gianni Amelio The Keys to the House Chiavi di casa DVD Review Gianni Amelio The Keys to the House Chiavi di casa DVD Review Gianni Amelio The Keys to the House Chiavi di casa DVD Review Gianni Amelio's - The Keys to the House - Chiavi di casa DVD Review Gianni Amelio The Keys to the House Chiavi di casa DVD Review Gianni Amelio The Keys to the House Chiavi di casa DVD Review Gianni Amelio The Keys to the House Chiavi di casa DVD Review Gianni Amelio The Keys to the House Chiavi di casa DVD Review Gianni Amelio The Keys to the House Chiavi di casa DVD Review Gianni Amelio The Keys to the House Chiavi di casa DVD Review Gianni Amelio The Keys to the House Chiavi di casa DVD Review Gianni Amelio The Keys to the House Chiavi di casa DVD Review Gianni Amelio's - The Keys to the House - Chiavi di casa DVD Review Gianni Amelio The Keys to the House Chiavi di casa DVD Review Gianni Amelio The Keys to the House Chiavi di casa DVD Review Gianni Amelio The Keys to the House Chiavi di casa DVD Review Gianni Amelio The Keys to the House Chiavi di casa DVD Review Gianni Amelio The Keys to the House Chiavi di casa DVD Review Gianni Amelio The Keys to the House Chiavi di casa DVD Review Gianni Amelio The Keys to the House Chiavi di casa DVD Review Gianni Amelio The Keys to the House Chiavi di casa DVD Review Gianni Amelio's - The Keys to the House - Chiavi di casa DVD Review Gianni Amelio The Keys to the House Chiavi di casa DVD Review Gianni Amelio The Keys to the House Chiavi di casa DVD Review Gianni Amelio The Keys to the House Chiavi di casa DVD Review Gianni Amelio The Keys to the House Chiavi di casa DVD Review Gianni Amelio The Keys to the House Chiavi di casa DVD Review Gianni Amelio The Keys to the House Chiavi di casa DVD Review Gianni Amelio The Keys to the House Chiavi di casa DVD Review Gianni Amelio The Keys to the House Chiavi di casa DVD Review Gianni Amelio's - The Keys to the House - Chiavi di casa DVD Review Gianni Amelio The Keys to the House Chiavi di casa DVD Review Gianni Amelio The Keys to the House Chiavi di casa DVD Review Gianni Amelio The Keys to the House Chiavi di casa DVD Review Gianni Amelio The Keys to the House Chiavi di casa DVD Review Gianni Amelio The Keys to the House Chiavi di casa DVD Review Gianni Amelio The Keys to the House Chiavi di casa DVD Review Gianni Amelio The Keys to the House Chiavi di casa DVD Review Gianni Amelio The Keys to the House Chiavi di casa DVD Review Gianni Amelio's - The Keys to the House - Chiavi di casa DVD Review Gianni Amelio The Keys to the House Chiavi di casa DVD Review Gianni Amelio The Keys to the House Chiavi di casa DVD Review Gianni Amelio The Keys to the House Chiavi di casa DVD Review Gianni Amelio The Keys to the House Chiavi di casa DVD Review Gianni Amelio The Keys to the House Chiavi di casa DVD Review Gianni Amelio The Keys to the House Chiavi di casa DVD Review Gianni Amelio The Keys to the House Chiavi di casa DVD Review Gianni Amelio The Keys to the House Chiavi di casa DVD Review Gianni Amelio's - The Keys to the House - Chiavi di casa DVD Review Gianni Amelio The Keys to the House Chiavi di casa DVD Review Gianni Amelio The Keys to the House Chiavi di casa DVD Review Gianni Amelio The Keys to the House Chiavi di casa DVD Review Gianni Amelio The Keys to the House Chiavi di casa DVD Review Gianni Amelio The Keys to the House Chiavi di casa DVD Review Gianni Amelio The Keys to the House Chiavi di casa DVD Review Gianni Amelio The Keys to the House Chiavi di casa DVD Review Gianni Amelio The Keys to the House Chiavi di casa DVD Review Gianni Amelio's - The Keys to the House - Chiavi di casa DVD Review Gianni Amelio The Keys to the House Chiavi di casa DVD Review Gianni Amelio The Keys to the House Chiavi di casa DVD Review Gianni Amelio The Keys to the House Chiavi di casa DVD Review Gianni Amelio The Keys to the House Chiavi di casa DVD Review Gianni Amelio The Keys to the House Chiavi di casa DVD Review Gianni Amelio The Keys to the House Chiavi di casa DVD Review Gianni Amelio The Keys to the House Chiavi di casa DVD Review Gianni Amelio The Keys to the House Chiavi di casa DVD Review Gianni Amelio's - The Keys to the House - Chiavi di casa DVD Review Gianni Amelio The Keys to the House Chiavi di casa DVD Review Gianni Amelio The Keys to the House Chiavi di casa DVD Review Gianni Amelio The Keys to the House Chiavi di casa DVD Review Gianni Amelio The Keys to the House Chiavi di casa DVD Review Gianni Amelio The Keys to the House Chiavi di casa DVD Review Gianni Amelio The Keys to the House Chiavi di casa DVD Review Gianni Amelio The Keys to the House Chiavi di casa DVD Review Gianni Amelio The Keys to the House Chiavi di casa DVD Review Gianni Amelio's - The Keys to the House - Chiavi di casa DVD Review Gianni Amelio The Keys to the House Chiavi di casa DVD Review Gianni Amelio The Keys to the House Chiavi di casa DVD Review Gianni Amelio The Keys to the House Chiavi di casa DVD Review Gianni Amelio The Keys to the House Chiavi di casa DVD Review Gianni Amelio The Keys to the House Chiavi di casa DVD Review Gianni Amelio The Keys to the House Chiavi di casa DVD Review Gianni Amelio The Keys to the House Chiavi di casa DVD Review Gianni Amelio The Keys to the House Chiavi di casa DVD Review Gianni Amelio's - The Keys to the House - Chiavi di casa DVD Review Gianni Amelio The Keys to the House Chiavi di casa DVD Review Gianni Amelio The Keys to the House Chiavi di casa DVD Review Gianni Amelio The Keys to the House Chiavi di casa DVD Review Gianni Amelio The Keys to the House Chiavi di casa DVD Review Gianni Amelio The Keys to the House Chiavi di casa DVD Review Gianni Amelio The Keys to the House Chiavi di casa DVD Review Gianni Amelio The Keys to the House Chiavi di casa DVD Review Gianni Amelio The Keys to the House Chiavi di casa DVD Review Gianni Amelio's - The Keys to the House - Chiavi di casa DVD Review Gianni Amelio The Keys to the House Chiavi di casa DVD Review Gianni Amelio The Keys to the House Chiavi di casa DVD Review Gianni Amelio The Keys to the House Chiavi di casa DVD Review Gianni Amelio The Keys to the House Chiavi di casa DVD Review Gianni Amelio The Keys to the House Chiavi di casa DVD Review Gianni Amelio The Keys to the House Chiavi di casa DVD Review Gianni Amelio The Keys to the House Chiavi di casa DVD Review Gianni Amelio The Keys to the House Chiavi di casa DVD Review