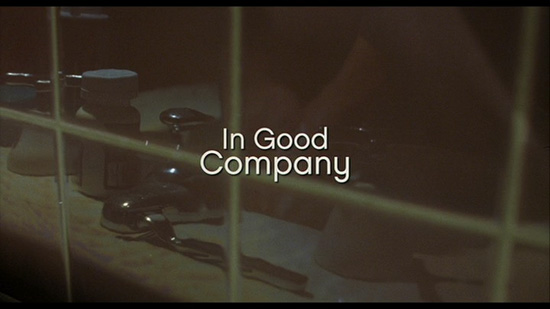 (aka "Synergy (working title)" )
directed by Paul Weitz
USA 2004
"In Good Company" is not just one of last years best feel-good movies, its also one of last years best movies. A surprisingly serious reflection of corporate life versus family, hidden within one charming comedy.

When a sports magazine is taken over by some multibillionaire in a merger, Dan (Dennis Quaid) is being demoted to assisting Carter Duryea (Topher Grace), a kid half Dan's age. This suits Carter fine, as he knows nothing and Dan has about as many years experience as Carter is old.

The beauty of "In Good Company" is the way Weitz takes the story. He has come along way since "American Pie". Here are no easy laughs or happy end. Carter does not get Dan's daughter Alex (Scarlett Johansson), but actually walks away. Nor does Carter get any big promotion, but actually walks away from this too. Where he to begin with has all the answers, or at least believes he does, they are but buzzwords, and the more he gets to know Carter, the more he realises, that he has no idea of what he wants with his life. Thus the movie ends with Carter doing the only thing he loves, running.

Directed to perfection by Weitz, "In Good Company" is at the same time an attack at the corporate mind, an embracement of the family unit and the relationship between two men, father and son. It is a warm thoughtful film with a heart, that will leave you with a smile on your face.
Posters
Theatrical Release: December 6, 2004 (Hollywood, California)
Reviews More Reviews DVD Reviews
DVD Review: Sandrew Metronome / Universal - Region 2 - PAL
Big thanks to Henrik Sylow for the Review!
DVD Box Cover

CLICK to order from:

The film is also available in UK

Distribution

Sandrew Metronome / Universal

Region 2 - PAL

Runtime
1:45:15 (4% PAL speedup)
Video

1.85:1 Original Aspect Ratio

16X9 enhanced
Average Bitrate: 6.70 mb/s
PAL 720x576 25.00 f/s

NOTE: The Vertical axis represents the bits transferred per second. The Horizontal is the time in minutes.

Bitrate

Audio
5.1 Dolby Digital English, DTS English
Subtitles
Danish, Swedish, Norwegian, Finnish, None
Features
Release Information:
Studio: Sandrew Metronome / Universal

Aspect Ratio:
Widescreen anamorphic - 1.85:1

Edition Details:
• Audio Commentary by Paul Weitz and Topher Grace
• SYNERGY Featurette (Play All 23:25 / 4:3)
• Stars (3:00)
• Youth (2:37)
• gettiNg older (2:18)
• rEal life (4:01)
• editinG (3:13)
• storY (4:12)
• 10 Deleted Scenes with optional commentary (16:11)
• Cast and Crew

DVD Release Date: September 6, 2005
Amarey

Chapters 20

Comments
While this is the Danish DVD, it should be 100% identical to the UK Region 2 DVD and the Australian Region 4 DVD, except for subtitle options.

Apart from some minute macro blocking and color banding, this is a stunning transfer. Solid colors, very sharp details. Just beautiful to watch.

The sound mix is likewise great. Dialogue is mainly center, but do move across the fronts, and the rears add atmosphere. I really couldn't detect that big a difference, if any, between DTS and 5.1 Dolby Digital. Note that while Region 2 and 4 has DTS, Region 1 has two dubbed tracks in 5.1 Dolby Digital, thus no DTS.

The additional material is the same on all regions. It begins with an audio commentary by directory Paul Weitz and leading character Topher Grace. The commentary is lead by Weitz, is very friendly, chatty and at times "ironic", noting upon influences, design of scenes, acting, direction and so forth. One very entertaining and informative commentary.

Next comes a group of featurettes, which support the background of the film pretty decent, ending up with 16 minute of deleted scenes with optional commentary by Weitz. These scenes are not cutting room floor, but genuine deleted scenes. Great stuff. I really would love to see the 3-hour original cut of this film.
---




DVD Menus


---
Screen Captures














DONATIONS Keep DVDBeaver alive:
Mail cheques, money orders, cash to: or CLICK PayPal logo to donate!
Thank You!
Paul Weitz's - In Good Company - DVD Review Paul Weitz In Good Company DVD Review Paul Weitz In Good Company DVD Review Paul Weitz In Good Company DVD Review Paul Weitz In Good Company DVD Review Paul Weitz In Good Company DVD Review Paul Weitz In Good Company DVD Review Paul Weitz In Good Company DVD Review Paul Weitz In Good Company DVD Review Paul Weitz In Good Company DVD Review Paul Weitz's - In Good Company - DVD Review Paul Weitz In Good Company DVD Review Paul Weitz In Good Company DVD Review Paul Weitz In Good Company DVD Review Paul Weitz In Good Company DVD Review Paul Weitz In Good Company DVD Review Paul Weitz In Good Company DVD Review Paul Weitz In Good Company DVD Review Paul Weitz In Good Company DVD Review Paul Weitz In Good Company DVD Review Paul Weitz's - In Good Company - DVD Review Paul Weitz In Good Company DVD Review Paul Weitz In Good Company DVD Review Paul Weitz In Good Company DVD Review Paul Weitz In Good Company DVD Review Paul Weitz In Good Company DVD Review Paul Weitz In Good Company DVD Review Paul Weitz In Good Company DVD Review Paul Weitz In Good Company DVD Review Paul Weitz In Good Company DVD Review Paul Weitz's - In Good Company - DVD Review Paul Weitz In Good Company DVD Review Paul Weitz In Good Company DVD Review Paul Weitz In Good Company DVD Review Paul Weitz In Good Company DVD Review Paul Weitz In Good Company DVD Review Paul Weitz In Good Company DVD Review Paul Weitz In Good Company DVD Review Paul Weitz In Good Company DVD Review Paul Weitz In Good Company DVD Review Paul Weitz's - In Good Company - DVD Review Paul Weitz In Good Company DVD Review Paul Weitz In Good Company DVD Review Paul Weitz In Good Company DVD Review Paul Weitz In Good Company DVD Review Paul Weitz In Good Company DVD Review Paul Weitz In Good Company DVD Review Paul Weitz In Good Company DVD Review Paul Weitz In Good Company DVD Review Paul Weitz In Good Company DVD Review Paul Weitz's - In Good Company - DVD Review Paul Weitz In Good Company DVD Review Paul Weitz In Good Company DVD Review Paul Weitz In Good Company DVD Review Paul Weitz In Good Company DVD Review Paul Weitz In Good Company DVD Review Paul Weitz In Good Company DVD Review Paul Weitz In Good Company DVD Review Paul Weitz In Good Company DVD Review Paul Weitz In Good Company DVD Review Paul Weitz's - In Good Company - DVD Review Paul Weitz In Good Company DVD Review Paul Weitz In Good Company DVD Review Paul Weitz In Good Company DVD Review Paul Weitz In Good Company DVD Review Paul Weitz In Good Company DVD Review Paul Weitz In Good Company DVD Review Paul Weitz In Good Company DVD Review Paul Weitz In Good Company DVD Review Paul Weitz In Good Company DVD Review Paul Weitz's - In Good Company - DVD Review Paul Weitz In Good Company DVD Review Paul Weitz In Good Company DVD Review Paul Weitz In Good Company DVD Review Paul Weitz In Good Company DVD Review Paul Weitz In Good Company DVD Review Paul Weitz In Good Company DVD Review Paul Weitz In Good Company DVD Review Paul Weitz In Good Company DVD Review Paul Weitz In Good Company DVD Review Paul Weitz's - In Good Company - DVD Review Paul Weitz In Good Company DVD Review Paul Weitz In Good Company DVD Review Paul Weitz In Good Company DVD Review Paul Weitz In Good Company DVD Review Paul Weitz In Good Company DVD Review Paul Weitz In Good Company DVD Review Paul Weitz In Good Company DVD Review Paul Weitz In Good Company DVD Review Paul Weitz In Good Company DVD Review Paul Weitz's - In Good Company - DVD Review Paul Weitz In Good Company DVD Review Paul Weitz In Good Company DVD Review Paul Weitz In Good Company DVD Review Paul Weitz In Good Company DVD Review Paul Weitz In Good Company DVD Review Paul Weitz In Good Company DVD Review Paul Weitz In Good Company DVD Review Paul Weitz In Good Company DVD Review Paul Weitz In Good Company DVD Review Paul Weitz's - In Good Company - DVD Review Paul Weitz In Good Company DVD Review Paul Weitz In Good Company DVD Review Paul Weitz In Good Company DVD Review Paul Weitz In Good Company DVD Review Paul Weitz In Good Company DVD Review Paul Weitz In Good Company DVD Review Paul Weitz In Good Company DVD Review Paul Weitz In Good Company DVD Review Paul Weitz In Good Company DVD Review Paul Weitz's - In Good Company - DVD Review Paul Weitz In Good Company DVD Review Paul Weitz In Good Company DVD Review Paul Weitz In Good Company DVD Review Paul Weitz In Good Company DVD Review Paul Weitz In Good Company DVD Review Paul Weitz In Good Company DVD Review Paul Weitz In Good Company DVD Review Paul Weitz In Good Company DVD Review Paul Weitz In Good Company DVD Review Paul Weitz's - In Good Company - DVD Review Paul Weitz In Good Company DVD Review Paul Weitz In Good Company DVD Review Paul Weitz In Good Company DVD Review Paul Weitz In Good Company DVD Review Paul Weitz In Good Company DVD Review Paul Weitz In Good Company DVD Review Paul Weitz In Good Company DVD Review Paul Weitz In Good Company DVD Review Paul Weitz In Good Company DVD Review Paul Weitz's - In Good Company - DVD Review Paul Weitz In Good Company DVD Review Paul Weitz In Good Company DVD Review Paul Weitz In Good Company DVD Review Paul Weitz In Good Company DVD Review Paul Weitz In Good Company DVD Review Paul Weitz In Good Company DVD Review Paul Weitz In Good Company DVD Review Paul Weitz In Good Company DVD Review Paul Weitz In Good Company DVD Review Paul Weitz's - In Good Company - DVD Review Paul Weitz In Good Company DVD Review Paul Weitz In Good Company DVD Review Paul Weitz In Good Company DVD Review Paul Weitz In Good Company DVD Review Paul Weitz In Good Company DVD Review Paul Weitz In Good Company DVD Review Paul Weitz In Good Company DVD Review Paul Weitz In Good Company DVD Review Paul Weitz In Good Company DVD Review Paul Weitz's - In Good Company - DVD Review Paul Weitz In Good Company DVD Review Paul Weitz In Good Company DVD Review Paul Weitz In Good Company DVD Review Paul Weitz In Good Company DVD Review Paul Weitz In Good Company DVD Review Paul Weitz In Good Company DVD Review Paul Weitz In Good Company DVD Review Paul Weitz In Good Company DVD Review Paul Weitz In Good Company DVD Review Paul Weitz's - In Good Company - DVD Review Paul Weitz In Good Company DVD Review Paul Weitz In Good Company DVD Review Paul Weitz In Good Company DVD Review Paul Weitz In Good Company DVD Review Paul Weitz In Good Company DVD Review Paul Weitz In Good Company DVD Review Paul Weitz In Good Company DVD Review Paul Weitz In Good Company DVD Review Paul Weitz In Good Company DVD Review Paul Weitz's - In Good Company - DVD Review Paul Weitz In Good Company DVD Review Paul Weitz In Good Company DVD Review Paul Weitz In Good Company DVD Review Paul Weitz In Good Company DVD Review Paul Weitz In Good Company DVD Review Paul Weitz In Good Company DVD Review Paul Weitz In Good Company DVD Review Paul Weitz In Good Company DVD Review Paul Weitz In Good Company DVD Review Paul Weitz's - In Good Company - DVD Review Paul Weitz In Good Company DVD Review Paul Weitz In Good Company DVD Review Paul Weitz In Good Company DVD Review Paul Weitz In Good Company DVD Review Paul Weitz In Good Company DVD Review Paul Weitz In Good Company DVD Review Paul Weitz In Good Company DVD Review Paul Weitz In Good Company DVD Review Paul Weitz In Good Company DVD Review Paul Weitz's - In Good Company - DVD Review Paul Weitz In Good Company DVD Review Paul Weitz In Good Company DVD Review Paul Weitz In Good Company DVD Review Paul Weitz In Good Company DVD Review Paul Weitz In Good Company DVD Review Paul Weitz In Good Company DVD Review Paul Weitz In Good Company DVD Review Paul Weitz In Good Company DVD Review Paul Weitz In Good Company DVD Review Paul Weitz's - In Good Company - DVD Review Paul Weitz In Good Company DVD Review Paul Weitz In Good Company DVD Review Paul Weitz In Good Company DVD Review Paul Weitz In Good Company DVD Review Paul Weitz In Good Company DVD Review Paul Weitz In Good Company DVD Review Paul Weitz In Good Company DVD Review Paul Weitz In Good Company DVD Review Paul Weitz In Good Company DVD Review