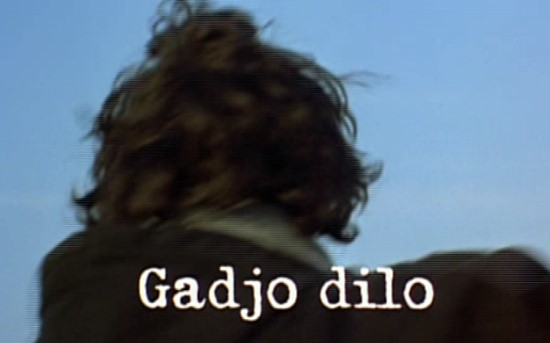 (aka 'L'Étranger fou' or 'Strainul nebun' or 'The Crazy Stranger')
Directed by Tony Gatlif
Romania / France 1997
Endearingly shaggy comedy-drama, improvised around the thinnest wisp of plot: genial, wild-haired young Frenchman Stephane (Romain Duris) arrives in a remote Romanian village in search of Nora Luca, a Gypsy singer much loved by his late father. The local Roma community is initially hostile, but gradually accept Stephane after he first befriends blustery oldster Izidor (Izidor Serban), and then local 'bad girl' Sabina (Rona Hartner).

But this narrative is really just an arbitrary framework on which Algerian-Gypsy Gatlif strings colorful vignettes illustrating the richness of Roma life. He's out to celebrate a remarkable culture that survives in Europe's hidden corners, one whose Eastern roots are clearly exposed in the frequent bouts of singing and dancing. Perhaps he'd have been better off making it as a documentary - Gadjo Dilo is much more successful in terms of anthropology and good-time atmosphere than as a feature-film drama.
Excerpt from Neil Young's review at the Jigsaw Lounge located HERE
Posters
Theatrical Release: August 1997 - Montreal Film Festival
Reviews More Reviews DVD Reviews
DVD Review: New Yorker - Region 1 - NTSC
DVD Box Cover

CLICK to order from:

Distribution
New Yorker Video - Region 1 - NTSC
Runtime
1:37:03
Video
1.62:1 Original Aspect Ratio
Average Bitrate: 5.42 mb/s
NTSC 720x480 29.97 f/s

NOTE: The Vertical axis represents the bits transferred per second. The Horizontal is the time in minutes.

Bitrate:

Audio
French / Romanian / Romany (Dolby Digital 2.0)
Subtitles
English, None
Features

Release Information:
Studio: New Yorker Video

Aspect Ratio:
Original Aspect Ratio 1.62:1

Edition Details:

• trailer (1:42)
• trailers for other NY'er titles

DVD Release Date: September 27th, 2005
Keep Case
Chapters: 34
| | |
| --- | --- |
| Comments: | A typical NY'er release - decent, if marginally hazy and anamorphic, image in the correct aspect ratio with optional English subtitles. Colors seem true, if not especially vibrant. A sweet comedic film that is great to have available to North American audiences... perhaps exposing (or enhancing) gypsy myths in a gentle humorous manner. The only relevant extra is a trailer for the film. |
---



DVD Menus

---
Subtitle Sample
Screen Captures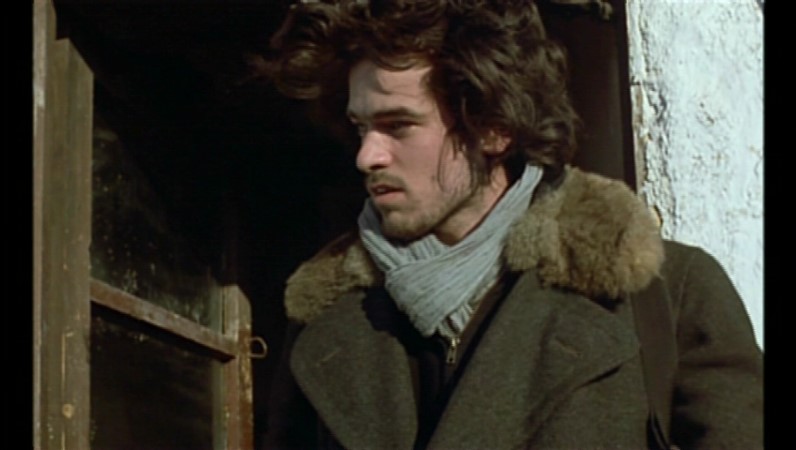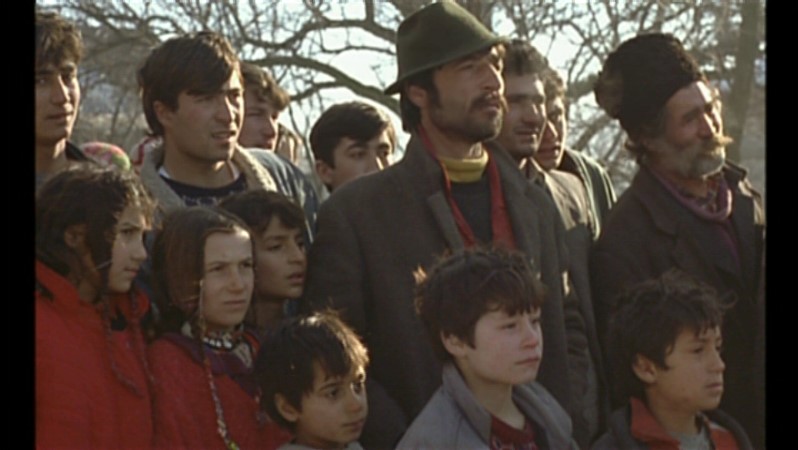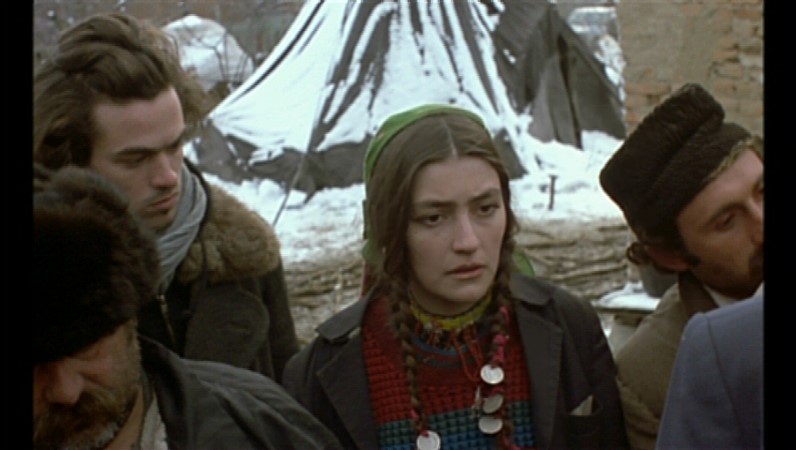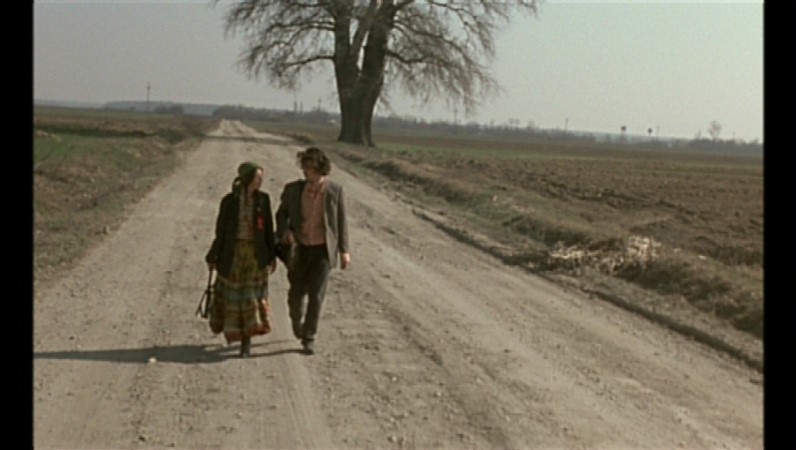 ---
---
Instance of ghosting / combing...
DVD Box Cover

CLICK to order from:

Distribution
New Yorker Video - Region 1 - NTSC
---




















DONATIONS Keep DVDBeaver alive:
Mail cheques, money orders, cash to: or CLICK PayPal logo to donate!
Gary Tooze

Mississauga, Ontario,

CANADA
Thank You!
Tony Gatlif's - The Crazy Stranger - Gadjo dilo DVD Review Tony Gatlif The Crazy Stranger Gadjo dilo DVD Review Tony Gatlif The Crazy Stranger Gadjo dilo DVD Review Tony Gatlif The Crazy Stranger Gadjo dilo DVD Review Tony Gatlif The Crazy Stranger Gadjo dilo DVD Review Tony Gatlif The Crazy Stranger Gadjo dilo DVD Review Tony Gatlif The Crazy Stranger Gadjo dilo DVD Review Tony Gatlif The Crazy Stranger Gadjo dilo DVD Review Tony Gatlif The Crazy Stranger Gadjo dilo DVD Review Tony Gatlif The Crazy Stranger Gadjo dilo DVD Review Tony Gatlif The Crazy Stranger Gadjo dilo DVD Review Tony Gatlif's - The Crazy Stranger - Gadjo dilo DVD Review Tony Gatlif The Crazy Stranger Gadjo dilo DVD Review Tony Gatlif The Crazy Stranger Gadjo dilo DVD Review Tony Gatlif The Crazy Stranger Gadjo dilo DVD Review Tony Gatlif The Crazy Stranger Gadjo dilo DVD Review Tony Gatlif The Crazy Stranger Gadjo dilo DVD Review Tony Gatlif The Crazy Stranger Gadjo dilo DVD Review Tony Gatlif The Crazy Stranger Gadjo dilo DVD Review Tony Gatlif The Crazy Stranger Gadjo dilo DVD Review Tony Gatlif The Crazy Stranger Gadjo dilo DVD Review Tony Gatlif The Crazy Stranger Gadjo dilo DVD Review Tony Gatlif's - The Crazy Stranger - Gadjo dilo DVD Review Tony Gatlif The Crazy Stranger Gadjo dilo DVD Review Tony Gatlif The Crazy Stranger Gadjo dilo DVD Review Tony Gatlif The Crazy Stranger Gadjo dilo DVD Review Tony Gatlif The Crazy Stranger Gadjo dilo DVD Review Tony Gatlif The Crazy Stranger Gadjo dilo DVD Review Tony Gatlif The Crazy Stranger Gadjo dilo DVD Review Tony Gatlif The Crazy Stranger Gadjo dilo DVD Review Tony Gatlif The Crazy Stranger Gadjo dilo DVD Review Tony Gatlif The Crazy Stranger Gadjo dilo DVD Review Tony Gatlif The Crazy Stranger Gadjo dilo DVD Review Tony Gatlif's - The Crazy Stranger - Gadjo dilo DVD Review Tony Gatlif The Crazy Stranger Gadjo dilo DVD Review Tony Gatlif The Crazy Stranger Gadjo dilo DVD Review Tony Gatlif The Crazy Stranger Gadjo dilo DVD Review Tony Gatlif The Crazy Stranger Gadjo dilo DVD Review Tony Gatlif The Crazy Stranger Gadjo dilo DVD Review Tony Gatlif The Crazy Stranger Gadjo dilo DVD Review Tony Gatlif The Crazy Stranger Gadjo dilo DVD Review Tony Gatlif The Crazy Stranger Gadjo dilo DVD Review Tony Gatlif The Crazy Stranger Gadjo dilo DVD Review Tony Gatlif The Crazy Stranger Gadjo dilo DVD Review Tony Gatlif's - The Crazy Stranger - Gadjo dilo DVD Review Tony Gatlif The Crazy Stranger Gadjo dilo DVD Review Tony Gatlif The Crazy Stranger Gadjo dilo DVD Review Tony Gatlif The Crazy Stranger Gadjo dilo DVD Review Tony Gatlif The Crazy Stranger Gadjo dilo DVD Review Tony Gatlif The Crazy Stranger Gadjo dilo DVD Review Tony Gatlif The Crazy Stranger Gadjo dilo DVD Review Tony Gatlif The Crazy Stranger Gadjo dilo DVD Review Tony Gatlif The Crazy Stranger Gadjo dilo DVD Review Tony Gatlif The Crazy Stranger Gadjo dilo DVD Review Tony Gatlif The Crazy Stranger Gadjo dilo DVD Review Tony Gatlif's - The Crazy Stranger - Gadjo dilo DVD Review Tony Gatlif The Crazy Stranger Gadjo dilo DVD Review Tony Gatlif The Crazy Stranger Gadjo dilo DVD Review Tony Gatlif The Crazy Stranger Gadjo dilo DVD Review Tony Gatlif The Crazy Stranger Gadjo dilo DVD Review Tony Gatlif The Crazy Stranger Gadjo dilo DVD Review Tony Gatlif The Crazy Stranger Gadjo dilo DVD Review Tony Gatlif The Crazy Stranger Gadjo dilo DVD Review Tony Gatlif The Crazy Stranger Gadjo dilo DVD Review Tony Gatlif The Crazy Stranger Gadjo dilo DVD Review Tony Gatlif The Crazy Stranger Gadjo dilo DVD Review Tony Gatlif's - The Crazy Stranger - Gadjo dilo DVD Review Tony Gatlif The Crazy Stranger Gadjo dilo DVD Review Tony Gatlif The Crazy Stranger Gadjo dilo DVD Review Tony Gatlif The Crazy Stranger Gadjo dilo DVD Review Tony Gatlif The Crazy Stranger Gadjo dilo DVD Review Tony Gatlif The Crazy Stranger Gadjo dilo DVD Review Tony Gatlif The Crazy Stranger Gadjo dilo DVD Review Tony Gatlif The Crazy Stranger Gadjo dilo DVD Review Tony Gatlif The Crazy Stranger Gadjo dilo DVD Review Tony Gatlif The Crazy Stranger Gadjo dilo DVD Review Tony Gatlif The Crazy Stranger Gadjo dilo DVD Review Tony Gatlif's - The Crazy Stranger - Gadjo dilo DVD Review Tony Gatlif The Crazy Stranger Gadjo dilo DVD Review Tony Gatlif The Crazy Stranger Gadjo dilo DVD Review Tony Gatlif The Crazy Stranger Gadjo dilo DVD Review Tony Gatlif The Crazy Stranger Gadjo dilo DVD Review Tony Gatlif The Crazy Stranger Gadjo dilo DVD Review Tony Gatlif The Crazy Stranger Gadjo dilo DVD Review Tony Gatlif The Crazy Stranger Gadjo dilo DVD Review Tony Gatlif The Crazy Stranger Gadjo dilo DVD Review Tony Gatlif The Crazy Stranger Gadjo dilo DVD Review Tony Gatlif The Crazy Stranger Gadjo dilo DVD Review Tony Gatlif's - The Crazy Stranger - Gadjo dilo DVD Review Tony Gatlif The Crazy Stranger Gadjo dilo DVD Review Tony Gatlif The Crazy Stranger Gadjo dilo DVD Review Tony Gatlif The Crazy Stranger Gadjo dilo DVD Review Tony Gatlif The Crazy Stranger Gadjo dilo DVD Review Tony Gatlif The Crazy Stranger Gadjo dilo DVD Review Tony Gatlif The Crazy Stranger Gadjo dilo DVD Review Tony Gatlif The Crazy Stranger Gadjo dilo DVD Review Tony Gatlif The Crazy Stranger Gadjo dilo DVD Review Tony Gatlif The Crazy Stranger Gadjo dilo DVD Review Tony Gatlif The Crazy Stranger Gadjo dilo DVD Review Tony Gatlif's - The Crazy Stranger - Gadjo dilo DVD Review Tony Gatlif The Crazy Stranger Gadjo dilo DVD Review Tony Gatlif The Crazy Stranger Gadjo dilo DVD Review Tony Gatlif The Crazy Stranger Gadjo dilo DVD Review Tony Gatlif The Crazy Stranger Gadjo dilo DVD Review Tony Gatlif The Crazy Stranger Gadjo dilo DVD Review Tony Gatlif The Crazy Stranger Gadjo dilo DVD Review Tony Gatlif The Crazy Stranger Gadjo dilo DVD Review Tony Gatlif The Crazy Stranger Gadjo dilo DVD Review Tony Gatlif The Crazy Stranger Gadjo dilo DVD Review Tony Gatlif The Crazy Stranger Gadjo dilo DVD Review Tony Gatlif's - The Crazy Stranger - Gadjo dilo DVD Review Tony Gatlif The Crazy Stranger Gadjo dilo DVD Review Tony Gatlif The Crazy Stranger Gadjo dilo DVD Review Tony Gatlif The Crazy Stranger Gadjo dilo DVD Review Tony Gatlif The Crazy Stranger Gadjo dilo DVD Review Tony Gatlif The Crazy Stranger Gadjo dilo DVD Review Tony Gatlif The Crazy Stranger Gadjo dilo DVD Review Tony Gatlif The Crazy Stranger Gadjo dilo DVD Review Tony Gatlif The Crazy Stranger Gadjo dilo DVD Review Tony Gatlif The Crazy Stranger Gadjo dilo DVD Review Tony Gatlif The Crazy Stranger Gadjo dilo DVD Review Tony Gatlif's - The Crazy Stranger - Gadjo dilo DVD Review Tony Gatlif The Crazy Stranger Gadjo dilo DVD Review Tony Gatlif The Crazy Stranger Gadjo dilo DVD Review Tony Gatlif The Crazy Stranger Gadjo dilo DVD Review Tony Gatlif The Crazy Stranger Gadjo dilo DVD Review Tony Gatlif The Crazy Stranger Gadjo dilo DVD Review Tony Gatlif The Crazy Stranger Gadjo dilo DVD Review Tony Gatlif The Crazy Stranger Gadjo dilo DVD Review Tony Gatlif The Crazy Stranger Gadjo dilo DVD Review Tony Gatlif The Crazy Stranger Gadjo dilo DVD Review Tony Gatlif The Crazy Stranger Gadjo dilo DVD Review Tony Gatlif's - The Crazy Stranger - Gadjo dilo DVD Review Tony Gatlif The Crazy Stranger Gadjo dilo DVD Review Tony Gatlif The Crazy Stranger Gadjo dilo DVD Review Tony Gatlif The Crazy Stranger Gadjo dilo DVD Review Tony Gatlif The Crazy Stranger Gadjo dilo DVD Review Tony Gatlif The Crazy Stranger Gadjo dilo DVD Review Tony Gatlif The Crazy Stranger Gadjo dilo DVD Review Tony Gatlif The Crazy Stranger Gadjo dilo DVD Review Tony Gatlif The Crazy Stranger Gadjo dilo DVD Review Tony Gatlif The Crazy Stranger Gadjo dilo DVD Review Tony Gatlif The Crazy Stranger Gadjo dilo DVD Review Tony Gatlif's - The Crazy Stranger - Gadjo dilo DVD Review Tony Gatlif The Crazy Stranger Gadjo dilo DVD Review Tony Gatlif The Crazy Stranger Gadjo dilo DVD Review Tony Gatlif The Crazy Stranger Gadjo dilo DVD Review Tony Gatlif The Crazy Stranger Gadjo dilo DVD Review Tony Gatlif The Crazy Stranger Gadjo dilo DVD Review Tony Gatlif The Crazy Stranger Gadjo dilo DVD Review Tony Gatlif The Crazy Stranger Gadjo dilo DVD Review Tony Gatlif The Crazy Stranger Gadjo dilo DVD Review Tony Gatlif The Crazy Stranger Gadjo dilo DVD Review Tony Gatlif The Crazy Stranger Gadjo dilo DVD Review Tony Gatlif's - The Crazy Stranger - Gadjo dilo DVD Review Tony Gatlif The Crazy Stranger Gadjo dilo DVD Review Tony Gatlif The Crazy Stranger Gadjo dilo DVD Review Tony Gatlif The Crazy Stranger Gadjo dilo DVD Review Tony Gatlif The Crazy Stranger Gadjo dilo DVD Review Tony Gatlif The Crazy Stranger Gadjo dilo DVD Review Tony Gatlif The Crazy Stranger Gadjo dilo DVD Review Tony Gatlif The Crazy Stranger Gadjo dilo DVD Review Tony Gatlif The Crazy Stranger Gadjo dilo DVD Review Tony Gatlif The Crazy Stranger Gadjo dilo DVD Review Tony Gatlif The Crazy Stranger Gadjo dilo DVD Review