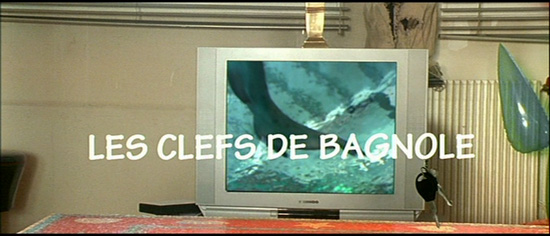 (aka "The Car Keys" )
directed by Laurent Baffie
France 2003
One must be very sure of the willingness of an audience, when one, with huge red letters, across the poster writes, "Do not watch this piece of shit."

That, or one is just honest. Either way, "Les Clefs de bagnole" is less a film than 90 minutes semi-documentary-no-plot other than two guys, directors and French comedian Laurent Baffie and his friend Daniel Russo, looking for their car keys. But more than just to look, they do make an effort to give the audience value for their money, when they for instance look while hanging from an helicopter over a exotic beach, and along the way have cameos of famous people like Daniel Auteuil, Gérard Depardieu and Jean Marc-Barr, for no other reason than to put their names on the poster to lure people into the cinema.

And regardless of what you think of the film, don't say you haven't been warned by the poster. It did clearly say, do NOT go and see it, it IS crap.
Posters
Theatrical Release: December 10, 2003
Reviews More Reviews DVD Reviews
DVD Review: Tartan (the ciné lumière collection) - Region 0 - PAL
Big thanks to Henrik Sylow for the Review!
DVD Box Cover

CLICK to order from:

Distribution

Tartan

Region 0 - PAL

Runtime
1:26:39 (4% PAL speedup)
Video

2.36:1 Original Aspect Ratio

16X9 enhanced
Average Bitrate: 8.40 mb/s
PAL 720x576 25.00 f/s

NOTE: The Vertical axis represents the bits transferred per second. The Horizontal is the time in minutes.

Bitrate

Audio
2.0 Dolby Digital French, 5.1 Dolby Digital French, DTS French
Subtitles
English, None
Features
Release Information:
Studio: Tartan

Aspect Ratio:
Widescreen anamorphic - 2.36:1

Edition Details:
• Original Trailer (1:29 / 16x9)

DVD Release Date: September 26, 2005
Keep Case

Chapters 16
Comments
Where the sequences shot on 16mm and miniDV is grainy as could be expected, the 35mm scenes are beautiful. Vivid colors, strong details and no artifacts to speak of. Great transfer.

Sadly Tartan couldn't get the French "Making of", which, amongst other, has a scene where the bank refuses to lend Baffie money based on what he calls a script. This is an half-asses excuse to make a film, if one can all it that, and the documentary underlines this.
---




DVD Menus

---
Screen Captures
subtitle sample (English only)
Captures resized to 800px from 1016px














DONATIONS Keep DVDBeaver alive:
Mail cheques, money orders, cash to: or CLICK PayPal logo to donate!
Thank You!
Laurent Baffie's - The Car Keys - Les Clefs de bagnole - DVD Review Laurent Baffie The Car Keys Les Clefs de bagnole DVD Review Laurent Baffie The Car Keys Les Clefs de bagnole DVD Review Laurent Baffie The Car Keys Les Clefs de bagnole DVD Review Laurent Baffie The Car Keys Les Clefs de bagnole DVD Review Laurent Baffie The Car Keys Les Clefs de bagnole DVD Review Laurent Baffie The Car Keys Les Clefs de bagnole DVD Review Laurent Baffie The Car Keys Les Clefs de bagnole DVD Review Laurent Baffie The Car Keys Les Clefs de bagnole DVD Review Laurent Baffie's - The Car Keys - Les Clefs de bagnole - DVD Review Laurent Baffie The Car Keys Les Clefs de bagnole DVD Review Laurent Baffie The Car Keys Les Clefs de bagnole DVD Review Laurent Baffie The Car Keys Les Clefs de bagnole DVD Review Laurent Baffie The Car Keys Les Clefs de bagnole DVD Review Laurent Baffie The Car Keys Les Clefs de bagnole DVD Review Laurent Baffie The Car Keys Les Clefs de bagnole DVD Review Laurent Baffie The Car Keys Les Clefs de bagnole DVD Review Laurent Baffie The Car Keys Les Clefs de bagnole DVD Review Laurent Baffie's - The Car Keys - Les Clefs de bagnole - DVD Review Laurent Baffie The Car Keys Les Clefs de bagnole DVD Review Laurent Baffie The Car Keys Les Clefs de bagnole DVD Review Laurent Baffie The Car Keys Les Clefs de bagnole DVD Review Laurent Baffie The Car Keys Les Clefs de bagnole DVD Review Laurent Baffie The Car Keys Les Clefs de bagnole DVD Review Laurent Baffie The Car Keys Les Clefs de bagnole DVD Review Laurent Baffie The Car Keys Les Clefs de bagnole DVD Review Laurent Baffie The Car Keys Les Clefs de bagnole DVD Review Laurent Baffie's - The Car Keys - Les Clefs de bagnole - DVD Review Laurent Baffie The Car Keys Les Clefs de bagnole DVD Review Laurent Baffie The Car Keys Les Clefs de bagnole DVD Review Laurent Baffie The Car Keys Les Clefs de bagnole DVD Review Laurent Baffie The Car Keys Les Clefs de bagnole DVD Review Laurent Baffie The Car Keys Les Clefs de bagnole DVD Review Laurent Baffie The Car Keys Les Clefs de bagnole DVD Review Laurent Baffie The Car Keys Les Clefs de bagnole DVD Review Laurent Baffie The Car Keys Les Clefs de bagnole DVD Review Laurent Baffie's - The Car Keys - Les Clefs de bagnole - DVD Review Laurent Baffie The Car Keys Les Clefs de bagnole DVD Review Laurent Baffie The Car Keys Les Clefs de bagnole DVD Review Laurent Baffie The Car Keys Les Clefs de bagnole DVD Review Laurent Baffie The Car Keys Les Clefs de bagnole DVD Review Laurent Baffie The Car Keys Les Clefs de bagnole DVD Review Laurent Baffie The Car Keys Les Clefs de bagnole DVD Review Laurent Baffie The Car Keys Les Clefs de bagnole DVD Review Laurent Baffie The Car Keys Les Clefs de bagnole DVD Review Laurent Baffie's - The Car Keys - Les Clefs de bagnole - DVD Review Laurent Baffie The Car Keys Les Clefs de bagnole DVD Review Laurent Baffie The Car Keys Les Clefs de bagnole DVD Review Laurent Baffie The Car Keys Les Clefs de bagnole DVD Review Laurent Baffie The Car Keys Les Clefs de bagnole DVD Review Laurent Baffie The Car Keys Les Clefs de bagnole DVD Review Laurent Baffie The Car Keys Les Clefs de bagnole DVD Review Laurent Baffie The Car Keys Les Clefs de bagnole DVD Review Laurent Baffie The Car Keys Les Clefs de bagnole DVD Review Laurent Baffie's - The Car Keys - Les Clefs de bagnole - DVD Review Laurent Baffie The Car Keys Les Clefs de bagnole DVD Review Laurent Baffie The Car Keys Les Clefs de bagnole DVD Review Laurent Baffie The Car Keys Les Clefs de bagnole DVD Review Laurent Baffie The Car Keys Les Clefs de bagnole DVD Review Laurent Baffie The Car Keys Les Clefs de bagnole DVD Review Laurent Baffie The Car Keys Les Clefs de bagnole DVD Review Laurent Baffie The Car Keys Les Clefs de bagnole DVD Review Laurent Baffie The Car Keys Les Clefs de bagnole DVD Review Laurent Baffie's - The Car Keys - Les Clefs de bagnole - DVD Review Laurent Baffie The Car Keys Les Clefs de bagnole DVD Review Laurent Baffie The Car Keys Les Clefs de bagnole DVD Review Laurent Baffie The Car Keys Les Clefs de bagnole DVD Review Laurent Baffie The Car Keys Les Clefs de bagnole DVD Review Laurent Baffie The Car Keys Les Clefs de bagnole DVD Review Laurent Baffie The Car Keys Les Clefs de bagnole DVD Review Laurent Baffie The Car Keys Les Clefs de bagnole DVD Review Laurent Baffie The Car Keys Les Clefs de bagnole DVD Review Laurent Baffie's - The Car Keys - Les Clefs de bagnole - DVD Review Laurent Baffie The Car Keys Les Clefs de bagnole DVD Review Laurent Baffie The Car Keys Les Clefs de bagnole DVD Review Laurent Baffie The Car Keys Les Clefs de bagnole DVD Review Laurent Baffie The Car Keys Les Clefs de bagnole DVD Review Laurent Baffie The Car Keys Les Clefs de bagnole DVD Review Laurent Baffie The Car Keys Les Clefs de bagnole DVD Review Laurent Baffie The Car Keys Les Clefs de bagnole DVD Review Laurent Baffie The Car Keys Les Clefs de bagnole DVD Review Laurent Baffie's - The Car Keys - Les Clefs de bagnole - DVD Review Laurent Baffie The Car Keys Les Clefs de bagnole DVD Review Laurent Baffie The Car Keys Les Clefs de bagnole DVD Review Laurent Baffie The Car Keys Les Clefs de bagnole DVD Review Laurent Baffie The Car Keys Les Clefs de bagnole DVD Review Laurent Baffie The Car Keys Les Clefs de bagnole DVD Review Laurent Baffie The Car Keys Les Clefs de bagnole DVD Review Laurent Baffie The Car Keys Les Clefs de bagnole DVD Review Laurent Baffie The Car Keys Les Clefs de bagnole DVD Review Laurent Baffie's - The Car Keys - Les Clefs de bagnole - DVD Review Laurent Baffie The Car Keys Les Clefs de bagnole DVD Review Laurent Baffie The Car Keys Les Clefs de bagnole DVD Review Laurent Baffie The Car Keys Les Clefs de bagnole DVD Review Laurent Baffie The Car Keys Les Clefs de bagnole DVD Review Laurent Baffie The Car Keys Les Clefs de bagnole DVD Review Laurent Baffie The Car Keys Les Clefs de bagnole DVD Review Laurent Baffie The Car Keys Les Clefs de bagnole DVD Review Laurent Baffie The Car Keys Les Clefs de bagnole DVD Review Laurent Baffie's - The Car Keys - Les Clefs de bagnole - DVD Review Laurent Baffie The Car Keys Les Clefs de bagnole DVD Review Laurent Baffie The Car Keys Les Clefs de bagnole DVD Review Laurent Baffie The Car Keys Les Clefs de bagnole DVD Review Laurent Baffie The Car Keys Les Clefs de bagnole DVD Review Laurent Baffie The Car Keys Les Clefs de bagnole DVD Review Laurent Baffie The Car Keys Les Clefs de bagnole DVD Review Laurent Baffie The Car Keys Les Clefs de bagnole DVD Review Laurent Baffie The Car Keys Les Clefs de bagnole DVD Review