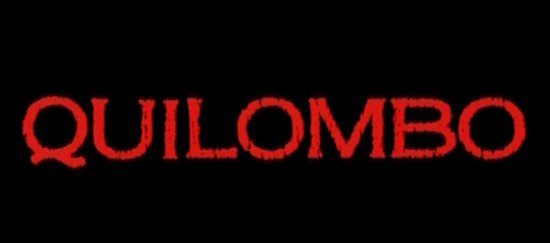 Directed by Carlos Diegues
Brazil / France 1984
A sequel, of sorts, to Carlos Diegues' Ganga Zumba, this historical saga is a stirring fusion of folklore, political impact and dynamic story-telling, realized in vibrant tropical colors and set to the pulsing beat of Gilberto Gil's musical score. After the slave revolt of 1641, groups of runaway black slaves escaped to mountainous jungle strongholds where they formed self-governing communities. This film is the chronicle of the most famous of these "black Eldorados" which flourished for several decades under the reign of the legendary chieftain Ganga Zumba.
Poster
Theatrical Release: March 28th, 1986
DVD Review: New Yorker - Region 1 - NTSC
DVD Box Cover

CLICK to order from:

Distribution
New Yorker Video - Region 1 - NTSC
Runtime
1:59:48
Video
1.57:1 Aspect Ratio
Average Bitrate: 5.99 mb/s
NTSC 720x480 29.97 f/s

NOTE: The Vertical axis represents the bits transferred per second. The Horizontal is the time in minutes.

Bitrate:

Audio
Portuguese (Dolby Digital 2.0)
Subtitles
English, None
Features

Release Information:
Studio: New Yorker Video

Aspect Ratio: 1.57:1

Edition Details:

• Featurette: The Making of Quilombo (41:00)


DVD Release Date: September 27th, 2005
Keep Case
Chapters: 36
| | |
| --- | --- |
| Comments: | Although not anamorphic - this is not a bad image at all from NY'er. Both the varying bitrate and my own investigation lead me to believe that it is progressively transferred. Color is excellent, as is sharpness and contrast. Removable subtitles, original audio and a lengthy, if somewhat poor condition, 'Making of...' featurette top off this wonderful releases. I was very impressed by the film and will seek out Carlos Diegues' Ganga Zumba now. Thanks for bringing this out digitally NY'er! |
---



DVD Menus

---
Subtitle Sample
Screen Captures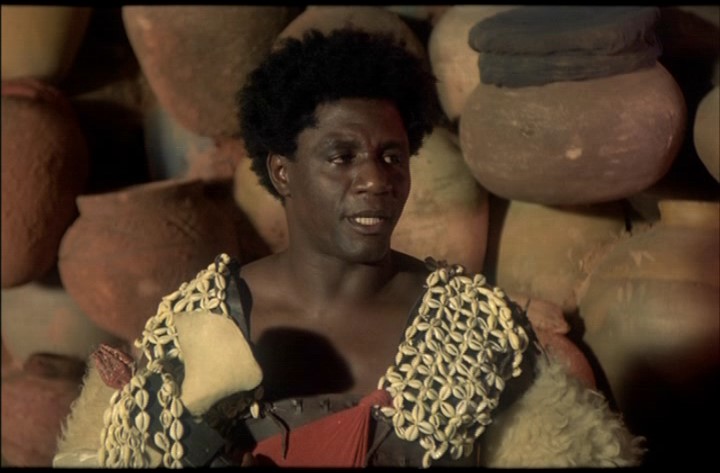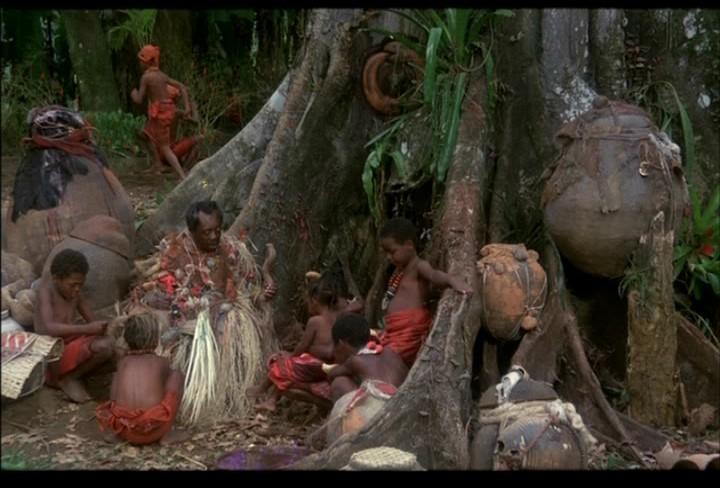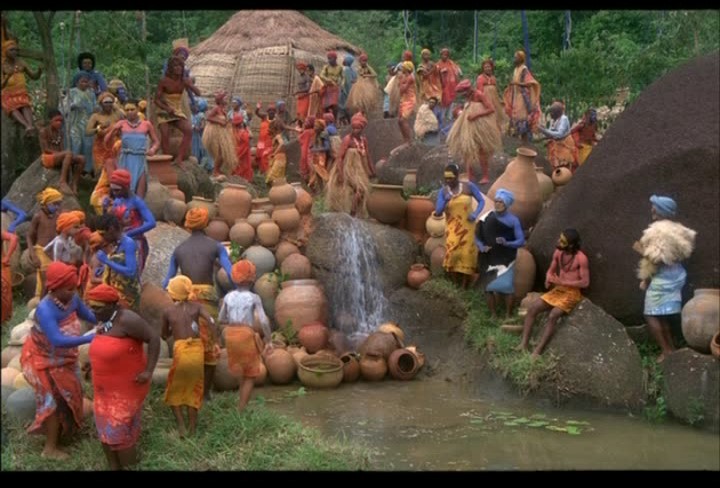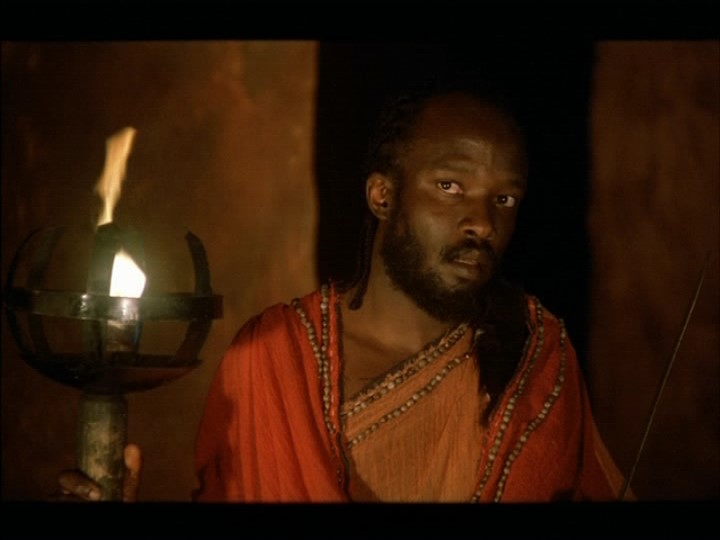 ---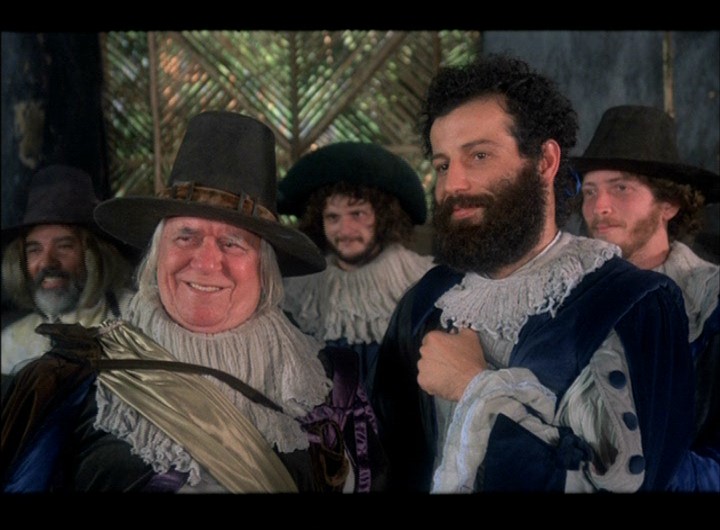 DONATIONS Keep DVDBeaver alive:
Mail cheques, money orders, cash to: or CLICK PayPal logo to donate!
Gary Tooze

Mississauga, Ontario,

CANADA
Thank You!
Carlos Diegues' - Quilombo - DVD Review Carlos Diegues Quilombo DVD Review Carlos Diegues Quilombo DVD Review Carlos Diegues Quilombo DVD Review Carlos Diegues Quilombo DVD Review Carlos Diegues Quilombo DVD Review Carlos Diegues Quilombo DVD Review Carlos Diegues Quilombo DVD Review Carlos Diegues Quilombo DVD Review Carlos Diegues Quilombo DVD Review Carlos Diegues Quilombo DVD Review Carlos Diegues Quilombo DVD Review Carlos Diegues' - Quilombo - DVD Review Carlos Diegues Quilombo DVD Review Carlos Diegues Quilombo DVD Review Carlos Diegues Quilombo DVD Review Carlos Diegues Quilombo DVD Review Carlos Diegues Quilombo DVD Review Carlos Diegues Quilombo DVD Review Carlos Diegues Quilombo DVD Review Carlos Diegues Quilombo DVD Review Carlos Diegues Quilombo DVD Review Carlos Diegues Quilombo DVD Review Carlos Diegues Quilombo DVD Review Carlos Diegues' - Quilombo - DVD Review Carlos Diegues Quilombo DVD Review Carlos Diegues Quilombo DVD Review Carlos Diegues Quilombo DVD Review Carlos Diegues Quilombo DVD Review Carlos Diegues Quilombo DVD Review Carlos Diegues Quilombo DVD Review Carlos Diegues Quilombo DVD Review Carlos Diegues Quilombo DVD Review Carlos Diegues Quilombo DVD Review Carlos Diegues Quilombo DVD Review Carlos Diegues Quilombo DVD Review Carlos Diegues' - Quilombo - DVD Review Carlos Diegues Quilombo DVD Review Carlos Diegues Quilombo DVD Review Carlos Diegues Quilombo DVD Review Carlos Diegues Quilombo DVD Review Carlos Diegues Quilombo DVD Review Carlos Diegues Quilombo DVD Review Carlos Diegues Quilombo DVD Review Carlos Diegues Quilombo DVD Review Carlos Diegues Quilombo DVD Review Carlos Diegues Quilombo DVD Review Carlos Diegues Quilombo DVD Review Carlos Diegues' - Quilombo - DVD Review Carlos Diegues Quilombo DVD Review Carlos Diegues Quilombo DVD Review Carlos Diegues Quilombo DVD Review Carlos Diegues Quilombo DVD Review Carlos Diegues Quilombo DVD Review Carlos Diegues Quilombo DVD Review Carlos Diegues Quilombo DVD Review Carlos Diegues Quilombo DVD Review Carlos Diegues Quilombo DVD Review Carlos Diegues Quilombo DVD Review Carlos Diegues Quilombo DVD Review Carlos Diegues' - Quilombo - DVD Review Carlos Diegues Quilombo DVD Review Carlos Diegues Quilombo DVD Review Carlos Diegues Quilombo DVD Review Carlos Diegues Quilombo DVD Review Carlos Diegues Quilombo DVD Review Carlos Diegues Quilombo DVD Review Carlos Diegues Quilombo DVD Review Carlos Diegues Quilombo DVD Review Carlos Diegues Quilombo DVD Review Carlos Diegues Quilombo DVD Review Carlos Diegues Quilombo DVD Review Carlos Diegues' - Quilombo - DVD Review Carlos Diegues Quilombo DVD Review Carlos Diegues Quilombo DVD Review Carlos Diegues Quilombo DVD Review Carlos Diegues Quilombo DVD Review Carlos Diegues Quilombo DVD Review Carlos Diegues Quilombo DVD Review Carlos Diegues Quilombo DVD Review Carlos Diegues Quilombo DVD Review Carlos Diegues Quilombo DVD Review Carlos Diegues Quilombo DVD Review Carlos Diegues Quilombo DVD Review Carlos Diegues' - Quilombo - DVD Review Carlos Diegues Quilombo DVD Review Carlos Diegues Quilombo DVD Review Carlos Diegues Quilombo DVD Review Carlos Diegues Quilombo DVD Review Carlos Diegues Quilombo DVD Review Carlos Diegues Quilombo DVD Review Carlos Diegues Quilombo DVD Review Carlos Diegues Quilombo DVD Review Carlos Diegues Quilombo DVD Review Carlos Diegues Quilombo DVD Review Carlos Diegues Quilombo DVD Review Carlos Diegues' - Quilombo - DVD Review Carlos Diegues Quilombo DVD Review Carlos Diegues Quilombo DVD Review Carlos Diegues Quilombo DVD Review Carlos Diegues Quilombo DVD Review Carlos Diegues Quilombo DVD Review Carlos Diegues Quilombo DVD Review Carlos Diegues Quilombo DVD Review Carlos Diegues Quilombo DVD Review Carlos Diegues Quilombo DVD Review Carlos Diegues Quilombo DVD Review Carlos Diegues Quilombo DVD Review Carlos Diegues' - Quilombo - DVD Review Carlos Diegues Quilombo DVD Review Carlos Diegues Quilombo DVD Review Carlos Diegues Quilombo DVD Review Carlos Diegues Quilombo DVD Review Carlos Diegues Quilombo DVD Review Carlos Diegues Quilombo DVD Review Carlos Diegues Quilombo DVD Review Carlos Diegues Quilombo DVD Review Carlos Diegues Quilombo DVD Review Carlos Diegues Quilombo DVD Review Carlos Diegues Quilombo DVD Review Carlos Diegues' - Quilombo - DVD Review Carlos Diegues Quilombo DVD Review Carlos Diegues Quilombo DVD Review Carlos Diegues Quilombo DVD Review Carlos Diegues Quilombo DVD Review Carlos Diegues Quilombo DVD Review Carlos Diegues Quilombo DVD Review Carlos Diegues Quilombo DVD Review Carlos Diegues Quilombo DVD Review Carlos Diegues Quilombo DVD Review Carlos Diegues Quilombo DVD Review Carlos Diegues Quilombo DVD Review Carlos Diegues' - Quilombo - DVD Review Carlos Diegues Quilombo DVD Review Carlos Diegues Quilombo DVD Review Carlos Diegues Quilombo DVD Review Carlos Diegues Quilombo DVD Review Carlos Diegues Quilombo DVD Review Carlos Diegues Quilombo DVD Review Carlos Diegues Quilombo DVD Review Carlos Diegues Quilombo DVD Review Carlos Diegues Quilombo DVD Review Carlos Diegues Quilombo DVD Review Carlos Diegues Quilombo DVD Review Carlos Diegues' - Quilombo - DVD Review Carlos Diegues Quilombo DVD Review Carlos Diegues Quilombo DVD Review Carlos Diegues Quilombo DVD Review Carlos Diegues Quilombo DVD Review Carlos Diegues Quilombo DVD Review Carlos Diegues Quilombo DVD Review Carlos Diegues Quilombo DVD Review Carlos Diegues Quilombo DVD Review Carlos Diegues Quilombo DVD Review Carlos Diegues Quilombo DVD Review Carlos Diegues Quilombo DVD Review Carlos Diegues' - Quilombo - DVD Review Carlos Diegues Quilombo DVD Review Carlos Diegues Quilombo DVD Review Carlos Diegues Quilombo DVD Review Carlos Diegues Quilombo DVD Review Carlos Diegues Quilombo DVD Review Carlos Diegues Quilombo DVD Review Carlos Diegues Quilombo DVD Review Carlos Diegues Quilombo DVD Review Carlos Diegues Quilombo DVD Review Carlos Diegues Quilombo DVD Review Carlos Diegues Quilombo DVD Review Carlos Diegues' - Quilombo - DVD Review Carlos Diegues Quilombo DVD Review Carlos Diegues Quilombo DVD Review Carlos Diegues Quilombo DVD Review Carlos Diegues Quilombo DVD Review Carlos Diegues Quilombo DVD Review Carlos Diegues Quilombo DVD Review Carlos Diegues Quilombo DVD Review Carlos Diegues Quilombo DVD Review Carlos Diegues Quilombo DVD Review Carlos Diegues Quilombo DVD Review Carlos Diegues Quilombo DVD Review Carlos Diegues' - Quilombo - DVD Review Carlos Diegues Quilombo DVD Review Carlos Diegues Quilombo DVD Review Carlos Diegues Quilombo DVD Review Carlos Diegues Quilombo DVD Review Carlos Diegues Quilombo DVD Review Carlos Diegues Quilombo DVD Review Carlos Diegues Quilombo DVD Review Carlos Diegues Quilombo DVD Review Carlos Diegues Quilombo DVD Review Carlos Diegues Quilombo DVD Review Carlos Diegues Quilombo DVD Review