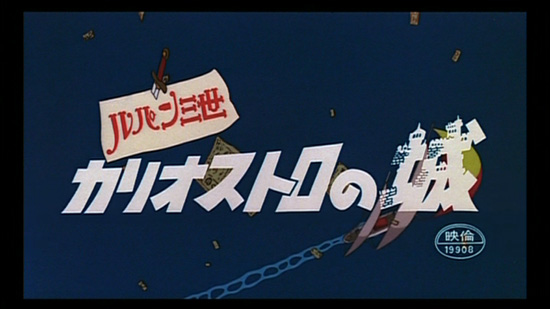 (aka "Rupan sansei: Kariosutoro no shiro" or "Arsene Lupin and the Castle of Cagliostro" or "Lupin III: Castle of Cagliostro")
directed by Hayao Miyazaki
Japan 1979
Escaping from a heist, master thief Arsene Lupin III and his right-handed gunman Jigen, discover, that they have stolen counterfeit money. As no one cheats Arsene Lupid III, they set out to find those who switched the money, which takes them to the secluded European country of Cagliostro and to the castle of the evil Count Cagliostro. Hot on his trail is of course as always inspector Zenigata.

The character of Arsene Lupin III is in fact the grandson of the famous French master thief Arsene Lupin, who was the creation of French writer Maurice LeBlanc. Based upon the real life events of the master counterfeiter Count Cagliostro, LeBlanc made it his subject for Countess Cagliostro, published 1924.

In 1971 the Manga Monkey Punch became a tv-series, on which Hayao Miyazaki would get his debut as director (episodes 7-23), co-directing it with Isao Takahata, who had left Toei after the misfortune with "The Little Norse Prince". In 1977, Miyazaki would direct two episodes of the second series, before working with Takahata on "Future Boy Conan", before making his feature film directorial debut with "Castle of Cagliostro", which co-wrote the story with Tadashi Yamazaki, based upon the novel by LeBlanc, as well as another LeBlanc story, The Green-Eyed Lady, for the underwater plot.

Hailed by Steven Spielberg as one of the greatest adventure films of all times, "Castle of Cagliostro" became an instant hit, was voted Best Anime Ever and remained so until "Nausicaš of the Valley of the Winds". Even today, more than 25 years old, it is surprisingly fresh and up-tempo. Full of silly humour, neck breaking action sequences and nail biting suspense, this is indeed one incredible entertaining adventure film.
Posters
Theatrical Release: December 15, 1979
Reviews More Reviews DVD Reviews
DVD Review: Optimum Asia - Region 2 - PAL
Big thanks to Henrik Sylow for the Review!
DVD Box Cover

CLICK to order from:

Distribution

Optimum Asia

Region 2 - PAL

Runtime
1:39:32
Video

1.75:1 Aspect Ratio

16X9 enhanced
Average Bitrate: 8.38 mb/s
PAL 720x576 25.00 f/s

NOTE: The Vertical axis represents the bits transferred per second. The Horizontal is the time in minutes.

Bitrate

Audio
2.0 Dolby Digital Japanese, 2.0 Dolby Digital English
Subtitles
English, None
Features
Release Information:
Studio: Optimum Asia

Aspect Ratio:
Widescreen anamorphic - 1.75:1

Edition Details:
• Introduction by Jonathan Clements (6:13 / 16x9)
• Storyboard to Screen (entire film as storyboard) (1:39:32 / 16x9)
• Design Sketches (25 picture slideshow / 4:02 / 16x9)
• Theatrical Trailer (2:13 / 4:3)

DVD Release Date: October 17, 2005
Keep Case

Chapters 16
Comments
I cannot say whether or not the Aspect Ratio is correct, but I doubt it, as films normally didn't were released in 1.75:1 in 1979. But taking the format of Optimums release and comparing it to the Region 1 1.85:1, reveals the Region 1 as cropped into 1.85:1, missing approx 3% image on the top.

Despite being a very compressed image - halos and edge enhancements are quiet visible - the Optimum image looks pretty good. Strong saturated colors and deep blacks. Sadly it appears to be a PAL-ifired NTSC version (no 4% PAL Speed-Up), which is becoming more and more common with Asian transfers.

The sound is great, but my advice is to drop the English dubbed version and go with the Japanese. Subtitles appear to be a translation of the Japanese and it is not the same as they say in English.
---




DVD Menus


---
Screen Captures
subtitle sample
Captures resized to 800px from 1016px native resolution














DONATIONS Keep DVDBeaver alive:
Mail cheques, money orders, cash to: or CLICK PayPal logo to donate!
Thank You!
Hayao Miyazaki's - The Castle of Cagliostro - DVD Review Rupan sansei Kariosutoro no shiro Hayao Miyazaki The Castle of Cagliostro DVD Review Rupan sansei Kariosutoro no shiro Hayao Miyazaki The Castle of Cagliostro DVD Review Rupan sansei Kariosutoro no shiro Hayao Miyazaki The Castle of Cagliostro DVD Review Rupan sansei Kariosutoro no shiro Hayao Miyazaki The Castle of Cagliostro DVD Review Rupan sansei Kariosutoro no shiro Hayao Miyazaki The Castle of Cagliostro DVD Review Rupan sansei Kariosutoro no shiro Hayao Miyazaki The Castle of Cagliostro DVD Review Rupan sansei Kariosutoro no shiro Hayao Miyazaki The Castle of Cagliostro DVD Review Rupan sansei Kariosutoro no shiro Hayao Miyazaki The Castle of Cagliostro DVD Review Rupan sansei Kariosutoro no shiro Hayao Miyazaki The Castle of Cagliostro DVD Review Rupan sansei Kariosutoro no shiro Hayao Miyazaki's - The Castle of Cagliostro - DVD Review Rupan sansei Kariosutoro no shiro Hayao Miyazaki The Castle of Cagliostro DVD Review Rupan sansei Kariosutoro no shiro Hayao Miyazaki The Castle of Cagliostro DVD Review Rupan sansei Kariosutoro no shiro Hayao Miyazaki The Castle of Cagliostro DVD Review Rupan sansei Kariosutoro no shiro Hayao Miyazaki The Castle of Cagliostro DVD Review Rupan sansei Kariosutoro no shiro Hayao Miyazaki The Castle of Cagliostro DVD Review Rupan sansei Kariosutoro no shiro Hayao Miyazaki The Castle of Cagliostro DVD Review Rupan sansei Kariosutoro no shiro Hayao Miyazaki The Castle of Cagliostro DVD Review Rupan sansei Kariosutoro no shiro Hayao Miyazaki The Castle of Cagliostro DVD Review Rupan sansei Kariosutoro no shiro Hayao Miyazaki The Castle of Cagliostro DVD Review Rupan sansei Kariosutoro no shiro Hayao Miyazaki's - The Castle of Cagliostro - DVD Review Rupan sansei Kariosutoro no shiro Hayao Miyazaki The Castle of Cagliostro DVD Review Rupan sansei Kariosutoro no shiro Hayao Miyazaki The Castle of Cagliostro DVD Review Rupan sansei Kariosutoro no shiro Hayao Miyazaki The Castle of Cagliostro DVD Review Rupan sansei Kariosutoro no shiro Hayao Miyazaki The Castle of Cagliostro DVD Review Rupan sansei Kariosutoro no shiro Hayao Miyazaki The Castle of Cagliostro DVD Review Rupan sansei Kariosutoro no shiro Hayao Miyazaki The Castle of Cagliostro DVD Review Rupan sansei Kariosutoro no shiro Hayao Miyazaki The Castle of Cagliostro DVD Review Rupan sansei Kariosutoro no shiro Hayao Miyazaki The Castle of Cagliostro DVD Review Rupan sansei Kariosutoro no shiro Hayao Miyazaki The Castle of Cagliostro DVD Review Rupan sansei Kariosutoro no shiro Hayao Miyazaki's - The Castle of Cagliostro - DVD Review Rupan sansei Kariosutoro no shiro Hayao Miyazaki The Castle of Cagliostro DVD Review Rupan sansei Kariosutoro no shiro Hayao Miyazaki The Castle of Cagliostro DVD Review Rupan sansei Kariosutoro no shiro Hayao Miyazaki The Castle of Cagliostro DVD Review Rupan sansei Kariosutoro no shiro Hayao Miyazaki The Castle of Cagliostro DVD Review Rupan sansei Kariosutoro no shiro Hayao Miyazaki The Castle of Cagliostro DVD Review Rupan sansei Kariosutoro no shiro Hayao Miyazaki The Castle of Cagliostro DVD Review Rupan sansei Kariosutoro no shiro Hayao Miyazaki The Castle of Cagliostro DVD Review Rupan sansei Kariosutoro no shiro Hayao Miyazaki The Castle of Cagliostro DVD Review Rupan sansei Kariosutoro no shiro Hayao Miyazaki The Castle of Cagliostro DVD Review Rupan sansei Kariosutoro no shiro Hayao Miyazaki's - The Castle of Cagliostro - DVD Review Rupan sansei Kariosutoro no shiro Hayao Miyazaki The Castle of Cagliostro DVD Review Rupan sansei Kariosutoro no shiro Hayao Miyazaki The Castle of Cagliostro DVD Review Rupan sansei Kariosutoro no shiro Hayao Miyazaki The Castle of Cagliostro DVD Review Rupan sansei Kariosutoro no shiro Hayao Miyazaki The Castle of Cagliostro DVD Review Rupan sansei Kariosutoro no shiro Hayao Miyazaki The Castle of Cagliostro DVD Review Rupan sansei Kariosutoro no shiro Hayao Miyazaki The Castle of Cagliostro DVD Review Rupan sansei Kariosutoro no shiro Hayao Miyazaki The Castle of Cagliostro DVD Review Rupan sansei Kariosutoro no shiro Hayao Miyazaki The Castle of Cagliostro DVD Review Rupan sansei Kariosutoro no shiro Hayao Miyazaki The Castle of Cagliostro DVD Review Rupan sansei Kariosutoro no shiro Hayao Miyazaki's - The Castle of Cagliostro - DVD Review Rupan sansei Kariosutoro no shiro Hayao Miyazaki The Castle of Cagliostro DVD Review Rupan sansei Kariosutoro no shiro Hayao Miyazaki The Castle of Cagliostro DVD Review Rupan sansei Kariosutoro no shiro Hayao Miyazaki The Castle of Cagliostro DVD Review Rupan sansei Kariosutoro no shiro Hayao Miyazaki The Castle of Cagliostro DVD Review Rupan sansei Kariosutoro no shiro Hayao Miyazaki The Castle of Cagliostro DVD Review Rupan sansei Kariosutoro no shiro Hayao Miyazaki The Castle of Cagliostro DVD Review Rupan sansei Kariosutoro no shiro Hayao Miyazaki The Castle of Cagliostro DVD Review Rupan sansei Kariosutoro no shiro Hayao Miyazaki The Castle of Cagliostro DVD Review Rupan sansei Kariosutoro no shiro Hayao Miyazaki The Castle of Cagliostro DVD Review Rupan sansei Kariosutoro no shiro Hayao Miyazaki's - The Castle of Cagliostro - DVD Review Rupan sansei Kariosutoro no shiro Hayao Miyazaki The Castle of Cagliostro DVD Review Rupan sansei Kariosutoro no shiro Hayao Miyazaki The Castle of Cagliostro DVD Review Rupan sansei Kariosutoro no shiro Hayao Miyazaki The Castle of Cagliostro DVD Review Rupan sansei Kariosutoro no shiro Hayao Miyazaki The Castle of Cagliostro DVD Review Rupan sansei Kariosutoro no shiro Hayao Miyazaki The Castle of Cagliostro DVD Review Rupan sansei Kariosutoro no shiro Hayao Miyazaki The Castle of Cagliostro DVD Review Rupan sansei Kariosutoro no shiro Hayao Miyazaki The Castle of Cagliostro DVD Review Rupan sansei Kariosutoro no shiro Hayao Miyazaki The Castle of Cagliostro DVD Review Rupan sansei Kariosutoro no shiro Hayao Miyazaki The Castle of Cagliostro DVD Review Rupan sansei Kariosutoro no shiro Hayao Miyazaki's - The Castle of Cagliostro - DVD Review Rupan sansei Kariosutoro no shiro Hayao Miyazaki The Castle of Cagliostro DVD Review Rupan sansei Kariosutoro no shiro Hayao Miyazaki The Castle of Cagliostro DVD Review Rupan sansei Kariosutoro no shiro Hayao Miyazaki The Castle of Cagliostro DVD Review Rupan sansei Kariosutoro no shiro Hayao Miyazaki The Castle of Cagliostro DVD Review Rupan sansei Kariosutoro no shiro Hayao Miyazaki The Castle of Cagliostro DVD Review Rupan sansei Kariosutoro no shiro Hayao Miyazaki The Castle of Cagliostro DVD Review Rupan sansei Kariosutoro no shiro Hayao Miyazaki The Castle of Cagliostro DVD Review Rupan sansei Kariosutoro no shiro Hayao Miyazaki The Castle of Cagliostro DVD Review Rupan sansei Kariosutoro no shiro Hayao Miyazaki The Castle of Cagliostro DVD Review Rupan sansei Kariosutoro no shiro Hayao Miyazaki's - The Castle of Cagliostro - DVD Review Rupan sansei Kariosutoro no shiro Hayao Miyazaki The Castle of Cagliostro DVD Review Rupan sansei Kariosutoro no shiro Hayao Miyazaki The Castle of Cagliostro DVD Review Rupan sansei Kariosutoro no shiro Hayao Miyazaki The Castle of Cagliostro DVD Review Rupan sansei Kariosutoro no shiro Hayao Miyazaki The Castle of Cagliostro DVD Review Rupan sansei Kariosutoro no shiro Hayao Miyazaki The Castle of Cagliostro DVD Review Rupan sansei Kariosutoro no shiro Hayao Miyazaki The Castle of Cagliostro DVD Review Rupan sansei Kariosutoro no shiro Hayao Miyazaki The Castle of Cagliostro DVD Review Rupan sansei Kariosutoro no shiro Hayao Miyazaki The Castle of Cagliostro DVD Review Rupan sansei Kariosutoro no shiro Hayao Miyazaki The Castle of Cagliostro DVD Review Rupan sansei Kariosutoro no shiro Hayao Miyazaki's - The Castle of Cagliostro - DVD Review Rupan sansei Kariosutoro no shiro Hayao Miyazaki The Castle of Cagliostro DVD Review Rupan sansei Kariosutoro no shiro Hayao Miyazaki The Castle of Cagliostro DVD Review Rupan sansei Kariosutoro no shiro Hayao Miyazaki The Castle of Cagliostro DVD Review Rupan sansei Kariosutoro no shiro Hayao Miyazaki The Castle of Cagliostro DVD Review Rupan sansei Kariosutoro no shiro Hayao Miyazaki The Castle of Cagliostro DVD Review Rupan sansei Kariosutoro no shiro Hayao Miyazaki The Castle of Cagliostro DVD Review Rupan sansei Kariosutoro no shiro Hayao Miyazaki The Castle of Cagliostro DVD Review Rupan sansei Kariosutoro no shiro Hayao Miyazaki The Castle of Cagliostro DVD Review Rupan sansei Kariosutoro no shiro Hayao Miyazaki The Castle of Cagliostro DVD Review Rupan sansei Kariosutoro no shiro Hayao Miyazaki's - The Castle of Cagliostro - DVD Review Rupan sansei Kariosutoro no shiro Hayao Miyazaki The Castle of Cagliostro DVD Review Rupan sansei Kariosutoro no shiro Hayao Miyazaki The Castle of Cagliostro DVD Review Rupan sansei Kariosutoro no shiro Hayao Miyazaki The Castle of Cagliostro DVD Review Rupan sansei Kariosutoro no shiro Hayao Miyazaki The Castle of Cagliostro DVD Review Rupan sansei Kariosutoro no shiro Hayao Miyazaki The Castle of Cagliostro DVD Review Rupan sansei Kariosutoro no shiro Hayao Miyazaki The Castle of Cagliostro DVD Review Rupan sansei Kariosutoro no shiro Hayao Miyazaki The Castle of Cagliostro DVD Review Rupan sansei Kariosutoro no shiro Hayao Miyazaki The Castle of Cagliostro DVD Review Rupan sansei Kariosutoro no shiro Hayao Miyazaki The Castle of Cagliostro DVD Review Rupan sansei Kariosutoro no shiro Hayao Miyazaki's - The Castle of Cagliostro - DVD Review Rupan sansei Kariosutoro no shiro Hayao Miyazaki The Castle of Cagliostro DVD Review Rupan sansei Kariosutoro no shiro Hayao Miyazaki The Castle of Cagliostro DVD Review Rupan sansei Kariosutoro no shiro Hayao Miyazaki The Castle of Cagliostro DVD Review Rupan sansei Kariosutoro no shiro Hayao Miyazaki The Castle of Cagliostro DVD Review Rupan sansei Kariosutoro no shiro Hayao Miyazaki The Castle of Cagliostro DVD Review Rupan sansei Kariosutoro no shiro Hayao Miyazaki The Castle of Cagliostro DVD Review Rupan sansei Kariosutoro no shiro Hayao Miyazaki The Castle of Cagliostro DVD Review Rupan sansei Kariosutoro no shiro Hayao Miyazaki The Castle of Cagliostro DVD Review Rupan sansei Kariosutoro no shiro Hayao Miyazaki The Castle of Cagliostro DVD Review Rupan sansei Kariosutoro no shiro Hayao Miyazaki's - The Castle of Cagliostro - DVD Review Rupan sansei Kariosutoro no shiro Hayao Miyazaki The Castle of Cagliostro DVD Review Rupan sansei Kariosutoro no shiro Hayao Miyazaki The Castle of Cagliostro DVD Review Rupan sansei Kariosutoro no shiro Hayao Miyazaki The Castle of Cagliostro DVD Review Rupan sansei Kariosutoro no shiro Hayao Miyazaki The Castle of Cagliostro DVD Review Rupan sansei Kariosutoro no shiro Hayao Miyazaki The Castle of Cagliostro DVD Review Rupan sansei Kariosutoro no shiro Hayao Miyazaki The Castle of Cagliostro DVD Review Rupan sansei Kariosutoro no shiro Hayao Miyazaki The Castle of Cagliostro DVD Review Rupan sansei Kariosutoro no shiro Hayao Miyazaki The Castle of Cagliostro DVD Review Rupan sansei Kariosutoro no shiro Hayao Miyazaki The Castle of Cagliostro DVD Review Rupan sansei Kariosutoro no shiro Hayao Miyazaki's - The Castle of Cagliostro - DVD Review Rupan sansei Kariosutoro no shiro Hayao Miyazaki The Castle of Cagliostro DVD Review Rupan sansei Kariosutoro no shiro Hayao Miyazaki The Castle of Cagliostro DVD Review Rupan sansei Kariosutoro no shiro Hayao Miyazaki The Castle of Cagliostro DVD Review Rupan sansei Kariosutoro no shiro Hayao Miyazaki The Castle of Cagliostro DVD Review Rupan sansei Kariosutoro no shiro Hayao Miyazaki The Castle of Cagliostro DVD Review Rupan sansei Kariosutoro no shiro Hayao Miyazaki The Castle of Cagliostro DVD Review Rupan sansei Kariosutoro no shiro Hayao Miyazaki The Castle of Cagliostro DVD Review Rupan sansei Kariosutoro no shiro Hayao Miyazaki The Castle of Cagliostro DVD Review Rupan sansei Kariosutoro no shiro Hayao Miyazaki The Castle of Cagliostro DVD Review Rupan sansei Kariosutoro no shiro