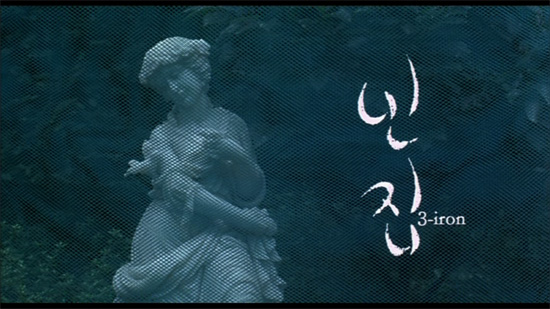 (aka "Bin-jip" )
directed by Kim Ki-Duk
South Korea / Japan 2004
Once in a while a striking film comes along that exceeds the mould of Korean pulp cinema. Director Kim, Ki-duk's masterful use of his celluloid canvas in his latest production "3-Iron" is a great example of the depths Korean cinema can reach.

A beautifully crafted film, "3-Iron" follows an outsider-protagonist, Tae-suk (Jae Hee), as he quietly lives life under the social radar. By day he posts flyers on apartment doors and for an abode he breaks into the homes of people who are out of town and briefly enjoys the luxury each residence affords. Yet he takes nothing of great value: he does eat the food, sleep in the beds, and drink the alcohol but repays the owners with minor repairs and a laundry service.

And as we journey with him, it is not long before we see him enter one home to find it still occupied. Although Sun-hwa (Lee, Seung-yeon) - an aging, reclusive model who is recovering from a dose of wife battering - knows Tae-suk is in her home she lets him get on with his thing while she quietly observes. It is not until later the same day they come face-to-face.

When Sun-hwa's husband returns Tae-suk carefully exits. However, he returns to find her receiving another beating from her husband. This time he confronts the wife beater with his three-iron golf club. After, Sun-hwa leaves, with Tae-suk, and joins him in his life of unwanted house-sitting.

As the story unfolds the silent duo find themselves in physical trouble in a boxer's home and then arrested when they take up residence in a dead man's home. Tae-suk is subsequently sent to prison and Sun-hwa, like a lost child, returned to her husband.

"3-Iron" is a wonderfully produced piece of cinema and Kim, Ki-duk's directs his silent lead actors with great precision – throughout the body of work Tae-suk utters only one small sound and it is not until the ending scenes Sun-hwa speaks a few short sentences.

Kim skillfully blends the reality of the medium with symbolic representation. However, his artistic expression is much more than the clever use of signs and symbols. It is so engrained in the film that that the two unify to become the essence of the work: from the cutting up and reorganizing of one of Sun-hwa's photos to the holiday-style snap-shots they take to record their other wise undocumented existence.

It is a film with many layers; from the cultural insights on the surface to the deeper expression of Korean art which the production represents. It is dark without self pity; it is powerful without pretence; and at times heart-warming without the feel-good factor. This is truly good piece of film is one of the better productions to come out of Korea in 2004 and it would be worth the effort to see.
Andrew Porterfield for DVDBeaver.com
Posters
Theatrical Release: January 18th, 2003 - Tokyo
Reviews More Reviews DVD Reviews
DVD Comparison:
Columbia Tri-Star - Region 1 - NTSC vs. Bitwin (Limited Edition - 2-disc) - Region 3 - NTSC vs. Optimum - Region 2 - PAL
Big thanks to Gary Tooze and Fred Patton and Henrik Sylow for the Screen Caps!
(Columbia Tri-Star - Region 1 - NTSC - LEFT vs. Bitwin (Limited Edition - 2-disc) - Region 3 - NTSC - MIDDLE vs. Optimum - Region 2 - PAL - RIGHT)
DVD Box Covers

Distribution

Columbia Tri-Star

Region 1 - NTSC

Bitwin
Region 3 - NTSC
Optimum
Region 2 - PAL
Runtime
1:27:39
1:27:45
1:23:55 (4% PAL speedup)
Video

1.83:1 Original Aspect Ratio

16X9 enhanced
Average Bitrate: 8.55 mb/s
NTSC 720x480 29.97 f/s

1.82:1 Original Aspect Ratio

16X9 enhanced
Average Bitrate: 8.76 mb/s
NTSC 720x480 29.97 f/s

1.85 Original Aspect Ratio

16X9 enhanced
Average Bitrate: 5.95 mb/s
PAL 720x576 25.00 f/s

NOTE: The Vertical axis represents the bits transferred per second. The Horizontal is the time in minutes.

Bitrate:

Columbia Tri-Star

Bitrate:

Bitwin (Limited Edition - 2-disc)

Bitrate:

Optimum

Audio
5.1 Dolby Digital Korean, 2.0 Dolby Digital Korean (commentary), 5.1 Dolby Digital Frenc (dub)

5.1 Dolby Digital Korean, DTS Korean

2.0 Dolby Digital Korean, 5.1 Dolby Digital Korean

Subtitles
English, French, Director's Commentary in English, None
Korean, English, None
English, None
Features
Release Information:
Studio: Columbia Tri-Star

Aspect Ratio:
Widescreen anamorphic - 1.83:1

Edition Details:
• Audio Commentary by Kim Ki-Duk (English subtitles)

DVD Release Date: September 6, 2005
Keep Case

Chapters 12

Release Information:
Studio: Bitwin

Aspect Ratio:
Widescreen anamorphic - 1.82:1

Edition Details:
• Audio Commentary by Kim Ki-Duk (no subtitles)
• Disc 2 with additional material not subtitled.


DVD Release Date: January 8, 2005
Keep Case

Chapters 11

Release Information:
Studio: Optimum

Aspect Ratio:
Widescreen anamorphic - 1.85

Edition Details:
• Theatrical Trailer (1:50 / 16x9)


DVD Release Date: November 7, 2005
Keep Case

Chapters 12
Comments
I don't know that I 100% agree with Henrik's conclusions below. The Columbia and Optimum images look almost identical, and will do so on 99% of playback systems but as the Optimum have put in some clear, but non-intrusive, subtitles (white with black border font) as opposed to the large gaudy yellow ones of Columbia - I would go with the Optimum for image.

I still am unsure of the color scheme but I'm hopeful that some who have seen it theatrically, and thereby can comment on the BitWin, will let us know.

Gary Tooze

*****

Optimum's DVD is a DVD5 versus Columbia / Bitwin's DVD9. The main comparison is between Columbia and Optimum, as they share transfer.

Comparing frame, Columbia is cropped, either directly or by overscan, approx. 1% (8-10px) left/right and approx 2% (8-10px) top/bottom.

Compression artifacts also differ. While one would believe that Optimum had more visible ones, due to a more compressed image, it is the exact opposite. Optimum has more visible edge enhancements than Columbia, but Columbia displays clusters of color banded pixels, macro blocking and chroma noise.

Color scheme is identical, enough to suggest it being the same transfer, but comparing Columbia vs. Optimum, Optimum has the best image.

Comparing Optimum versus Bitwin, frame info shows Optimum is cropped by 6px top (1.3%), 6px left (0.7%) and 12px right (1.5%), most likely to be contributed transfer over scanning.

Looking at compression and artifacts, again Optimum is best. Bitwin has been given a contrast boost, which makes already more than twice as heavy edge enhancements and halos even more visible. That does not mean that Optimum is free of artifacts. Take Image#3 and look at the color banding in the black and white photography. But the artifacts in Optimum are very minimal and very limited.

The color scheme of Columbia / Optimum is a problem. In some scenes, skin colour is red-ish, and far from the green-ish Asian look of Bitwin.

But Bitwin is simply has too many issues in other areas, that I feel that something as important as color scheme should be the rewarding element. That aside, Optimum is thus the best image.


*****

ADDITION: Bitwin 2-disc - October 05' - It is very hard for me to make judgments on which image is more theatrically accurate as I did not see the film in that manner. I can however judge accuracy of colors to a certain degree and the Columbia skin tones are awfully red (see last large capture). The Bitwin does seem to have a bit of a greenish tinge to it - yet again, I don't know whether this is intentional. The Columbia is slightly cropped on both edges. The Bitwin is sharper and in my estimation is the better image overall. It also sports a DTS track which, although never tested in the film, might be appealing to some audio-files. Extras must go the way of the Columbia - if only on the basis of the English subtitle translations which the Bitwin is missing.


Gary Tooze

*****

The Columbia image is a very glossy at times and does have some mild enhancement when zoomed-in but I can't see extensive digital manipulations - certainly the image is intentionally dark at times. Progressive and anamorphic in original aspect ratio of 1.85-ish. I don't real have a frame of reference as I have not seen the Asian DVD editions of the film and we hope to compare but I would think that many will be satisfied with this release especially with the commentary by Ki-duk Kim. A complaint I do have with this Columbia DVD are the enormous and gaudy yellow subtitles which couldn't be any more intrusive, but luckily dialogue in the film is exceptionally sparse (the central character doesn't utter a single word). Quite a film experience and an imperfect but respectful landing in Region 1 DVD.


Gary Tooze
---




DVD Menus
(Columbia Tri-Star - Region 1 - NTSC - LEFT vs. Bitwin (Limited Edition - 2-disc) - Region 3 - NTSC - MIDDLE vs. Optimum - Region 2 - PAL - RIGHT)
---
Screen Captures
(Columbia Tri-Star - Region 1 - NTSC - TOP vs. Bitwin (Limited Edition - 2-disc) - Region 3 - NTSC - MIDDLE vs. Optimum - Region 2 - PAL - BOTTOM)
Subtitle sample (English only)
Captures resized to 800px from 1016px
Not exact frame match
---
(Columbia Tri-Star - Region 1 - NTSC - TOP vs. Bitwin (Limited Edition - 2-disc) - Region 3 - NTSC - MIDDLE vs. Optimum - Region 2 - PAL - BOTTOM)
---
(Columbia Tri-Star - Region 1 - NTSC - TOP vs. Bitwin (Limited Edition - 2-disc) - Region 3 - NTSC - MIDDLE vs. Optimum - Region 2 - PAL - BOTTOM)
---
(Columbia Tri-Star - Region 1 - NTSC - TOP vs. Bitwin (Limited Edition - 2-disc) - Region 3 - NTSC - MIDDLE vs. Optimum - Region 2 - PAL - BOTTOM)
---
(Columbia Tri-Star - Region 1 - NTSC - TOP vs. Bitwin (Limited Edition - 2-disc) - Region 3 - NTSC - MIDDLE vs. Optimum - Region 2 - PAL - BOTTOM)
---
(Columbia Tri-Star - Region 1 - NTSC - TOP vs. Bitwin (Limited Edition - 2-disc) - Region 3 - NTSC - MIDDLE vs. Optimum - Region 2 - PAL - BOTTOM)
---
(Columbia Tri-Star - Region 1 - NTSC - TOP vs. Bitwin (Limited Edition - 2-disc) - Region 3 - NTSC - MIDDLE vs. Optimum - Region 2 - PAL - BOTTOM)
Enlarged (100px to 250px) areas from subtitle image
Not exact frame match

---
Report Card:
| | |
| --- | --- |
| Image: | Optimum |
| Sound: | Bitwin (DTS) |
| Extras: | Columbia (subtitled commentary) |
| Menu: | Bitwin |